Photographs by Kaizad Adil Darukhanawala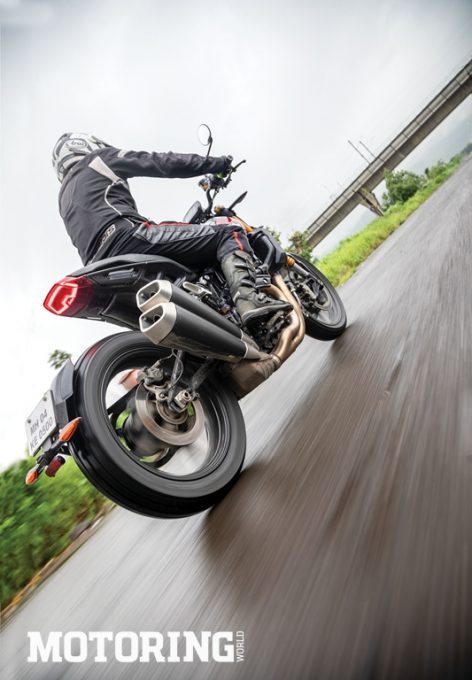 Indian Motorcycles is, unequivocally, not Indian. It is American. How American? It has been battling it out on the oval circuits of flat-track racing since forever, and its multiple championship holding FTR 750 race bike is the most feared competitor out there.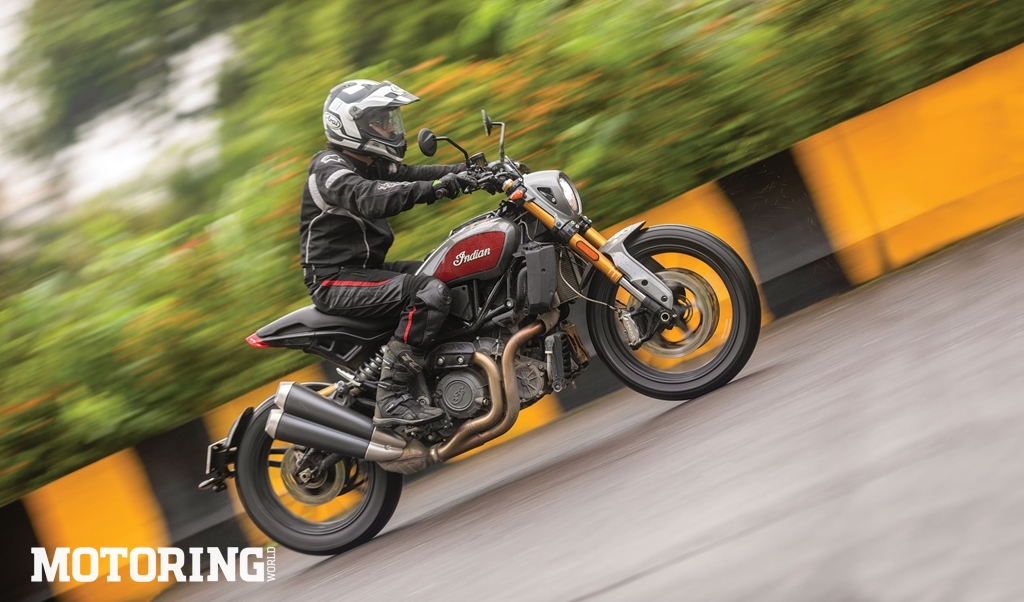 So Indian did the only logical thing. It gave in to the clamouring of fans across the world, and built a road legal street bike based on that dirt machine. And oh, what a fine job it has managed. First things first, it is not an off-road bike. It won't (comfortably) take you into the wilderness, so don't try. What it will do though is ensure you have an absolute ball over flat but loose surfaces. So think gravel and dirt. Personally, that is my favourite type of road; it feels slidey under you, with no bumps and rocks to worry about as you mash the throttle all the time. But wait, I'm getting ahead of myself. The Indian FTR 1200 S. Step back and you instantly notice how much of a tribute it is to the factory race bike. The bike appears to be leaning forward a little, and even though it weighs over 200 kg, has a minimalist look. The 'fuel tank' is tiny, because it doesn't store any fuel at all. The real tank is under the seat, to keep the centre of gravity low. The footpegs are serrated for better grip, the seat is broad and the handlebars are by ProTaper. Even the tail section has a clean cut, with the number plate moved to a mount on the swingarm. The slight eyesore is the twin-exhaust pipes. I feel it looks bulky and should've been shorter. This polarising opinion is purely personal, so please don't show up at my door to lynch me.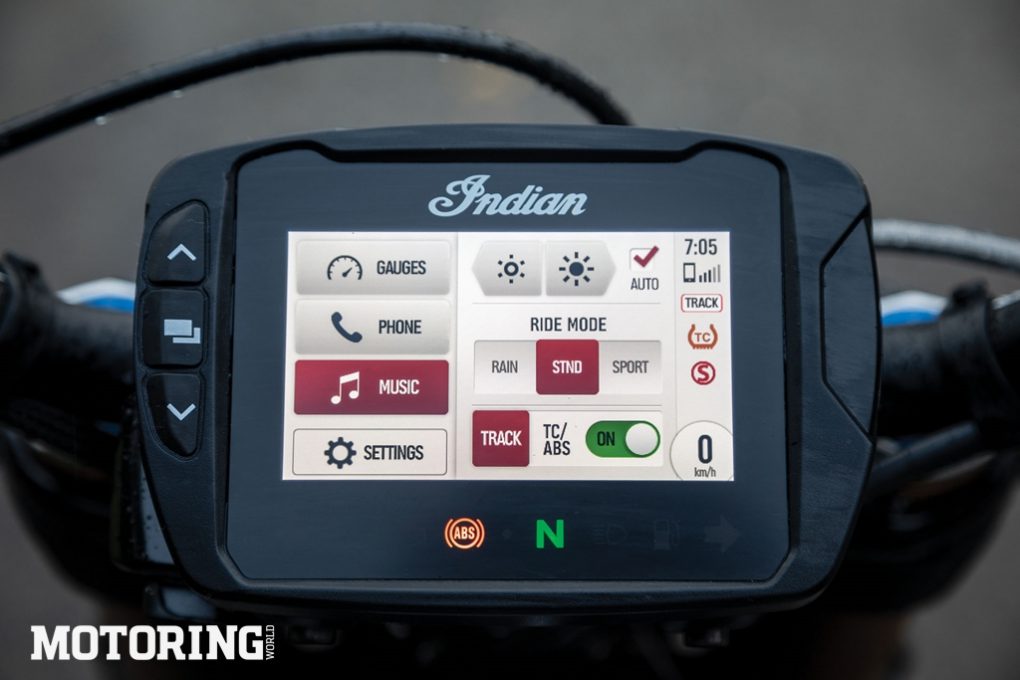 Besides looking handsome, the FTR 1200 S is a very modern bike. It gets a fancy LCD touchscreen display that is Bluetooth-enabled for phone connectivity. Four rider modes (Rain, Standard, Sport and Track) with switchable ABS and traction control as well as cruise control are part of the standard kit. The Ohlins suspension on both ends is fully adjustable and the brakes (and master cylinders) are by Brembo. Very premium, then, and you feel it as soon as you sit on it. What you don't feel, though, is the weight. Indian has done a fine job in keeping the centre of gravity low and well balanced and I think a lot of manufacturers can learn from this.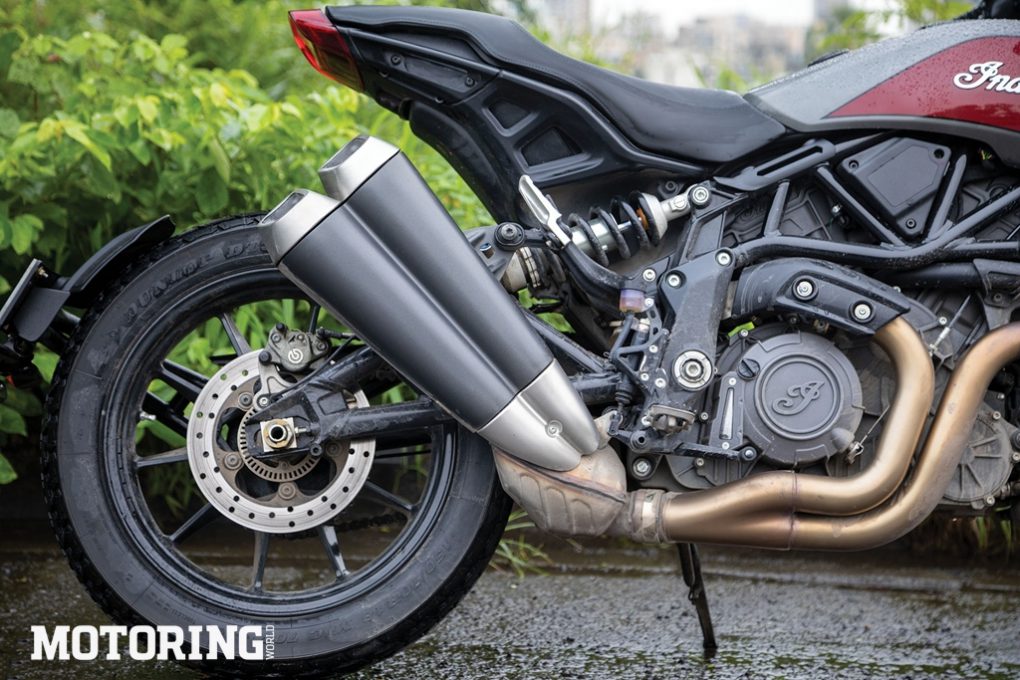 A lot of manufacturers can also learn how to make a bike as much of a riot as this. Thumb the starter and the Indian Scout derived engine rumbles to life. The engine on the Scout was a beautiful motor, and Indian seem to have given it a huge shot of adrenalin (or cocaine. Or both.) for the FTR, which is immediately evident once you get moving. It hates a constant throttle (and protests with jerks), so you must either be accelerating or decelerating, and trust me, that's not a bad thing once you do it. It takes off like a deranged lunatic as the traction control works overtime to manage grip. Blink and you are well into triple-digit speeds. The grunt from the motor comes in from as low as 2500-3000 rpm, and the only thing stopping you is your courage. Twist your very white knuckles the other way to decelerate, and it is accompanied by glorious snorts and pops, and this is just the stock exhaust. Or you could just brake, because those Brembos are superb.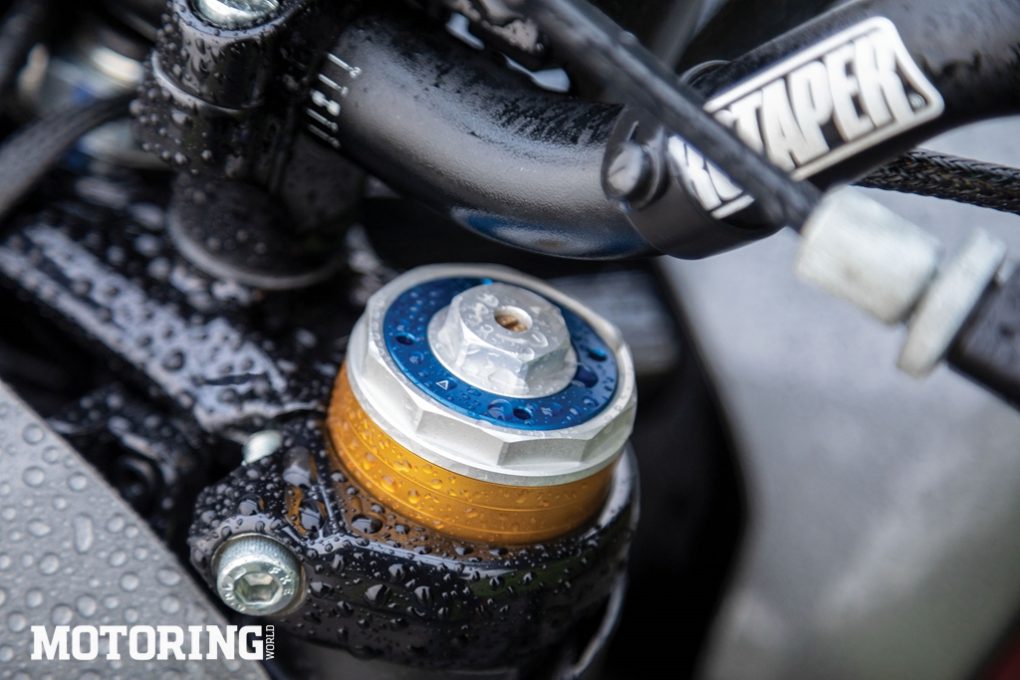 You need to keep reminding yourself that this is a heavy bike. It doesn't accelerate like one, and doesn't stop like one. And it definitely doesn't handle like one, either. I haven't raced on a flat track, but I imagine having a well-balanced bike is pretty important while sliding all day. Indian have taken that expertise and used it here to make a superbly balanced chassis that is complemented by a perfectly set-up suspension. It's a little hard to explain what it feels like. The power delivery is violent, but the rest of the bike is stoically poised. The engine struggles to make the bike buck and spit you off. But like a mother patiently dealing with a child's tantrum, it stays stable and in control, reeking of dedicated engineering. The suspension is obviously fantastic on good roads. But even bad roads, sudden shallow potholes, and the likes, all are just absorbed. I was genuinely surprised by the ride quality. Turning the bike doesn't take as much effort. Indian gave it wide bars to counter the weight, and it works. It holds its line, and the long wheelbase aids in stability. It isn't KTM 390 Duke nimble, but it is agile. Even the seating dynamics are spot on. The seat itself is wide and flat, which makes it very easy to move forward and back, depending on how tall you are or how aggressively you want to ride. Then the false fuel tank has a gently increasing width, and it doesn't matter where you sit, you can grip it properly with your knees for leverage. The bars are an easy reach and the footpegs aren't positioned to cramp your knees. Think of it as a seating position that's between the Ducati Hypermotard and the Ducati Monster. Honestly, I can't think of a more perfect seating position. And it is these three aspects put together- the engine, the balance and the seating that make the FTR 1200 S such a potent street monster. In the hands of someone braver than me, it'll also do endless wheelies, as it terrorises everyone around. And in the hands of someone as cowardly as me, it's still a tonne of fun. Whack open the throttle, defecate instantly in fear, hit the brakes and laugh like a maniac as your heart catches up. Keep at it and pretty soon you'll only wet yourself on every acceleration. It is, quite simply, an absolute riot.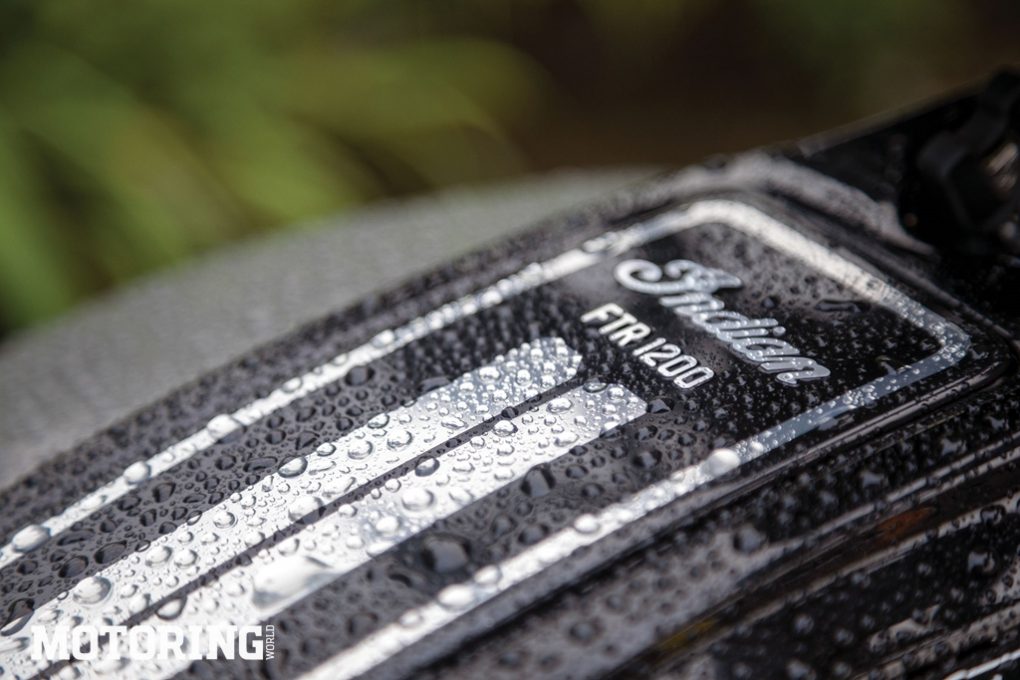 Is there anything I dislike? Well, no bike is perfect, and the Indian is no different. The power delivery is jerky between 2000-3000 rpm. And the on/off throttle transition is quite snatchy too, which can get irritating in traffic. Vibrations creep in past 5000 rpm. You won't notice any of this because you'll either be terrified or having too good a time. But it is there. Then the Rain rider mode is tantamount to castration due to the constant, and very rude, traction control intervention. The Standard rider mode is slightly better, so just stick to Sport or Track. And I am always sceptical of tyres that are designed to look cool. I haven't really pushed the flat-track-inspired tyres, so I can't say much with certainty. But Triumph (and then Royal Enfield) really disappointed with 'retro themed' tyres, which is why I hope Indian has done a better job. And of course, there is the price, with this being the cheap one. The Race Replica, with its red chassis and Akrapovic exhaust, is another Rs 2 lakhs. But then again, it is an insane bike. It isn't for everyone, though, and I understand that. It is meant to be ridden hard. And it doesn't merely demand utmost rider attention, but very responsible riding too, because it is an explosion of power, freedom, squealing tyres and juvenile delinquency. All in three seconds. I want one.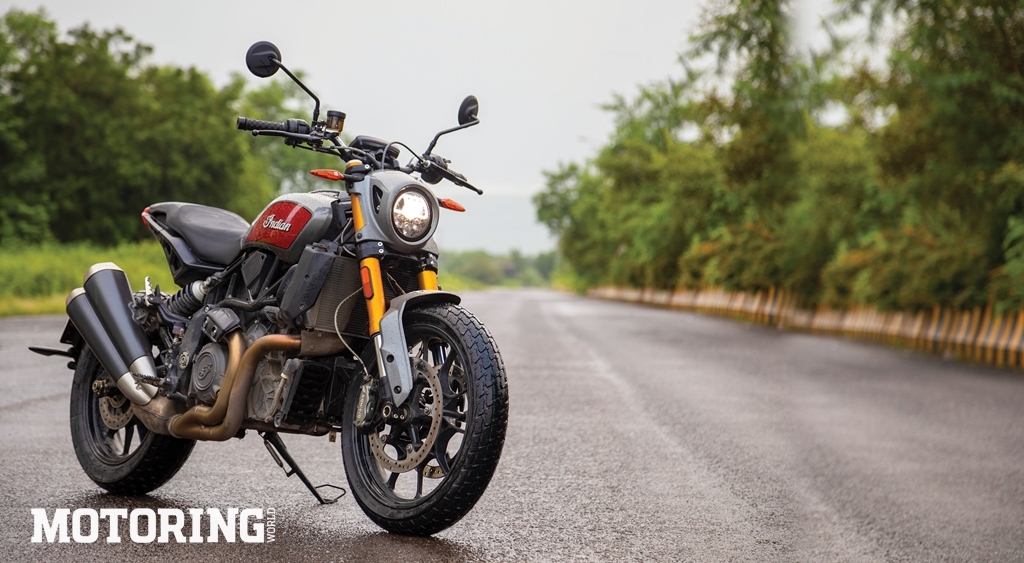 AUTODATA
Indian FTR 1200 S
POWERTRAIN
Displacement: 1203cc, V-twin
Max power: 123 bhp@8,250 rpm
Max torque: 12 kgm@6,000 rpm
Transmission: 6-speed
CHASSIS
Type: Steel trellis
SUSPENSION
F/R: 43mm USD fork/Monoshock
BRAKES
F/R: 320mm dual-disc/265mm single-disc
TYRES
F/R: 120/70 R19 / 150/70 R18
DIMENSIONS
L/W/H (mm): 2286/850/1297
Wheelbase: 1524 mm
Ground clearance: 183 mm
Seat height: 840 mm
Kerb weight: 235 kg
Fuel capacity: 12.9 litres
PRICE: Rs 15.99 lakh (ex-showroom)