I'd been looking forward to this one. Well, not this particular machine, but I was extremely curious as to what a proper electric motorcycle might feel like. My last memory of one was riding the Tork T001X, an e-racer that won the final open-class podium spot at the very first TTX GP at the Isle of Man in 2009. After riding that bike, I remember thinking that electric motorcycles could actually be fun, and wondered if and when we'd get one on sale in India. As it turned out, it took another 14 years for the Ultraviolette F77 to silently glide into my garage last month. A performance e-motorcycle aimed squarely at enthusiasts — talk about aiming high. Then again, Ultraviolette does say that the bike is inspired by fighter jets.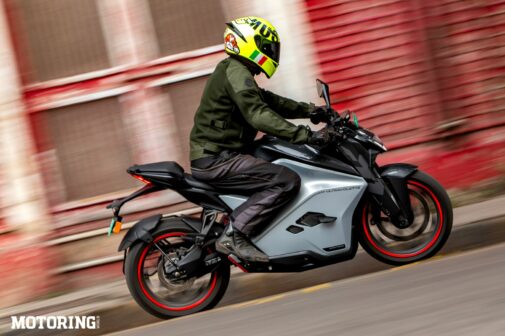 It looked like that, too, with its flanks more like an aircraft's all-encompassing fuselage with 'airstrike' decals and with tiny wings that called to mind a T-Rex's arms. The front-fork shrouds, the raked headlight and the pointy tail all added to the F77's aviation ambitions as well. Nonetheless, the more I looked at it, the more I thought a fully-faired approach would've worked even better with all that fibreglass on the sides. But my opinion didn't stop small crowds from forming around the bike wherever it was parked, so there you go. Also, the F77's overall fit and finish was well beyond what I've come to expect from startup-made machines, which certainly added to the bike's visual appeal.
To get the basic specs out of the way, I had the F77 Recon which came with a 10.3-kWh battery that delivered 38.8 bhp and 9.68 kgm in a package that weighed 207 kg. Claimed performance figures for this variant stand at 0-60 kph in 3.1 seconds, 0-100 kph in 8 seconds, and a top speed of 147 kph, while IDC range is around 307 km. And as with any fun motorcycle, the F77's essence amounts to so much more than the digital ink on its online spec sheet. In its case, it's all about forward-rocketing, arm-straightening, laugh-inducing TORQUE. That wasn't a typo, it's actually what the rotational expression of linear force felt like on this bike.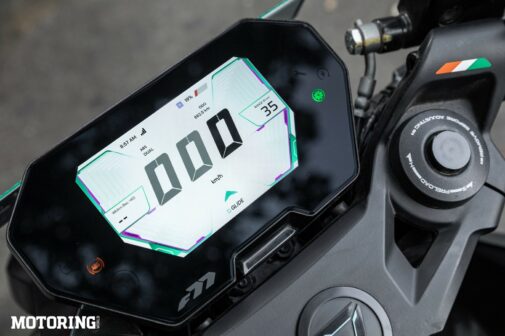 Okay, even Glide mode was enough to move faster than normal traffic if I picked my lines, till it topped out at 85 kph. But in Ballistic mode, the F77 was a silent mime of a riot. From traffic signals, it pulled away with a silence that was at hilarious odds with the vehemence of its acceleration. It was a seamless shove devoid of gear changes that continued till about 130 kph, after which it tailed off a bit. Power delivery was mapped to near-perfection, with no surprises in the smooth and strong acceleration, and I wondered if Ultraviolette could offer a 'two-stroke map' just for kicks. After all, there's really nothing to do on an electric motorcycle but hang on.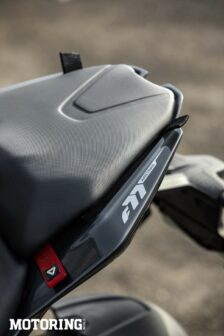 The first time traffic forced me to brake hard, I found my left hand and foot instinctively reaching out for the levers they've been used to since childhood. I did feel a bit stupid then, and I did repeat those movements later far too many times I'm comfortable with accepting, but towards the end of my time with the F77 I was used to it. It made me think both the brake levers should've been on the 'bars instead of the foot lever for the rear brake. Also, the electric motor's whine was quite nice, if a bit too subtle. What was thoroughly annoying, though, was the chain and tyre noises at low to moderate speeds. Then again, what do you do about those on an electric motorcycle?
Anyway, when it comes to regenerative braking, the F77 has three levels — and I felt that even the highest one wasn't all that regen-y. I'm sure Ultraviolette has programmed it to minimise the chances of the F77 getting bashed from behind by surprised traffic, and to maintain the bike's stability in corners. But if it had a bit more, even if just in Combat mode, that'd hopefully extend range and possibly enable the equivalent of the 'onepedal driving' that I've experienced in electric cars. It's just something I felt the F77 should've had, but I do understand that with that much weight up front, closing the regulator in a corner might cause unwanted/unsettling outcomes.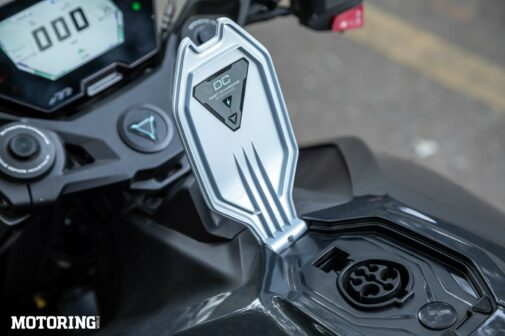 Inevitably, I did feel the battery's weight through the suspension, especially on downhill bumps and under hard braking. I suppose EVs cannot escape the feeling of all that mass concentrated in a tight space. That said, the ride quality was commendably sorted over bad stretches, though again overall body control could be better. The F77 did have preload-adjustable suspension at both ends, but fully-adjustable units would've made a world of a difference to the F77's poise, especially at its premium price and positioning. Nonetheless, the brakes and the tyres are up to the task of matching the F77's electric power, and certainly allow for proper sporty riding, even if total precision isn't the name of the game.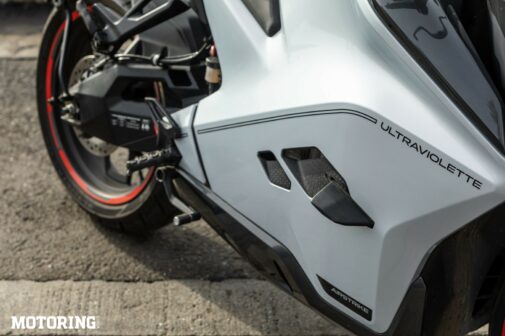 Now, let's address everyone's pet peeve with an EV, shall we? In the real world, using mostly Glide or Ballistic modes to suit the conditions in front of me, I thought I could get around 170-200 km out of a full charge. 'Thought' because I didn't once get to charge the bike anywhere. It's a big pain for me on a regular basis. The six EV-charging stations I went to had different plugs only for cars, and nowhere to plug in the F77's 'Boost' charger which is an upgrade worth Rs 26,650 extra over the standard charger that comes with the bike. Ideally, It should be plugged into a 15A socket for a charging time of 4.5 hours from 10-100%, and I had to carry it in my Yamaha Aerox's underseat space ridden by someone else (so much for zero emissions). Oh, plug.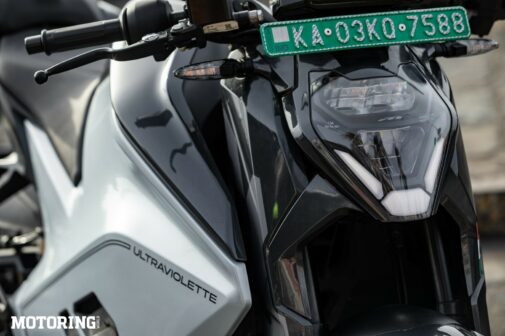 No one seems to be ready yet to charge a premium electric motorcycle, then. Two of my friends' workshops did have the required socket, but the charger weighed 8 kg (I measured) and wasn't exactly easy to carry on my weak back for 17 km each way, so plugging it in at home in a covered space is the only realistic solution. However, I did check on the Tata Power app that juicing up the F77's battery to full capacity would cost me around Rs 220. If it's the same rate for home charging, that's stupidly cheap for ~200 km of torquey fun around town. Also, I cannot comment on the Ultraviolette app that connects a phone to the bike, because the app wasn't out when I had the bike, even though the company's website declared the opposite at the time.
Also, another e-peculiarity I always had to keep in mind was that traffic ahead couldn't hear me approaching at a rapid rate. Given that most fellow motorists in Mumbai tend to be as alert and attentive as sleeping sloths, I had many moments in which vehicles nearly steered into me, so I had to resort to honking more than I'm used to. As for the rest of the components used most often, the big digital screen was easy to read even in harsh sunlight. The side stand was quite a chunky and well-crafted unit, and never felt like it was straining under the bike's weight. And the mirrors were mostly useful for admiring my otherwise unremarkable forearms. Maybe EVs are not cut out for me yet, but I suspect the opposite is more likely to be true.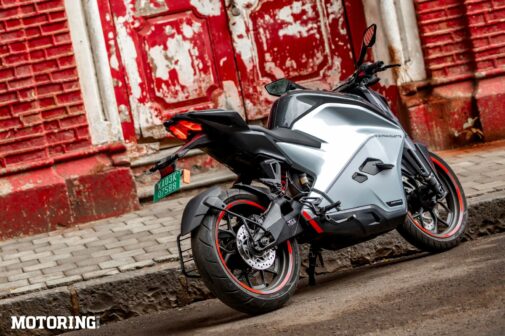 And I won't even get into the debate-launching implications that usually accompany topics related to batteries, electric-power sources, and so on. What I will put my foot down about, though, is that despite the Rs 4.55 lakh ex-showroom sticker shock (see what I did there?) the F77 proved to be a fun and extremely likeable motorcycle. Its torque-led character was just too addictive to resist — but was there any kind of measure to it? Well, after a bunch of EVs have come home and gone away, the F77 was the one that finally prompted me to ask my landlord to install a charging point in my garage. Time to socket up, eh?
MOTODATA
Ultraviolette F77 Recon
POWERTRAIN
Motor:
Battery:
Peak Power:
Rated Power:
Peak Torque:
Permanent magnet AC motor
10.3-kWh lithium ion pack
29 kW (38.89 bhp)
NA
9.68 kgm
CHASSIS
Type: Steel trellis with aluminium bulk head
BRAKES
F/R: 320-mm disc/230-mm disc
TYRES
F/R: 110/70 R17 / 150/60 R20
DIMENSIONS
L/W/H (mm):
Wheelbase:
Ground Clearance:
Seat height:
Kerb Weight:
NA/NA/NA
1340 mm
160 mm
800 mm
207 kg
CHARGING TIME
4 hours 30 minutes (with Boost charger)
307 km (claimed)
PRICE
Rs 4.55 lakh (ex-showroom, Bangalore)