What is this?
A motorcycle that a lot of us have been looking forward to! The Triumph Trident 660 is an all-rounder that could be all the bike most riders would ever need. The Trident name harks back to an older Triumph from the late 1960s, and the badge was even brought back in the 1990s, but never has it been positively bristling with potential as it does on the newest bike. With a 660cc triple motor that makes 80 bhp at 10,250 rpm and 6.5 kgm at 6250 rpm, the Trident has more than enough punch for Indian riding conditions.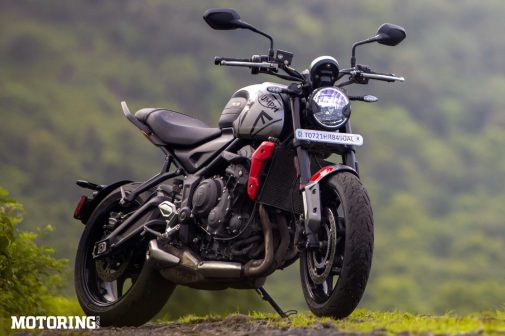 It's got one of the coolest tails you'll see on a motorcycle, and big Triumph decals on the tank, both of which I really like. The three exhaust headers snaking out from the motor are cool, too, as is the single round TFT screen which is easy to scroll through. Lights are LEDs all around, and the headlight looks cool and is quite bright at night, too. Not that it'll spend a lot of time lighting up the road, if you ride the Trident the only way it loves to be ridden.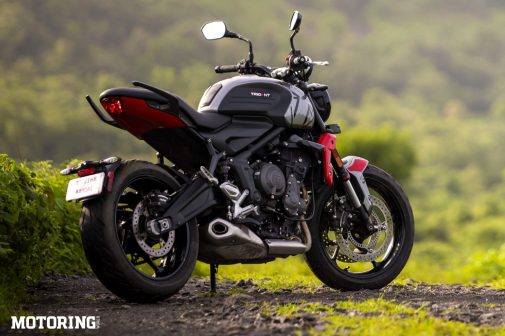 Whom is it for?
For people who like to ride alone. And above all, for riders who love wheelies! In fact, thanks to the tiny pillion seat and the Trident's flighty front wheel, passengers are better off taking a cab. Unless they're really tiny and enjoy being scared silly. And with a service interval of 16,000 km or 12 months, whichever comes first, it's also for those who want a big bike that is also going to be lighter on the pocket. Even if I feel that its starting price of Rs 6.95 lakh is just a bit higher than it ideally should've been. But I'm sure that's just me.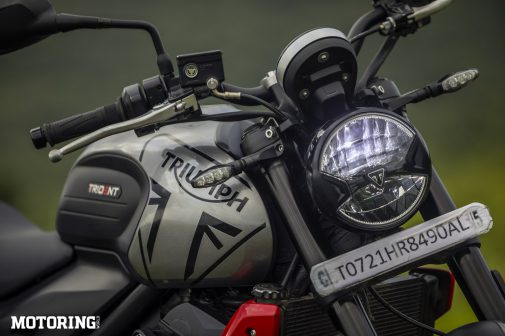 Does it handle?
With a kerb weight of 189 kg contained in its tiny proportions, the Trident is almost ridiculously easy to manhandle. That kerb weight, by the way, is less than some single-cylinder motorcycles coughHimalayancough! The Trident's suspension has a good base setting, even if it doesn't offer the same adjustability that I'd like on a fast bike. It is definitely a stiff motorcycle, though I didn't find it all that uncomfortable after two days of riding. For me, it was a stiffness that added to the experience without being a pain. And much of that comfort was thanks to the reasonable riding position and the Trident's inherent lightness.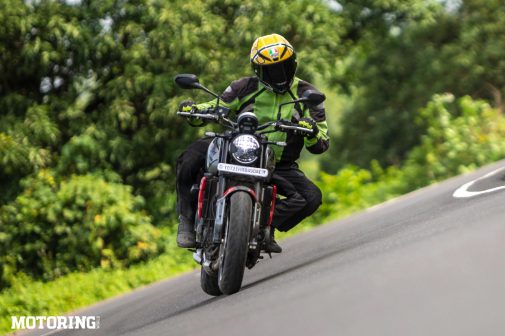 However, for such a compact motorcycle, the steering lock caused surprisingly wide U-turns. But I suppose it's only a matter of getting used to it. The twin 310-mm discs at the front and 255-mm rear disc haul the Trident down in admirable fashion, though there's just a bit of feel missing. Nonetheless, on both wet and dry roads, the Trident was nimble and stable at all times, thanks in a large part to its Michelin Road 5 tyres. And the tank slappers I was expecting from a small and fast bike were entirely absent, so I suppose Triumph has sorted out the frame geometry and suspension as best it can.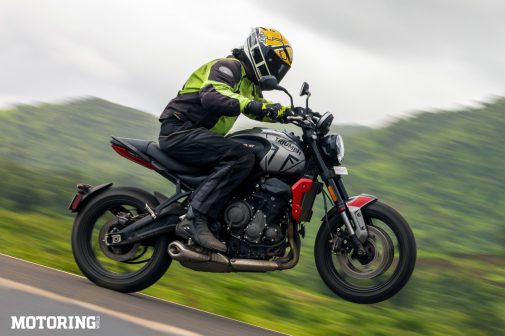 How fast is it?
It can go well above 200 kph if you'd like, but I wouldn't recommend it, honestly. The engine is more than willing, of course, but beyond 180 kph, the Trident's lightness and bargain suspension and brakes aren't really your biggest supporters. Sounds like a good case for a Trident RS, no? Anyway, with its potent triple, the Trident remains a fast bike for our conditions, even if it's all about acceleration with this one. You'll have such a ball of a time below 140 kph, you won't care about top speed, I promise.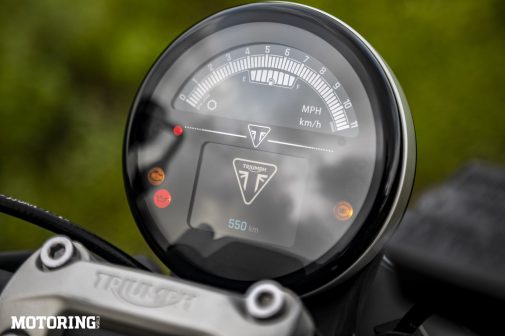 Also, the Trident sounds positively deranged for such a polite-looking motorcycle. Right from start-up, that triple makes no pretense of being shy, and it'll likely wake up the neighbourhood, too. It hums around town with purpose, and when given the stick, it wails like a ghost being exorcised. The Trident's motor revs hard and fast, and the overall short gearing makes it a very involving bike to ride, tapping through the slick 6-speed gearbox. Wheelies are available in the first three gears whenever it pleases the rider, too.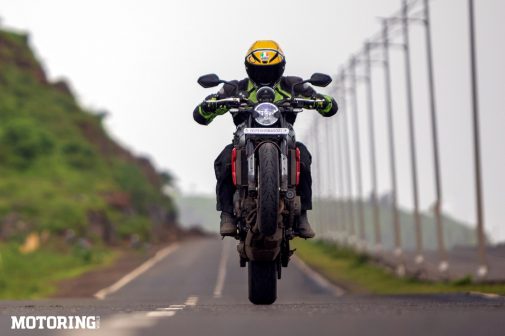 Is it fun?
Absolutely! A light and powerful motorcycle cannot be anything but fun. The Trident isn't exactly perfect, but it offers you things that no other bike does. I think, thanks to its fantastic triple motor, I ended up wanting more from the rest of the bike, and others might, too. Nonetheless, the Trident has got the big-bike feel that parallel-twins don't, it's got the sound and acceleration to thrill you all day long, and it has enough character for you to ignore its minor shortcomings. And I just know that it's waiting for a café racer conversion, too!