You always know a motorcycle maker has done something right when the first handful of throttle reduces your vocabulary to a single awestruck 'Whoa.' Then again, performance versions of machines are supposed to do just that, aren't they? In this respect, the new Triumph Street Triple RS succeeds in spectacular fashion, more so than any other motorcycle I can remember.
It has more power and all the fancy parts you'd expect to see on a track-ready bike; a Showa big-piston fork, Öhlins monoshock, Brembo M50 monoblock front brake callipers, a quickshifter, five riding modes, Pirelli Diablo Supercorsa SP tyres, and — you know they're not kidding when you see this — a lap timer. Maybe they should've called this the Track Triple. The suspension and control levers are all completely adjustable, too; heck, even the cool TFT screen can be adjusted to show information in a total of six different configurations. And it can be adjusted for viewing angle, too. The problem was that none of it seemed to be adjusted for my size or weight. But more on that later.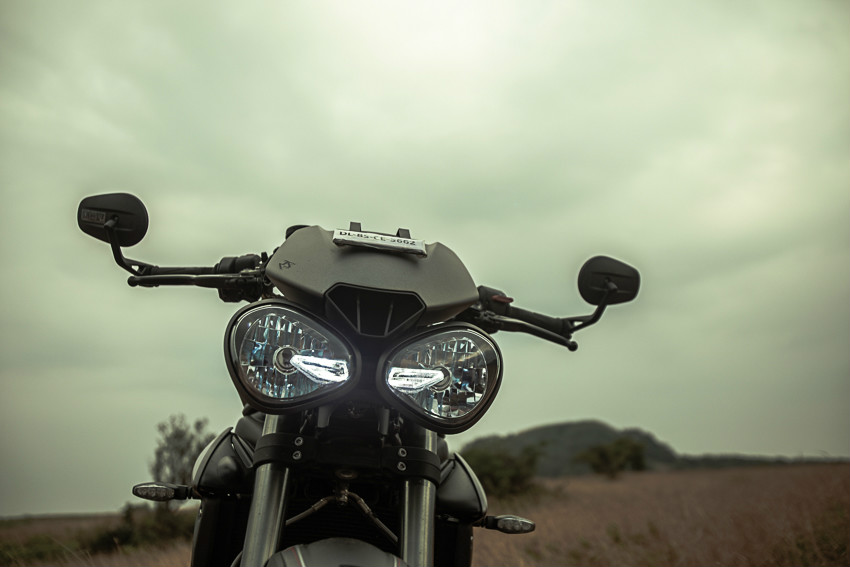 First off, the Street Triple RS features that 'pre-crashed for you on the factory floor' look that the sportsbikes-turned-streetfighters of the '80s spawned, and Triumph's own Speed Triple came to epitomise. Frankly, I'm not much of a fan of this school of motorcycle style, but then for aesthetic gratification I always have the Thruxton R. There's really not much to look at on the RS, though the special parts do catch your attention if you know what you're looking at. Also, there's a little bit of café-racer cool in there, thanks to the 'bar-end mirrors. I don't know why they'd paint such a happy motorcycle with English-Weather Grey, though.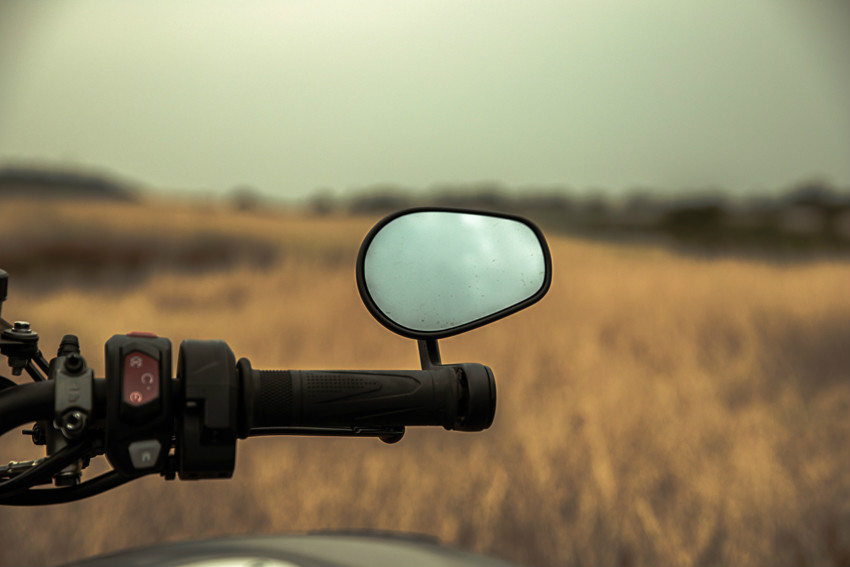 In my opinion, the Street Triple RS has enough power to overcome whatever fantasies of velocity you might have. A motorcycle that can hit 144 kph in second gear is more than fast enough for our conditions, no? Triumph's new 765cc motor is a bomb, indeed, and in the RS it's a most violent one. Sure, you can ride it all nice and easy like I did on a dark morning, and be completely underwhelmed; it didn't make any noise, was easy to ride around in top gear at low speeds, and came across as any other middleweight motorcycle. Until.
After about 7000 rpm, the bike seemed to abruptly remember that it comes with an 'RS' stuck on its flanks and fairing cowl, and wanted to make up for its forgetfulness from about 7001 rpm. The change in behaviour was as stark as it was glorious; the intake suddenly bellowed hard, hard enough for me to look down at the 'tank' with a shaking head, while the front wheel wanted nothing to do with the road anymore. Of course, all of this was accompanied by a world that moved past at a much faster rate. All of a sudden, this didn't seem like a bike that was made by tea-sipping gentlemen in tweed suits. More like hot-blooded chaps drunk on grappa.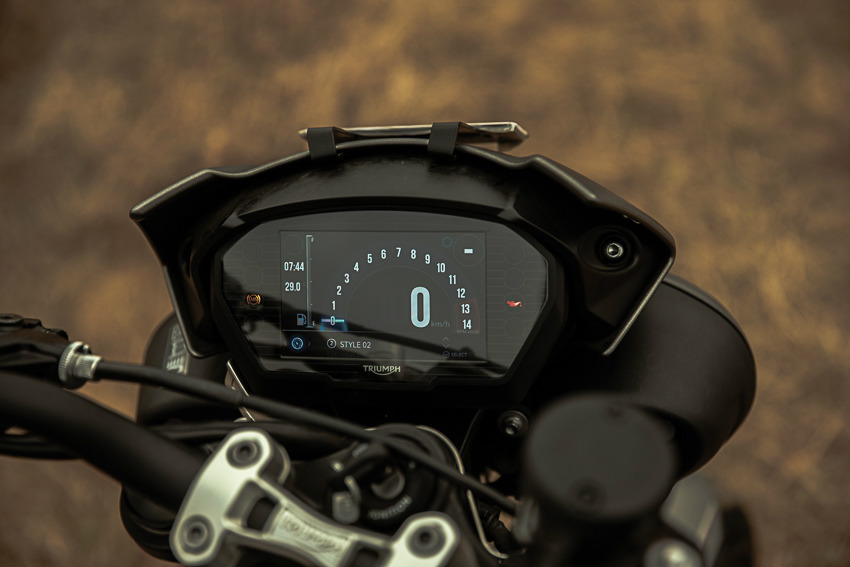 Certainly, the 120-odd bhp that the motor makes seemed like a whole lot more given the drama it created. Revving the RS out to its redline in mad bursts and changing gears via the quickshifter resulted in seamless forward progress, with race-bike-style staccato pops between upshifts thanks to the quickshifter's ignition cuts. Like any fun motorcycle, the faster you go, the better the Street Triple RS gets. However, as I mentioned earlier, it's stupidly fast for our conditions, so I satisfied myself with frequent eruptions of noise and horsepower until a maximum of fourth gear, leaving the top two gears for cruising along. And neither myself nor the RS were disappointed, I can tell you that.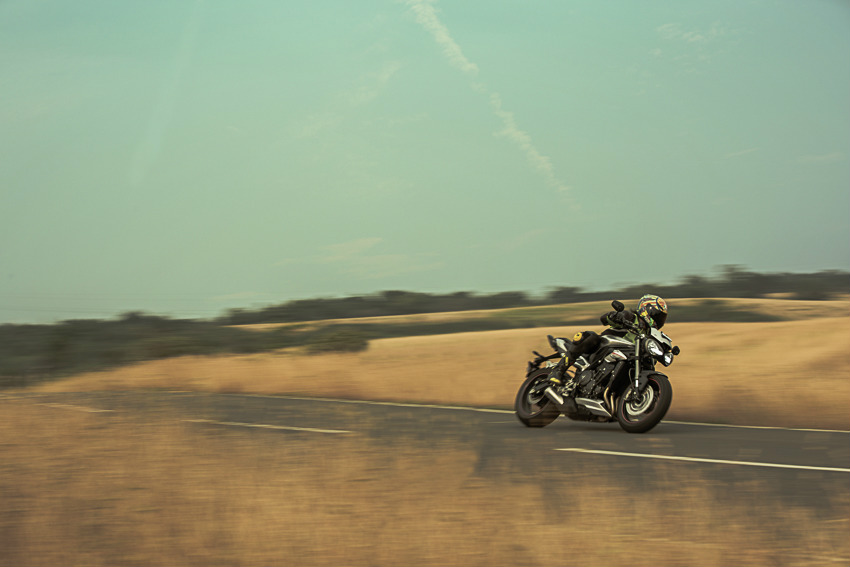 Coming back to the fully-adjustable nature of the bike, a big part of such setups working well is their meshing with the rider. As it was on the test bike, everything was as hard as rocks, which was a problem because I'm not. Or maybe it was because I'm a bit rusty, having spent most of the past few months inside of cars. And even then, the Street Triple RS impressed. Its rake and trail angles are different to those of the Street Triple S, and thanks to its major cycle-parts upgrade, the RS is a flat-out riot to ride hard whatever road you may find.
The maximum peace of mind comes from those fantastic brakes; you so much as think about stopping and they almost put you in reverse gear. The faith that a rider puts in the throttle is directly proportional to the confidence that the anchors generate, and the Street Triple RS's units are a great example of this fact. A harmony motor and rotor, you might say.
This complementary nature of acceleration and retardation means that you're free to explore the sides on which your knees are. And I must confess that there's a great deal more than a rusty me could explore. Thanks to those fantastic tyres, I never ran out of grip; indeed, even when I tried doing a quick burnout, the rear tyre held the road so tight I stalled it a couple of times until finally overcoming it with an almighty helping of revs. Seriously, I think all motorcycles should come with similar tyres, no matter what their capacity for speed.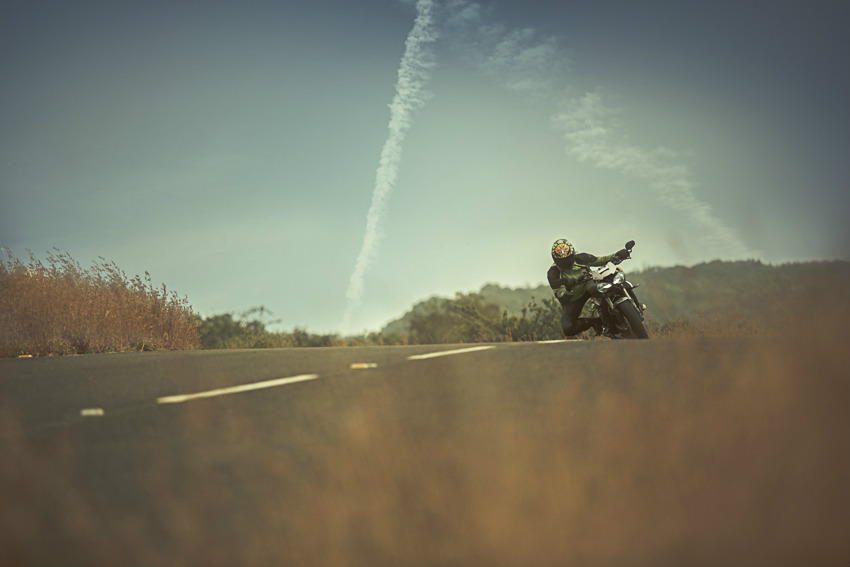 Even better is the fact that all that grip is backed up by a motorcycle that is all too ready to put its ear to the ground, listening to what the road has to say. Thanks to its tight chassis/suspension geometry and light weight, the Street Triple RS can be thrown around corners with confidence, and directional changes had me imagining that I was on a remote-controlled boomerang. This bike's handling is as predictable as it is thrilling. And it all remains perfect in a straight line, too. This dynamic ability of the motorcycle was the sole reason why I grinned all the way through the neck, shoulder and back pains. I only wish I had someone around who knew their way around fully-adjustable suspensions.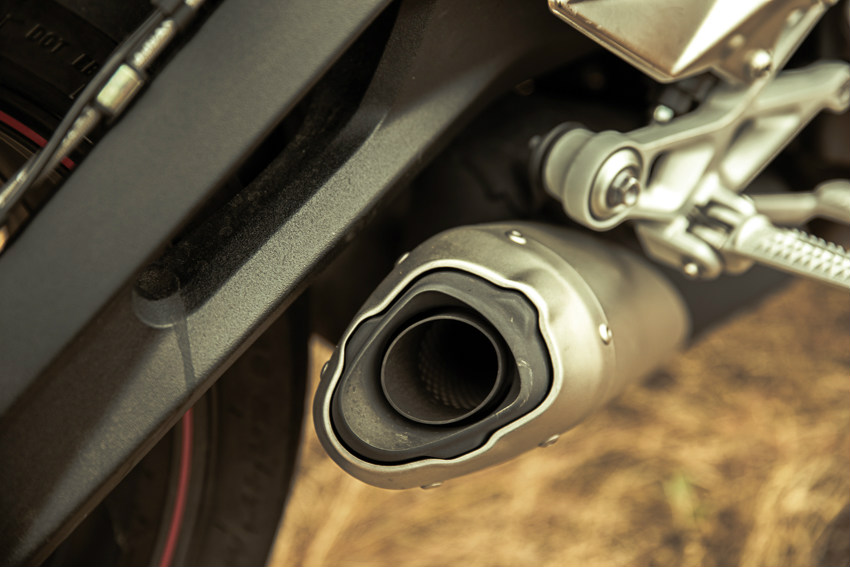 That said, I must add that motorcycles like the Street Triple RS are few and far between, and they always give you more than they take. Many machines clad with the right parts fail to deliver when it comes to the riding experience. The Street Triple RS is not one of them, and is living proof that motorcycles really are much more than just the sum of their parts. A handful of throttle is quite enough to confirm that.
MOTODATA
Triumph Street Triple RS
POWERTRAIN
Displacement: 765cc, inline-triple
Max power: 121.2 bhp@11,700 rpm
Max torque: 7.85 kgm@10,800 rpm
Transmission: 6-speed
CHASSIS
Type: Twin-spar frame
SUSPENSION
(F/R): 41 mm inverted fork/monoshock
BRAKES
(F/R): 310 mm twin discs / 220 mm disc
TYRES
(F/R): 120/70 ZR17 / 180/55 ZR17
DIMENSIONS
L/W/H (mm): NA/735/1085
Wheelbase: 1410 mm
Seat height: 825 mm
Dry weight: 166 kg
Fuel capacity: 17.4 litres
PRICE: Rs 10.55 lakh (ex-showroom)