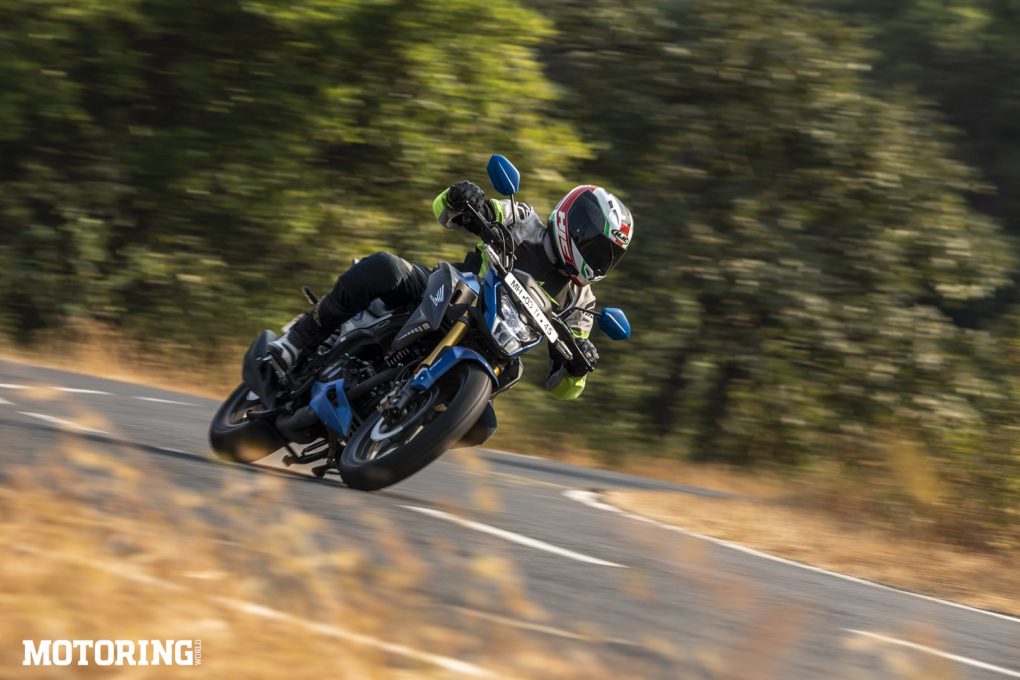 In 2015, when Honda launched the Hornet 160R, it quickly started racking up sales, especially from young buyers who wanted a sporty alternative to the CB Unicorn 160. The sharp lines, wider tyres, stubby exhaust and the great X-shaped tail-lamp had a lot of takers, and the Hornet 160R had a pretty good run which lasted until the competition caught up with their own sporty machines. Today, the premium-commuter segment has expanded and Honda is back and it believes it has done enough with the new Hornet 2.0 to attract even more buyers.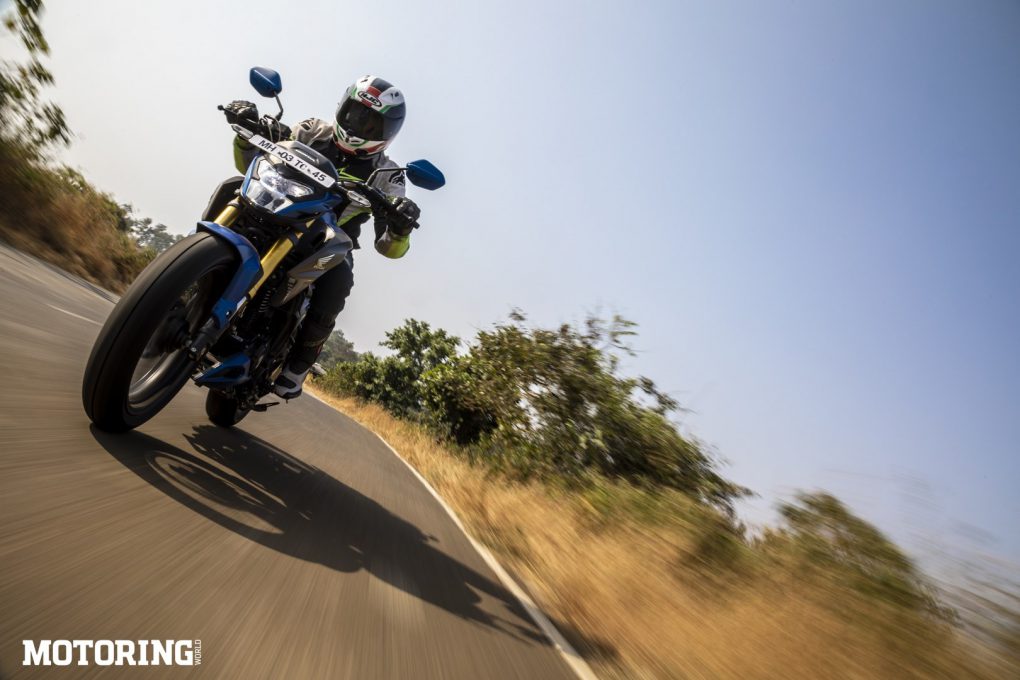 Unlike most new motorcycles that are limited to only BS6 updates, Honda has chosen to revamp the Hornet with a lot more, and it has turned it into even more of a sporty commuter this time around. Having lived with the previous Hornet which was once a part of our Survivor fleet, the new Hornet is a striking departure from the previous one. With more pronounced tank extensions, a belly cowl and vents on every possible panel, there is a load of sportiness and aggression in its overall design. Honda has retained the X-shaped tail-lamp which, in my opinion, is great because it is the Hornet's signature design element. Other than that, it now gets split seats, wider tyres, LED lighting all around, and the gold-anodised upside-down fork. Honda says the USD fork is mainly a cosmetic upgrade owing to the customer response they've received. But I felt this fork delivers a lot more than just making the motorcycle look muscular.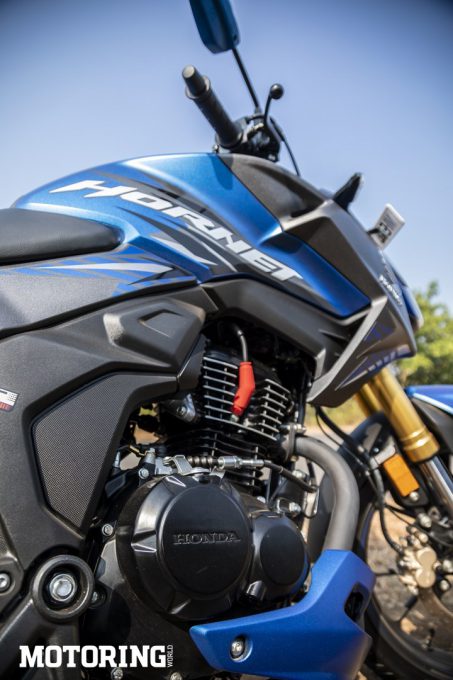 But before I get to that, two things stick out like sore thumbs on this bike. While other test bikes had black mirrors, the one I got came with blue ones that looked quite tacky up close. And the second was the LED headlamp; although it looks all edgy and cool, the high beam is almost useless as it fails to cast a bright spread of light. This turned out to be an issue especially when I was riding before sunrise through winding roads out on the highway. This is something I've noticed in a lot of motorcycles equipped with LED lighting.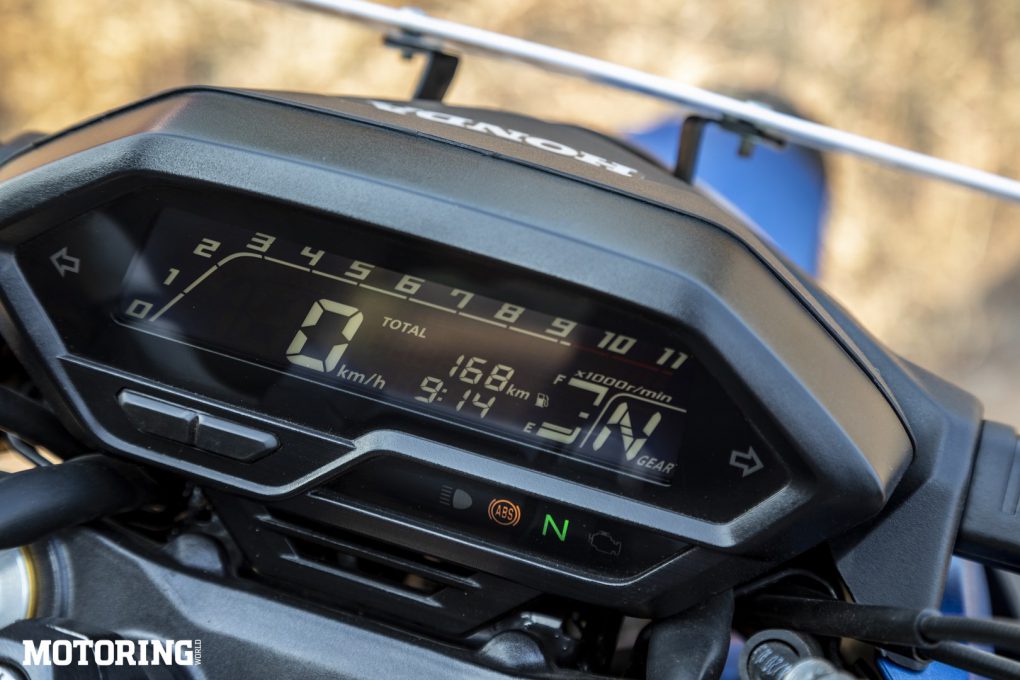 Once the sun rose, the darkness hiding the road lifted, which was a sign to open the throttle. The Hornet now has a larger motor displacing 184.4cc which translates to a small bump in power and torque numbers. The motor feels at home at the 90-kph mark and will happily stay there till the tank runs dry. On open stretches, ducked down on the 12-litre fuel tank, the digital read from the LCD meter climbed till 129 kph, unwilling to go any further. Besides a slight buzz at the 'pegs, the engine packs oodles of refinement, a typical Honda trait, and there is linear delivery of power across the rev band. Even the gear shifts are slick and positive, and are complemented by the light clutch. In fact, the operation is so easy on the fingers that I was able to pop my first intentional wheelie after a few attempts. Heck, I think this can be my new method of checking the clutch operation here onwards!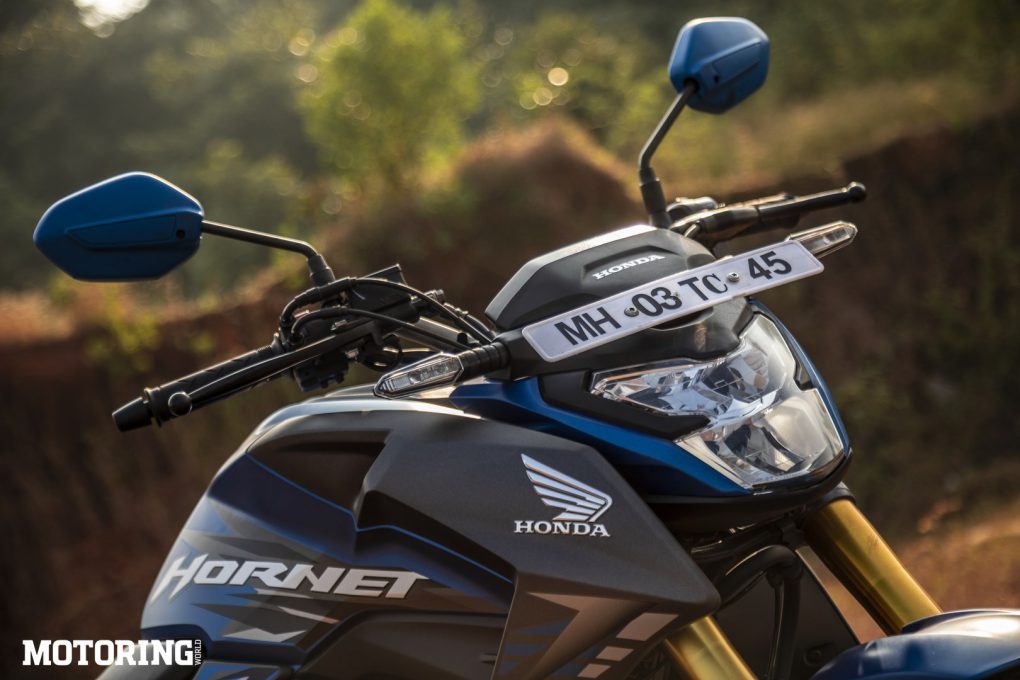 When not aiming to get the Hornet up on one wheel, I was on the lookout for corners. Because now with the harder USD fork and a firmer monoshock, the overall ride is slightly on the stiffer side. The Hornet now not only looks like a sporty motorcycle but also behaves and reacts like one. I could attack corners with enough confidence to scrape the feeler bolts every now and then. The test bike was shod with MRF Zapper tyres (other bikes were fitted with Maxxis tyres. Why so? No clue) which offered sufficient grip and confidence in corners and on the brakes.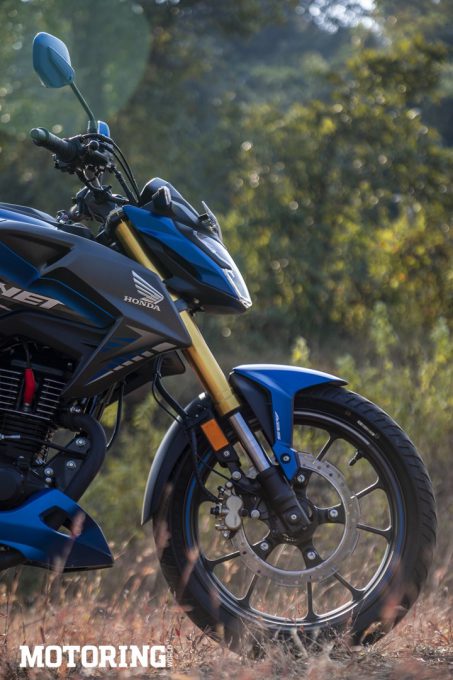 Speaking of the brakes, the Hornet features petal discs at both ends which do a fantastic job of shedding speed. The front offers a strong bite with good progression, while the rear tends to lock up easily when stepped on. Honda has opted to equip the Hornet with ABS only for the front wheel; I feel people should at least be given the option of dual-channel ABS.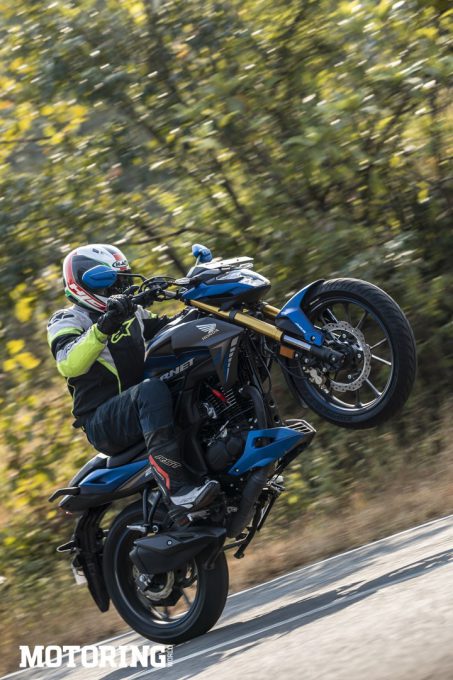 Riding the Hornet in the confines of the city, with its overall short gearing, I could manage speeds as low as 25 kph in fifth gear, something unheard of for a motorcycle of this displacement. I was also able to get going from standstill in second gear comfortably without putting the engine under any stress. Also, having spent the entire day on the saddle, I didn't have any agonising complaints from my backside, thanks to the firm and adequate cushioning.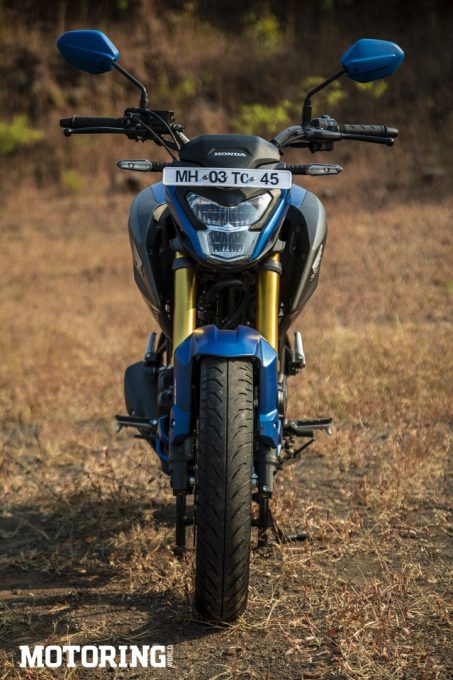 Putting all things together, I've got to say the new Hornet is a much more likeable motorcycle than before and should be well received by the youngsters who'll peste their parents for one. I had a ball of a time on the Hornet 2.0, all because after a long time Honda has come up with a motorcycle that's exciting and fun to ride, and will remain like that for a long time. For a sticker price of Rs 1.27 lakh, ex-showroom, the Hornet 2.0 is a bit on the steeper side. But again it's probably justified for a buyer who wants a sweet balance between daily commuting and sportiness, with that eye-candy USD fork. So, does Honda have a winner in its corner? Well, that's something time will tell, but it now has a streetfighter that can pick a fight.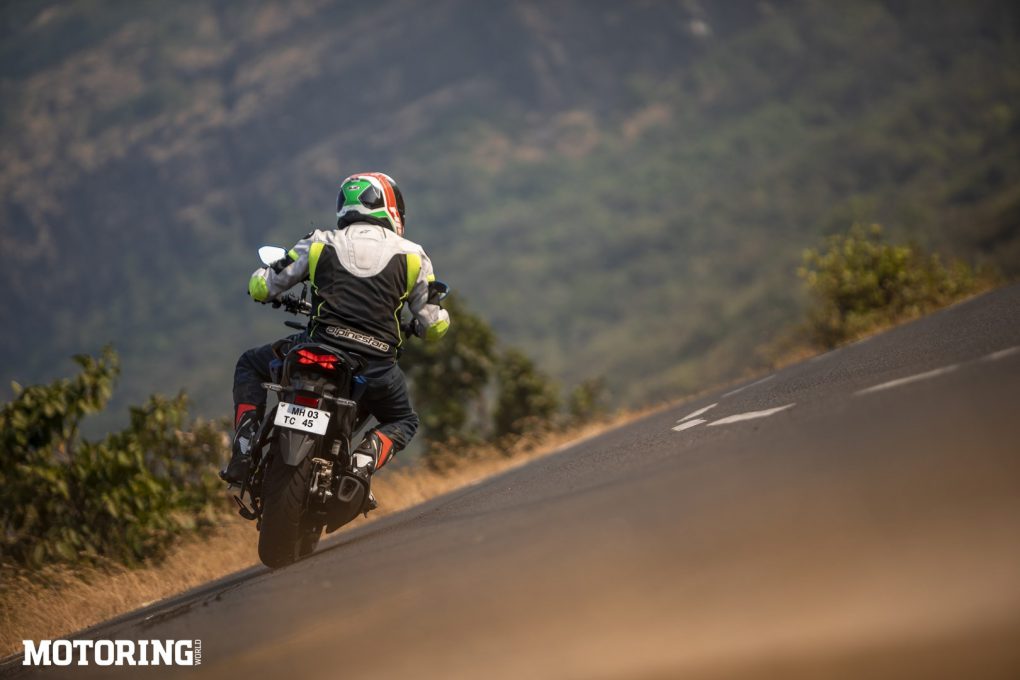 MOTODATA
Honda Hornet 2.0
POWERTRAIN
Displacement: 184.4cc, single
Max power: 16.8 bhp@8500 rpm
Max torque: 1.64 kgm@6000 rpm
Transmission: 5-speed
CHASSIS
Type: Diamond frame
SUSPENSION
(F/R): USD / monoshock
BRAKES
(F/R): 276-mm single disc / 220-mm single disc
TYRES
(F/R): 110/70 R17 / 140/70 R17
DIMENSIONS
L/W/H (mm): 2047/783/1064
Wheelbase: 1355 mm
Ground clearance: 167 mm
Seat height: 590 mm
Kerb weight: 142 kg
Fuel capacity: 12 litres
PRICE: Rs 1.26 lakh (ex-showroom, Delhi)