Despite the uncertainty around Harley-Davidson in India these days, a chance to ride one which almost everyone has been raving about is always welcome. As you may know, the Low Rider S is kind of special (pun intended; the S does stand for Special), with a big engine and a sporty stance. Well, at least sportier than what's associated with a Harley, and that had my full attention. Most Harley models, when they are suffixed with this S, lose a lot of their chrome and bling. An all-black theme replaces much of the chrome, though on the Low Rider S there are minor touches of chrome on the exhaust tips and engine fins complimenting the blacked-out look.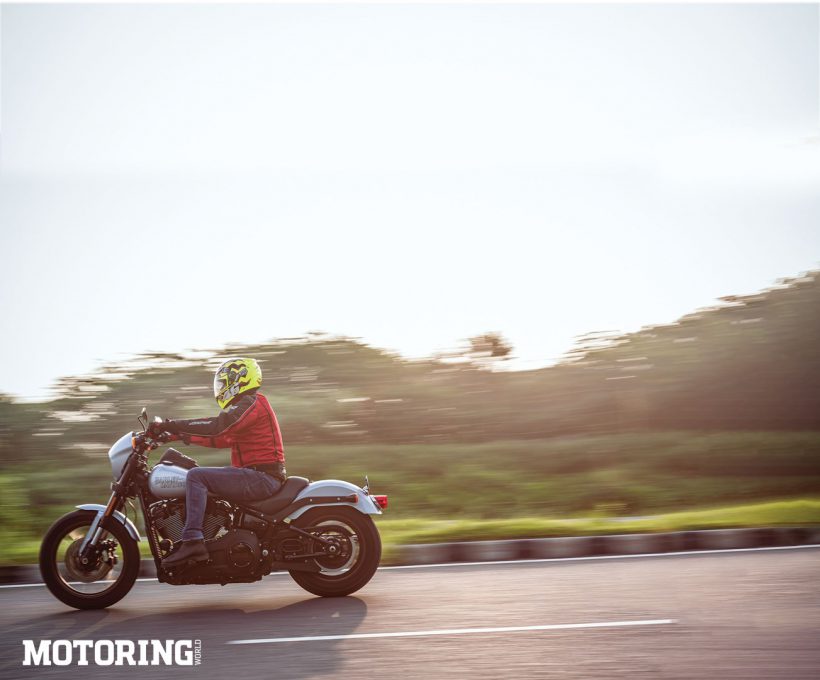 Harley says the Low Rider S is a hat tip to the Californian custom scene, and the low fender at the rear with a low single seat makes that clear, too. The riding position seems to be inspired by Sons of Anarchy, with mid-mounted footpegs and a wide handlebar that sits on top of a 4-inch riser. More on the riding position later, but as far as looks go, the Low Rider S will definitely work for Harley fans. The blacked-out bits aside, what is genuinely special about Harleys which wear the S badge is they get a bigger engine than their normie siblings.
The Low Rider S gets an upgrade to the larger Milwaukee-Eight 114, over the 107, and that's what literally sets the tone for proceedings. I'm a fan of the Milwaukee-Eight motors; with 1868cc and 16.1 kgm@3000 rpm, there is no shortage of grunt, and the Low Rider S is always ready to leap, something you don't often say about a Harley. And once you get used to it, it is a lot of fun. An empty road, a roaring Harley, and an engine that does triple digits with ease. I am kinda getting the California vibe, you know.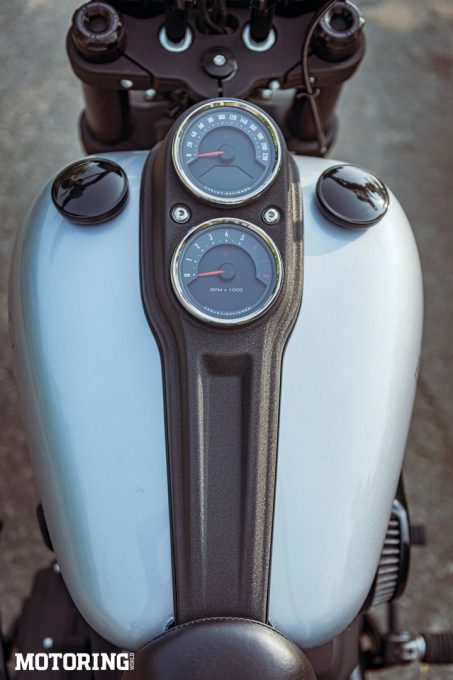 While the Milwaukee-Eight 114 is the heart of the Low Rider S, and what a lovely heart it is, there is more to the bike which makes it special. The Low Rider S now sits on the Softail platform, as against the old Dyna bones, and chassis performance is boosted by a 43-mm inverted cartridge fork from Showa. Along with an aluminum triple clamp, the beefy forks let you be more aggressive in corners without worrying about the front end wandering.
The Low Rider S is happy to go faster and the suspension plays an important role in giving you the confidence to go along. The 28-degree rake on the Low Rider S, two degrees less than the Low Rider, reduces the expected nervousness while chucking a 308-kg bike into a corner. Stopping power comes from 300-mm front discs doing most of the heavy lifting. I found the rear brake to be a little wooden and lazy, but nothing that would scare you even in emergency braking conditions. For those conditions, there is always ABS.
There is a lot to like about the Low Rider S, as long as we are talking about the mechanicals, but there are some things that don't work for me, like the totally impractical riding position. I am not supermodel-tall and yet it was a pain in all the wrong places to ride the Low Rider S for longer durations. The Low Rider S is set up to go fast, it wants to go fast, but the knees-out arms-wide position doesn't let you. It is a battle between who cries first, your tail bone or your arms, because one of them will. Since we are on the bits I don't like, the tacho and speedo on the tank look very cool as long as you are not riding. When you are, they are too far out of the view to be useful and I don't want to be looking down while doing triple-digit speeds. A small readout in the dead space behind the mini-fairing would not be too much of an ask, eh, Harley?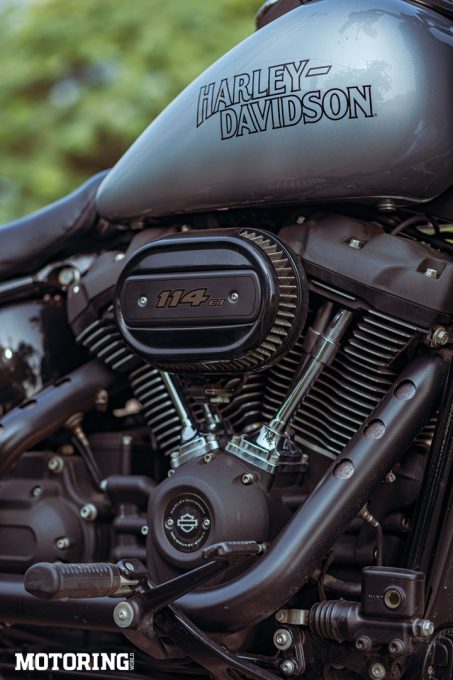 To sum it up, the Low Rider S is a nonconformist by design. The combination of power, handling, ergonomics and lack of technology (barring ABS) is not something which will appeal to all riders, and the Low Rider S wears that as a badge of honour. It wants you to be as confrontational as Jax Teller, with pride, and gives you the ingredients to be one yourself. If that isn't your style, this bike is not for you. Despite the riding position, I am impressed with what Harley has done here. There is no traction control, no engine modes, no electronics to help — it is an honest motorcycle, the way motorcycles used to be, and I like that.
MOTODATA
Harley-Davidson Low Rider S
POWERTRAIN
Displacement: 1868cc, V-twin
Max power: NA
Max torque: 16.1 kgm@3000 rpm
Transmission: 6-speed
CHASSIS
Type: Steel tubular
SUSPENSION
F/R: 43 mm inverted forks monoshock
BRAKES
F/R: 300 mm twin discs / 292 mm single disc
TYRES
F/R 110/90 R19 / 180/70 R16
DIMENSIONS
L/W/H (mm): NA/NA/NA
Wheelbase: 1615 mm
Ground clearance: 120 mm
Seat height: 690mm
Dry weight: 308 kg
Fuel capacity: 18.9 litres
PRICE: Rs 14.69 lakh (ex-showroom, Delhi)