This one is for Gen Z. Especially those between the ages of 18 and 25; in, or fresh out of college; and single (yeah them too!). If you fit the bill and need a mode of transport to ferry you to and fro then you're in luck. Simple Energy might have just the thing for you — the One. No, I am not referring to the big screen flick Matrix. Although, you'd wish. The One is Simple Energy's much anticipated electric scooter, launched last year, but back then was very much in the prototype stage, just like Neo when he wasn't ready yet (sorry for the movie reference again). However, things are now different as the Bangalore-based start-up seems to have ironed out most of the concerns with the scooter. Ready to go down the rabbit hole, then? Read on.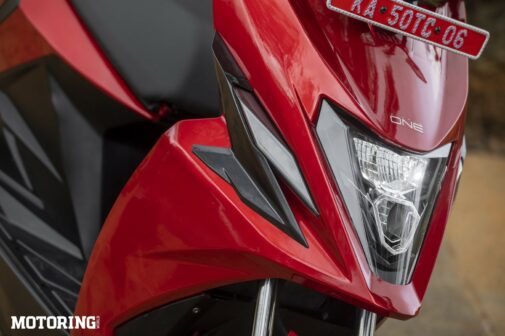 It has been four years since India received its first smart e-scooter from Ather Energy. Even before that, we did have a good number of electric scooters floating in the market, but nothing substantial to have caught everyone's attention. These silent two-wheelers, some even producing fake audible sounds, are said to be inevitable successors to the internal combustion (I don't like to refer to them as ICE) scooters. While I always felt it was a far-fetched reality to have electric mobility as a mainstream commodity, the recent development in this area has been pretty tectonic. The first time I rode the Ola S1 Pro in Hyper mode, I kid you not, I was literally about to roll off the scooter as I had nearly lost my grip on the 'bar. Yes, it would have been a moment of terrible shame which I closely managed to escape.
The thing is, and I do admit it, that when it comes to acceleration, electric vehicles have got the upper hand. Delivering torque from zero rpm is something that internal combustion engines can't produce that easily. That said, the conventional huff-n-puff engines that suck in air and fuel, squeeze the mixture, light it up and emit an explosion for an earful exhaust tune while moving the mass ahead, are well settled when it comes to range. Low on fuel? Head to the nearest fuel station and you are back in business in less than five minutes. Simple Energy seems to have cracked the code, well almost, because they claim that in real-world conditions, the One will be capable of returning a range of about 200 km. Interesting, I say. That said, a bunch of journos, including myself, were flown down to Bangalore to test ride the scooters. However, do note since the ride happened within a gated housing society, I'll share my initial impressions for now and a proper road test when we get to ride it later on public roads.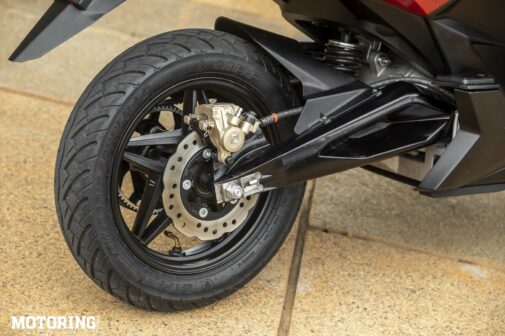 So what's the Simple One all about? For starters, it is an attractive-looking electric scooter — with specs that have caught our interest. Built around a tubular chassis, the One sports an edgy yet compact design with a triangular LED headlamp and a split-type LED tail lamp at the back. Like most smart e-scooters, this one too gets a 7-inch TFT display, while the seat is wide and comfy, striking alloy wheels shod with grippy tyres. The result is a striking scooter that looks proper sporty. That said, although it is an all-new scooter and an all-new brand, there is no aesthetic disconnect between internal combustion and electric ones, which is a good thing.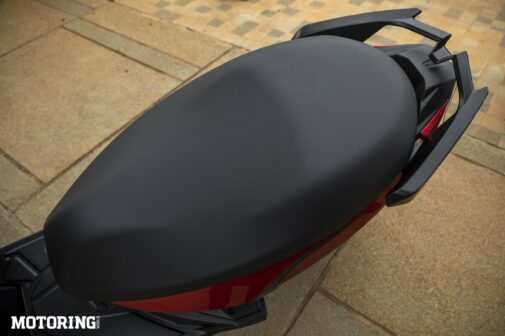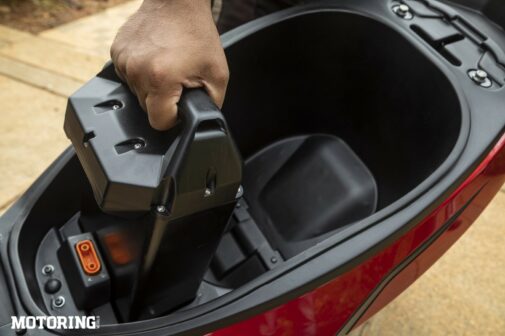 Looks aside, this is a seriously fun scooter to ride, capable of raising an eyebrow or two with how it accelerates and good handling. Simple has opted for a PMSM (Permanent Magnet Synchronous Motor) mounted on the chassis, transmitting the power to the rear wheel via a belt drive. In terms of power figures, the One registers a max power output of 11.2 bhp and a puzzling peak torque output of 7.34 kgm. That, when combined with the 115 kg kerb weight, we are talking about some serious power-to-weight ratios. You have four riding modes to choose from — Eco, Ride, Dash and Sonic. In Sonic mode, Simple claims acceleration of 0-40 kph in 2.7 seconds, which in scooter-land is nothing short of impressive. While I can't confirm the same due to the lack of time and testing equipment. But what I can assure is that it is bloody fast. It takes a while to get accustomed to throttling it full from a standstill, as the surge of speed is instantaneous. The top speed that I could manage was a little shy of 100 kph, given the lack of road to test.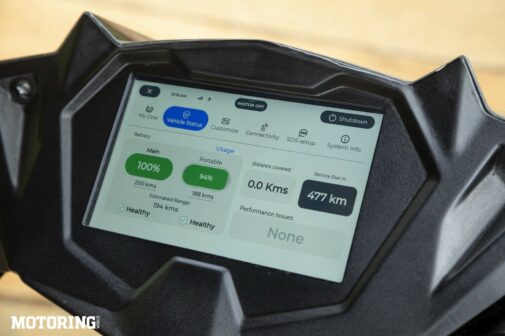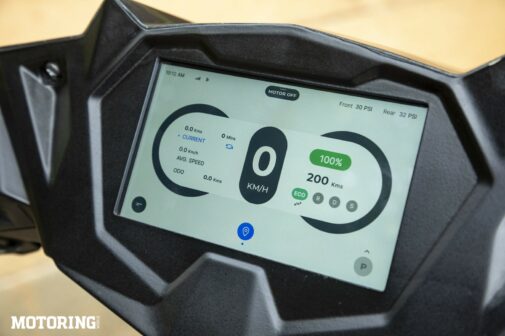 To address the range question, Simple offers the One with a 4.8kWh battery which is more than any other two-wheeler EV on the market today. Over that, the company has split the battery into two units. One is a 3.3 kWh fixed battery that's located on the floorboard, and the other is a detachable 1.5 kWh battery pack that sits under the seat. With this configuration, one can easily remove the smaller battery pack (weighing 7kg), take it home and charge it, if there's no provision for changing in the said parking area. And when at work or on a charging grid, the scooter can be plugged-in to juice up the batteries. While the riding mode is restricted to only Eco (45 kph top speed), when drawing power only from the auxiliary battery, it strikes off the dependency of relying on a fixed battery pack.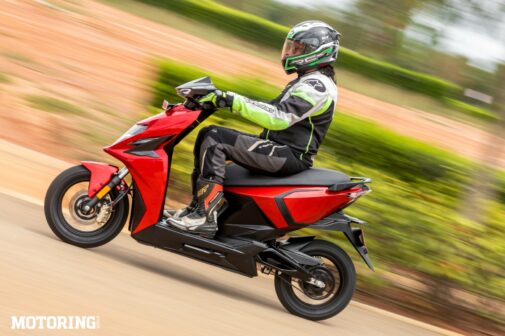 That covered, what the One also excels in is its superior handling abilities. It stays completely neutral when you're cornering hard, daring you to lean more and carry more speed. Yes, this scooter eggs you to do that. The suspension isn't the only star of the show; the MRF tyres performed well on the road surface that was available during the ride. The same goes for the brakes. The bite is powerful and easy to modulate, although I did feel a flex on the steering stock on hard braking, which Simple says will be fixed on the production units. And if you do intend to spend a lot of time on the One, you'll appreciate the fact that this isn't a very cramped scooter. Besides giving the rider adequate room, the One also has enough storage space under the seat to fit a half-face helmet.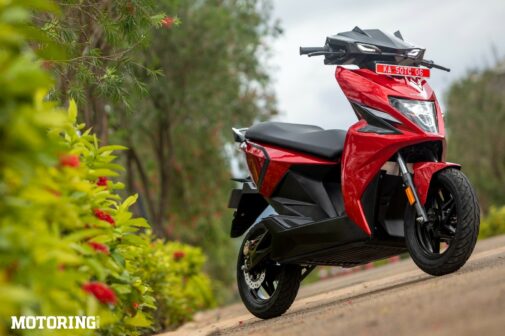 The Simple Energy One is quite impressive, to say the least. It handles well, accelerates like no one's business, and comes with all the features that its competition has, and then some. At a quoted sticker price of Rs 1.10 lakh ex-showroom, it is a lucrative proposition that's offering both, performance and range. Now all I hope is that Simple doesn't take its sweet time with the production of their scooter and eventually joins the race late when the other players have moved a level ahead in the game.
MOTODATA
Simple Energy One
POWERTRAIN
Motor:
Battery:
Peak Power:
Peak Torque:
PMSM
4.8-kWh lithium ion pack
7 kW (11.2 bhp)
7.34 kgm
BRAKES
F/R: 200-mm disc/190-mm disc
TYRES
F/R: 90/90 R12 / 100/80 R12
DIMENSIONS
L/W/H (mm):
Wheelbase:
Ground Clearance:
Seat height:
Kerb Weight:
NA
1305 mm
165 mm
775 mm
115 kg
CHARGING TIME
Fixed battery 0-100%:
Removable battery 0-100%:
Range:
2 hours 45 minutes
75 minutes
203 km
PRICE
Rs 1.10 lakh (ex-showroom)