A hooligan that's learnt to behave itself. Yes, as it comes of age in celebrating its 21st birthday, the motorcycle which for the past couple of decades has been the marketplace reference for hooligan-bike hot-rodding has actually grown somewhat warm and cuddly – respectable, even. For indeed, that's what the Triumph Speed Triple has become by comparison with the brash copycat kids from KTM, BMW, Ducati and Aprilia which have come along of late to try to knock the British bike which invented the streetfighter sector off its best-selling pedestal via more cubes, more power and more grunt, plus racetrack-worthy electronics and chassis hardware. Oh, and even more attitude, an attribute which the best of British trendsetter adopted big time in breaking all the rules upon its creation back in the mists of time. Well, 1994, actually…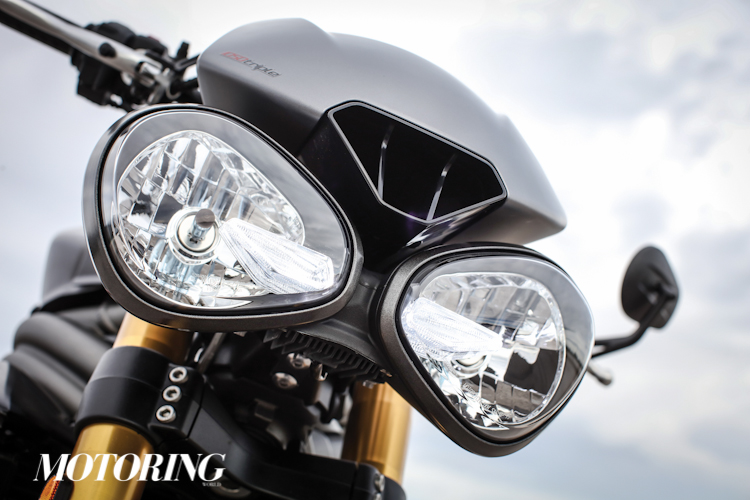 So now as part of the huge ongoing makeover of its entire range, Triumph has turned its attention to revamping the Speed Triple that's made such a key contribution to the profitability of John Bloor's company over the past two decades. However, while they'd much rather you didn't call the result evolutionary, Triumph management has resisted both spending lots of money by completely binning everything that's gone before and starting over again – as they've essentially done with the Bonneville, albeit retaining the same overall architecture – and at the other end of the scale just splashing a few pounds sterling on merely making a few minor touch-ups to the existing model to try to wreak a little more revenue from it in the face of its recently launched rivals.
In completely redesigning the Speed Triple's satin-black-painted 1050cc engine, Triumph has retained the same dimensions – but with no less than 104 different component changes, it's effectively an all-new motor. So while the crankcases are unchanged, the 2016 model's engine has a new crankshaft, pistons, rings, counterbalancer gears, camshafts, throttle bodies, gearbox ratios, selector mechanism and airbox. There's also a smaller radiator with a narrower frontal area, a new cylinder head with revised porting and a new combustion chamber design and a Keihin ECU incorporating an RBW throttle for the first time on this model, with a choice of five different riding modes that are easily selected on the go – Track, Sport, Road, Rain, plus one rider-configurable mode. Each of these offers the full engine performance in terms of peak power and torque, but each delivered differently via a distinctly different throttle response, ABS setting and traction control level. Both the latter are switchable and each is also included for the first time on the Speed Triple, so that this new 2016 version represents a significant step up in terms of electronic sophistication and rider assistance – but not at the cost of a substantial increase in cost.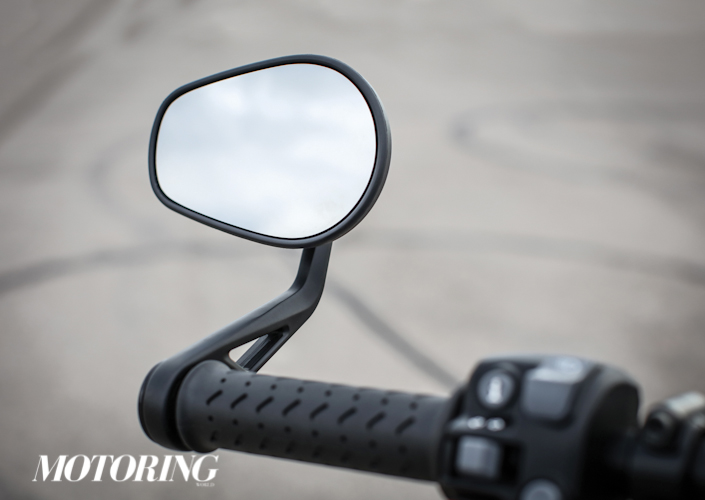 So while unlike the various members of the Bonneville family which are all now being built in Thailand, the Speed Triple is still assembled at Triumph's Hinckley plant in the UK, it costs a remarkably competitive Rs 10.08 lakh for the Speed Triple S base model, rising to Rs 11.36 lakh for the Öhlins-equipped R model. Compare that to the Rs 13.39 lakh list price for the cheapest version of the new Ducati Monster 1200 or the Rs 13.83 lakh ticket price of the KTM, and that comes over as good value from the British manufacturer. There's also a new fuel delivery system that Stuart Wood says ensures a superior fuel mix to increase combustion performance, while the new exhaust header design allows for a larger, denser, Euro 4-compliant catalyst while still retaining a 70.2 per cent more free-flowing exhaust format. The result of all this is a 5 per cent increase in power to a claimed 140 bhp at 9500 rpm, with what on paper seems just a small lift in peak torque to 11.42 kgm at 7850 rpm, compared to the outgoing model's 133 bhp at comparable revs.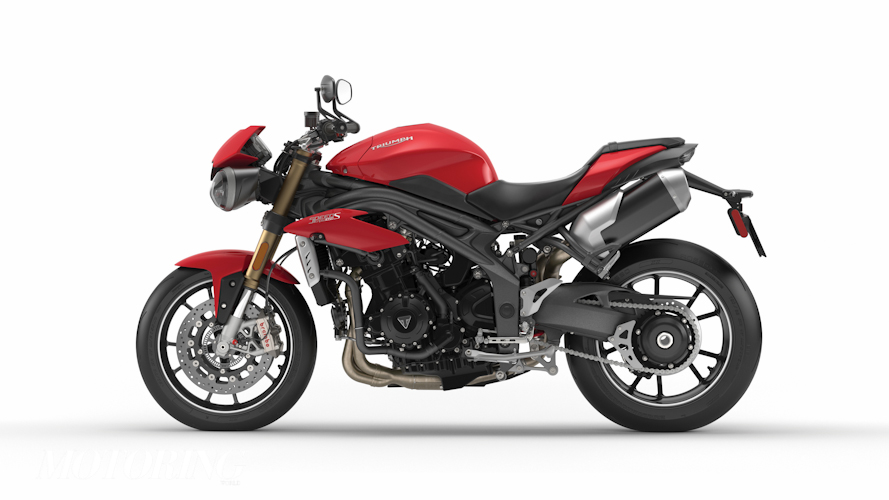 Okay, this sounds relatively wimpish compared to the 160 bhp/13.46 kgm output delivered by the new Ducati Monster 1200, let alone the 177 bhp/14.68 kgm proffered by the KTM 1290 Superduke, and as with the Street Twin, this relatively small increase in performance numbers doubtless explains why Triumph declined to reveal the new Speed Triple engine's figures at its EICMA Show debut. However, it's not till you ride the two different generations of the model back to back that you fully realise what a significant difference in real world rideability and responsiveness this redevelopment has achieved – and furthermore, how much more accessible and engaging a real-world ride the new Triumph is even compared to KTM's supreme streetrod or its Ducati rival for naked-bike supremacy.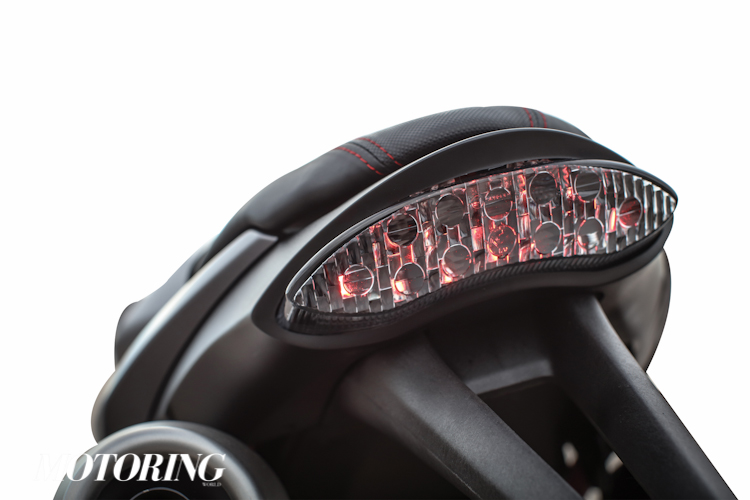 'We weren't interested in getting into a horsepower race,' says Stuart Wood, Triumph's chief engineer. 'Our focus was to refine the engine while delivering a little more all-round performance. The enhanced response you feel is down to improved combustion and the ride-by-wire throttle. This is a real enabler for us, since it lets us control the throttle body butterfly exactly how we want it to behave. This allows you to have quite a well-tuned engine, but also to keep it refined with a really smooth torque delivery. Historically, in the past you'd have refined an engine by softening it, but we now have so much control we don't have to throw a load of fuel down the ports to get the required response like you used to have to do.'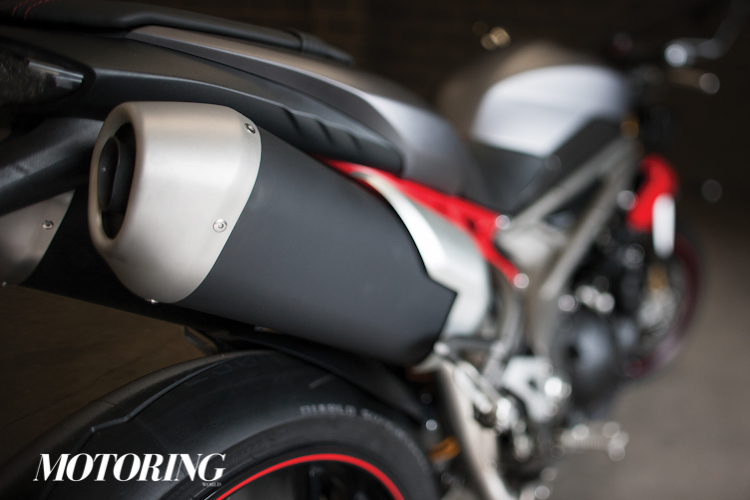 It's therefore mission accomplished for Wood and his men, for aside from an even more linear power delivery on a bike which to be fair didn't exactly have any steps in the power curve before, the big difference on the new Speed Triple is the substantially meatier torque now on tap all the way through the rev range, and especially in the mid-range where there's a better than 5 per cent increase between 4000 rpm and 7500 rpm. That's where you find yourself operating most of the time in everyday use aboard a bike which is notably more involving to be on than its predecessor.
Once you've lit up the glorious-sounding three-cylinder engine with even 120-degree crank throws via the clever combined kill switch and starter button, it's evident how much more low-end torque there is on the new model, compared to the not exactly reticent outgoing one. Its noticeably greater mid-range muscle from 4000 rpm upwards is matched by an extra kick of grunt at 7000 revs en route to the 10,000-rpm limiter. This provides more zestful acceleration low down, but not at the expense of a snatchy or unduly fierce pickup from a closed throttle in any ratio, in any riding mode – though Track obviously has a stronger pickup than Road, it's nevertheless controllably so.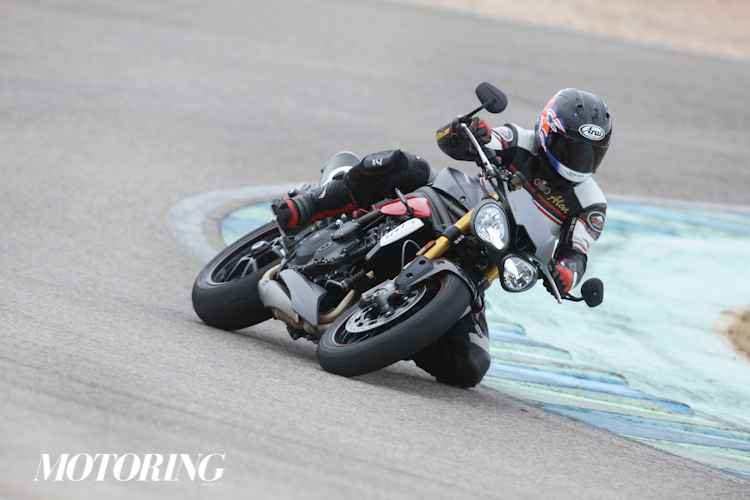 This extra torque also enables you to use one gear higher in plenty of places, thus riding the curve as you might do on a twin, while cutting down on gear-changing. Not that you need to, exactly, for the all-new gearbox Triumph has fitted to the bike derived from the 675R Daytona transmission is absolutely flawless – the disappointing gearshift was my major source of complaint on the outgoing model. Triumph have fixed this big time on the new one, resulting in a shift action fully up to Japanese standards that's so good, you barely need to use the clutch at all even downshifting through the gears.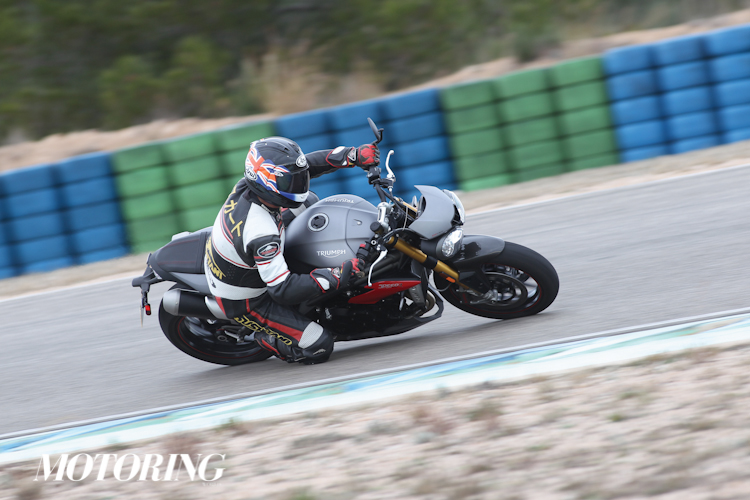 However, while inexplicably failing to transfer the 675R's powershifter to the new Speed Triple along with its gearbox technology, Triumph has now adopted what it calls a 'slip-assist' clutch on the new bike. This a ramp-style slipper clutch by any other name, complete with the trademark subdued click when you backshift down through the gears under heavy braking, with switchable ABS in reserve in case you exaggerate exactly how heavy. The slipper clutch setup retains enough engine braking still dialled in to help the twin radial Brembo callipers fitted to both versions of the Speed Triple stop you hard and late when you squeeze the adjustable lever, while ensuring good stability.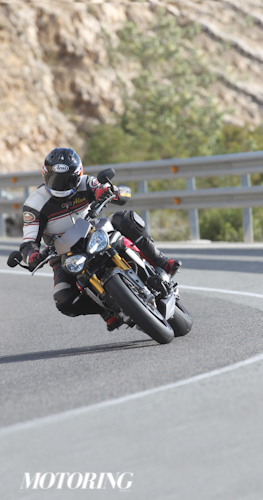 This new version of Triumph's streetfighter holds a line very well on the brakes, which means you can trailbrake into the apex of a turn with impunity – it won't sit up on you so that you miss the apex and head for the hedges, and the pickup when you get back on the throttle again is measured and controlled. Nice. It also holds a line well round fast 120-kph sweepers, but the main difference with the outgoing model is the way the revised riding stance makes the new one seem more responsive in the way it steers in slower, tighter turns, where it makes it easy changing direction via the good leverage from the flatter handlebar.
But at the end of the day it's the significant step up in engine rideability that makes the new Speed Triple so much fun to ride – especially in the absence of any vibration whatsoever from the three-cylinder motor, which is even smoother than before thanks to the revised gear drive to the single counter-rotating primary balancer at the front of the engine. To the evocative background soundtrack of its trademark intake roar and exhaust note, the triple motor's dynamic character inspires you to ride it hard, holding second gear for mile after mile along winding country roads, flicking from side to side effortlessly through the curves without a need to shift gear to tackle anything between a slow 40-kph hairpin and a 120-kph sweeper.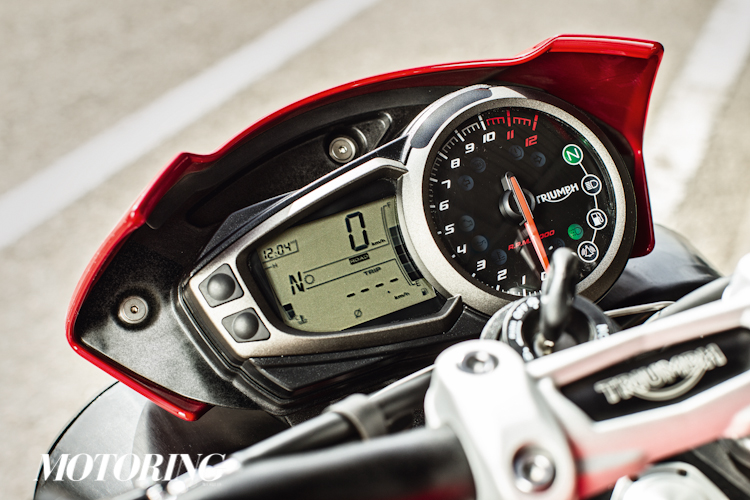 The carryover Öhlins rear suspension apparently has a softer setup on the new Speed Triple R I was riding than the old, thus supplying not only improved ride quality, but also greater compliance over rough surfaces, without detracting from its ability to lay the power down when you accelerate hard out of a turn leaned over. Triumph has a revised version of its multi-functional LCD instrument pack on the bike, which incorporates an analogue tacho coupled with a digital speedometer, fuel gauge, trip computer, lap timer, programmable shifter lights, and setting displays for gear selected, riding modes, ABS etc. It works well and is quite easy to read – but I can't help thinking it looks a little old-fashioned against the TFT colour displays on its KTM and Ducati rivals.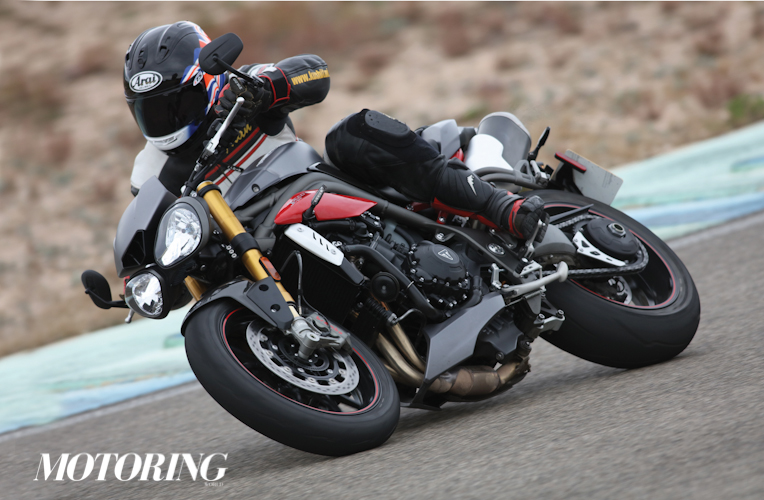 The Triumph Speed Triple isn't a bike for criss-crossing continents and certainly not for riding very far or long two-up, even with the improved passenger accommodation on this new version. Instead, it's for boulevarding to the beach via the twisty coast road, for heading into the hills via the odd mountain pass or two, or for simply getting from A to B via the scenic route as fast as possible, taking no prisoners with any other two-wheelers you find along the way. The latest, unquestionably more refined Triumph Speed Triple is a bike you'll be looking for excuses to go out and ride, and for the kind of roads which demand to be hustled along, using its great grunt and poised handling to best advantage. This is indeed a bike with attitude, backed up with the performance to punch its weight – a bike that's once again set to out-Monster anything else in the musclesports marketplace. At considerably less cost, too!