Owing to the happenings of the past, the arrival of 'a commuter with a difference' usually has our lot groan in agony. Commuters are simplistic motorcycles with limited functions and any attempts to overdo them are usually futile. At best, any such attempt would result in a collective chuckle and a scathing free-for-all roast, very often seeping into print as well. Ruthless bunch, aren't we? I thought a similar fate was in store for the Bajaj V15 when we first saw it in the flesh in the run up to the 2016 Auto Expo. I 
thought wrong.
A commuter motorcycle is expected to be minimalist in design, offering all the essentials but no amount of excess. Excess is wasteful amongst motorcycles built to a price and so it came as a shocker when Bajaj revealed that the V15 had not one, but two tail sections. In its retro-mod school of design, Bajaj has created something that's part-cruiser, part-cafe racer, the whole of which is expected to add up to a commuter (do the math!). Not an easy task, as anyone with the slightest inkling of motorcycle design will tell you. Anyway, the resultant two-tailed derriere is an eyesore and also my only major grouse with the V15. Good, so now we can move on to the nice bits.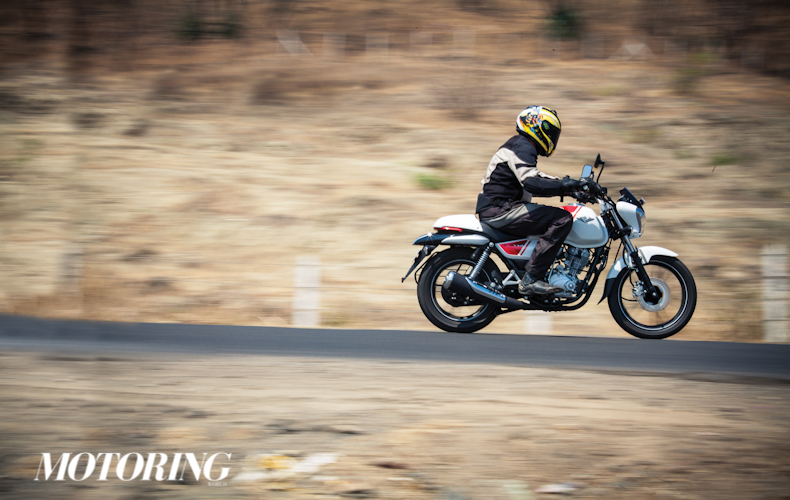 You've probably heard no end of its INS Vikrant connection, so let's keep that bit brief. There's no bit of the INS Vikrant you can touch or feel (or indeed, no way you can verify its incorporation, either) but here's how it works: Bajaj issues ingots to the official proprietors in charge of scrapping the former naval aircraft carrier and uses the refined metal in the tank assembly. In other words, if you thought you'd buy one and make a million off it on eBay, you're in for a lot of explaining and a hard time. Overlook all the fuss and what you get is still a pretty interesting commuter. It certainly stands out in a crowd and that squat, wide stance does set it apart from the herd of anorexic commuters.
What the design also benefits is the comfort on offer. With a 780-mm seat height, a wide-ish handlebar and neutrally positioned footpegs, what you get is a fairly commanding riding geometry most favourable to commutes. Mildly rear-seat pegs would have made the V15 a bit more fun, especially since its 1315-mm wheelbase brings to the table a lot of stability, but more on that later. The V15 is a commuter as comfy as they get, with a fairly appealing design (minus the subjective bits) and with that cafe racer-esque pillion-seat cowl (removable with an allen key incorporated into the ignition key — how thoughtful!), it has all the makings of a premium commuter you'd want to splurge on.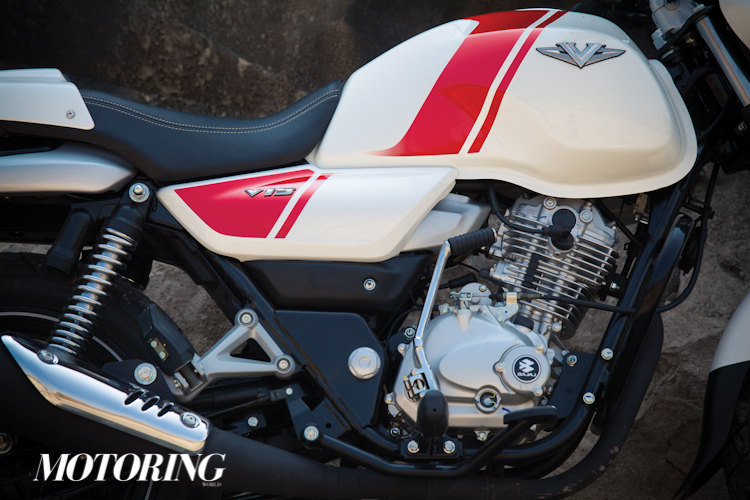 Or does it? At the heart of the V15 is a 149.5cc, two-valve, DTS-i (two spark plugs, for those who came in late) motor which, Bajaj claims, is all new. While that does sound good, what doesn't, or at least not all that much, is its 11.8-bhp power output compensated (thankfully) for adequately by the 1.3 kgm it produces. That's as much torque as a Yamaha FZ-S V2.0 produces, just so you know. What this sort of specification results in is a very meaty commuter with a lot of low-down grunt, a nice engine note and absolutely nothing to offer at the top. Bajaj's focus with the V15 was to benefit operating speeds between 30 and 60 kph — average commuting speeds in any urban setup — and that, it has done to perfection. If you absolutely have to go past 80 kph, you really will miss a fifth cog once you get there. On the other hand, there is a low-speed refinement and linearity to the V15 that's unlike any other motorcycle with a Bajaj badge on it. But wait — it doesn't really have a Bajaj badge on it…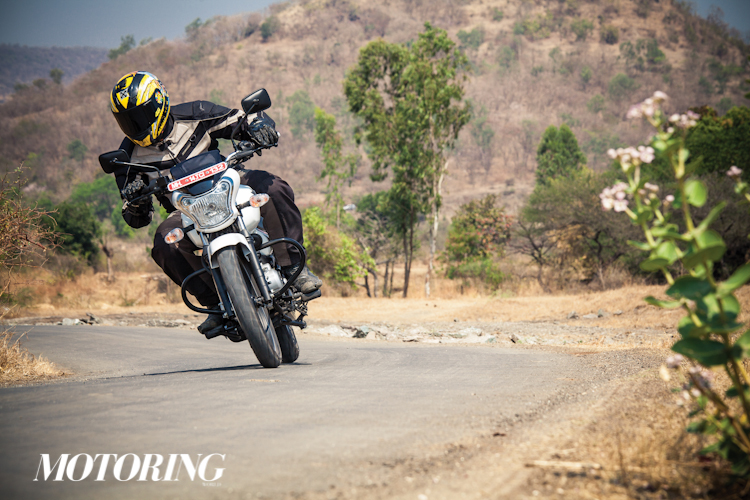 So, it's refined and happily quick in the city and that's very welcome, but is that all? Thankfully, no. What's really likeable about the V15 is its dynamics package. The aforementioned long wheelbase, low seat height and an 18/16-inch wheel combo make it feel planted like no other bike in its (intended) segment although that does come at a slight loss of flickability. It is, however, something dyed-in-the-wool commuters will love given that it imparts a big-bike-ish feel, which also extends to its grippy tyres and good-enough-for-the-job brakes. It also feels fairly robust to the touch and when the going gets rough, there's a lot of hard work the V15's suspension puts in to keep you isolated and comfy.
Does that make the V15 a mostly-right motorcycle? Yes, quite, although it would have been a lot more pleasant without its present niggles — mainly the styling and also the lack of longer-travel suspension which would have made it far plusher. In practicality, it's not all that far apart from a 125, agreed, but I think the V15 is a cool way to do commuter motorcycles and given that the average commuter doesn't mind letting go of a wad of cash for a smartphone, its ` 61,832 (ex-showroom, Mumbai) price is easy to digest. Ultimately, what you get with the V15 is a comfortable urban runabout that looks cool and will serve you well. And what I get with the V15 is a street-scrambler project bike. Sorry, just thinking out aloud!
MOTODATA
BAJAJ V15
POWERTRAIN
Displacement: 149.5cc, single
Max power: 11.8 bhp@7500 rpm
Max torque: 1.3 kgm@5500 rpm
Transmission: 4-speed
CHASSIS
Type: Steel dual cradle
SUSPENSION
(F/R): Telescopic fork/twin shock absorber
BRAKES
(F/R): 240mm disc/130mm drum
TYRES
(F/R): 90/90 R18 / 120/80 R16
DIMENSIONS
L/W/H (mm): 2044/780/1070
Wheelbase: 1315mm
Kerb weight: 135.5 kg (disc)
Fuel tank: 13 litres
PRICE: Rs 61,832 (ex-showroom, Mumbai)