Once upon a time in India, cruisers were all the chrome-and-rumble rage. They were the ultimate big bikes, and we even had a 125cc cruiser to laugh at before getting to the first imports from Eastern Asia and finally Harley-Davidson's official arrival in India. All along that road, our imaginations were fired up by custom-bike TV shows and images of forward-set feet heading towards worldwide horizons. And as it went with Indian motorcycling, then and now, Royal Enfield had more than a big part in painting those pictures as riders on all kinds of homegrown machines became part of the cruiser mosaic. And despite the Thunderbirds' and Meteor's successes, I've always felt that the genre hit a flat spot a long time ago in terms of real-world cruising character and ability, becoming a faint echo gone long down the road. The Super Meteor 650 is now here to bring that rumble back.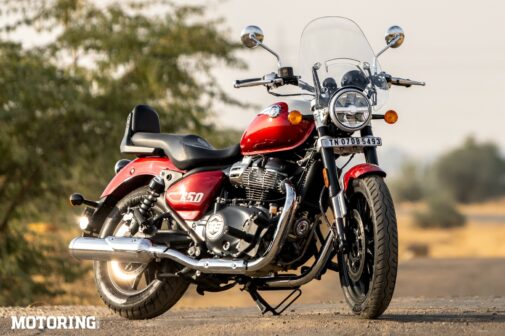 Cruisers aren't really my kind of bikes. That's just a wee bit strange because a handful of them vibe high on my list of all-time-favourite motorcycles. And yes, they're all American V-twins. So when I first saw it, I thought it was a good thing that the Super Meteor looked like it was designed in a room full of Harley-Davidson posters. Where many contemporary cruisers look like sci-fi machines, the Super Meteor wore a classic look that fits right in with the mood of a cruiser and with RE's overall palette. I thought of it as a little Fat Boy with the familiar Bullet frame loop on its flanks, with fenders whose area must be measured in square metres. There wasn't as much chrome as I'd expect on this kind of motorcycle, so I didn't get blinded in the sun while looking at it. And RE has raised quality to the next level; put the Super Meteor next to the older 650s, and they'll start to look like RE's stepchildren.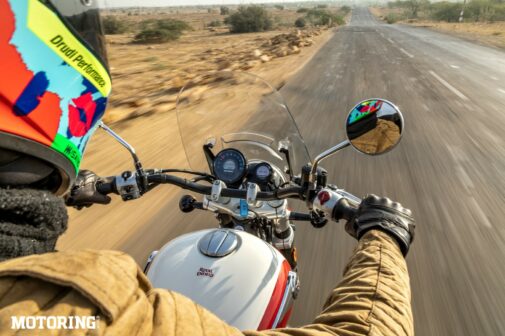 But is this a cruiser? Doesn't a cruiser have to be a long-and-low V-twin? Well, think of this way — if a V-twin can, so can a P-twin. Now, my opinion is confined to the Super Meteor's Celestial variant as it was the only one I rode, and which comes with some optional bits and bobs as standard equipment like the windshield and the touring seat, among others. RE's first proper cruiser also has the company's first LED headlight and first USD fork made by Showa, all held together by an all-new chassis, of course. And while the motorcycle looked substantial both in person and on the spec sheet (241 kg), it was an embodiment of the traditional cruiser paradox that merges heft and ease, which gave it that calmness required to go down the long road. It was just so chilled out, even its horn made a sound that sounded like, 'Hey, I'm just rolling along here, move if you want to. Or not, I'll be right here chilling out.'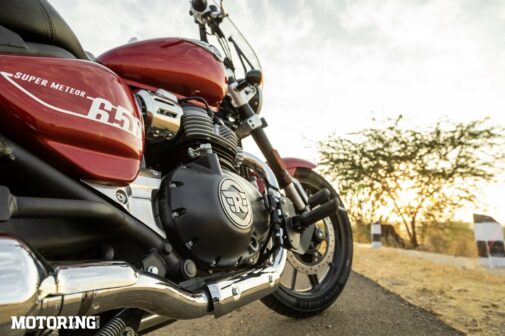 The 650cc parallel-twin felt like an easy language but with a different accent. Given a hard twist of the throttle, I was rewarded with a new intake roar, and the revised gearing seemed to stretch the lower gears longer than I remember on the other 650s. Either that, or the new airbox, exhaust and revised mapping made sprinting so much easier, it was almost a surprise when the soft rev limiter kicked in because the power showed no signs of tailing off. Fuelling was perfect and unperturbed at all times, too, and the 6-speed gearbox was as slick as ever. If I chose to, I could roll along at 50 kph in top gear without any snatching from the 'box, and that meant treating the Super Meteor like an automatic on open roads. It went from 50 kph to 120 kph in a manner that's quite sufficient for the cruising state of mind, and anyone could ride it all day like that. And on the one top-speed run I did, the needle pointed firmly at 160 kph, with perhaps a bit more left to go. This one's a heavyweight, sure, but it's no slouch.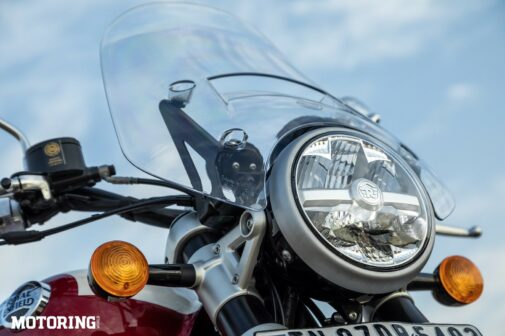 However, the top of the windshield was at the perfect height to create a turbulent zone right at my helmet's visor. Anything above 110 kph and my vision would blur enough to seem like a new-age special effect. And at 160 kph, the world was all but a watercolour painting — that's not the kind of trip I'd expect from a cruiser. So I found myself covering ground at 100-100 kph for the most part; the mirrors stayed vibe-free, there was no tachometer to measure revs at cruising speeds, and the relaxed feet-forward riding position made me wonder when my lower back would start its inevitable protests. However, before that happened, I hit a set of corners and the Super Meteor turned into a willing dancing partner.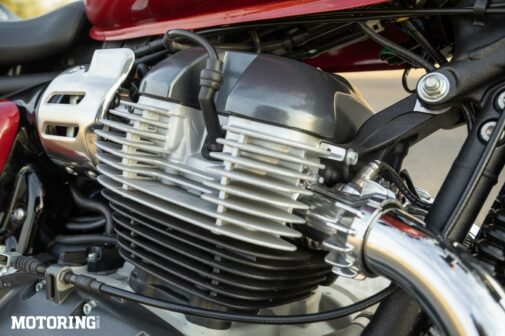 Okay, so this motorcycle wasn't what I'd call 'telepathic' in its handling, but it never demanded more than a gentle input, either. This is a cruiser, after all, and the deliberate use of a big rear disc and twin-piston rear calliper is present for a reason. The Super Meteor responds very well to the traditional way of riding a cruiser, with loads of rear-brake action necessary to slow things down with composure. At speed, ham-footed use of the brake did cause ABS to cut in like an overzealous chaperone, but the smoother I was, the better the whole ship sailed. The Super Meteor's turning circle, thanks no doubt to the USD fork, is not exactly generous, and tight U-turns required more planning than I expected.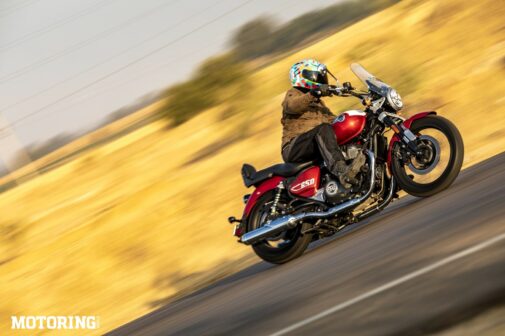 But throwing it around corners, fast and slow, presented no problems; the all-new frame, suspension and the additional bolstering on the engine head created a tight and 'one-piece' motorcycle that felt sportier than I expected it to. Triple-digit sweepers were dispatched with the same poise as tighter turns, and the tyres were well up to the task of grinding the footpegs in either case. As you can imagine, that caused confidence to swell, and after a while I started thinking that RE's motorsport team might just consider starting a Bagger series like them Yanks do in the AMA, fairing and all. And even if they don't, the Super Meteor is fun enough on the road to give you more than a taste of what it might be like.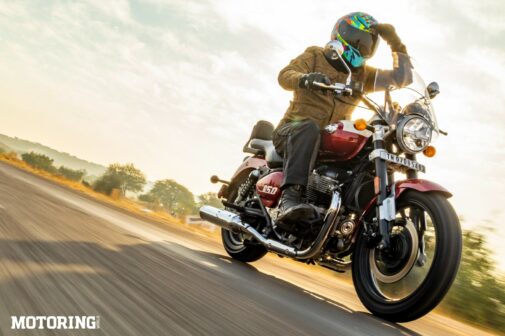 Would I ride it to Ladakh, though? Yes, but only once the entire road is paved, that's for sure. The Super Meteor isn't an uncomfortable motorcycle, not by a long shot, but I did feel every bad patch in detail. This wasn't a problem on smooth roads, but it also wasn't the plush carefree ride I expected on a cruiser. Nonetheless, I managed to clock a couple of hours in the saddle without going numb, so testing the tank's approximate range of 350-400 km shouldn't be a problem. What could be better? Well, the meter console design was a letdown, especially when I looked at the switchgear, hand levers, badges and paint finish. It should've looked more classic, and should've had a distance-to-empty readout on what is clearly a real-world cruiser. And I wish RE would give that Tripper pod a permanent rest; I don't know of anyone who uses the thing and a nicely made phone mount as standard fitment would be ideal.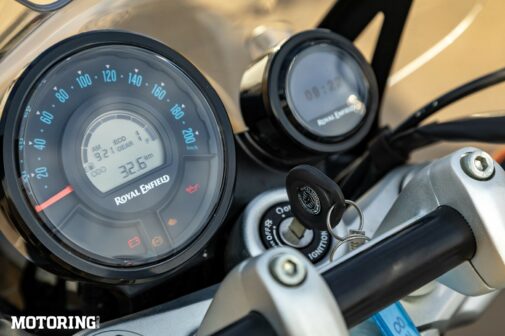 For all the riders of the various Thunderbirds through the ages to those who ride the Meteor 350 today, this is the world-class upgrade they all need. Elsewhere, I imagine it's for those who want to make their garages a bit more rational instead of endlessly negotiating with a motorcycle that demands more of them than they can give. I do think that the time of the cruiser has passed, but all it takes to rekindle the flame is one good motorcycle — and the Super Meteor is certainly just that. It fills an open niche, whether it's time for a cruiser or not. And I have a feeling it's about to bring people back to old-school cruising in a way we haven't seen in the recent past, certainly never by an Indian manufacturer.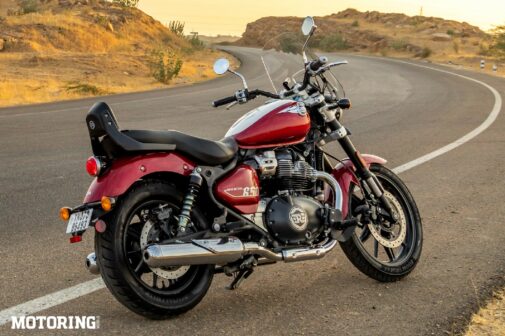 Beyond the necessary dissections of testing a new motorcycle, the Super Meteor felt like an old idea whose time had come around again. Again, it was cool and chilled out, and there's nothing like it in terms of attitude at the price. More importantly, it's a capable machine that does justice to the term 'cruiser', both in terms of intent and emotion, and that's a difficult one to pull off. Which also explains the long rides I've already begun plotting down highways, familiar and otherwise. It's a colloquial cruiser for a global audience, sure. But its essence is that of a dwelling from which to meditate upon the horizon, swept along in a long-distance trance. Time to get those saddlebags ready, then.
MOTODATA
Royal Enfield Super Meteor 650
POWERTRAIN
Displacement:
Max Power:
Max Torque:
Transmission:
648cc, parallel twin
46.35 bhp@7250 rpm
5.33 kgm@5650 rpm
6-speed
CHASSIS
Type: Steel tubular spine frame
BRAKES
F/R: 320-mm disc / 300-mm disc
TYRES
F/R: 100/90 R19 / 150/80 R16
DIMENSIONS
L/W/H (mm):
Wheelbase:
Ground Clearance:
Seat Height:
Kerb Weight:
Fuel Capacity:
2260/890/1155
1500 mm
135 mm
740 mm
241 kg
15.7 litres
PRICE
Rs 3.48 to 3.78 Lakh (ex-showroom, India)