The Royal Enfield Interceptor 650 is a brilliant machine. From the day I first rode it in California in 2018 to the last time I rode one in Lonavala in early 2020, I have felt nothing but love and admiration for it. It looks right (for someone of my advanced years, anyway), sounds good, goes just fast enough, won't scare you to death around corners and is reliable, which is pretty much all that I want in a motorcycle these days. For the money, it's about as good a 650cc bike as you can get straight out of a factory, and even though it's considered an excellent project bike, I really can't think of anything that I'd want to change about it. Suraj Narayan, however, is not me.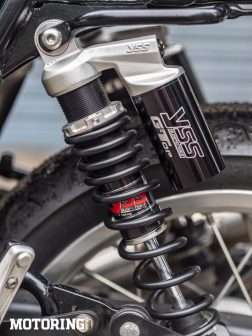 When Chennai-based Suraj bought his Interceptor, he (like me) appreciated its qualities and enjoyed it for what it was – a well-built, entertaining, old-school machine. After a while, however, he began to feel an itch. The bike ticked many existing boxes, but what if there were some new boxes that could be added – by him – and then those ticked off one by one as well? He ruminated for a while, and then picked up the phone and called Jaideep Gautam, who runs the Motodynamics workshop in Chennai. I've known Jaideep for over 20 years, and if there's one thing he loves, it's a challenge. Discussions between him and Suraj ensued, and to cut a long story brutally short, the end result was the bike you see here – an Interceptor with a big-bore kit and numerous other modifications.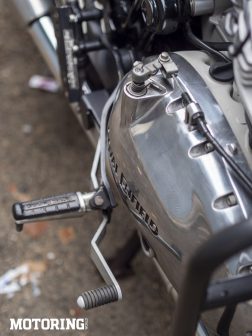 Don't worry, I'm not about to leave you hanging – it's all in the details, as they say, and the details will follow. What Suraj had set his sights on was the big-bore kit made for the Interceptor and Continental GT by S&S, a specialist firm in the USA. It consists of bigger pistons, sleeves and head gasket, with an increased bore X stroke (from 78X67.8 mm to 90X67.8 mm) as well as a higher compression ratio (from 9.5:1 to 11.0:1). Cubic capacity jumps from the standard 650cc to 865cc, and power output is a claimed 65 bhp compared to the stock 47 bhp, both very impressive figures. Initially, Suraj had contacted other workshops about the job, but they either said they couldn't pull it off or he wasn't convinced they could. Cue the call to Jaideep, who drafted a work plan and gave Suraj a detailed breakdown of what would be required for the job and how long it would take. Hands were shaken (or perhaps fists were bumped), and the Interceptor was taken to Motodynamics.
As far as they could tell, the Motodynamics team didn't know of anyone else in India having pulled off this kind of build. While this was exciting for them, it also posed a number of hurdles, not least the fact that the team wouldn't have any reference numbers to go by. This kind of job wasn't a plug-and-play one by a long shot, and would require extensive and painstaking work with machining, electronics, engine characteristics and behaviour. First off was the big-bore kit, of course – 90-mm pistons (up from 78 mm) plus the sleeves and head gaskets. This was the most crucial aspect of the build and there was zero room for error – the machining had to be of the highest quality. The team found a computerised lathe workshop, where someone spent two days supervising the job, which turned out perfectly.
That done, they attended to setting the bike's timing after the big-bore kit's installation, which was a tricky one to pull off because of the Interceptor's 270-degree firing order; RE technicians who had heard of the build came to check it out and were apparently impressed that this was managed. The fuelling also had to be re-mapped via a Powertronics piggyback ECU in order to increase the fuel supply to match the extra air being shoved into the engine. This was another time-consuming process but was carried out successfully, too, as were setting the valve clearances and installing the high-lift cam.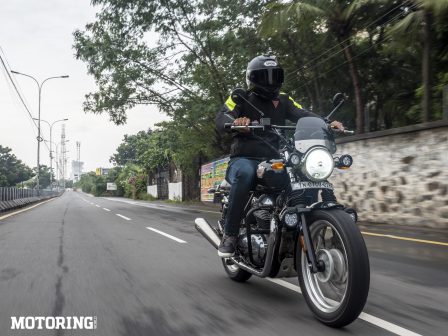 In terms of other performance parts, the following were sourced and installed in-house: an S&S performance clutch kit, a high-lift cam, slip-on exhausts, a fully-adjustable YSS rear suspension, upgraded springs and thicker fork oil for the front suspension, EBC brake pads front and rear, a BMC air filter, iridium spark plugs, and a custom rear sprocket. Finally, all gaskets were replaced with new ones, and the cam and timing chains were changed as well.
Looking at Suraj's bike, you wouldn't think that any work has been done on it – not at first glance, anyway. Crouch next to it, take a closer look and some details begin to emerge, bits like the Indimotard footpeg relocators, the Maddog auxiliary lights, the Art of Motorcycle handlebar, the Continental GT's seat, RE's touring mirrors, and of course the S&S exhausts, with 'RACE ONLY' emblazoned on them. All of these – and the stealth black paint – make an already handsome motorcycle even more attractive, but it's still under the radar and doesn't yell at you, which is exactly what Suraj wanted.
Fire it up and it's anything but under the radar, however (which I'm sure is what Suraj also wanted). The 'new' engine and exhausts have given this bike a meatier, sexier exhaust note at idle – it's like when the bass drops on a dance track. Blip the throttle a few times and a raspy boom bursts out of the twin pipes, the kind that sends dogs scurrying away with their tails between their legs; you can already tell that further entertainment awaits once you get moving. Drop it into gear, give it all hell and the bike rip snorts its way forward on a springboard of low-end grunt that just builds and builds, widening the silly grin on your face as you crouch over the fuel tank, throttle pinned resolutely to the stop. I confused the bejesus out of some other bikers on much bigger machines at a couple of traffic lights, tearing away from them as soon as the lights turned green; they caught up later, but I could tell that they had 'WTF' expressions on their faces under their lids. As a sleeper, this bike is right up there.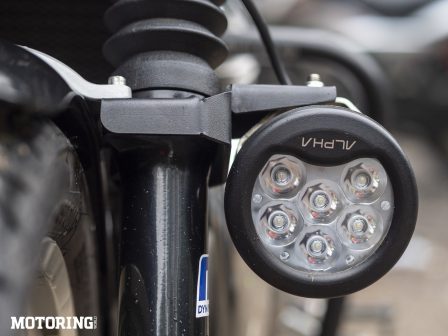 It's also an excellent touring machine, as I discovered. Having that much more cubic capacity and horsepower at your disposal gives you an extra boost of confidence on the road, and the fact that you have to think less about overtaking manoeuvres is a big plus – just twist and go. That said, the bike does have a slight flat spot around 4000 rpm, which can be worked around with some deft throttle modulation; Jaideep says it's being worked on as I write this. Flat spot or not, when you're on this bike, all you want to do is keep whacking that throttle open, for that raspy exhaust note as well as the addictive kick in the pants as it makes for the horizon; the gearbox snicks smoothly into place every time, keeping pace with the engine, and the brakes – with their EBC pads – are noticeably sharper than the stock ones.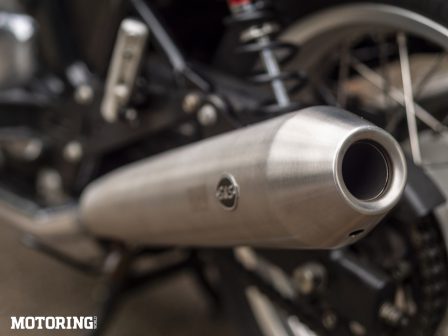 The ride and handling characteristics remain unchanged – almost. The YSS suspension and upgraded front fork springs have subtly altered the way it goes around corners and absorbs bumps. It feels a little front heavy now at its leaned over limit, although I'm sure that can be sorted out; besides, Suraj uses the Interceptor mainly on the arrow-straight roads in and around Chennai, so this isn't really a deal-breaker. The bike also feels a tad more planted than a regular Interceptor, and the rear suspension absorbs undulations in a more progressive way.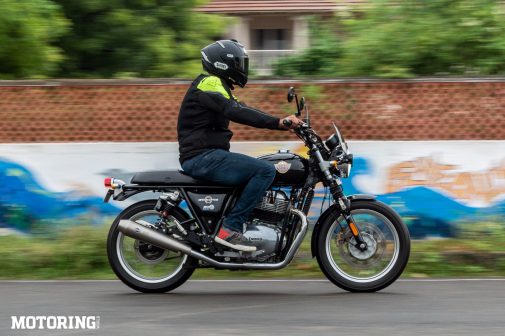 Okay, I have to come right out and admit it – having ridden this bike, there are things about the stock Interceptor that I'd change if I owned one. This was an expensive exercise (Rs 3 lakh for the accessories and spares alone, without labour costs) and a very time-consuming one, but the end result is so entertaining – so utterly hilarious, in fact – that I'd say it was money well spent. Suraj, nice chap that he is, will probably let me ride his prized bike any time I'm in Chennai, but if you own one of the RE twins and want to shove a rocket up its backside, call Motodynamics and they'll be happy to oblige.