The Italians don't care. They don't care about ascribing to populist notions of what something should or shouldn't be, and they certainly don't rely on your approval. Instead, they go about their existence with a certain panache that isn't oft seen in the world. It leaves us with equal parts of envy, bewilderment and awe. The MV Agusta F3 800 RC encapsulates all of that and more.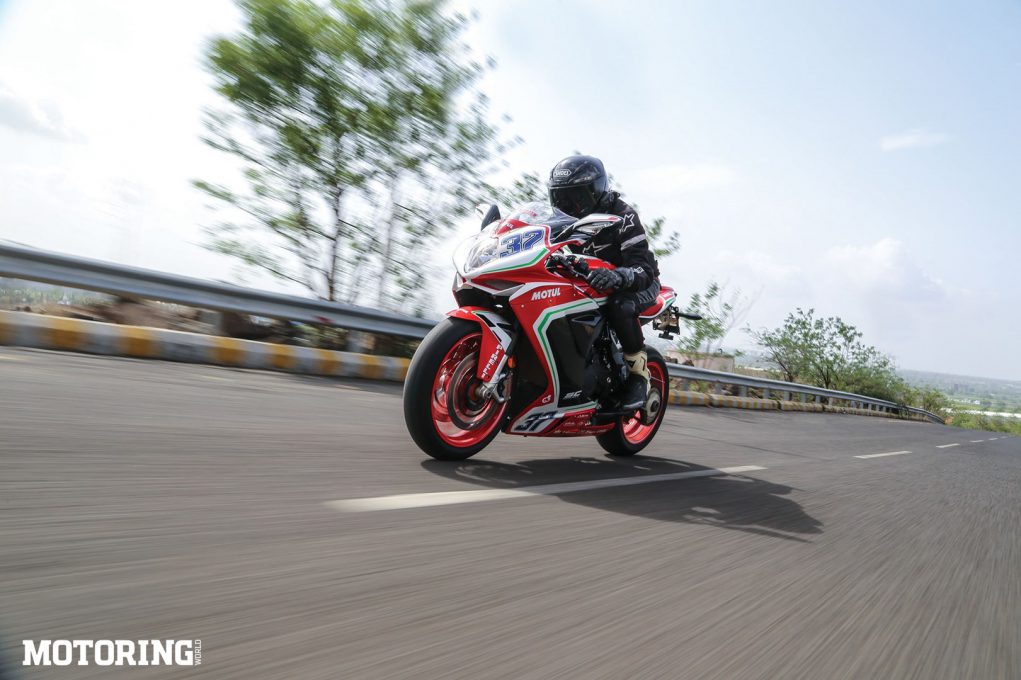 Take one fleeting glance and you will see what I'm on about. MV Agusta, like Lamborghini, has an obnoxiously loud design language. But where Lambos look like they've only been designed with an axe, MV Agustas use every tool at modern man's disposal. The resulting product is more art than machine, with a Michelangelo-esque attention to detail that is almost fanatical. Like the Mona Lisa, the longer you stand and stare, the more it reveals itself. It is visually arresting in a whole new way. At first glance you notice the usual- low slung sportbike, loud paint job, a smattering of decals, single-side swingarm and red wheels. But then the magic commences, and you begin to see more. As you approach from the side you notice how beautifully sculpted it is. The stance is slightly hunched, gradually rising up toward the rear as it tapers in a smooth flowing way. The headlight and windscreen is swept back at a sharp angle giving it the appearance that it has been pushed down into submission by the wind itself; like a shaggy haired dog with its hair in the wind as it hangs outside a car window. Even the paintjob feels purposeful, with a green pinstripe along the side adding a sublime touch of artistic expression. The fuel tank isn't smooth, but features protrusions that some might view as cancerous tumours, but I find lovely. It is an experiment in design, a rude and uncaringly Italian one that may not live up to everyone's taste, but like I said earlier, the Italians don't care. They believe they know good design, and I agree. The F3 800 RC sports a bunch of slits and vents on the bodywork, and none feel overdone. The three slits along the underbody, each angled differently, are coupled with grilled slits on the side fairing and tail section, and they complement each other perfectly. Speaking of that tail section, oh my word. I think it is my favourite area on the motorcycle. It has a gentle s-curve leading back from the engine that narrows laterally as well as when viewed from above. It ends in a narrow horsehoe taillight and a seat cowl. Immediately underneath it is the absolutely stunning rear-wheel, mounted on a single-side swingarm so you can ogle at it in all its glory.
All this is just looking at it from the side, standing a few feet away.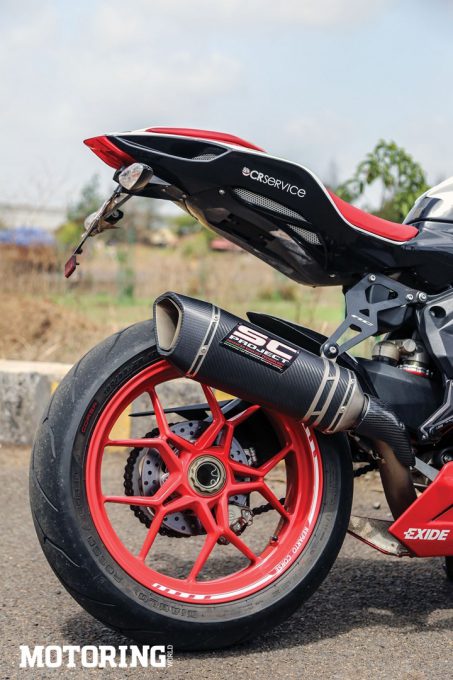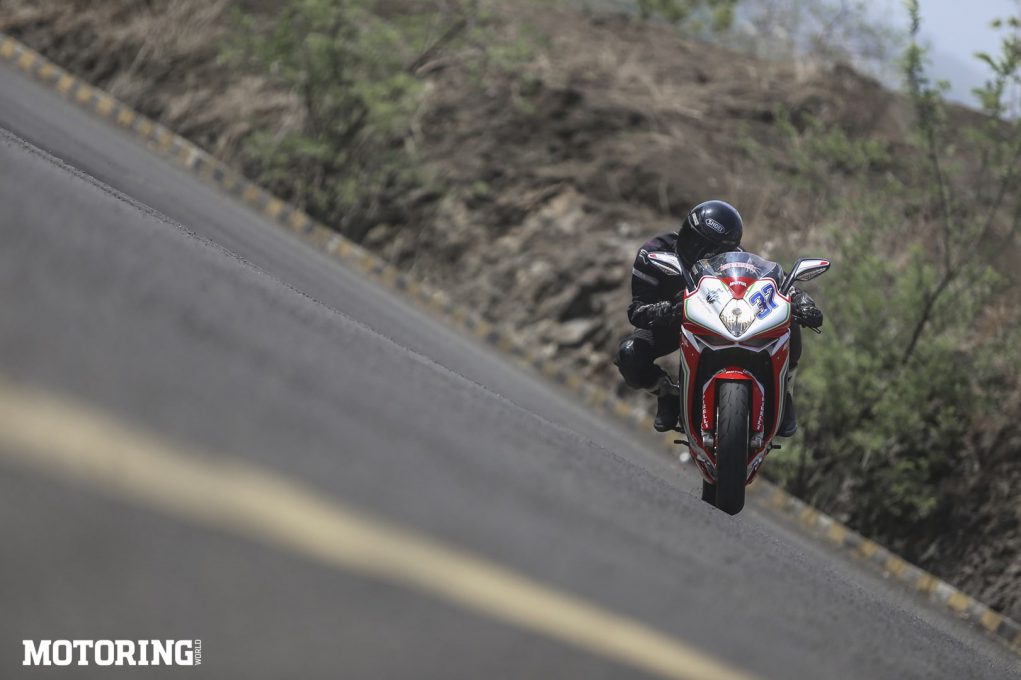 Compared to the side, the front is relatively simpler. No less beautiful though. The trademark MV Agusta diamond shaped headlight is in the centre, and the rest of the face radiates away from it. The top half of the fairing angles away along the lines of the diamond, while a narrow lip borders it underneath. Just below are two flared nostrils which open into the air intake. On either side are a pair of mirrors, one of which sport F3 800 RC decals to remind you that this isn't the standard F3 800. These reminders (proclamations?) continue all over the bike. The levers have it, there are Reparto Corse pinstripes on the wheels, the pegs, the fuel tank and even stamped on external bolts. It just makes the bike feel special. As if it recognises the humblest individual's inexplicable vanity toward a motorcycle and exploits it to theatrical success.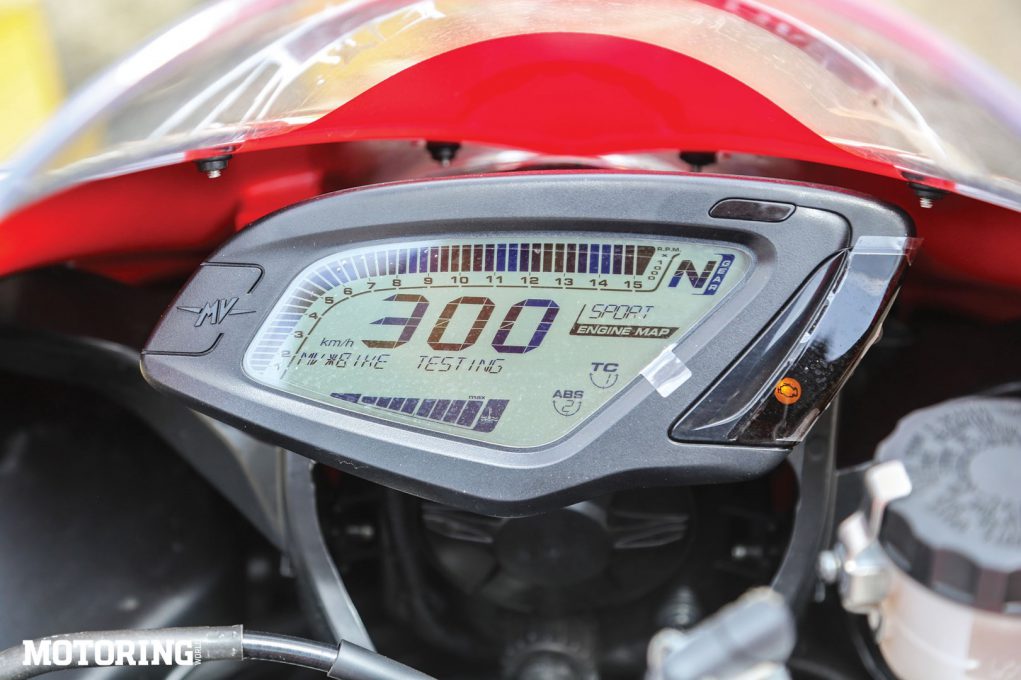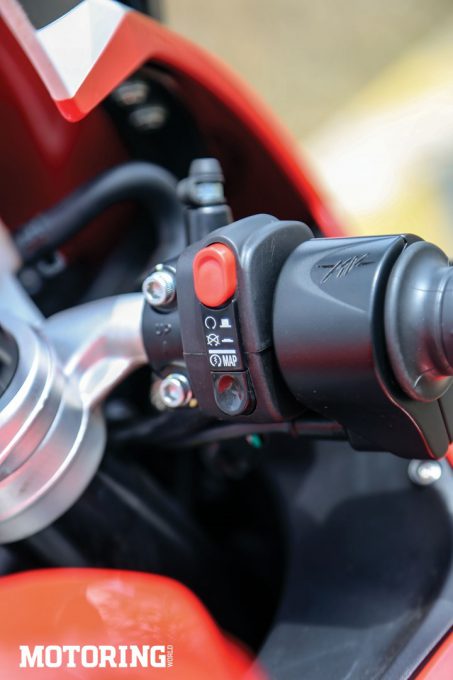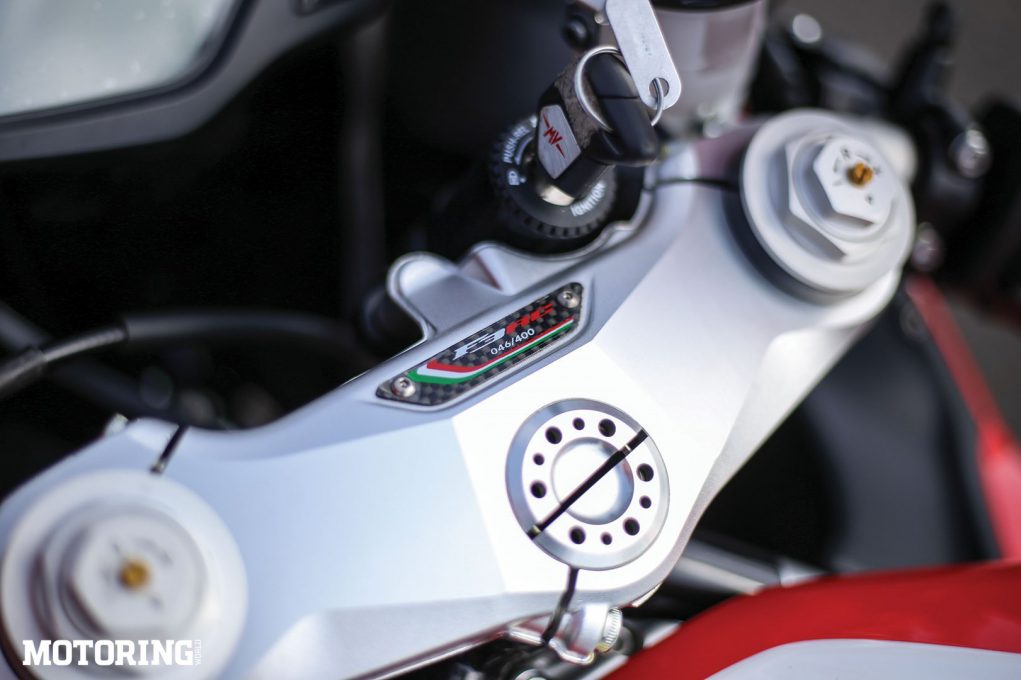 And theatrical it is, in every sense of the word, standing still or on the move. The MV Agusta F3 800 RC gets the same engine from the standard bike, but the one sold in India gets the optional Race Kit. This means it loses those iconic triple exhaust tips in favour of a carbon-fibre unit from SC-Project and a dedicated engine remap giving it a 5 bhp power bump. You will never be able to sneak into your building unannounced. It is loud. Oh, so very loud. It comes to life with a bark before setting into a smooth and bass-heavy idle. A few blips of the throttle are enough to wake the neighbours. It isn't as tall as most supersports these days are, so getting on wasn't a struggle. Getting comfortable? That's a completely different story. MV Agusta's aren't designed for humans who don't value a healthy lifestyle. They are made for Italian supermodels with the flexibility of a gymnast. I spent four months in Italy and can speak the language a little bit, but I am neither of those. So yes, I was cramped. My back was hurting, my neck was hurting, my shoulders and wrists were crying and I was miserable. Until I started moving. That was a revelation for two reasons. Now I've ridden MV Agustas before and they are terrible things to ride. The throttle is snatchy, power comes on without warning, the suspension is too stiff and the steering is way too sudden. It leaves you terrified and uncertain. Not this though. The clutch needs to be slipped a little bit to get moving, but once you do it is actually smooth and very manageable. I expected a race-tuned ECU from MV Agusta to be the equivalent of a wildly bucking horse overdosed on cocaine, but I was pleasantly surprised. The steering wasn't the sudden terror that I had experienced earlier, and the suspension was plush and supple, even over bad roads. Very unlike MV, but in a good way. The second thing I realised was that it only gets better the faster you go. It doesn't matter which rider mode you are in, you just need to gun it. As the revs climb, so does the aural orchestra from that exhaust as it builds to a full-blown race bike crescendo. The bi-directional quickshifter allows you to move to the next gear without letting go of the throttle as the endcan snorts its approval. The hair on the back of your very cramped neck will be standing on end as you are crouched low, laughing as the world blurs past. A light squeeze of the superb Brembo brakes brings everything down to slightly saner speeds, which is when I noticed that those creases and lips on the fuel tank are actually functional and provide perfect anchorage to hold the tank with your knees. The bike turns in just as inspiring a way as it accelerates. Being light, quick direction changes are easy, and the chassis coupled with the fully-adjustable suspension keep the bike very stable and confidence inducing. Of course, the Pirelli Diablo Supercorsa tyres also had a lot to do with it, but it felt great. In short, the bike is fantastic to ride, which is an area MV Agustas have always struggled with. Yes, it does take a toll on your body, but besides that I had quite a blast.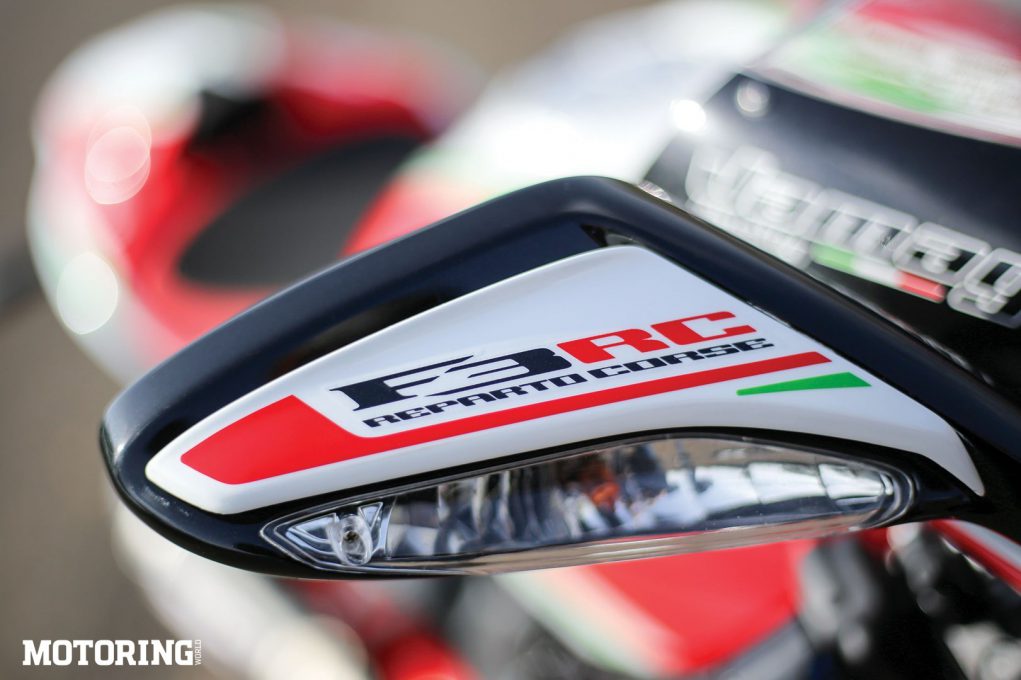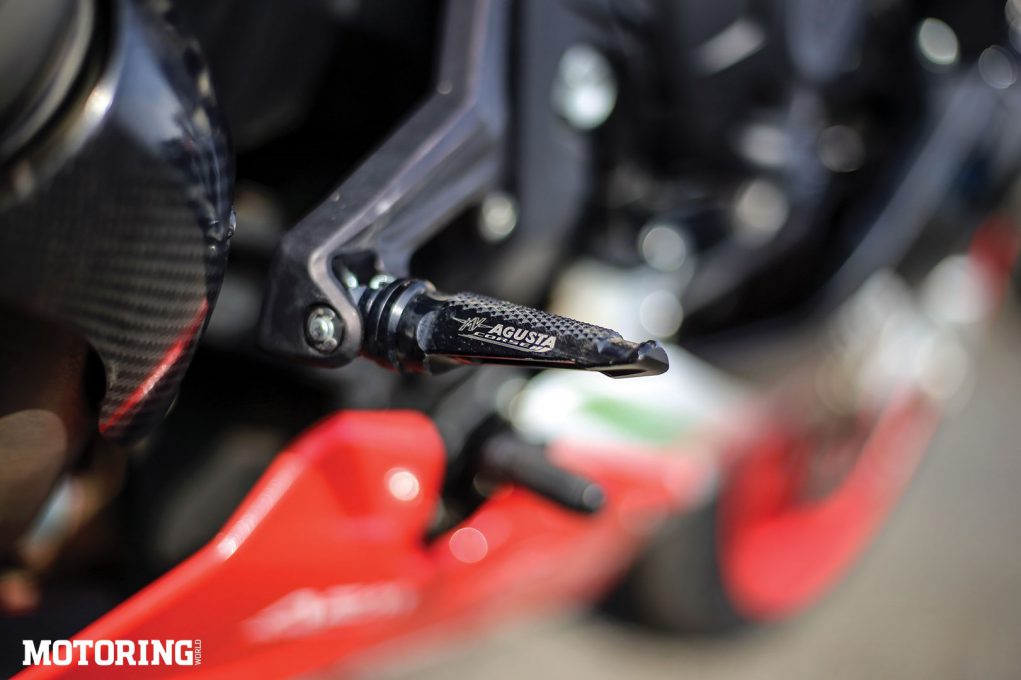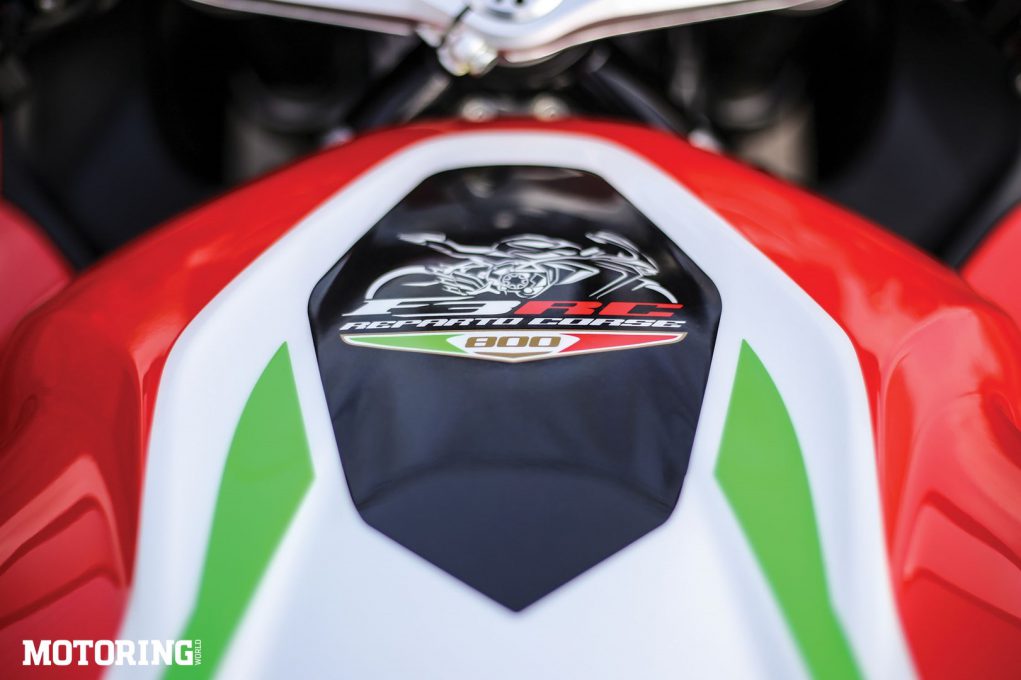 Where does it stand though in the world of fast bikes and what sort of a person will it truly appeal to? In terms of performance, I think it is up there with the rest. It has the entire gamut of electronic aids available today, is very quick and will definitely keep up with everything in the class. And it sounds better. Way better. But an MV Agusta is more than that. It is a company that prides itself on its unique take on things. Some of these I don't agree with, such as the decision to use a crass soft-porn ad in the marketing of the upcoming Superveloce 800 in the 21st century. But then there are other aspects that totally justify their pride. The motorcycle you see here is a work of pure art. It is unapologetic and bold in the way it pushes the boundaries of what a motorcycle should look like. It blurs the lines between a machine, a love potion, a soulful poem and a painting, culminating in an object of lust unlike what we are used to seeing. I want one for my living room. I want one for my garage and I want one to ride. It doesn't matter that it costs so much. It doesn't matter that I need to sell a couple of my organs. Because when it comes to things that move your soul, bring you to tears and fill your dreams for months on end, there is nothing quite like the MV Agusta F3 800 RC.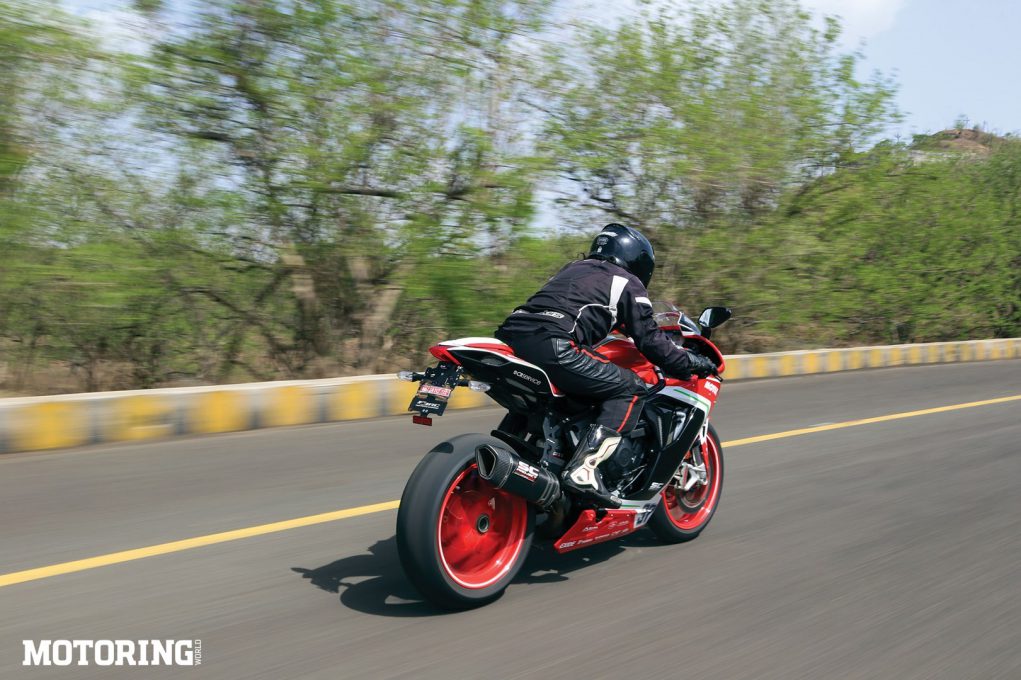 MOTODATA
MV Agusta F3 800 RC
POWERTRAIN
Displacement: 798cc, inline triple
Max power: 153 bhp@13,250 rpm
Max torque: 8.97 kgm@10,600 rpm
Transmission: 6-speed
CHASSIS
Type: Steel tubular trellis
SUSPENSION
(F/R): 43mm USD forks / monoshock
BRAKES
(F/R): 320mm dual-disc / 220mm single-disc
TYRES
(F/R): 120/70 R17 / 180/55 R17
DIMENSIONS
L/W/H (mm): 2060/725/805
Wheelbase: 1380 mm
Ground clearance: 125 mm
Seat height: 805 mm
Kerb weight: 165 kg
Fuel capacity: 17 litres
PRICE: Rs 21.99 lakh (ex-showroom)
[This story originally appeared in our July 2019 issue]