'Uh oh. I'm f****d.' This is probably not the best thought to have when you're riding a motorcycle, but have them I did, principally because it appeared like I was shortly going to make high-velocity contact with a cow (what else?) that had been frightened into a sudden dash across the road. The other reason for my less-than-ideal frame of mind was the fact that the motorcycle — a rare and valuable one — didn't belong to me, and pranging someone else's beloved bike is about as grave a crime as can be committed.
A split second earlier, though, when I had processed the bovine movement from a distance, my outlook had been far sunnier. 'Cow. Running. No problem. Brake,' was my approximate line of thinking, and my body immediately obeyed my brain's instructions by lightly squeezing the front-brake lever, causing the two-piston calipers to bite down on the twin 260-mm ventilated discs. I heard a few braking-type noises, but I didn't seem to be slowing down in any significant way. 'Squeeze harder.' I did so, and now I discerned a reduction in speed, although I wasn't convinced it would be enough to prevent the union of Bostaurus indicus and about 170 kg of motorcycle. Cue the 'I'm f****d,' an almighty grab/stomp of the brake lever/pedal, and a frantic working of the gear shifter, all combining to eventually bring the bike to a halt a foot from the offending animal, which predictably glared at me as if this was all my doing.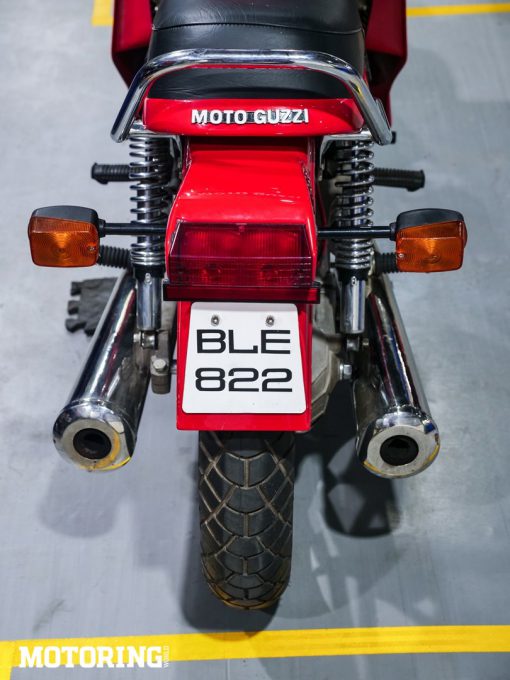 Which it was, in a manner of speaking. I hadn't ridden an old machine in a very long time and had been spoilt quite rotten by modern two-wheeled technology, which in most cases applies the brakes almost before you can think of doing so and brings you to a halt on the proverbial dime (just the previous day, I'd been astride a Triumph Daytona 675R, which had sensational brakes). I really should have known better and been more careful, but here's the thing — it was also the bike's fault, because the 40-year-old Moto Guzzi V65 SP was fast. All I'd done was to give in to perfectly natural temptation, because just look at it.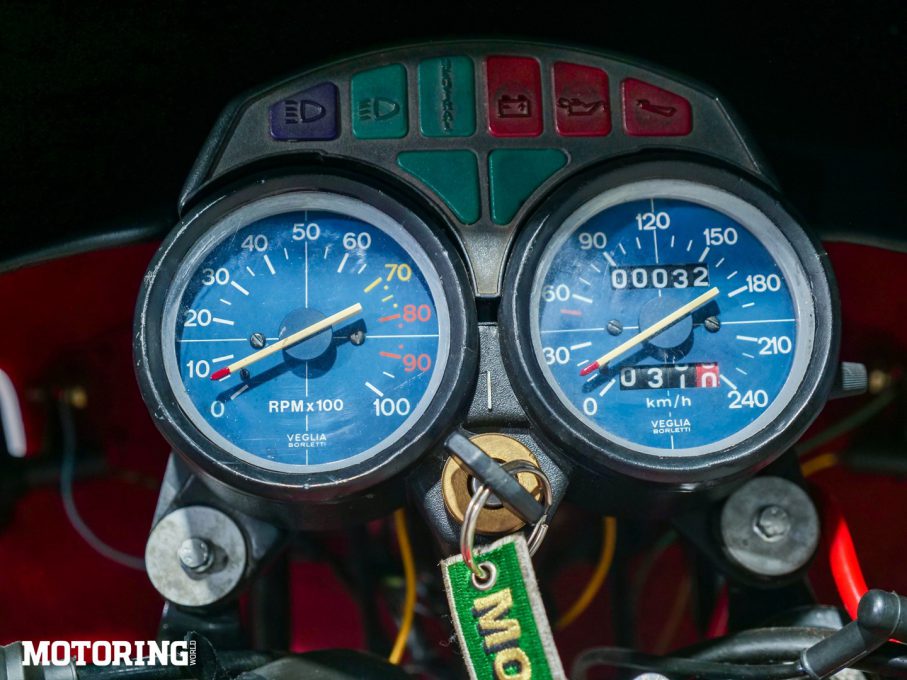 I'd first seen the Guzzi at my friend Jaideep Gautam's excellent motorcycle workshop, MotoDynamics, in Chennai. It had been sitting in a corner of the large facility, among a profusion of modern motorcycles of varying degrees of desirability, but I had tunnel vision only for it as soon as I walked in. Guzzis of any vintage are hard to find in this country, so seeing one is an event in itself, but the newly restored V65 SP was stunning in a way that can only be described as 'simple'.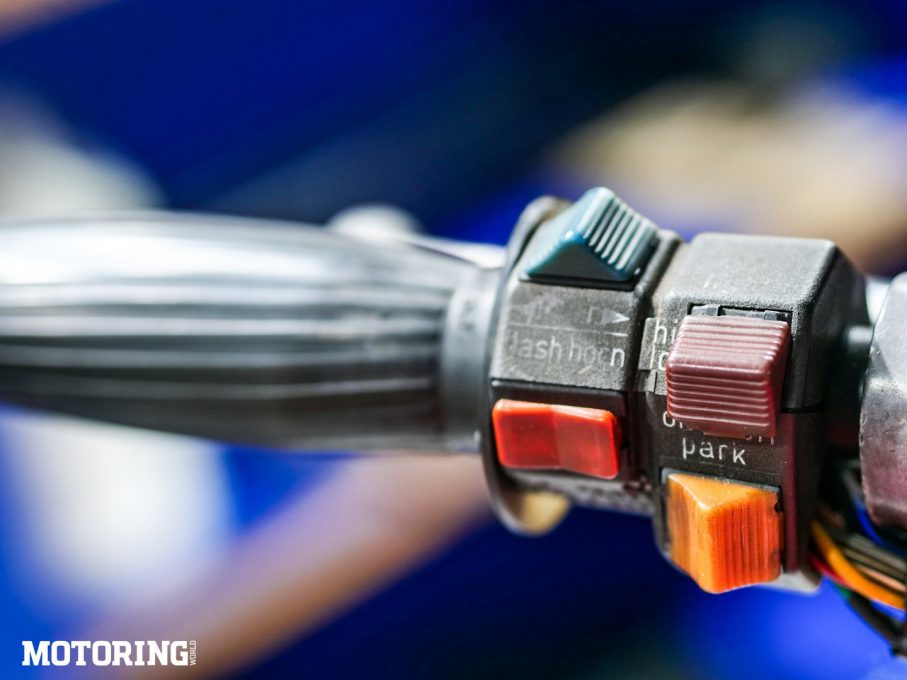 It was as 1980s as a polyester-suited man with a mullet watching Knight Rider while humming Billie Jean, and not a line on its compact body was out of place. It helped that the restoration had been carried out with an almost extreme eye on detail – everything from the tail-light to the grips was original. Some say the non-faired V65 looked better, but I thought the fully faired SP was veritably shrouded with character and attitude. Its most flattering side was its… side, where its downward-sloping seat, upswept fuel tank, slick alloy wheels and that iconic cylinder head peeping out of the fairing gave it a sporty, purposeful stance, one which made me want to ride it immediately.
I had to hold my horses till the next morning, as it turned out. The Guzzi looked even more delectable in the early morning light, and I think I actually rubbed my hands in glee as I kitted up. It was a little cranky to begin with, as 40-year-old machines can be; it took a few jabs of the starter button, some fiddling with the twin fuel taps and a few entreaties before it decided to wake up with a bit of torque sway, and when it did… well, I was glad I'd driven all the way to Chennai from Goa. The longitudinally mounted 90-degree V-twin used its twin exhausts to give voice to a glorious burble that almost certainly woke up people in the neighbourhood; I grinned and swung a leg over the seat. Ergonomically, the bike was pretty perfect for my frame, with the handlebars at just the right angle, and the brake and gear levers placed so that I didn't need to search for them with my toes. The only thing that needed getting used to was the fairing, which my knees touched, but I quickly adjusted to that, snicked it into first (the clutch lever was nice and light) and set off.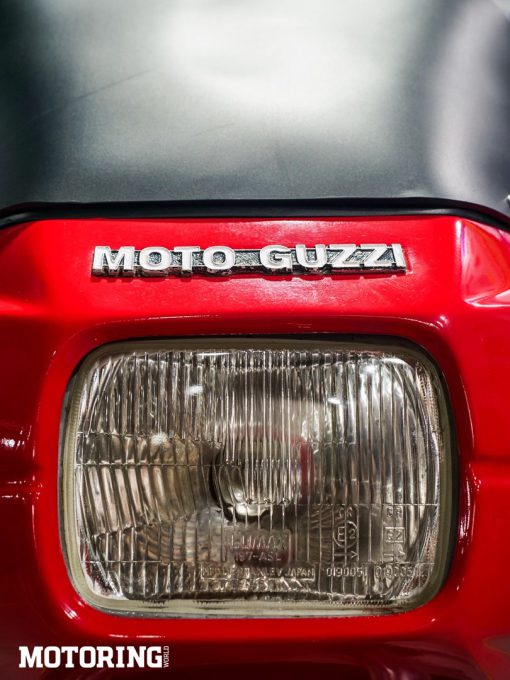 Back in the day, 650cc motorcycles were considered the top of the chain in terms of pretty much everything – size, power, speed and character. Riding the Guzzi, it wasn't difficult to see why. Its chunky 643cc twin put out 53 bhp at 7050 rpm and 5.5 kgm at 6000 rpm, so it was designed to be ridden hard and ridden fast. This is not to say that it was a handful at lower rpms – it was, in fact, quite civilised – but the bike begged to be unleashed, which I was happy to do. First gear was enough to get it moving at a furious pace and with a scintillating roar, with the second and third cogs being spaced very closely together.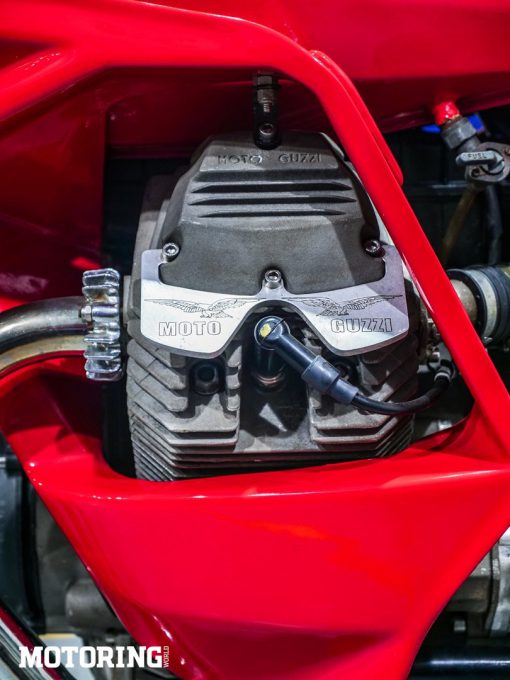 Once I dispensed with them and hit fourth, the real fun began, with a lovely surge coming in around 6000 rpm and staying all the way till the redline, at which point I was absolutely flying along (my little bovine episode occurred not soon after). In top gear, there was enough tractability to go from around 40 kph to its top speed, which is a very useful characteristic in a touring bike. Also, like all really good machines, the V65 sounded better and better as it was caned.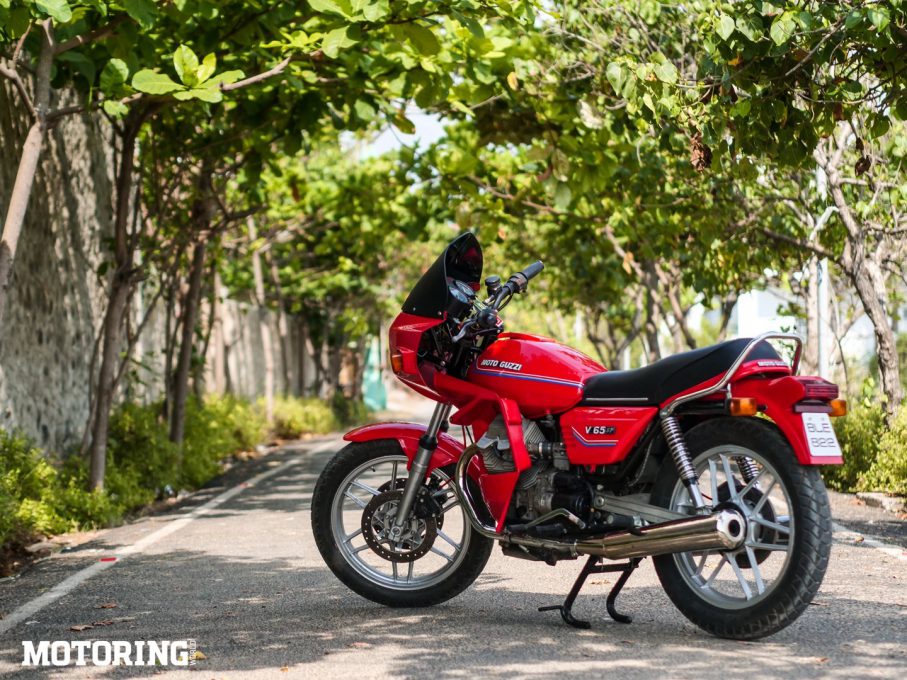 In a straight line, the bike was as planted as an apartment block, and was dead easy to manoeuvre as well; I was able to swiftly work my way around the weekend traffic on Chennai's East Coast Road while maintaining a more than decent clip, and overtaking moves were a mere twist of the throttle away. The Guzzi felt composed and confidence inspiring, and I realised why this very frame, suspension and even engine block were used by the firm until about six years ago on the V7 – they were simple, robust and just plain effective. I couldn't tell how the V65 would react if I began throwing it around corners, mainly because there aren't any proper corners on the ECR, but on the few sweepers that did show up, I felt emboldened enough to lean the bike over as far as I dared, and it polished off the job without drama. Sure, I could feel every one of its 40 years as I did so, and it was no scalpel-like Daytona 675R, but it was like a good chef's knife – sharp and effective.
Left to myself, I would happily have ridden to Kanyakumari and back, but better sense prevailed and I reluctantly took the Guzzi back to its rightful resting place at the garage. After I parked it, I stood back and stared at its lovely shape – it really did look fast standing still, especially with all the pinging noises emanating from it. With all the mod-cons on current motorcycles, it sometimes takes a ride on an older machine to appreciate just how good they were, with not a trace of electronics and other whizzbangs; the V65 SP had just provided me a window to that glorious past.
We'd like to thank Mohammed Zabeer and MotoDynamics for our time with this lovely motorcycle. Oh, and it's for sale — call 9884144444 if you're interested