Everything's relative. Exactly 20 years ago in 1996, Troy Corser won the first of his two World Superbike championships (and the sixth of Ducati's 17 riders' titles) aboard the 996cc F96 factory race version of the iconic 916 introduced two years earlier. This delivered 157 bhp at 11,800 rpm en route to dominating that year's series, with its riders Corser, John Kocinski and Frankie Chili winning 14 of the 24 races on a bike derived from the 114-bhp street version then considered the ne plus ultra of twin-cylinder superbikes.
Fast forward 20 years, and for 2016 Ducati has launched what it terms the 'supermid' version of its current contender for superbike success in the form of the 959 Panigale producing — yes, 157 bhp at 10,500 rpm. This comes as the latest sequel in its saga of sportsbikes with accessible performance and a lower price tag compared to its full-on superbike models, but complete with an array of electronic rider aids that Corser & Co. could only dream of finding on their factory racers two decades ago. This time around, though, this latest version of the supermid family that kicked off with Ducati's first ever Supersport contender, the 87-bhp 748 first sold in 1995, is more than ever a junior superbike, even if its creation has been forced on the company by the stringent new Euro 4 emissions and particularly noise regulations being implemented in 2016, which the good-selling 899 Panigale introduced just two years ago, was unable to meet.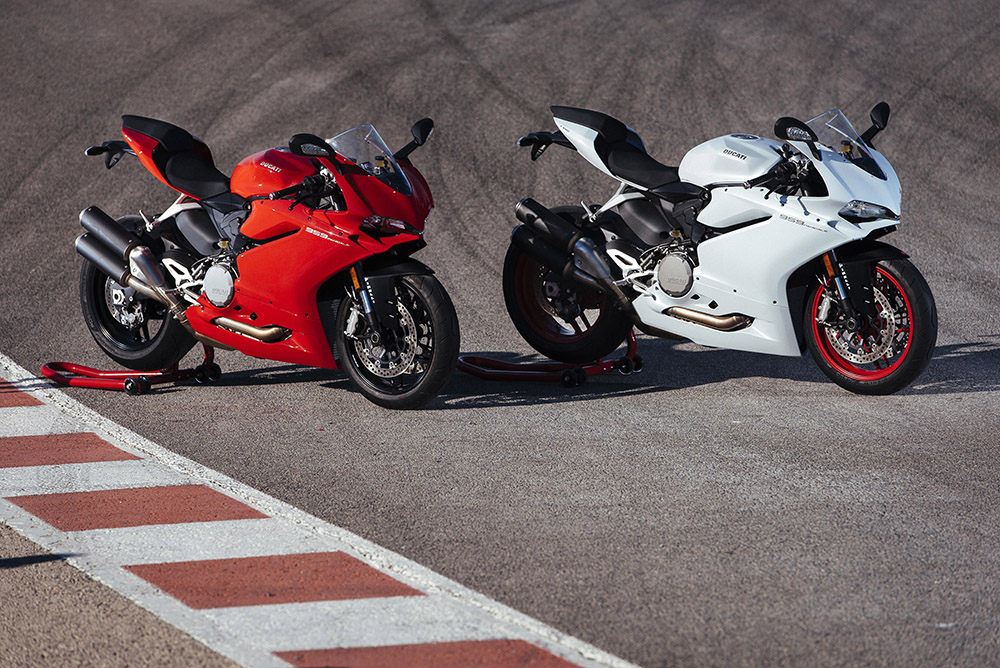 But Ducati has succeeded in making sweet-riding lemonade out of the bitter lemon of bureaucratic intervention, as the chance to ride the 959 Panigale at the Valencia GP circuit barely one week after its debut at the 2015 EICMA Milan Show, amply proved. For rather than rejig the 899 to make it compliant with the imminent new Euro-rules, and so inevitably lose both performance and thus sales appeal with the resultant inevitable compromise, it has effectively produced an all-new motorcycle that goes some way beyond that.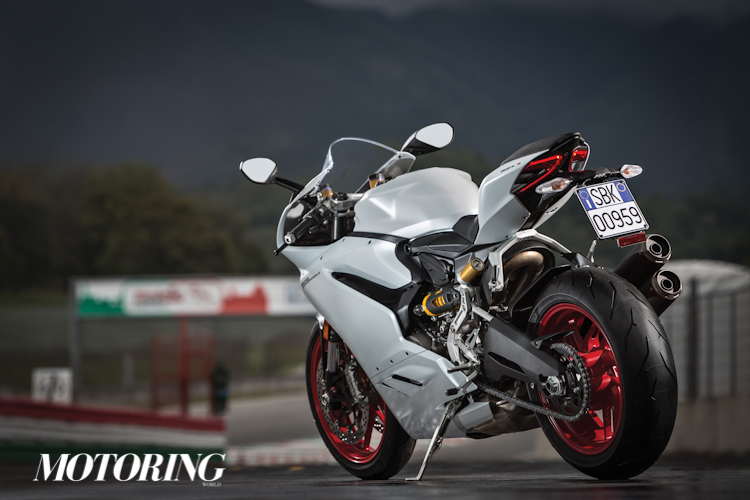 Inevitably, there are some downsides to doing this, but the worst is aesthetic rather than performance related, in the shape of the distinctly unlovely and much longer Euro 4 exhaust consisting of twin stacked cannon-type silencers. In some countries like the USA, Australia, Russia and so on where noise is not such an issue as in Euroland, the 959 will continue to be sold with the Panigale's trademark underslung exhaust exiting beneath the engine. But because Euro-noise levels are measured from the centre of the bike, and thus inevitably include sound emanating from the motor, meeting these rules has required quieter-running engine internals, as well as a different exhaust package. Even with the less lovely looks, some minor handling issues caused by a revised weight distribution, and a deader-sounding drumbeat, Ducati's engineers have addressed the compliance issues by creating a bike that's even more fun to ride than its 899 predecessor, which in 2014 was only very narrowly outsold by the Honda Fireblade for the mantle of best-selling sportsbike in the UK, Europe's sportsbike central.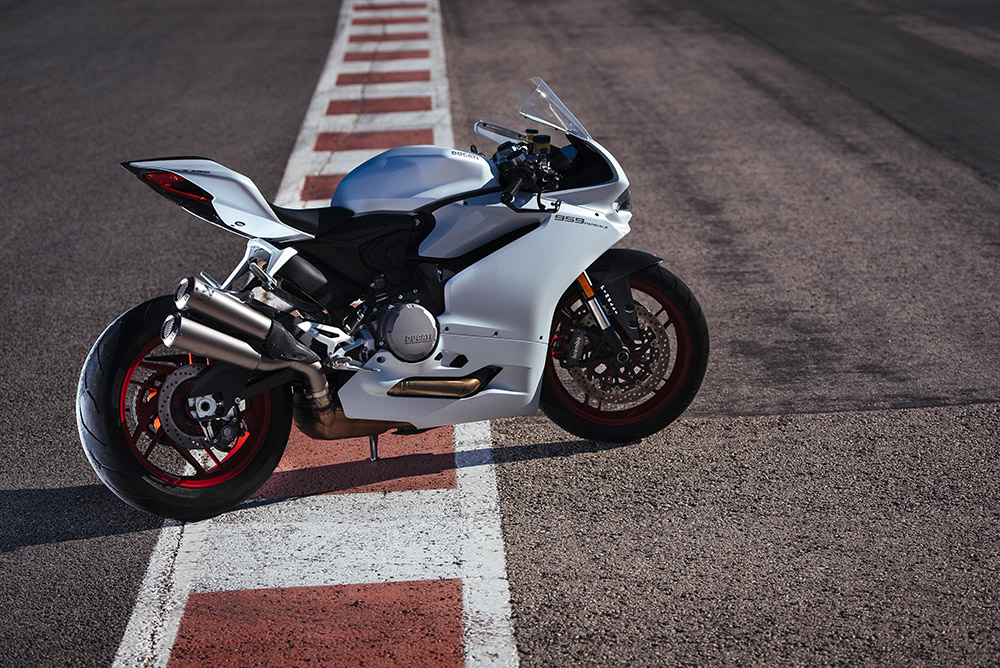 For what we have here is a bike delivering the same outright performance needed to defeat the V4 Honda RC45s of renegade ducatista Carl Fogarty and team-mate Aaron Slight to win the World Superbike title two decades ago, but which while lacking the explosive grunt and massive top-end power of the 205-bhp 1299 Panigale, is a better balanced all-round package.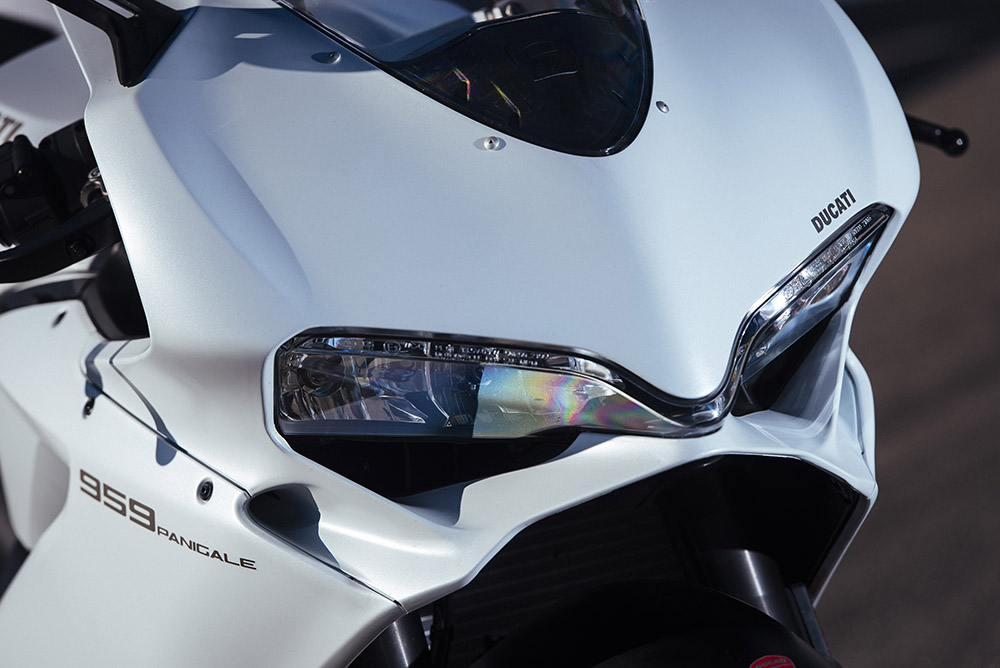 The 959 is a genuine best-of-both-worlds bike, because in cubing up the smallest member of the Panigale family's Superquadro engine from 898cc to 955cc, Ducati has created a faster, more powerful, well-balanced motorcycle that's also easier to ride hard on a track day, which at the same time I'm sure will be completely at home in real-world use on the street. With no road mileage on offer at the press launch, I used the slowdown laps on each of my four sessions at Valencia to simulate street use using the Sport riding mode, and the way that Ducati has filled in the mid-range of the 959 is really noticeable.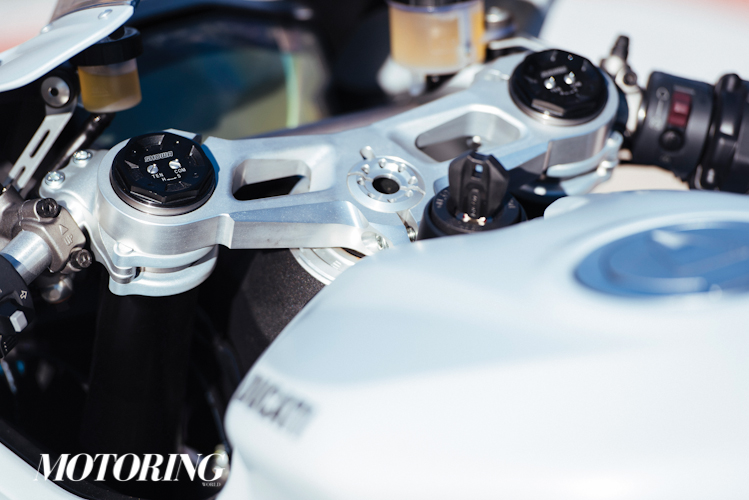 This improved engine package comes not only via the 57cc increase in capacity, but also thanks to the extra refinement of Ducati's electronics package as it's been further improved over the last two years. I started my time aboard the 959 using the Sport (really, Street) map as I dialled myself in, with TC on level 5 (out of 8) and ABS working on both wheels, but by the end of that first session I had the TC light on the dash flashing as I downshifted from sixth to third at the end of the pit straight, running over the car-induced bumps entering this crucial turn. Same thing again at the other end of the lap, with the TC light flashing as I exited the last turn onto the pit straight, even if I didn't feel any instability here — so it was just impacting on acceleration. I switched to Race mode for my second session, with TC level 3 and ABS only operational on the front wheel and rear-lift mitigation turned off. This let the rear wheel walk gently but super controllably as I applied the power to exit the last turn, but without any trace of movement from the front, as the Pirelli Diablo Supercorsa SC2 stayed glued to the tarmac. Race mode had a sharper pickup from a closed throttle than Sport, but not sufficient to unsettle the bike unduly.
Using a gear higher in several turns at Valencia was made possible by the great balance — that word again — of the 959 Panigale's chassis, which has been subtly improved versus the 899. You can put a lot of confidence in the front tyre to keep up turn speed, in pursuit of a higher top speed down the following straight — well, there's really only one at Valencia, down which I eventually saw 257 kph on the monochrome dash, before braking hard and late for the third gear Turn One, with the slipper clutch now fitted here for the first time on a midsized Ducati helping deliver great stability as well as some degree of engine braking.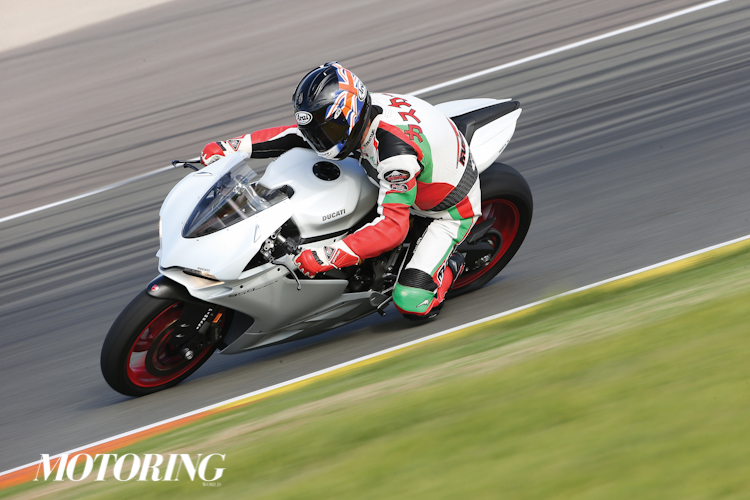 This was assisted big time by Ducati's EBC/Engine Brake Control after I'd switched from Level 1, with such strong intervention that it practically stopped the bike dead when I backed off the throttle for tighter turns! Level 3 (of 3) proved ideal — even Level 2 made it hard to let the Ducati flow through turns on the overrun, thus maximising the great turn speed the new 959 package was born to offer. I've always preferred previously to keep the EBC turned off each time I've ridden other Panigale versions. This system is designed to reduce the amount the rear-wheel chatter on the overrun by opening the throttle to reduce rear wheel lock-up, but I've been riding big twins hard all my racing life, and on other Panigales this has had me missing the entry apexes of turns as the engine pushed me on past them. But Ducati has obviously invested serious time in developing this programme — presumably via its World Superbike and MotoGP race programmes — and it's now sufficiently improved in aiding you getting stopped that I'm a believer. Better with it than without it.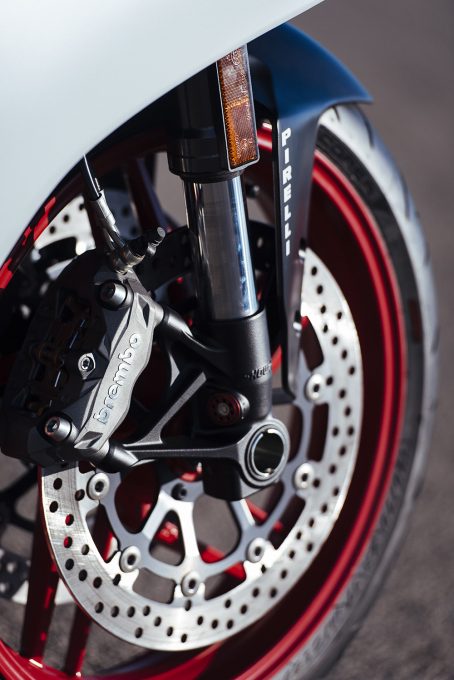 That degree of assistance with controlled engine braking helped compensate for the slightly less ferocious response of the M4.32 Brembos Monoblock calipers Ducati has fitted here, which offer good feel but don't have such a strong initial bite compared to the 1299's M50 items. But really, it's better this way as being more controllable over the greater variety of road surfaces that a real world sportsbike like this is likely to face. Having got the plot stopped, the 959 cornered on rails, with the narrower 180/60 rear tyre helping it change direction quicker and easier than the 1299 with its massive 200/55-17 rear cover. But the 959 steers easily into turns with minimal rider input, with the only slight downside to the steering the slightly sticky feel to the non-adjustable Sachs steering damper — fitting an adjustable one would head my list of options were I to buy a 959 Panigale. The 43-mm Showa BPF/Big Piston Fork fitted compensates for that slightly by being lighter than a conventional upside down fork, and it did a good job of ironing out the few ripples on this MotoGP racetrack, especially under braking.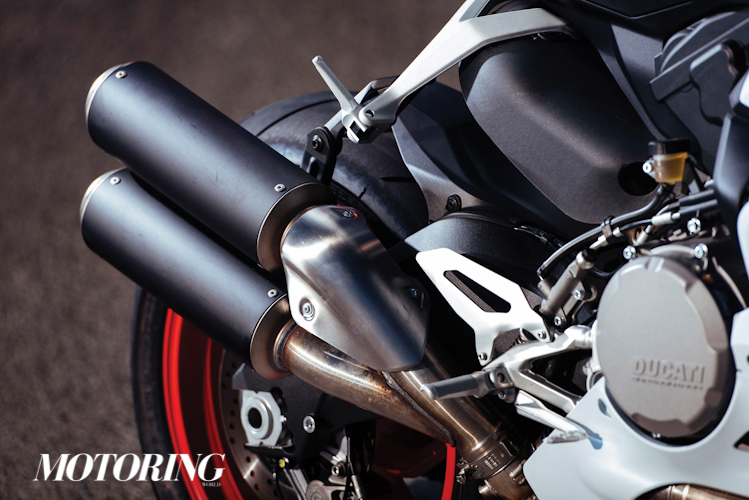 But it's that lovely motor which makes the 959 Panigale stand out as the best of both worlds — torquey and forgiving when needed, as well as fast and furious when you want it to be. The 955cc engine's reserves of torque allow you to hold a gear for long stretches of tarmac, running it to the 10,750-rpm soft-action rev limiter in intermediate ratios, which in fifth or sixth gear is raised to 11,500 revs, according to project leader Stefano Strappazon. Irrespective of the number of cylinders it has, the 959 Panigale is a unique real-world package that acts as a crossover between 200+ bhp maxisports megabikes and the increasingly endangered 600cc supersport category. The Suzuki GSX-R750 used to perform such a role, until it got left behind by modern-day superbike performance numbers.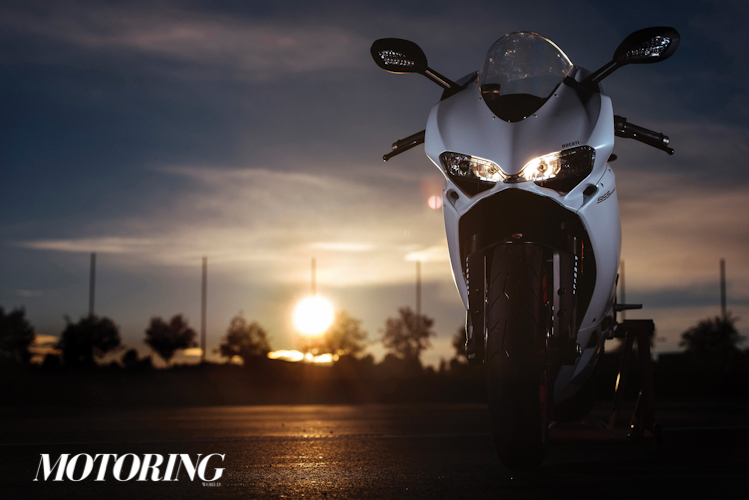 Ducati's latest all-new model — 
for that is indeed just what it is — represents all things to all sportsbike enthusiasts in a way that arguably just one other bike in the present-day marketplace is able to rival, combining good performance with accessibility and character, top-end power with satisfying torque, resulting in a truly versatile motorcycle that will bring serious satisfaction to anyone who owns it. Ducati's 969 Panigale V-twin joins MV Agusta's F3 800 triple in pointing the way ahead for sporting road bikes, by offering a level of accessible yet plentiful real-world performance that makes it in some ways better value for money than its 1299 superbike sister, but also just plain more fun to ride. 959 Panigale owners will rejoice in having to work harder in taking such a bike closer to the limits of the performance envelope than he or she is able to do on a bigger-engined, more daunting maxibike like the 1299 Panigale or any of its four-cylinder rivals.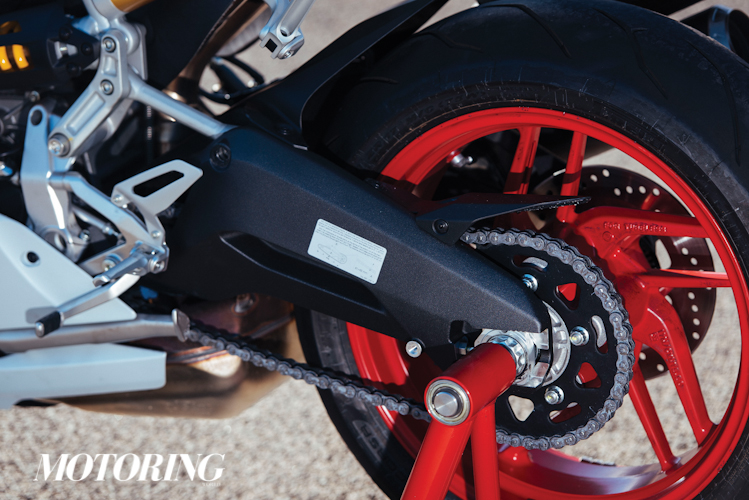 So, hey: let's give thanks to the bureaucrats in Brussels who dreamt up the Euro 4 regulations, for without those the 959 Panigalina might not have been created. This is a motorcycle for riders who aren't simply intent on having the fastest, the biggest or the most powerful in their garage, but instead want a versatile, real-world bike that'll be both practical and exciting to own, two concepts which the smallest-capacity Ducati sportsbike has now proved are by no means mutually exclusive. Kudos are due to Ducati for developing this motorcycle, because it's very, very satisfying to ride indeed.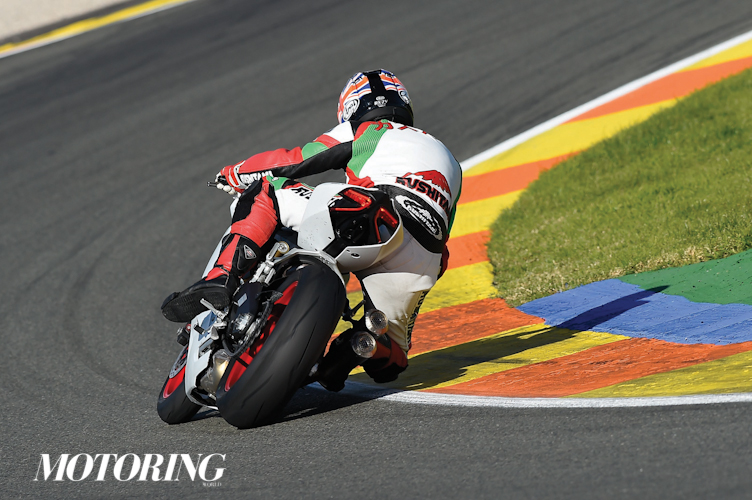 MOTODATA
DUCATI 959 PANIGALE
POWERTRAIN
Displacement: 955cc, V-twin
Max power: 157 bhp@10500 rpm
Max torque: 10.95 kgm@9000 rpm
Transmission: 6-speed
CHASSIS
Type: Monocoque aluminium
SUSPENSION
(F/R): Fully adjustable inverted fork / fully adjustable monoshock
BRAKES
(F/R): 320 mm twin discs / 245 mm disc
TYRES
(F/R): 120/70 ZR17 / 180/60 ZR17
DIMENSIONS
L/W/H (mm): 2056/NA/1115
Wheelbase: 1431 mm
Kerb weight: 200 kg
Fuel tank: 17 litres
PRICE: Rs 11.88 lakh (excluding duties)