Photographs by Kartik Sadekar
It takes an incredible amount of irreverence to build a motorcycle such as the one you see here. For decades, motorcycle manufacturers have worked hard to hand out more power to the rider, all the while turning down the fear knob down ever so gradually. Every new motorcycle is inevitably more powerful and faster but that much easier to ride. It's all about making the rider feel invincible and in control. The KTM 1290 Super Duke R is not one of them. It's put the fear of death right back into me. It wants to seek every example of performance benchmarks the world looks up to and destroy them all, brutally. We're scanning the scene in the city tonight. We're looking for you to start up a fight
THE PLOT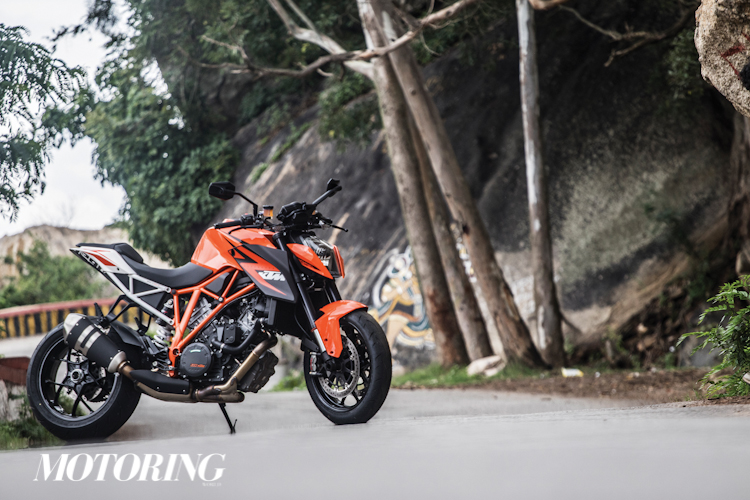 Its intentions are rather obvious, if you couldn't tell simply by the way it looks. Here's a motorcycle with an engine larger than on most highly-revered superbikes with as much power (if not more) and, rather conveniently, someone forgot about the entire aerodynamics bit. As a result, what we have in our midst is a ridiculously light motorcycle which is faster than its limited-to-299-kph speedometer will tell you. There's proof of this on the Internet, if you don't believe in the written word. Blame it on the motor or the chassis, but the 1290 Super Duke R is simply the craziest naked motorcycle you can buy off the shelf. Oh, wait. You can't. There's an evil feeling in our brains But it's nothing new, you know it drives us insane
THE PLAN OF ACTION
Housed within that fluorescent orange trellis frame is a 1301cc motor, its V-twin layout being one KTM rather prefers on its big bikes. The reasons are easy to understand: a V-twin motor is more compact than a four-cylinder layout and it is also, naturally, more raw in terms of feel owing to the very large pistons involved. It helps slim down the width of the motorcycle as opposed to an inline-four which then makes it immediately easier to adapt to and ride hard from the moment you thumb the starter. Ready to race? This is what it means. That it produces 177 bhp at 8870 rpm reaffirms the philosophy behind this motorcycle. I'm not so sure I want to ride it anymore. There is no escape and that's for sure. This is the end, we won't take
any more.
THE RECCE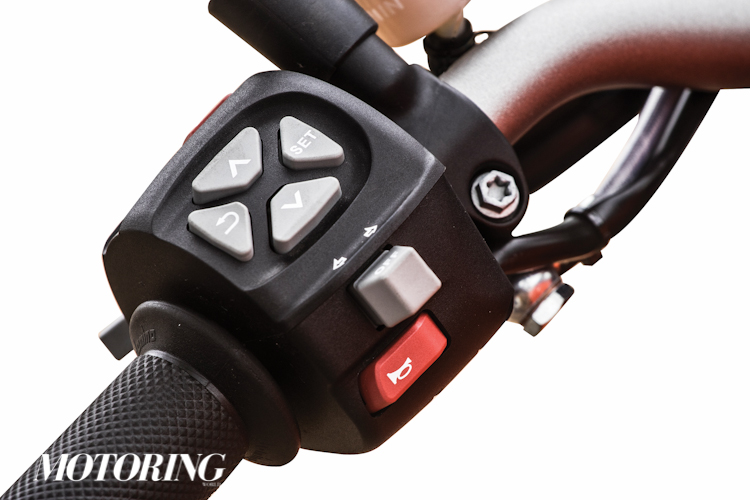 As the Super Duke R is rolled out of a dark corner of its rather overwhelming garage, I tried to soak in its proportions. Big nakeds are usually a handful and if the YouTube videos featuring this motorcycle are anything to go by, I'd better be making that final phone call to my parents. I'm ushered towards it in a hurry and before I know it, we've hit tarmac. Five minutes later, I'm still alive. This thing is rather comfy but that V-twin burble immediately makes its displeasure known to everyone within miles. It's not one of those wonderful, doe-eyed machines that's happy to be ridden around at 60 kph in fourth gear. It doesn't want to come across as 'nice'. I switch the riding mode from 'Street' to 'Sport', drop two gears and it all unfolds. The revs shoot up, the throttle firms up and the Super Duke R is now in its element. Say goodbye to the world you live in. You've always been taking but now you're giving.
SHOTS FIRED!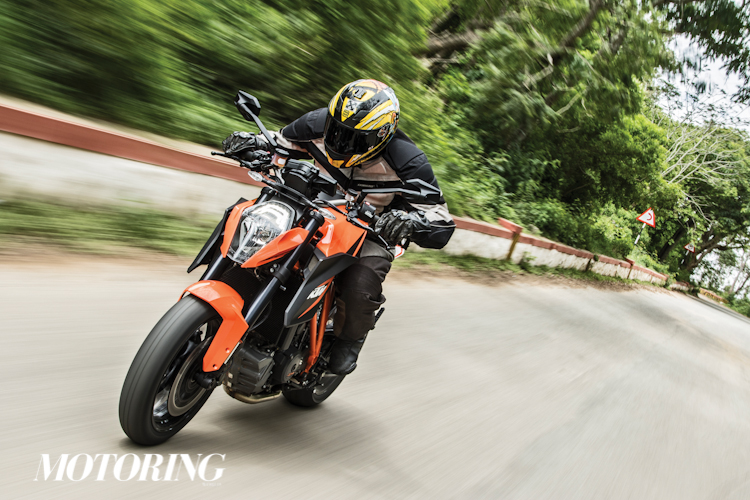 We've escaped the city and the road ahead is pretty much a straight line. My throttle hand is itching but the engine's even more eager to be opened up. This particular machine hasn't even been run in — and it's someone else's prized possession — so with a lump in my throat, I dare myself to a short burst of acceleration. Bloody hell! Just past 6000 rpm, the Super Duke R comes absolutely alive and thereafter, you experience what feels like an endless reserve of power. KTM claims a 7.2-second dash from standstill to 200 kph and it sure feels like it. It just keeps on accelerating relentlessly and before I know it, I've shifted into sixth. My eyeballs are struggling to keep the horizon in sight given the wind blast but a quick glimpse at the speedo triggers my mental drag chute and I roll off the gas. This motorcycle is bonkers. It shouldn't even be legal. Be thankful it's not sold in India. No, really. Our brains are on fire with the feeling to kill. And it won't go away until our dreams are fulfilled.
CAN YOU HANDLE IT?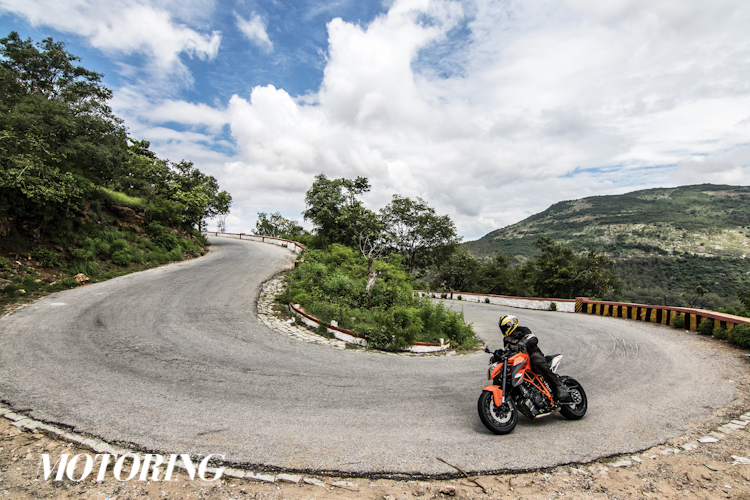 In a blur of an hour, we're now at the base of the hallowed Nandi Hills on the outskirts of Bengaluru. It used to be home to the country's most challenging hill climb racing event and I don't know whether to laugh or cry over my fate. Traction control can be of little help when being flung into a valley, I remind myself. Having said my prayers, we head uphill, a bit slowly at first. Nimble is too generic a word to describe what the Super Duke R feels like — it's almost over-intuitive. You can lean it into a corner at any point you like. It will do exactly as told but you have to fight it. The Dunlop Sport Max tyres are grippy, but there's probably just too much power on tap for any kind of road-biased tyre to behave itself. That's exactly what happens. Corner after corner, I'm left to fight either the throttle, the handlebar or the rear tyre which almost always wants to step out, despite the electronics' best efforts. It's twitchy as a rat on Red Bull and what doesn't help is that under any kind of hard acceleration, the front wheel just floats a few inches above tarmac, touching down only when you pull in the brake lever. This is not a motorcycle for the ordinary rider (read as 'If your last name isn't Rossi or Marquez') and I'm saying this with no intention to put anyone down. The Super Duke R will, one day, bite back hard – it's inevitable – and that will be the curtain call on your existence. There is only one thing on our minds. Don't try running away 'cause you're the one we will find.
WE'RE GOING DOWN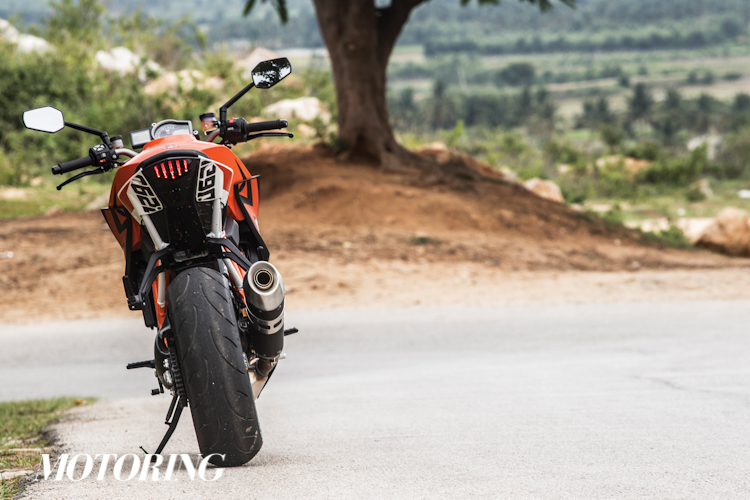 Now that we're up the hill, there's only one way to go – down. And if we're going down, might as well do it in style, right? Big mistake. I run wide at the first corner I encounter, having gone in way too hot. It's just impossible to ride this thing slow and when you don't, you're definitely heading for the first cliff that lies beyond a corner. I try being a bit more gentle down the straight but the KTM motor is still well past 7000 rpm in third gear and an aggressive jab on the front brake makes the tail go wild. How exactly is one to even ride this thing?! I'm sort of getting the hang of it by now, although I owe it more to my survival instincts than skills. The next half hour or so is just all of it playing in a seamless loop. Wheelie, brake, slide, lean in, wheelie, brake… I should hate this motorcycle for making me look like a lump of quivering jelly, but I can't seem to be able to. Darn
it, KTM! Running, on our way, hiding. You will pay, dying one thousand deaths
CEASEFIRE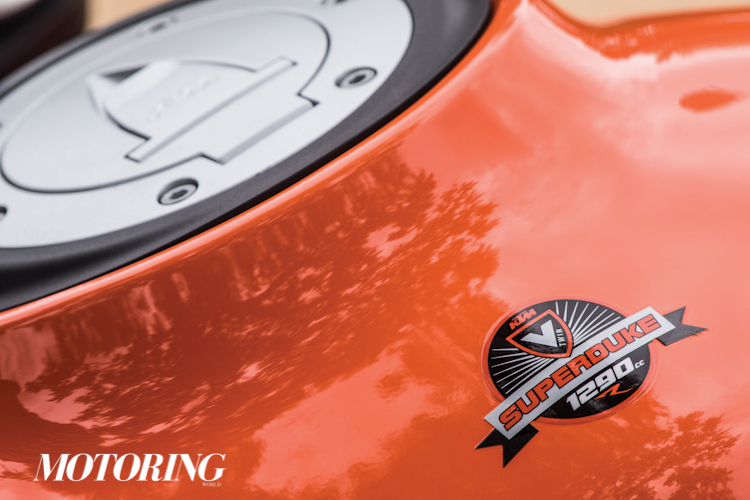 We're on the home leg now and ideally, I should be slowing down, breathing and introspecting. Doesn't happen. The Super Duke R is just one of those stubborn machines that's consumed by its own aggression. It doesn't like to take it easy and it sure won't let you, either. There's something much beyond the brilliance of its components that makes it so. It will envelop even the most hardened of you lot with fear, but rather than shut you out, it will drag you along — by the scruff of your neck if it has to — and fling you into a dimension of acceleration and speed you will rarely experience on a mass-produced motorcycle. It probably won't end too well, but since there's no escaping mortality anyway, you'd rather let something as incredible as the Super Duke R pull the plug on you. What a motorcycle! Searching, seek and destroy Searching, seek and destroy 
MOTODATA
KTM 1290 SUPER DUKE R
POWERTRAIN
Displacement: 1301cc, V-twin
Max power: 177 bhp@8870 rpm
Max torque: 14.6 kgm
Transmission: 6-speed
CHASSIS
Type: Steel trellis
SUSPENSION
(F/R): 48 mm upside down fork / monoshock
BRAKES
(F/R): 320 mm twin discs/disc
TYRES
(F/R): 120/70 R17 / 190/55 R17
DIMENSIONS
L/W/H (mm): NA
Wheelbase: 1482 mm
Kerb weight: 189 kg (without fuel)
Fuel tank: 18 litres
PRICE: Rs 12.5 LAKH (excluding duties)