Everyone knows siblings who are polar opposites. One might be immersed in classical music, while the other headbangs to heavy metal. This commonly results in society measuring them against each other, with comments along the lines of, 'The elder one is so decent and hardworking, but the younger one is a rascal of the first order.' And while I have been subject to that exact situation many a time, I prefer to think that both are unique in their own ways. The same goes for the Vieste 300 and Sixties 300i from the Chinese-owned Hungarian two-wheeler manufacturer Keeway.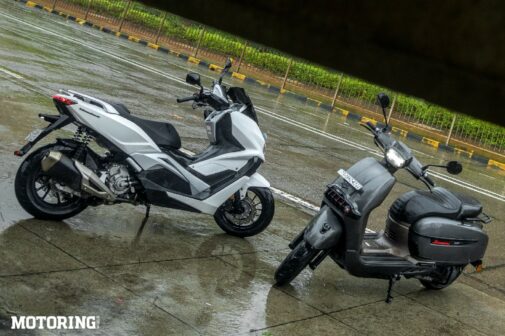 Although they share the same 278cc engine, they are two different machines altogether. A maxi scooter and a neo-retro scooter are on two opposite ends of the scooter spectrum. Each is made for different riders and varies starkly in terms of functionality, and with their performance and pricing, it is hard to even think of drawing a comparison to other scooters in the market. Both scooters start at Rs 2.99 lakh for the base variants and go up to Rs 3.20 lakh (both ex-showroom) for the top-end versions.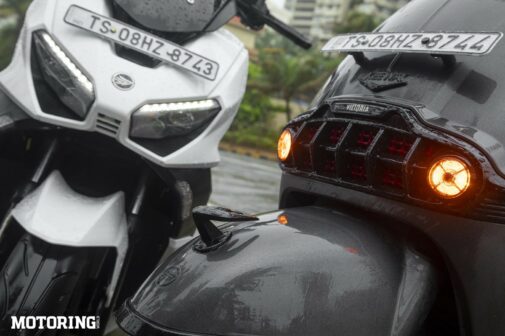 The Vieste 300 is one of the few scooters in India, if any, to get keyless operation and heated grips. It has a centrally located 12-litre fuel tank for a lower centre of gravity, and it also comes equipped with radial disc brakes and dual-channel ABS. The tinted visor, a large apron, a headlamp unit with four LED projectors, an LED tail-lamp, and relaxed riding ergonomics complete the definitive maxi-scooter look. The Vieste's instrumentation has both digital, as well as analogue displays, but it somehow does not include smart connectivity options. The switches also lack the premium feel that you'd expect under such a hefty price tag.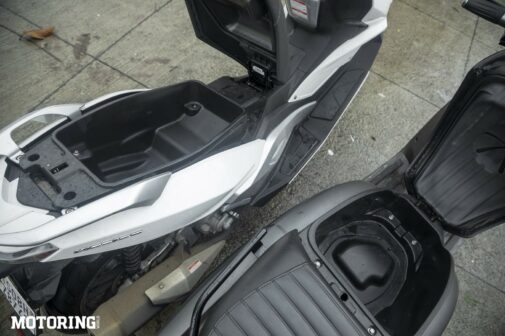 Both models get telescopic fork suspension at the front and hydraulic shocks at the rear. The Sixties 300i gets a little more ground clearance at 140 mm than the 135 mm of the Vieste 300.  The Vieste runs on 13-inch alloys with a 110/70 front and a 130/70 rear tyre. The Sixties, meanwhile, runs smaller 12-inch alloys with 120/70 tyres at both ends. Both scooters weigh in at around 150 kg, give or take a few. Being slightly on the heavier side, Keeway should have also included parking brakes on both scooters.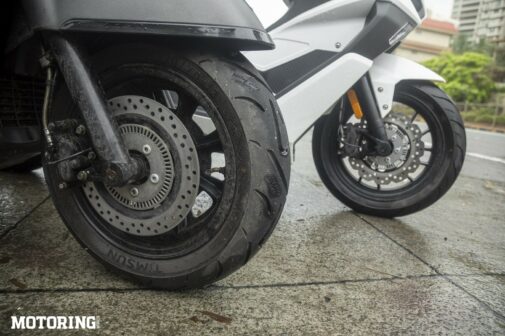 The Sixties 300i takes an approach opposite to its sibling and gets a whole retro setup. With the hexagonal headlamp, faux grille on the front apron and split seats, the design is undoubtedly old school. If one doesn't notice the absence of a kick-start lever, the silhouette is very reminiscent of the old Lambretta scooters, and many passers-by did ask if it was one. As pointed out by Kartik, the grille looks like it's been taken off a Morris Minor. It also gets a 10-litre fuel tank in the floorboard, and it does get a little uncomfortable at the petrol pump with the filler cap at the rider's feet. Not to mention that the metal filler cap tends to get really hot after a sprightly ride. Sold abroad as the Victoria Nicky 300, it seems to retain a lot of the Victoria badging (if not all of it). It gets axial disc brakes with dual-channel ABS and an analogue-cum-digital display, so there are some modern elements to it as well.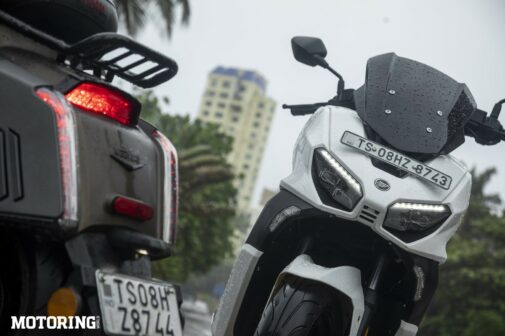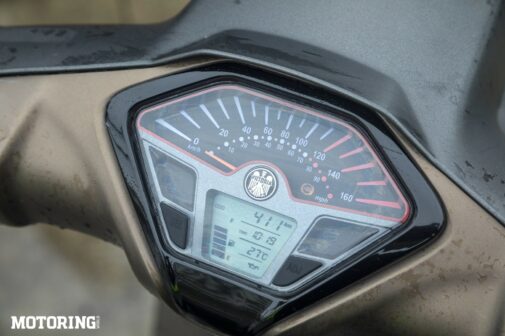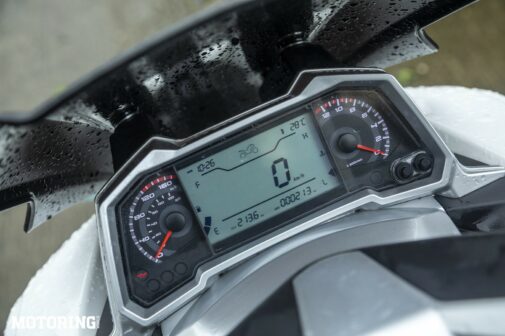 Now, about the ride quality of the Keeways. The maxi-scooter does not feel too maxi, thanks to the seat stop. It may not be an issue for shorter riders, but I felt it was slightly uncomfortable. The placement of the pillion footpegs was a bit of an issue, too; I found that with a pillion rider, my elbows bumped into their knees much too often. The vibrations at idle made it look as smooth as a jackhammer, but thankfully it smoothed out on the move. The Sixties 300i, on the other hand, was surprisingly more comfortable, and that's not because I'm partial to everything retro. It genuinely gave a smoother experience overall, and that's slightly puzzling since they both share the same mill. The 18.7-bhp liquid-cooled 278cc engine is otherwise very robust and throttle response is great. It will whizz past other commuter scooters and leave their riders puzzled as to what just happened.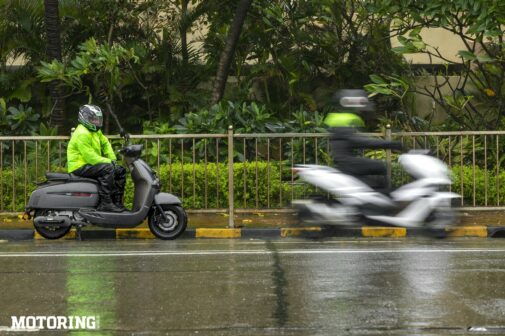 Coming to storage space, I was rather disappointed with the itty-bitty under-seat space provided on the scooters. It is possible to fit a half-face helmet in both, but I would have loved a bit more room in there. Both scooters do get a little compartment in the front to keep stuff like keys or a wallet. Both the Sixties 300i and the Vieste 300 get USB charging ports too. This is one feature that manufacturers cannot afford to miss out on nowadays.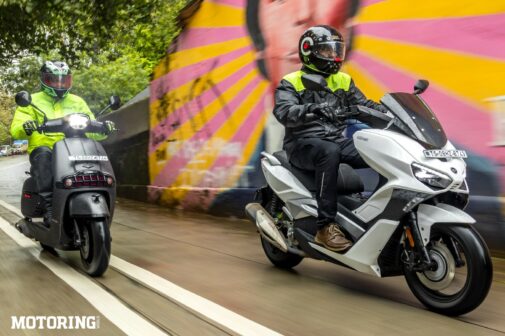 The Vieste 300 as well as the Sixties 300i are head-turners in their own way and are ultimately very fun to ride. The build quality is pretty good and they feel very stable at high speeds. Cruising at 100 kph is a breeze, and acceleration is pretty refined, too. Both the scooters don't have much competition in the market currently and I wouldn't be that surprised to see them pitted against sports bikes with similar displacements. I had mentioned at the start that both the scooters are unique, and it all depends on the perspective from which one views them. The consumer spectrum is slowly changing, and as long as Keeway manages to work out the tiny niggles here and there, I'm sure these vehicles will be well received by buyers.
MOTODATA
Keeway Vieste 300
POWERTRAIN
Displacement:
Max Power:
Max Torque:
Transmission:
278cc, single cylinder
18.7 bhp@6500 rpm
2.24 kgm@6000 rpm
Automatic
BRAKES
F/R: 240-mm disc / 220-mm disc
TYRES
F/R: 110/70-R13 / 130/70-R13
DIMENSIONS
L/W/H (mm):
Wheelbase:
Ground Clearance:
Seat height:
Kerb Weight:
Fuel Capacity:
1930/800/1130
1390 mm
135 mm
770 mm
147 kg
12 litres
PRICE
Rs 2.99-3.20 lakh (ex-showroom)
MOTODATA
Keeway Sixties 300i
POWERTRAIN
Displacement:
Max Power:
Max Torque:
Transmission:
278cc, single cylinder
18.7 bhp@6500 rpm
2.24 kgm@6000 rpm
Automatic
BRAKES
F/R: 230-mm disc / 220-mm disc
TYRES
F/R: 120/70-R12 / 120/70-R12
DIMENSIONS
L/W/H (mm):
Wheelbase:
Ground Clearance:
Seat height:
Kerb Weight:
Fuel Capacity:
1985/720/1170
1390 mm
140 mm
790 mm
146 kg
10 litres
PRICE
Rs 2.99-3.20 lakh (ex-showroom)