Kawasaki has been catering to retro buyers for some time now with its array of beautiful retro-modern motorcycles like the Z900RS, Z650RS, and W800. My line of work has provided me with opportunities to ride most of them, and every occasion I've spent time with these bikes has left me wanting to ride them even more. Despite being known for offering us some of the fastest, and most technologically advanced, motorcycles that money can buy, Team Green manages to pull off a fantastic range of retro motorcycles that capture the essence of an old-school motorcycle, while providing the reliability and finesse of a modern machine.
One such example is the W800, a British motorcycle, built and perfected with Japanese accuracy, which is a unique thing for a motorcycle by itself. But, it isn't everyone's cup of tea (including myself) as affording a motorcycle like the W800, and maintaining it as it should be, isn't within everyone's reach. And while this limits the brand to premium buyers only, it prevents the masses from getting that retro experience, and also holds back business opportunities for the company. Kawasaki is aware of this and to bridge this void, it has developed a mass-market offering by presenting us with the W175.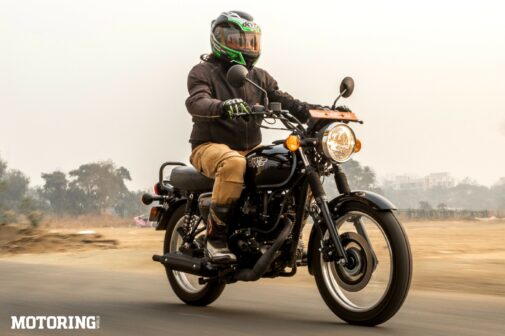 Although the W175 has been sold in other Asian markets for a while now, the folks at Kawasaki India have told us that the W175 has been developed in-house in collaboration with Japanese engineers. The one here is the India-specific version of the motorcycle that has undergone a few alterations in terms of mechanicals and features. Having that said, the W175 can be summed up in three words— retro, minimalistic, and mechanical.
Retro because it has the classic lines of what describes a motorcycle at first glance. It has a large circular headlamp with a chrome bezel, a teardrop-shaped fuel tank, boxy body panels, wire wheels, and a rather simple tail-lamp design. The test bike provided was finished in Ebony black, which I feel is very boring and plain compared to the Candy Persimmon Red colour option that also gets gold pinstripes and a chunky emblem on either side of the tank, instead of a sticker. However, surprisingly, it is the former that is receiving more inquiries and bookings. Each to their own, I guess.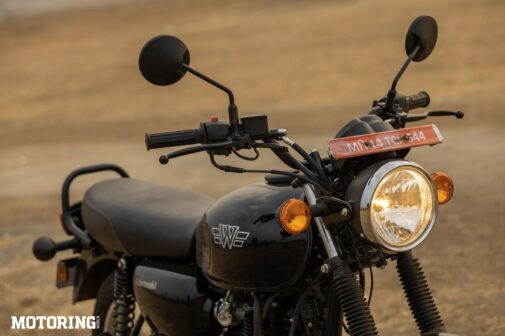 Higher up, the W175 accentuates its retro styling with the pea-shooter exhaust, comfortable flat and wide seat, and exposed mechanicals. One can see the oil lines for dispatching oil from the crankcase to the cylinder head for lubrication, the exposed throttle body with the cable to control the throttle, and other components that form the W175's powertrain. And what a gem of a motor it is. If you weren't quite convinced with this Kawasaki's looks, you surely will be with its engine. Being a 177cc single-cylinder mill, the power and torque it produces are just about right for riding in city traffic. The torque is mainly concentrated at the low- and mid-section of the rev band, which makes it a hoot to ride as you make your way through the busy streets of Mumbai.
Its slim profile and compact dimensions allow it to squeeze through tight spaces and get ahead of traffic. The W175's slick 5-speed gearbox is best enjoyed while being ridden between the 30-80 kph. It is one of those bikes that lets you enjoy refinement and simplicity more than chasing a top speed. But if you had to, the W175 manages to clock 108 kph, which is great for a motorcycle of its class, especially when you consider how the vibrations are minimised even at high revs.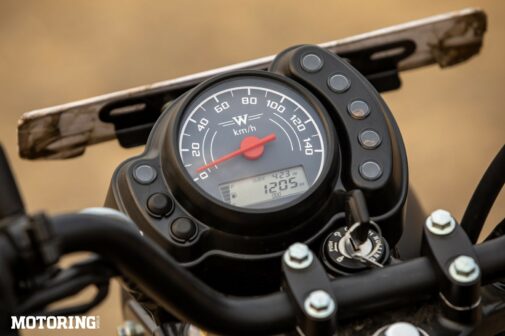 To accompany this kind of engine performance, the W175 offers an equally pliant suspension setup. The motorcycle features a telescopic fork at the front and a dual shock-absorber arrangement at the rear, which is set on the firmer side, but still manages to soak up small bumps and potholes well. While this kind of setup provides more confidence while cornering, it also keeps things engaging and fun every time you swing a leg over it.
However, to enjoy the bike's agility, performance, and cornering speed to the fullest, brakes are a critical element that needs to be on point. And I am happy to report that, despite having a disc-drum setup, the braking performance is on point and trustworthy. While you have the safety net of a single-channel ABS, the bite from the disc and progressive brake-in from the drum are effective at shedding speeds quickly.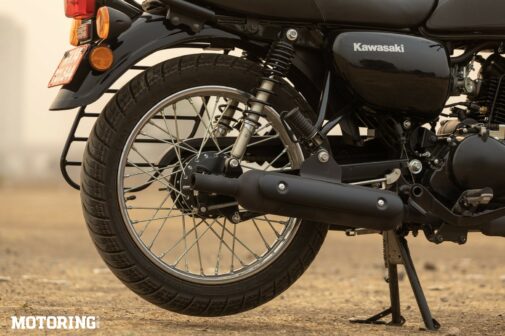 Lastly, along with everything else the W175 has to offer, what it also ranks high in, is providing a very ergonomic riding stance. I usually prefer to mention a bike's riding triangle earlier in a story, but the W175's other aspects impressed me a lot. As mentioned earlier, the seat is long and wide, which allows for a lot of room for a rider, and a pillion, to sit comfortably. The seat cushion is on the firmer side, which takes a while to get used to, but is perfect for the spine and for spending long hours on.
Once seated, the hands and feet land naturally on their designated positions, automatically making the ride experience a comfortable one. The motorcycle has a seat height of 790 mm, which will be appreciated by short riders, and a kerb weight of 135 kg, which will be welcomed by smaller-framed riders, the fairer sex, and aged riders who are seeking a light-weight motorcycle.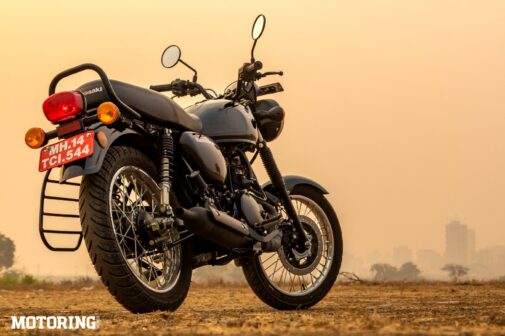 To conclude, the Kawasaki W175 is a motorcycle that evokes a similar kind of emotion like the W800, but in a smaller package. It is a motorcycle that offers the joy of motorcycling in a minimalistic manner, with strong build quality, and a lightweight build. Yes, one could say that the motorcycle is bare-basic on the equipment front, but that in itself is the essence of the simplified, retro-motorcycling experience that Kawasaki wants to offer.
Coming to the last (and quite important) bit — the sticker price that Kawasaki has put on the W175, which is Rs 1.47 lakh for the Ebony, and Rs 1.49 lakh for the Candy Persimmon Red (both prices are ex-showroom). In the present market, where competitors are offering more displacement and features for the same price, Kawasaki might have got a little too ambitious with the price tag, or got a little late at introducing such a motorcycle. Whatever it seems to be, the fact remains that the W175 is one interesting motorcycle when seen from a singular perspective. If that doesn't happen, which I sadly feel would be the case, Kawasaki will have to rework the W175's pricing if their aim is to chase the kind of numbers a mass-market motorcycle is expected to return. Only time will reveal the W175's fate.
MOTODATA
Kawasaki W175
POWERTRAIN
Displacement:
Max Power:
Max Torque:
Transmission:
177cc, single
12.87 bhp@7500 rpm
1.3 kgm@6000 rpm
5-speed
CHASSIS
Type: Double cradle frame
TYRES
F/R: 80/100 R17 / 100/90 R17
DIMENSIONS
L/W/H (mm):
Wheelbase:
Ground Clearance:
Seat Height:
Kerb Weight:
Fuel Capacity:
2005/805/1050
1320 mm
165 mm
790 mm
135 kg
12 litres
PRICE
Rs 1.47 Lakh (ex-showroom)