1. Thou shalt ask first: What's the point of a superbike anymore?
Now, a question cannot pose as a commandment, let alone a seemingly blasphemous one, but do bear with me. Although, really, in one way the Kawasaki Ninja ZX-10R seems to exist for little else than to enable Jonathan Rea to win one WSBK championship after another (six so far), creating history as they go along together. In saying that, it may become sort of implicit that the ZX-10R is the best superbike in the world and has been for some time now, although that's doing its mighty rivals a mightier disservice. Never mind the lengths to which manufacturers will go to blur the lines between pit lanes and showroom floors.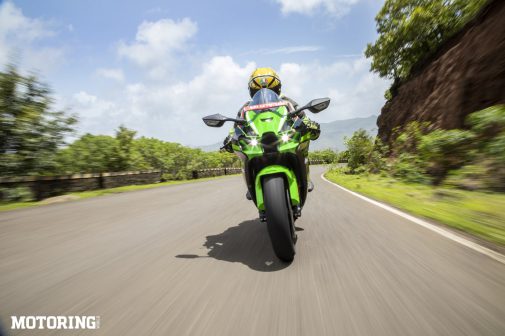 Nonetheless, there are few words cooler than 'Ninja', especially when it's stuck on a sharp and green motorcycle. The wildest of Japan's quartet of litre-class maniacs has always been a fan favourite; if the Yamaha YZF-R1, the Suzuki GSX-R1000, the Honda CBR1000RR and the ZX-10R were The Beatles, the Kawasaki would most certainly be John Lennon. The Honda is the McCartney of the lot and will probably live the longest, but it's the Kawasaki that's likely to be shot by a fan.
2. Thou shalt become part of a famous history.
In the colossal juggernaut that is Kawasaki Heavy Industries, the motorcycle division has long been likened to a shed in a tiny corner of the backyard. Said shed has always been full of wild-headed motorcycle nuts who relentlessly come up with one plan of two-wheeled world domination after another. And although their MotoGP ambitions may have fizzled out a long time ago, their focus on production-based supremacy has led them to the aforementioned WSBK history-making. Obviously, Rea's bike and the one I rode have little in common, but there's more of a direct connection here than with an unattainable prototype class.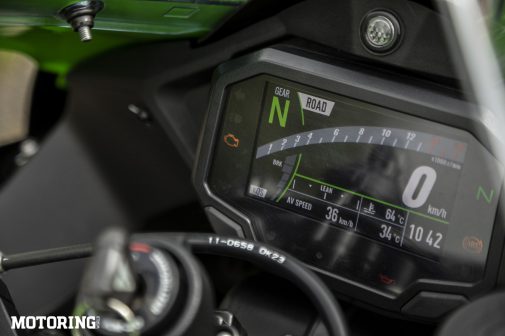 3. Thou shalt go slow, too. If possible.
Now, I hadn't ridden a proper superbike in a few years. And that wasn't a thought with which to settle onboard a 200-bhp machine on a wet day. But the ZX-10R was nothing if not forgiving and encouraging. Of course, its riding position was a proper massacre of the arms in traffic, but some time spent doing push-ups and pull-ups would likely mitigate the discomfort. I suppose a committed superbike is quite right to demand a bit of dedication from its rider, too.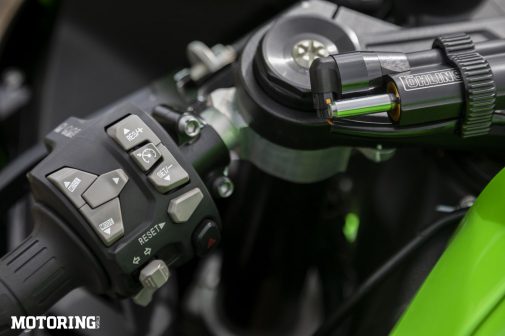 Nonetheless, the rest of the bike was a textbook example of inline-four friendliness. The motor hummed along at city speeds without fuss, the suspension was incredibly comfortable, and the ZX-10R's dimensions were easy to slot into gaps in traffic. Good ol' Jonny Rea, who's only just taking his riding-license test in the UK as I write this, should be happy to know that his office bike is great for the commute, too.
4. Thou shalt exalt the green machine.
After more than a year of lockdowns, terrible news and uncertainty, the ZX-10R stood in front of me as a sign, one that promised that things will be all right one day. Its bright green reminded me more of ninjas of the teenage mutant turtle variety than the real-life ancient Japanese assassins who always preferred the shroud of secrecy. Indeed, the Ninja's new face wouldn't look out of place in a comic book, although I'm not sure if it'd be a hero or a villain. An anti-hero, perhaps. It gets winglet-like protrusions on its face that, according to Kawasaki, 'generate downforce that helps keep the front wheel on the ground during strong acceleration'. Yeah, right. But more on that later.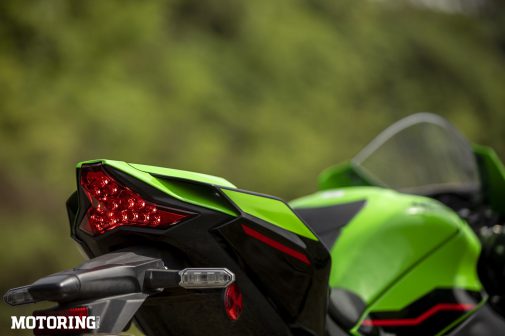 The Ninja gets LED lights all around, a lovely TFT screen for the instrument console, a very busy switchgear module, and even goddamned Bluetooth for smartphone connectivity. I mean, is nothing sacred anymore?! More to the point, the ZX-10R is only a single-seater; I suppose someone at Kawasaki realised that there's no point in the rider being the victim of frightened urination from the pillion seat. Also, this ZX-10R is the first non-supercharged Kawasaki motorcycle to feature the company's River Mark; if that doesn't highlight this bike's significance, nothing will. Also, the bike here has the Kawasaki Racing Team (KRT) paint scheme and graphics, mimicking Rea's racing bike. Pretty cool, I have to say, though I'd take an all-green 
one any day.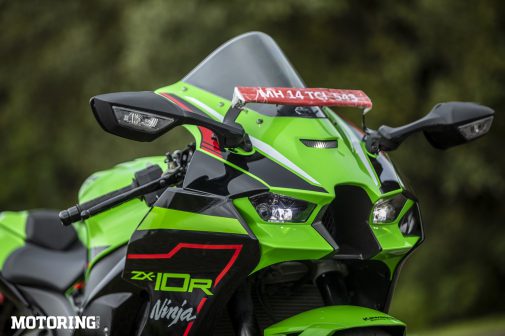 5. Thou shalt have no doubts.
That's what awesome tyres and ever-improving rider aids exist to quell. The sheer ease of riding the ZX-10R is difficult to put into words, but try to imagine a machine that absorbs you into itself and then proceeds to translate your every thought into heroic action. All corners beg for knee sliders, straights ask for the quickshifter to be summoned at the redline. The ZX-10R does everything you ask with mind-boggling enthusiasm and efficiency. I'd say it was almost too easy to ride, but I can't possibly cast a blanket of that nature about a 200-bhp motorcycle.
This was all despite the fact that the test bike's tyres were as shot as a bad guy in a John Wick movie. It takes a special kind of bike to give its rider confidence, even on a bad set of tyres. The ZX-10R's mechanical and electronic package does exactly that. It was a good thing that just when I started to think it was all me, I realised it was the bike letting me think so. That's what heroes do. I'd like to see what it can do on a track with new tyres.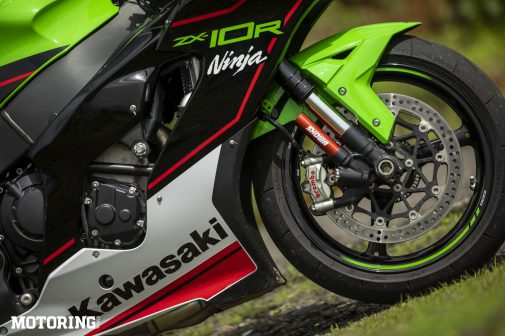 6. Thou shalt bow down to technology.
The ZX-10R's three-level launch control, which appears only in sport mode, was a serious gateway drug that introduced me to hooking it up and launching into stupid speeds whenever I'd like. Seriously, it'll make any noob look like a pro drag racer, and I wondered how many owners will inevitably think they indeed are. Riding modes — sport, road, rain, and rider — along with finely tunable individual settings let the rider tailor exactly how much he/she wants to be scared. Even left in standard road mode, the ZX-10R was incredibly potent. Of course. But a prominent button for cruise control on a superbike? What, for going around a track? I'd rather have a dedicated launch-control button instead.
7. Thou shalt revel in the mastery of internal combustion.
When first gear takes you well past 160 kph, well, you run out of words well before you run out of road. It is a most effective way to blow the cobwebs out of the mind, though. Even ten years ago, litre-class superbikes already made enough power for their makers to be almost embarrassed to admit the numbers. Even today, acceleration and top-speed figures are officially shied away from.
Nonetheless, the ZX-10R will launch you past 100 kph in less than 3 seconds and take you to a top speed of close to 300 kph. Needless to say, these numbers are far too quick and fast for any road anywhere in the world. Unless you're a YouTuber with a deathwish, of course. By the way, that first-gear figure is despite the fact that the ZX-10R now has shortened ratios for the first three gears for low-down acceleration.
What sets the ZX-10R apart, though, is Kawasaki's interpretation of an inline-four. There was always an edge to the ZX-10R, and that is retained in this generation despite its increased friendliness and proficiency. It screams and howls like a raging green monster should, even if it buzzes calmly around town. At low revs, it lurks like its namesakes used to, waiting for an opportunity to strike; after you hit its mid-range, the Ninja shows you its Kawasaki nature, and fully justifies its warrior name. With the ZX-10R, reality-warping mayhem is only ever a few thousand rpm away. A superbike must never lose that.
8. Thou shalt enjoy the sublimity of suspension.
As impeccable as the ZX-10R's engine and electronics are, it's its suspension and brakes that really stand out, at least for me. The Showa balance-free front fork and the Showa balance-free rear cushion monoshock are almost infinitely adjustable, and even though I didn't touch any of their settings, they were perfect. Added reassurance comes in the form of an Ohlins steering damper, so one did not tank-slap one's way off a cliff.
It was incredible to think that the same setup that pampered my racing-crouched backside was fully capable of putting all that incredible power down to the road. I've yet to experience comfort and intent all rolled together in a well-controlled package like this. Oh, and the Brembo brakes were so good, every time I hauled on them, I thought I was going back in time.
9. Thou shalt appreciate value.
At Rs 14.99 lakh, ex-showroom, the ZX-10R is easily the most affordable superbike on sale in India, which explains its popularity. It's almost disconcerting how a relatively little outlay can get anyone a machine with near-cosmic capabilities. Then again, unlike the many people who've already bought it, I'm only complaining about the fact that I can't afford it.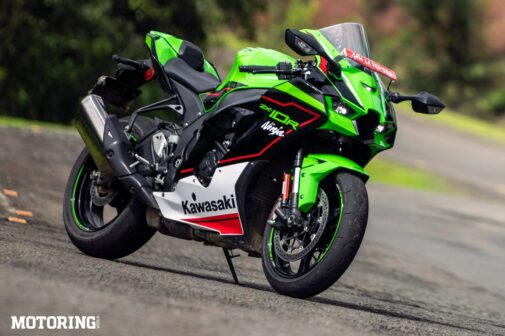 10. Thou shalt answer the first question. That is the whole point.
There's really no great esotericism or empiricism required here. As long as superbikes exist on the planet, we haven't failed as a species. It's as simple as that. And the Kawasaki Ninja ZX-10R is probably the best of them all.
MOTODATA
Kawasaki Ninja ZX-10R
POWERTRAIN
Displacement: 998cc, inline-four
Max power: 200.22 bhp@13,200 rpm / 210.27 bhp@13,200 rpm (with ram air)
Max torque: 11.7 kgm@11,400 rpm
Transmission: 6-speed
CHASSIS
Type: Cast-aluminium twin-spar frame
BRAKES
F/R: 330-mm twin discs/ 220-mm disc
TYRES
F/R: 120/70 ZR17 / 190/55 ZR17
DIMENSIONS
L/W/H (mm): 2085/750/1185
Wheelbase: 1450 mm
Ground clearance: 135 mm
Seat height: 835 mm
Kerb weight: 207 kg
Fuel capacity: 17 litres
PRICE: Rs 14.99 lakh (ex-showroom)