It's H2 o'clock. It's thousands of hours of engineering madness squeezed into one momentous machine. Surely, the people who made this motorcycle cannot have had a shred of normalcy in their brains. The outcome, naturally, is something that needs to be parked not in a garage but in a padded cell deep inside a dark Gothic structure guarded by tall iron spiked fences. In fact, this bike is so deranged, it's difficult for anyone to remain normal in its vicinity. The Kawasaki Ninja H2 rubs off on everyone around it.
A single look at the H2 ignites a burning question in my mind, 'Who would want to make a bike like this?' And the answer, of course, is right under my nose on that mirror-coated black tank. Only Kawasaki would think of making a bike that instantly makes every other motorcycle look distinctly wimpy, even its siblings in the Kawasaki stable — and that's saying quite something. Is this bike a statement? Is this Kawasaki exploring a different path? Is it a sign of things to come? It's all of them, really, and that's what makes this a landmark motorcycle.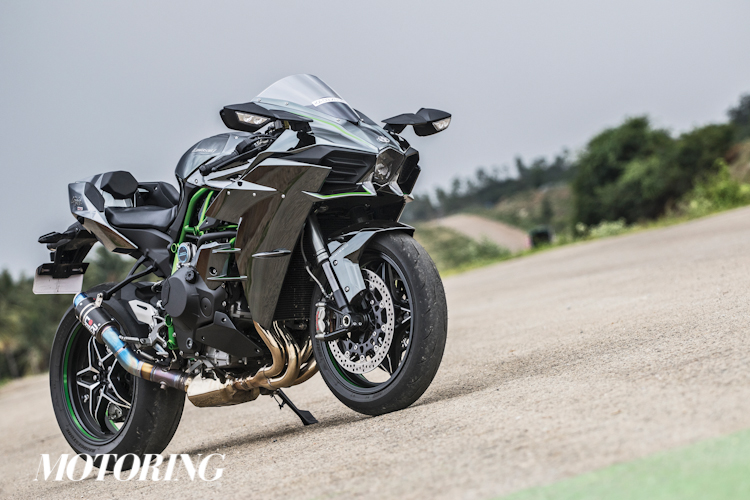 Kawasaki calls the H2 'built beyond belief' and that alliterative statement is quite literally and appropriately true. I think the considerate folks at Kawasaki wanted people to understand what that catchphrase really means. So, they painted the H2 in this mirror finish for everyone to see the disbelief on their own faces reflected back at them, nice and clear. It isn't beautiful in the traditional sense of the word, but that doesn't stop it from reducing people into stunned zombies walking slowly around it. They do keep a safe distance, though.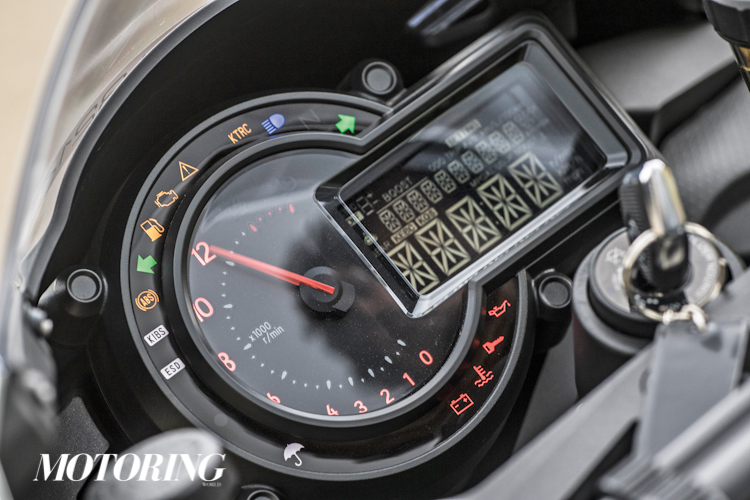 Finned dark cavities occupy the spaces where one would normally expect to find headlamps. A central headlamp cluster is flanked by LED fangs which gives the H2 a savage cycloptic face. It does look a bit unreal, as if Kawasaki took an outlandish concept drawing from the drawing board straight to the assembly line. The rest of the bike isn't as diabolical as the face, though there is enough and more for you to look at.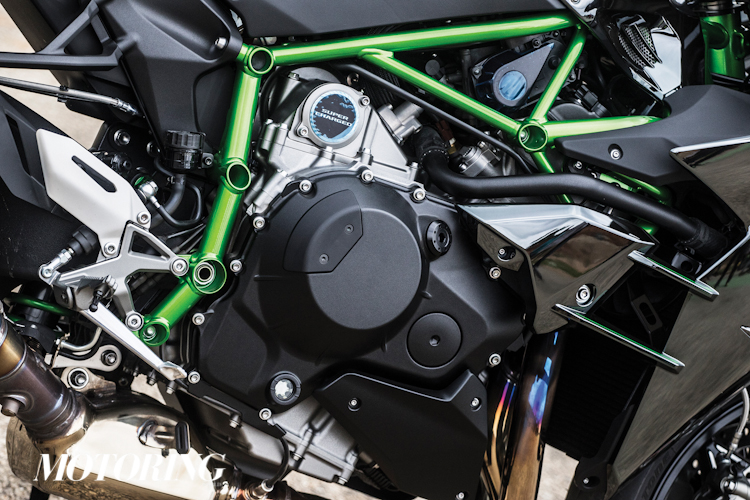 The green trellis frame will be the reason for many sleepless nights at Ducati. The scooped-out and rakish tail section hovers above a wheel worthy of a single-sided swingarm, the first on a Kawasaki motorcycle. In fact, the owner of this particular bike likes it so much, he removed the stock exhaust and bolted on an aftermarket unit that's essentially a straight pipe, so that the wheel is visible in all its machined glory.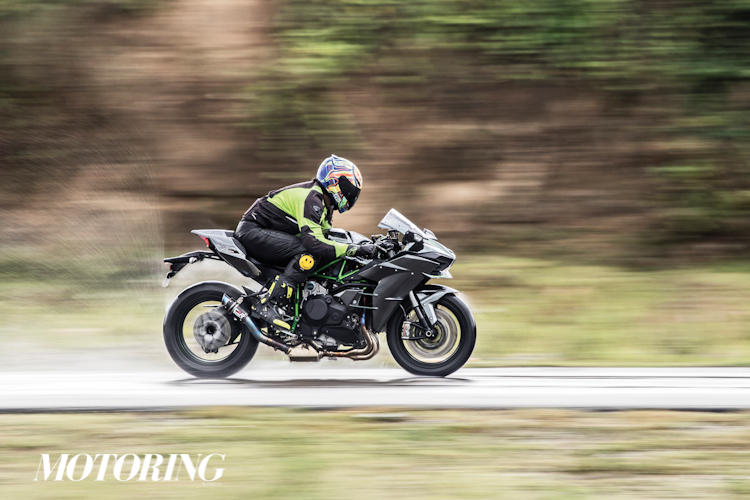 The fairing is not quite a full one, which allows the exhaust headers to add flowing golden lines to the H2's appearance. And despite this unusual paintjob, there are enough touches of green all over it so you never forget which house this brute comes from. And everything is of the highest quality I've seen yet on any motorcycle. However, it's the circular badge on the side of the engine that's got the world looking warily at this bike. It says 'Supercharged'.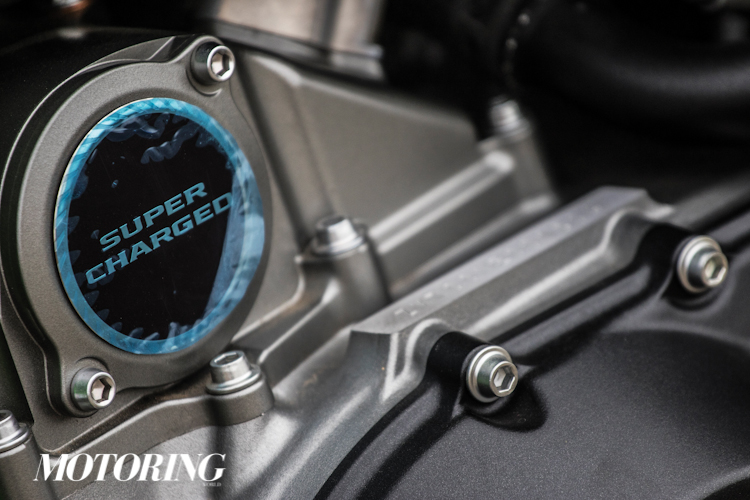 The H2 is a motorcycle whose visual aggression translates into barely-restrained power on the move — and it's all down to that supercharger. Bear in mind, this is a motor that's designed to handle in excess of 300 bhp in its H2R guise. That's why, in this 'mere' 207-bhp H2, it feels as smooth and normal as any inline-four I've ridden. Until I get properly going. I don't have the luxury of time with this bike, because it's getting late and wet. But there's only so much I'm going to push a brand-new motorcycle on a wet road anyway. And even 'so much', it turns out, is quite enough.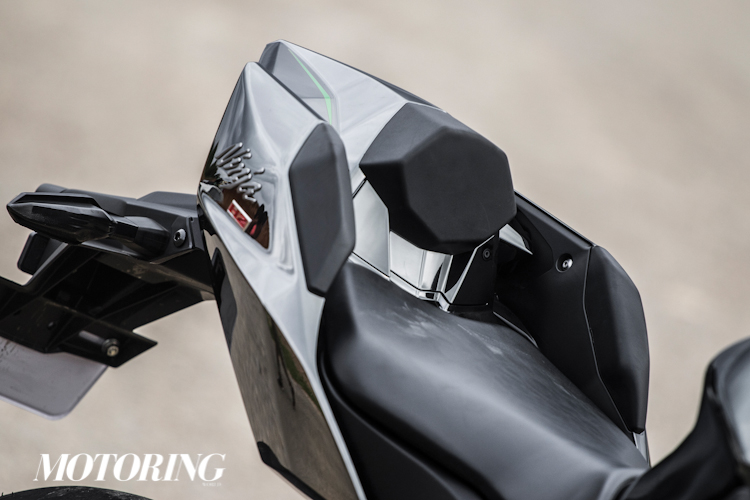 Until 4000 rpm, the H2 feels utterly docile and manageable, with only the top-mounted steering damper sending subliminal messages of impending doom to my fired-up brain which duly ignores them. The revs might be low, but I'm certain that exhaust can be heard by every living thing in a 5-km radius. I open the throttle as hard as I dare, trusting the electronics to find grip on a wet surface with questionable grip. And in that moment, I understand what the H2 is all about.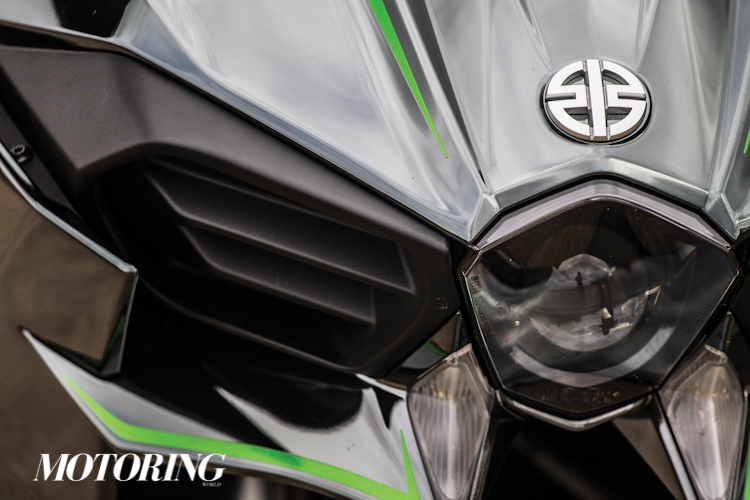 The green chips seeem torn apart between hooking up the rear wheel and letting loose the H2's horsepower as the supercharger kicks in, even as the exhaust's howl bounces off the horizon in all directions. My senses flail wildly to grasp what's going on over the sound of the straight pipe, but succeed only in registering the downright incredible rate at which the H2 accelerates. Power comes in visibly stronger after 5000 rpm and goes on until hitting the rev limiter, at which point my left foot prods the quickshifter into dropping the motor back in the sweet spot for the H2 to continue its charge. This is like no inline-four I've ridden. Gearshifts trigger extremely loud and violent chirrups from the supercharger. It's a sound that I've never heard on a motorcycle, and probably won't for while to come.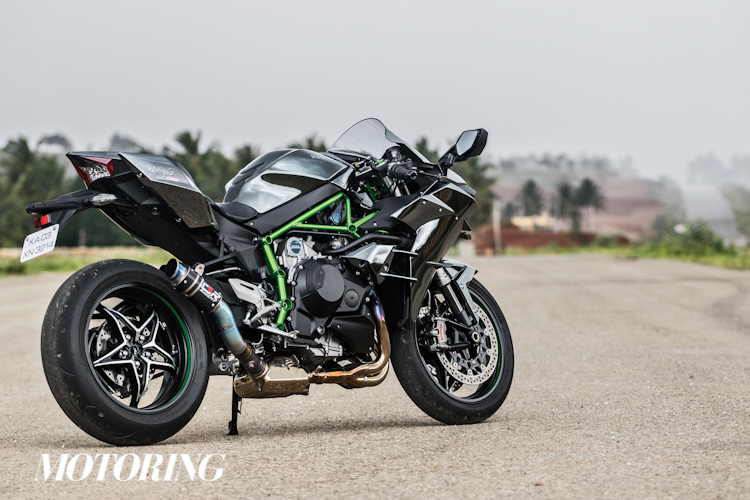 It's a good thing the H2 comes with adjustable hip support pads built into its seat unit. They hold my backside in place when the H2 is doing what it does best — going ape in a straight line. That's not to say it can't corner to save its life, but I'm betting it's not as agile as a conventional litre-bike. It feels a bit on the heavier side on the move, even though it seems perfectly normal-sized when I'm sitting on it. Which is why I think the H2 is more of a straight-line bike that will be decent at taking corners. At 238 kg, don't expect it to feel like a supercharged litre bike. However, if I haven't made it clear already, you can expect it to feel like nothing else.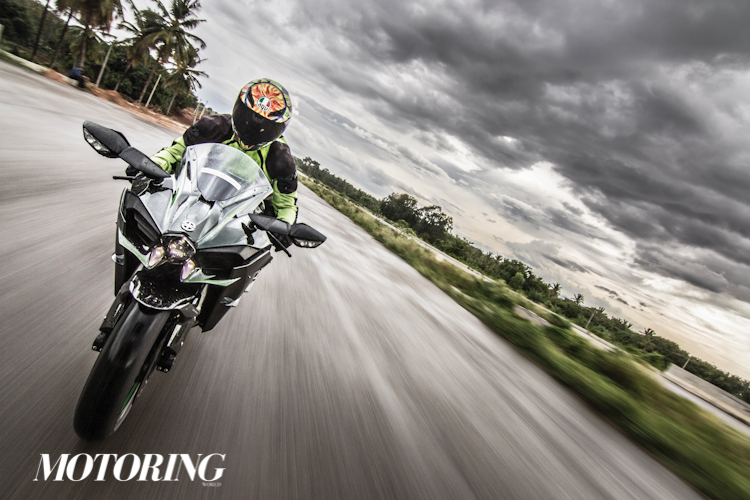 I don't think there could be a better motorcycle for forced induction to make a comeback on. Other manufacturers will release forced-induction bikes, too, but I doubt any of them will make riders shake in their boots like this one does. The H2 is already a milestone in motorcycling, a motorcycle forged by the collaboration between Kawasaki's various industries, which is why it carries the River Mark symbol on its polished snout.
It's the symbol of Kawasaki Heavy Industries, designed by founder Shozo Kawasaki in the 1870s and represents the Japanese character for 'river' which is also the first character in 'Kawasaki'. That says a lot about what the H2 stands for. It's a statement of intent that could only come from the house of Ninjas. It is the most incredible road-going motorcycle Kawasaki has ever made and it wants the world to know this. The H2 is a magnificent and unique beast, as exquisite as it is insane.
PHOTOS Kartik Sadekar
MOTODATA
Kawasaki Ninja H2
POWERTRAIN
Displacement: 998cc, inline-four
Max power: 207.12 bhp@11000 rpm (with ram-air induction)
Max torque: 13.6 kgm@10500 rpm
Transmission: 6-speed
CHASSIS
Type: Steel trellis frame
SUSPENSION
(F/R): 43 mm inverted forks / monoshock
BRAKES
(F/R): 330 mm twin discs / 250 mm single disc
TYRES
(F/R): 120/70 ZR17 / 200/55 ZR17
DIMENSIONS
L/W/H (mm): 2085/770/1125
Wheelbase: 1455 mm
Kerb weight: 238 kg
Fuel tank: 17 litres
PRICE: Rs 29 lakh (Ex-showroom, Delhi)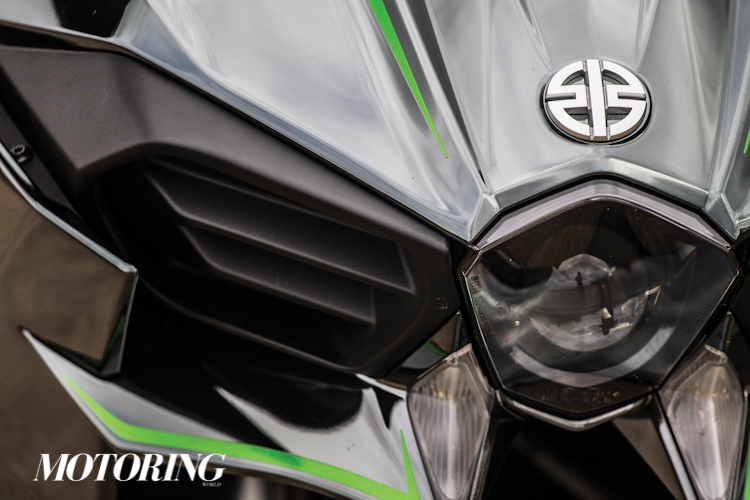 KAWASAKI NINJA H2R – 2015
295 bhp, 402 kph (250 mph speculated). It's simply outrageous and just as outlandish in appearance, but the Kawasaki H2R's arrival has rattled the foundations of superbike manufacturers around the world. The racetrack-only version of the already mental H2, the H2R features a 998cc inline-four-cylinder engine which produces 295 bhp! It is widely believed, in theory at least, that the H2R can clock in excess of 250 mph. We're too afraid to find out ourselves — sorry!