I think it has to do with growing up in a non-metro city that I still have a soft spot for fully faired bikes. We grew up with mostly small-displacement bikes, amazing two-strokes at that, and anything fully faired was always an import and definitely powerful. Everyone in the town knew who had a big sportsbike and in all likelihood it was a Honda Fireblade, probably owned tenth-hand, but hey, it was a fully faired sportsbike. So when Honda launched the revised CBR650R in India, its look alone was enough for me to like the motorcycle. It looks so much like the Fireblade, and that can never be a bad thing.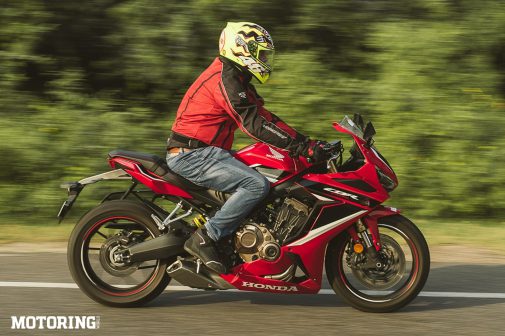 Visually, there isn't much that has changed on the BS6 CBR650R over the BS4, and the bike gets the full LED treatment all round, from the headlamps to the turn indicators and the tail-lamp. The large fuel tank, the split-seat setup and minimalist side panels all gel together to give the bike a rounded sportsbike look. The fully digital backlit instrument screen gives out basic information, and isn't something you expect in 2021 when all instrument consoles are competing with tablet/phone screens, but it does its job. One of the bigger changes, if you can call it that, is that you get a USB charging port.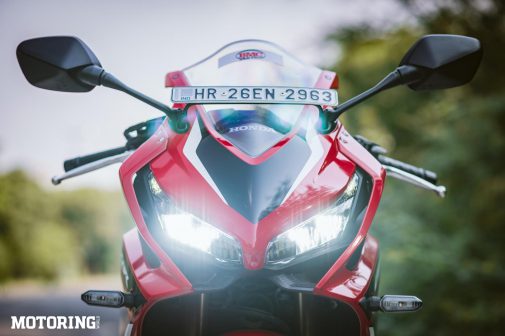 The theme of minimal changes continues with the engine, too, which is now BS6 compliant and, to the disappointment of some fans, makes less power than the BS4 model. Blame it on our quality of fuel, but Honda had to detune it, though it doesn't take much away from the riding experience. The sweet inline-four, liquid-cooled 649cc engine which the CBR650R shares with its naked counterpart, the CB 650R, makes it the smallest fully-faired motorcycle to feature a four-cylinder engine. Married to a 6-speed gearbox, the CBR650R makes 85.8 bhp at 12,000 rpm and 5.7 kgm at 8,500 rpm which, compared to some other 650s around, is a lot more. Also take a minute to read that again — 12,000 rpm on a 650cc bike!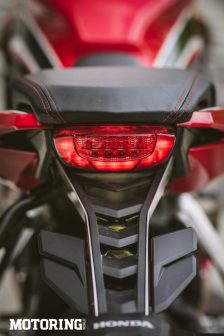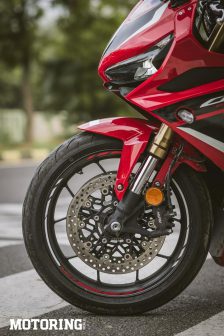 Honda has done a lot of tinkering on the inside, with tweaks to the ECU, the cam lobes, the intake timing, the exhaust pipe, the catalyser and the silencer, and despite all the changes weight gain is limited to only 3 kg. The engine, in true Honda inline-four fashion, is almost silent at idle, something I am not a fan of. I like sportsbikes to be a little louder than regular bikes. However, the CBR650R is ready to shatter that impression, and some ear drums, at higher revs. The motor is always ready to scream its way through the gears in the higher rev range, and it is a deep racy growl you will enjoy. There is a decent spread of power available through the range, but above 6000 rpm is where the bike is really in its element.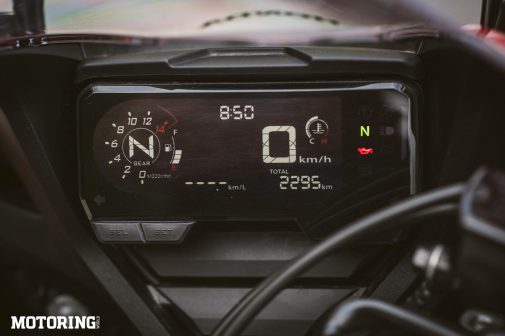 The CBR650R gets a 41-mm Showa Separate Function Big Piston fork and although it's nonadjustable, it does make the bike feel more composed over bumps and under hard braking. The clutch is light and the 6-speed gearbox is smooth enough for daily riding. This may be a reflection of how unfit I am, but the riding position is where I was a little less than happy with the CBR650 R. With the bars set 30 mm lower and 30 mm forward to put more of the rider's weight on the front wheel, the riding position isn't as committed as it would be on a bigger sportsbike. It is far from a typical sports bike crouch, but the footpegs are 6 mm higher and 3 mm back, and with a seat height of 810 mm it does get tiring after an hour of riding. Fitter and/or younger riders may not feel this as much as I did.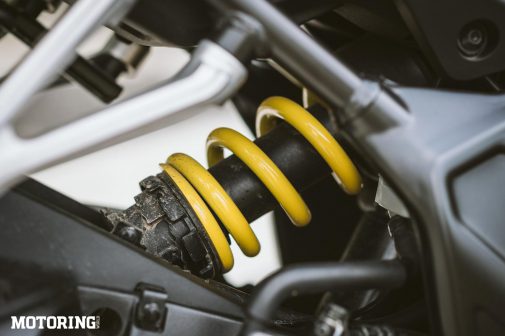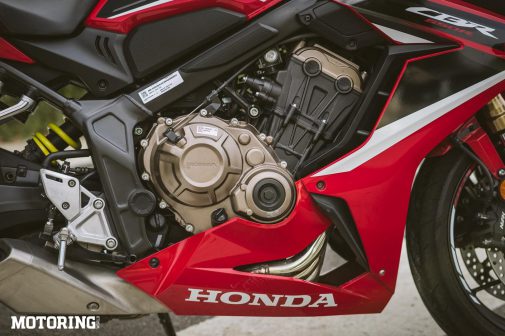 Remember the gun-to-the-knife-fight analogy? Well, guns also do cost a lot more than knives, and the CBR650R's price is in line with that idea. At ` 8.88 lakh, ex-showroom, it's quite expensive. However, let's not forget it's an inline-four engine and it has almost no competition. The CBR650R is pretty much what you expect from a Honda sportsbike – well balanced, agile and engaging without a backbreaking ride. It is fast and furious enough to take on the big boys, without making it a difficult bike to live with on a daily basis. More often than not, guns win all knife fights, and the CBR650R is most definitely a winner.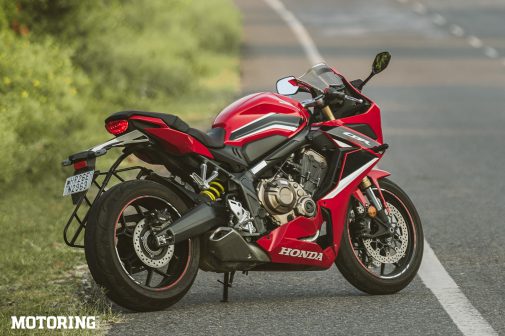 POWERTRAIN
Displacement:
Max Power:
Max Torque:
Transmission:
649cc, inline-four
87 bhp@12000 rpm
5.7 kgm@8500 rpm
6-speed
BRAKES
F/R: 310-mm disc / 240-mm disc
TYRES
F/R: 120/70 R17 / 180/55 R17
DIMENSIONS
L/W/H(mm):
Wheelbase:
Ground Clearance:
Seat height:
Kerb Weight:
Fuel Capacity:
2128/749/1150
1449 mm
132 mm
810 mm
208 kg
15.4 litres
PRICE
Rs 8.88 lakh (ex-showroom, Delhi)