Photographs by Vishnu G. Haarinath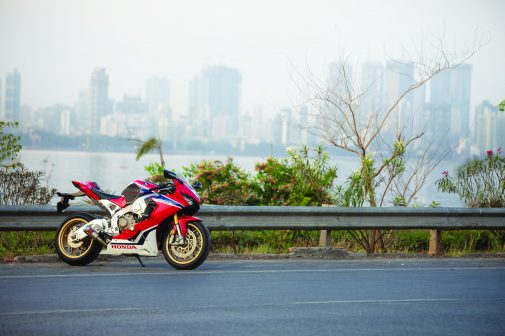 Decades have passed since the inception of litre-class bikes. One thing hasn't changed, though. These motorcycles have held a pretty tight line to the bleeding edge of performance. It's been a constant battle between the Europeans and the Japanese in the realm of motorcycle road racing. And Honda has consistently secured a standing in upper echelons of this sport, but you already knew that. Amongst a motorcycle class that has sent forth more than a few widow-makers and downright rapscallions, Honda has somehow managed to always produce the more gentlemanly ones. And it is that very refinement and approachability that has kept Honda at the pinnacle of motorcycling.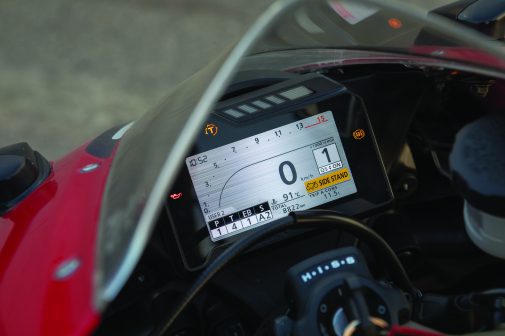 Enter the new CBR1000RR Fireblade SP that was finally updated in 2017. For two whole years this motorcycle has been seducing enthusiasts and racers alike with its sheer usability. Honda always seems to find that fine line between keeping performance at the forefront without scaring the living daylights out of you. If you thought the old Fireblade was one of the most rideable litre bikes, you can expect to be completely blown away with how much easier things have become with the new one. And it's that ease-of-use that makes this bike a winner. Sure, you could argue that Honda isn't faring so well in WSBK. But what about the endurance races and the holy grail of motorcycle racing itself, MotoGP? Again, it's just another reminder that Hondas have that perfect blend of brilliant engineering in every aspect.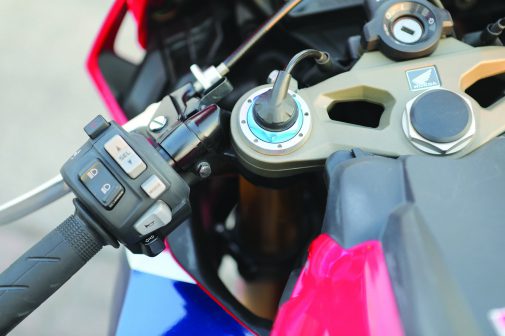 So what's so special about this SP model, you ask? Well, firstly it's got all the bells and whistles that modern motorcycle technology has to offer. This includes the strikingly beautiful HRC Tri-Colour livery with stunning gold wheels, a seamless all-titanium gas tank, and possibly the smoothest two-way clutchless quickshifter on a litre bike today. There's also the wonderfully laid out and very practical full-TFT dash that will allow you to toggle through three riding modes and two customisable modes.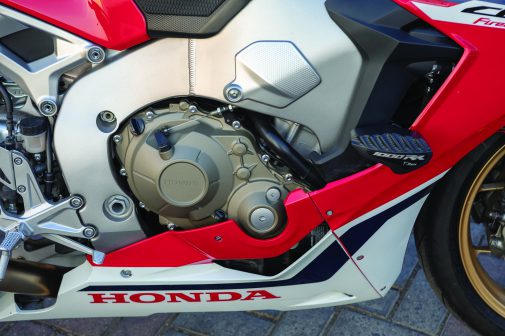 Within these modes, the bike's got adjustable everything: power delivery, traction control, engine braking, and cornering ABS. It's basically the same electronics package from the supremely advanced, exotic, and insanely-priced RC213V-S. The most crucial component for the SP model, however, is the second-generation Öhlins Smart Electronic Control suspension system. And rightly so. This now puts it in the league of the Yamaha R1M and Ducati Panigale V4 S. And let's not forget about that IMU system that keeps lateral manoeuvres in check, which makes the saddle a much safer place to be.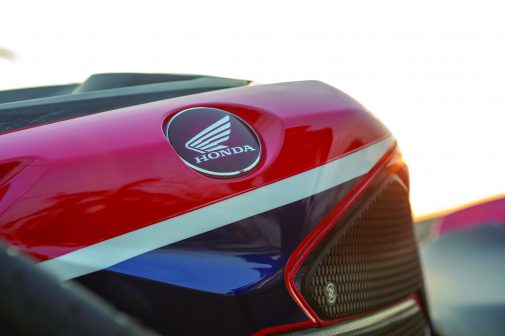 Litre-bikes are generally lookers, but this Fireblade is just a deliciously suave machine. It's got its proportions just right without looking over-the-top. The unspoken rule of sportbikes, however, is the more beautiful they look, the more uncomfortable they are to ride. That isn't the case with this Fireblade, no. Now we know that the European bikes are a little more unforgiving with their ergonomics, but the new Kawasaki and Suzuki are also up there now. The Honda isn't. I'd go as far as saying it's got one of the most comfortable seating positions you'd find on a modern-day litre-bike. In fact, the owner of this bike, Navin Vishwanath, rode this very motorcycle all the way from Bombay to Rajasthan and back. I think that's proof enough of this bike's touring capability. And a brilliant road bike is certainly what it is. It isn't cramped and overly aggressive, and there's enough space to move around while the aerodynamic tank fits just wonderfully between your legs.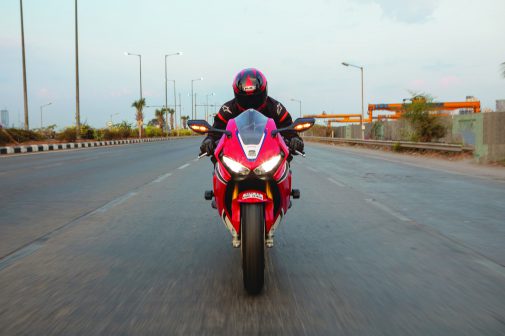 I've kept mentioning how friendly this bike is to ride, so let me elaborate on that part. Firstly, the engine literally cajoles you in with its sheer linearity. Even though there's a 10-bhp bump in power from the older bike, the 186.3 bhp that's delivered at 13,000 rpm is delivered in a deceivingly smooth manner. You wouldn't even notice the speeds you're doing until you look down at the speedo and realise the digits are closing in on 200 kph just like that. Oh, and did I mention there's also a 15-kg drop in weight from the older bike? More power, less weight and well-developed aerodynamics: that's how you play the perfect hand.
And the suspension feels quite at home on the street, too. It isn't a jarring ride like you'd expect on the other litre-bikes. The Fireblade handles road conditions with poise and comfort, and it's supple enough to allow you to tackle our Indian road conditions. In fact, this is one of the biggest areas of improvement over the older bike. All that translates to is being able to hold a better pace than you normally would on a more aggressive track machine. And once the going gets curvy, you won't need to slow down a whole lot. The Fireblade doesn't have that sense of urgency that sportbikes usually do. It turns into corners and holds its line in a very composed manner. Riding this bike in general is a very drama-free affair. I would say, however, that although the twin 320-mm disc brakes with Brembo Monobloc calipers, while good, aren't currently the best in the business. There's simply no equal to the outrageous stopping force of the Brembo Stylema calipers that you'd find on the Panigale V4.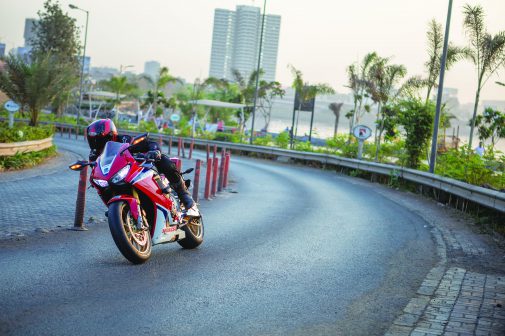 If this whole riding experience with the Fireblade had to be summarised, I'd say things are a little too sanitised. This isn't a bad thing by any measure. I'm sure riders that are looking for their first litre-bike or a sportbike for the street will actually find this immensely useful. No surprises, no drama. For the more experienced track riders, I think they'd miss out on that litre-class edginess that keeps things exciting. But criticism aside, it's immensely apparent that Honda has really put in its full engineering and racing might into developing this motorcycle. What matters to a motorcyclist is how easy a motorcycle is to live with. Regular road use and a couple of track days a year are usually on most motorcyclists' agenda. If that's what it's all about, then it's easy to say that Honda has absolutely nailed it with this one.
We'd like to send out a big thank you to mechanical wizard Zubinn Ponappa and the owner of this motorcycle, Navin Vishwanath, for making this shoot possible.
MOTODATA
Honda CBR1000RR Fireblade SP
POWERTRAIN
Displacement: 999cc, inline-4
Max power: 186.3 bhp@13,000 rpm
Max torque: 11.6 kgm@11,000 rpm
Transmission: 6-speed
CHASSIS
Type: Diamond; aluminium composite twin spar
SUSPENSION
(F/R): USD fork/ monoshock
BRAKES
(F/R): Twin 320 mm discs / 220 mm disc
TYRES
(F/R): 120/70 ZR17 / 190/55 ZR17
DIMENSIONS
L/W/H (mm): 2065/720/1125
Wheelbase: 1405 mm
Ground clearance: 129 mm
Seat height: 834 mm
Kerb weight: 195 kg
Fuel capacity: 16 litres
PRICE: Rs 18.97 LAKH (ex-showroom, Mumbai)