It's not very often that I take a knife and a fork to my own words. But sometimes, there's nothing else on the menu,' This is a thought to myself as I return the Honda CB300R to the dealership. This bike has played chef with my preconceived notions which I wash down with a big jug of relief. Note to self: never judge a motorcycle by its manufacturer's local history. Honestly, I thought the CB300R would be little more than a naked CBR250R with a slightly bigger piston, and I'm not a big fan of that motorcycle, though I know lots of people who swear by it.
Actually, I'm not a big fan of any of the sporty bikes Honda makes in India. They're all decent enough, but certainly not the best in their respective segments. Yet, Honda is successful, and that's because of its sheer brand value and the way in which the company goes about its business of plotting world domination. The fact remains that Honda doesn't quite treat India fairly; the quality of their Indian bikes has gone down several notches over the years as has their riding experience. As you can probably tell, I'm not exactly their biggest fan, though I do have a 2010 model of the second-gen Unicorn parked in my garage. That's no contextual balm, mind you.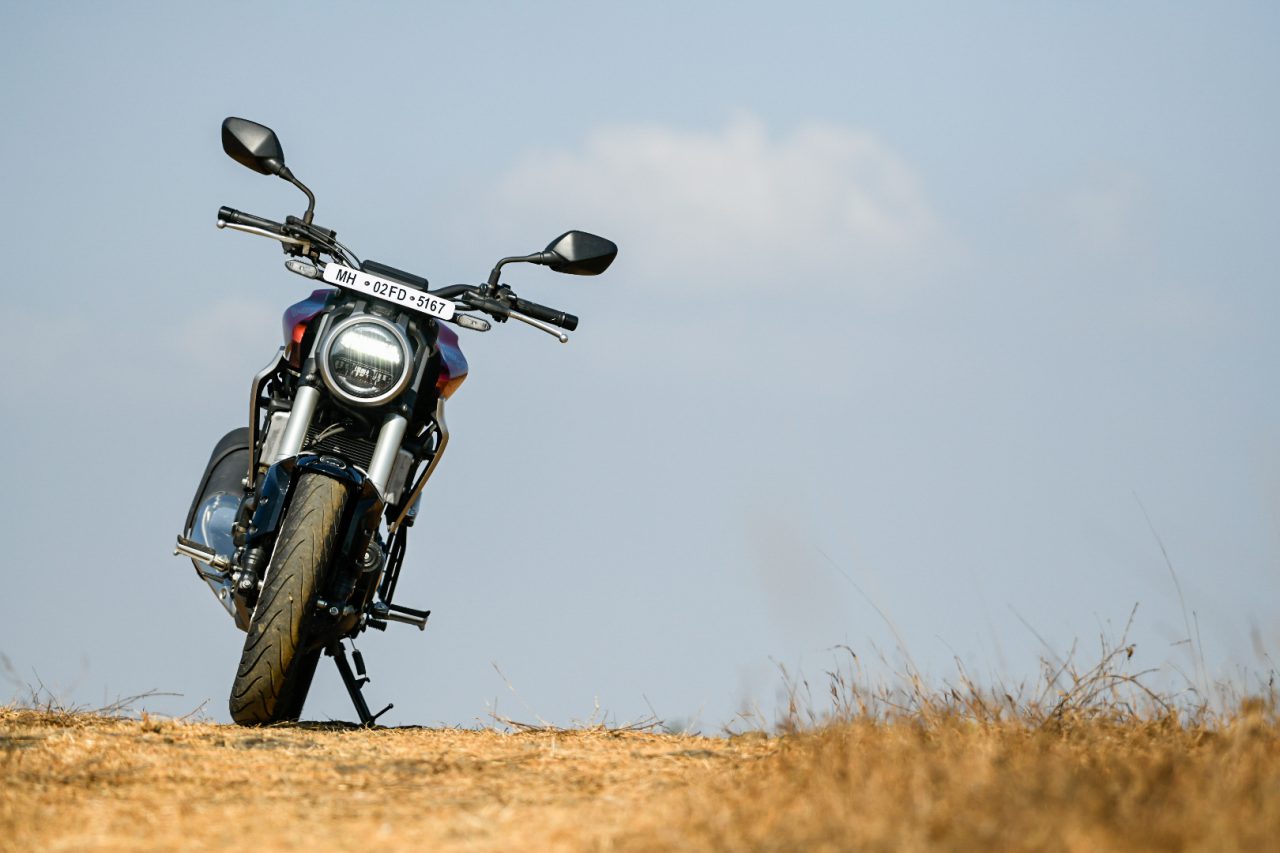 So, it is with a big fat sack of prejudice that I walk up to the CB300R with. And immediately, even in the waning evening sun, I think, 'Hmm. That doesn't look bad at all.' It's the tiniest thing, this CB, and it seems like it was designed by a bonsai master rather than a motorcycle designer. Honda says the CB's appearance carries 'neo sports café DNA', but that's probably phrase cooked up by a fanciful marketing committee. But that doesn't change the fact that the CB is quite a good-looking motorcycle.
The angular fuel tank provides a dash of colour to the CB's presence, but only if you get the red one; the only other option is grey. The all-LED lighting features a neat neo-retro headlamp and a tiny tail-lamp, and clean lines between them; the tail is the stubbiest one this side of a Jack Russell Terrier. The fat inverted fork, chunky rubber and petal discs add substantially to the modern sportiness of the design, and even that big upswept exhaust manages to look proportionate with the CB's compact dimensions. And everything Honda didn't want people to focus on is painted black. The overall effect is indeed, after all, something I'd call 'neo sports café'. Hmm. But looking at the bike is not what floors me.
If I try to describe the CB300R's capabilities in one sentence, I run the risk of writing a scarcely believable hyperbole so I won't. As I swing a leg over the CB, it disappears under me. The wide handlebar and rearset footpegs combined with the front suspension's rake put the front axle approximately somewhere under my nostrils. And the starter button does the opposite of unleashing a ferocious sound from the motor and exhausts. Bystanders don't bat an eyelid as I blip the throttle, nor are my surroundings awash with a sense of occasion. 'This sounds like any Japanese single anyone's ever ridden.' So far, so meh.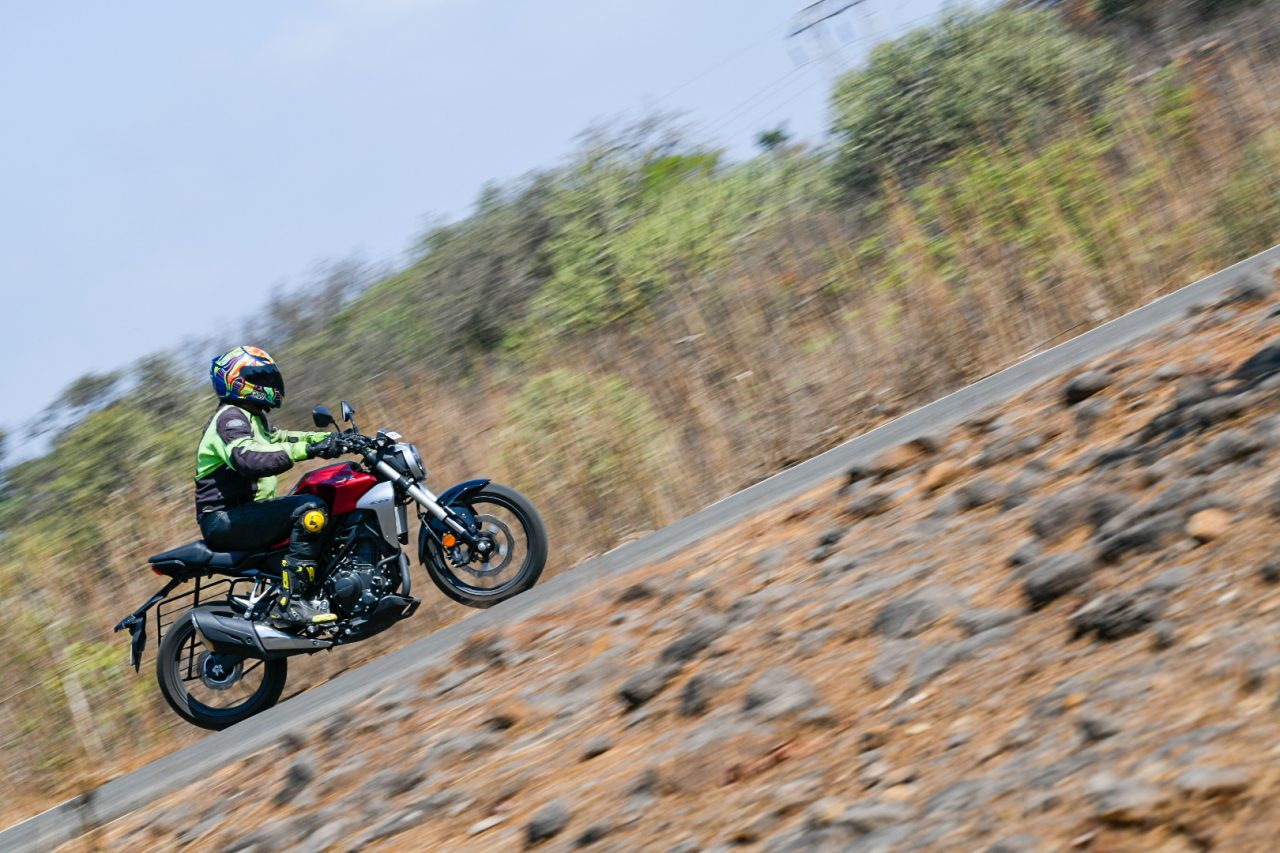 However, a few moments after I get going, the CB almost falls to the ground. 'This is one quick-steering motorcycle!' Composing myself, I straighten up again and whack the throttle open. The CB responds by aiming its low beam at the branches of the tree hanging above the road. 'A power wheelie?! I'll take it!' The CB's gearbox is short-geared magic. This combination of small size, insanely fast steering and 30-bhp-enabled short gearing is sheer troublemaking fun. The CB300R is a happy little destroyer of cities. 'I haven't taken gaps like these since I was a teenager.' What's more ride quality in the city is great, too, thanks to the Showa suspension. For the first time in many years, I am happy on a Honda.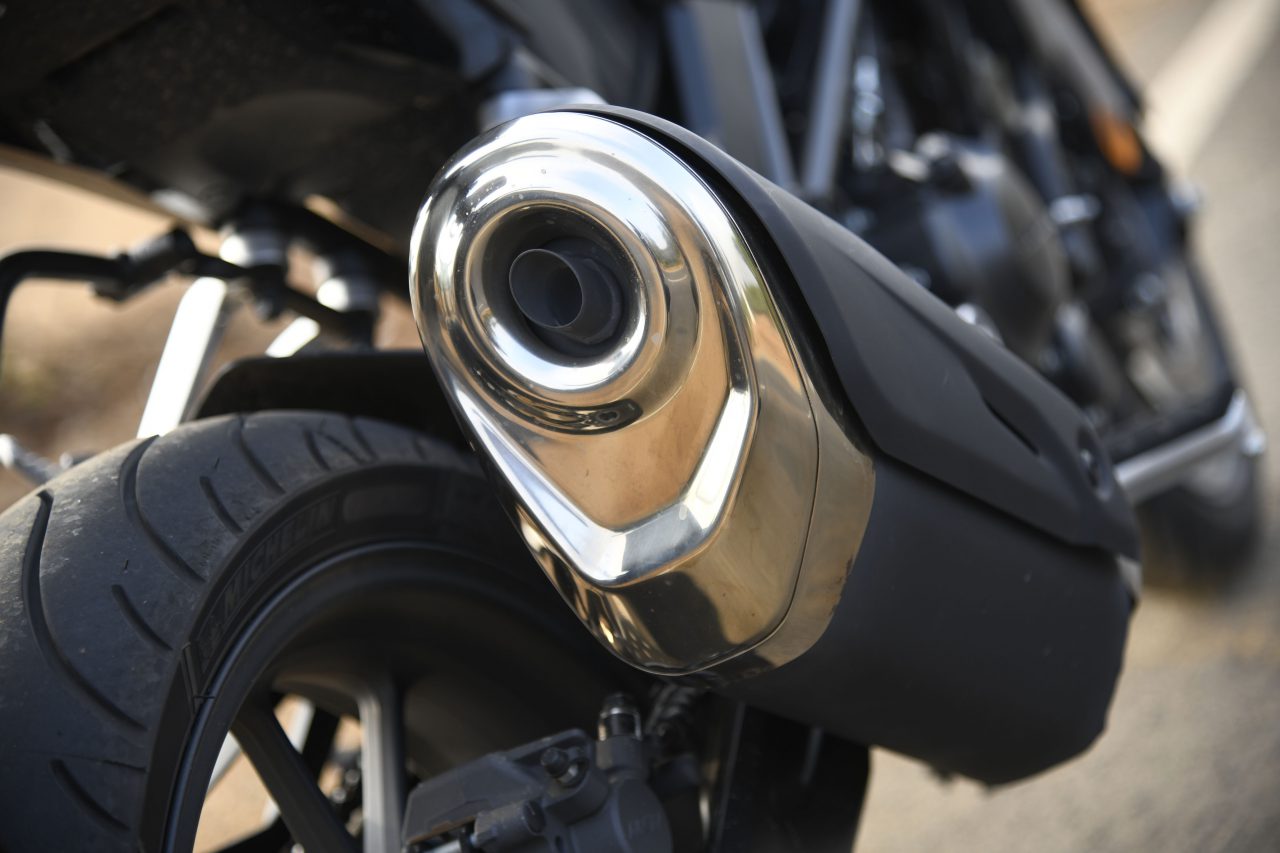 When I hit the highway, I'm expecting the CB300R's exceptional agility to translate into some amount of inherent instability. But that doesn't happen. The bike sits at whatever speed you choose with complete poise and confidence; triple-digit cruising is effortless. And suddenly, the gearbox has suddenly turned into a long-legged one. On one empty stretch, I decide to test how far the digital speedometer can count. 'Man, this thing just did 162 kph in top gear with a 93-kg me!' That is impressive, if vastly unnecessary in Indian conditions. 'I wonder if anyone makes a bigger rear sprocket for this bike.'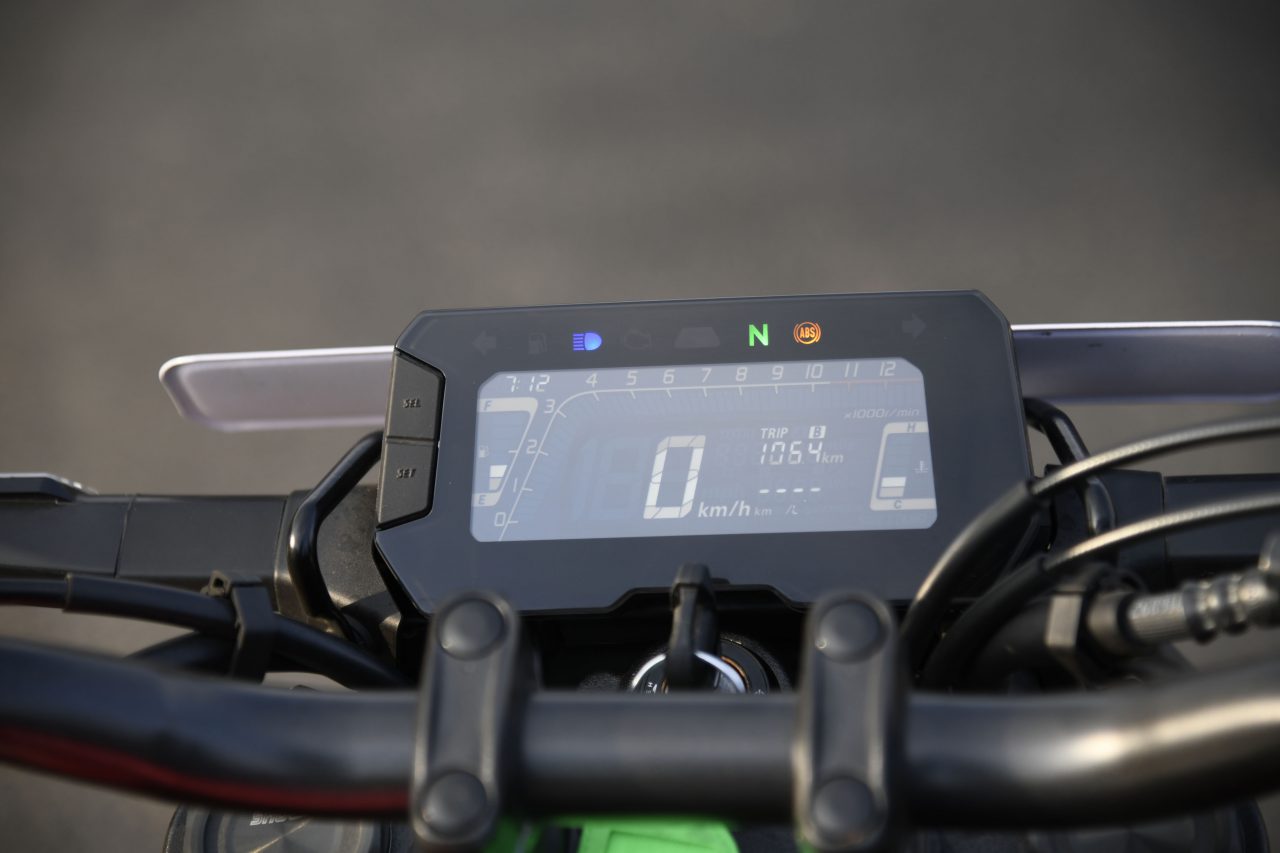 When I finally get to the twisty mountain road for the shoot, the CB prances up the mountain like a neo-retro hound going sniffing for apexes. I'm only too happy to oblige by feeding it as much speed as it needs. A nudge on the 'bar either way is all it takes to put either of the CB's ears to the ground. 'Its spec sheet says that it weighs 147 kg, but it feels like less than half of that on the move.' The CB's blend of agility and stability makes it a riot through corners, all thanks to its high-quality suspension. Also, despite its tiny size, somehow there's enough room for me to move around on it. 'Isn't there anything this bike doesn't do well?' Ah, here we are. The niggles.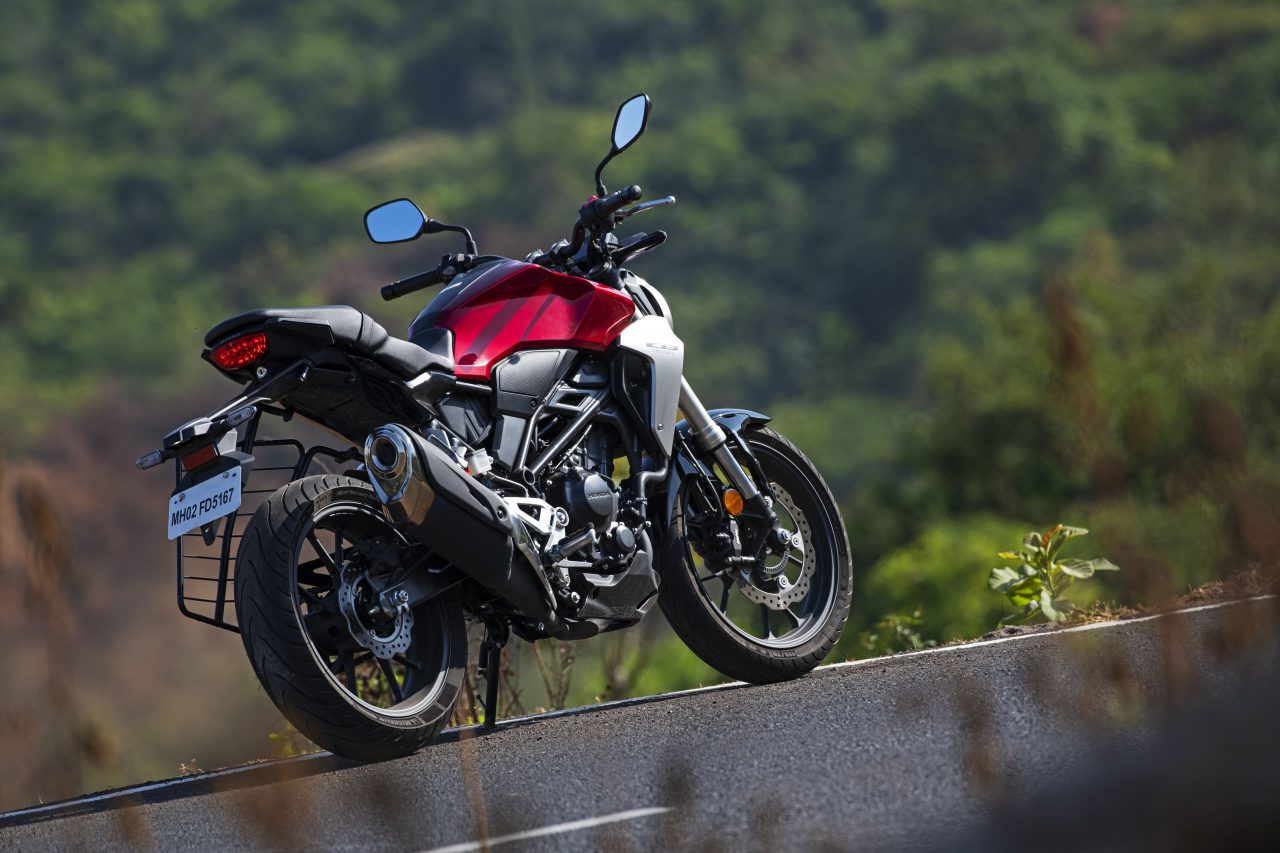 For starters, the tyres; I can't believe how most manufacturers mess up such a crucial aspect on sporty motorcycles. The Michelins on the CB300R aren't horribly bad, but they do restrict the bike from showing its full handling potential, and that's not a good thing. As it stands, the stock tyres are good enough on the perfect tarmac of a twisty mountain road, but can be a cause for occasional alarm on the varying surfaces found in the city of Mumbai. Another shortcoming is the headlight; it's pretty much useless in the face of oncoming traffic, and it's strictly okay on a dark road by itself. Again, I don't know what we have to do to make manufacturers give us brighter lights. 'How do they expect us to get where we're going if we can't see where we're headed?'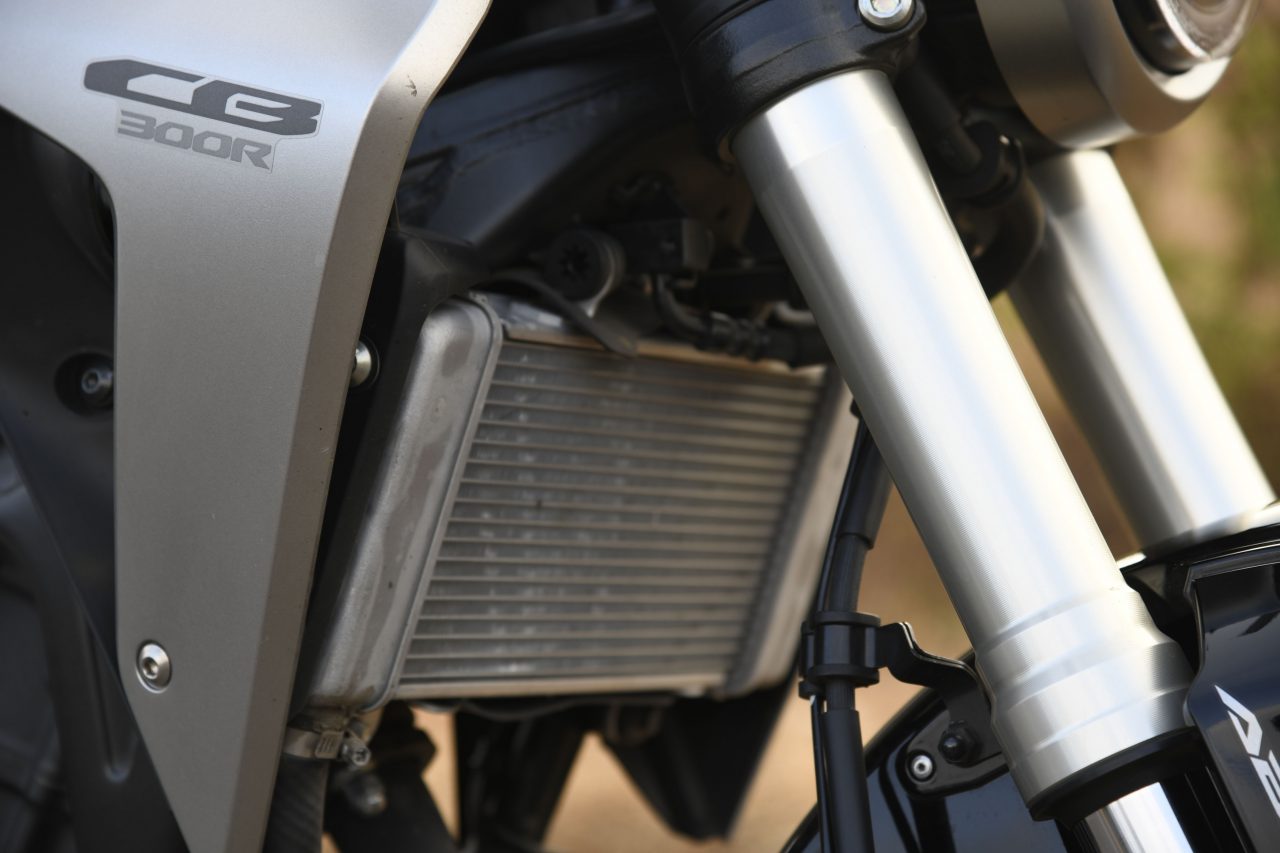 Also, the brakes; Honda has equipped the CB300R with a dual-channel ABS that works via an Inertial Measurement Unit (IMU) which is pretty cool and all, but I didn't like the brake feel at the lever which lacks a strong initial bite. Make no mistake, the brakes work well enough, otherwise I may not have been typing out this story. It's just that feel could definitely be better. 'Better brake pads, perhaps? And how much cheaper could the bike be if it didn't have that IMU thingy?' But these are all issues that we've come to expect and accept from any and every bike we get these days. 'How else are accessory departments/aftermarket companies supposed to profit?'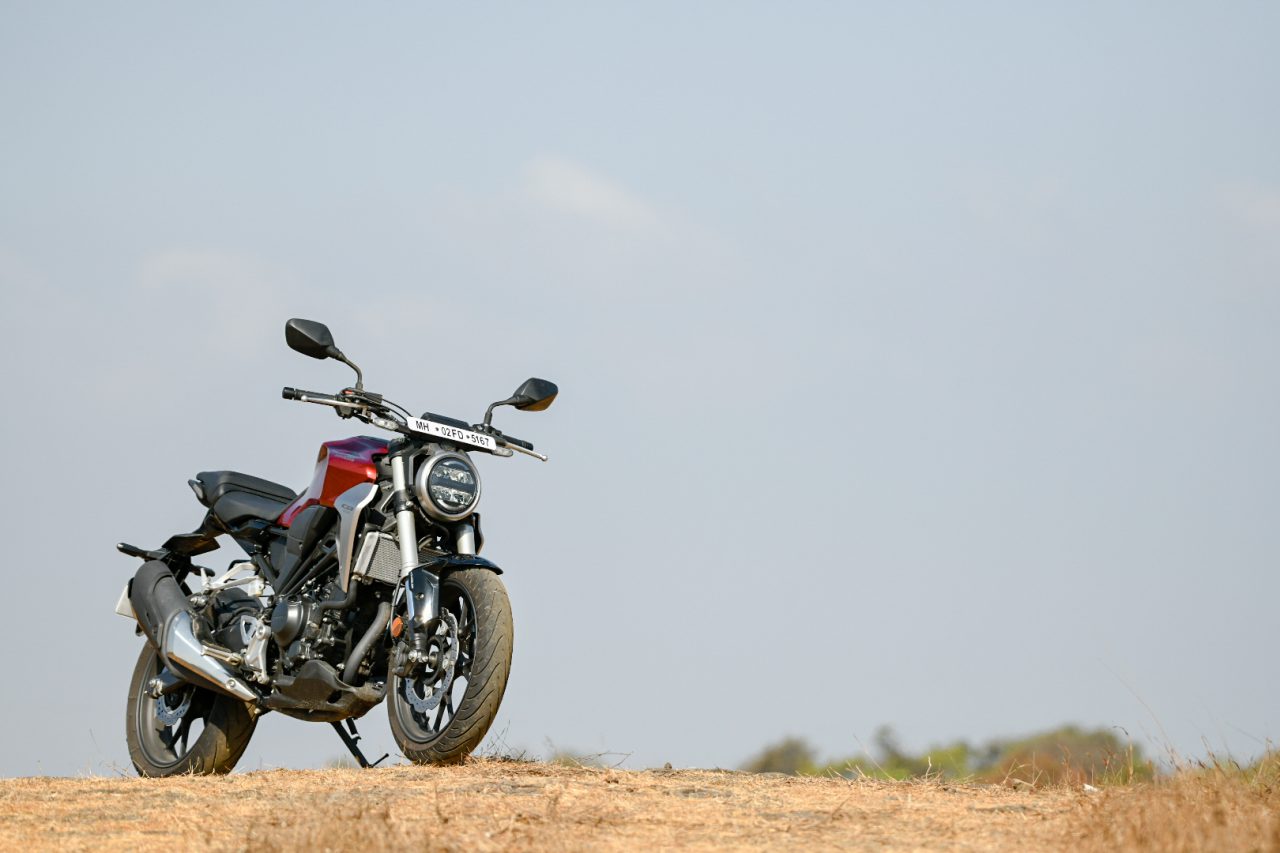 In any case, the fact remains that the CB300R is a fantastic motorcycle, and a big surprise from Honda. Well, at least for me. It truly is a versatile motorcycle, one that is at home in the city, the highway, and on the mountain road. And it wouldn't be possible with any other format. 'I bet no amount of engineering could make a twin feel like this.' The CB300R is great proof of a single-cylinder motorcycle's capabilities. Also, a 320-km day was covered in 10 litres, a neat 32 kpl from a day of wheelies, cornering, city bombing, and general hard riding. More is easily possible, but the point is it's refined, agile, comfortable, and efficient to boot! Increasingly, I see this Honda as the 300cc all-rounder of choice.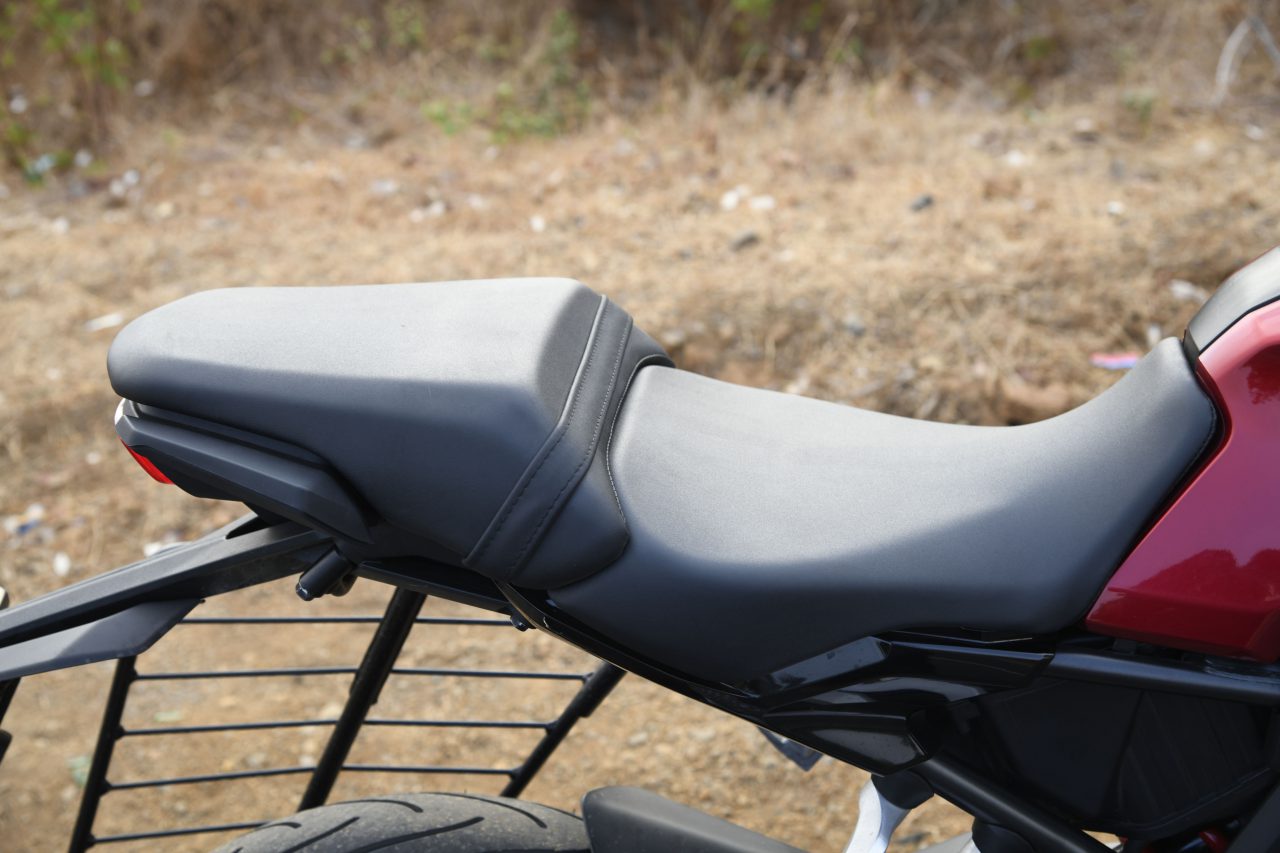 Initially, I wasn't sure what to make of its Rs 2.41-lakh ex-showroom price tag; then I found out that only its hideous saree guard and number plates are made in India, and the bike is fully imported and assembled here. Then the price makes a lot of sense as does the quality. It's not made in India, and that's why it's so good. I hope a lot of people ride it and tell Honda that this is what we expect of a company like it, and this is the way all of its sporty bikes should be. 'Honda has finally made a Honda for India.'
PHOTOS Suresh Narayanan
MOTODATA
Honda CB300R
POWERTRAIN
Displacement: 286cc, single
Max power: 30 bhp@8000 rpm
Max torque: 2.8 kgm@6500 rpm
Transmission: 6-speed
CHASSIS
Type: Diamond type frame
BRAKES
F/R: 296 mm twin discs / 220 mm disc
TYRES
F/R: 110/70 R17 / 150/60 R17
DIMENSIONS
L/W/H (mm): 2028/888/1053
Wheelbase: 1344 mm
Ground clearance: 151 mm
Seat height: 800 mm
Kerb weight: 147 kg
Fuel capacity: 10 litres
PRICE: Rs 2.41 lakh (ex-showroom)