I like motorcycles that make me feel small. That doesn't happen very often, even if I'm half the size of the average Hell's Angel. And after oohing and aahing over the Pan America 1250 last month, it was mighty good to be back in a familiar world where torque thumps horsepower, wheelbases span pincodes, footboards become essential, and the word 'bagger' drawls out more than is normal. Old-school Harley-Davidsons tourers don't get better than the Road King and the Road Glide Special. However, it's not all just about size, but also about that most resilient abstract concept that makes motorcycles special — feel. Low centres of gravity, low-rev motors and boundless torque — this is the holy trinity that fills their souls.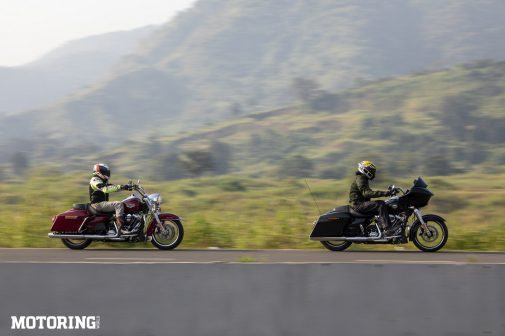 The Road King belongs to the oldest school of cruiser design. Look at it long enough and it'll even have you missing the tassels that you just know would make it complete. Its Hiawatha headlamp nacelle and light bar are as traditional as a pow wow, with the chrome dome being a most worthy foreground to the rider's view of the world. And the Road Glide makes it look positively naked. The shark-nose fairing on the black bike looks like what Street Hawk would want if he were fighting crime on the highway over long distances. The Road Glide has more than a few hints reminiscent of Art Deco streamliners, and I think it looks as cool as a long-distance iceberg. Both bikes share the same underpinnings, of course, and every part is suitably industrial-sized and built to last.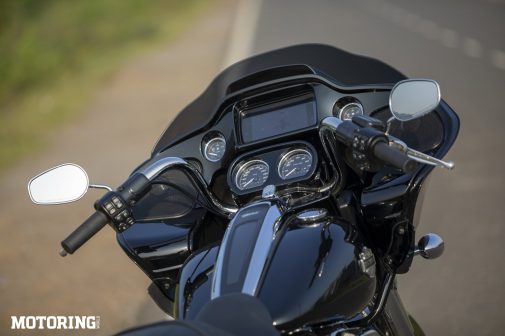 In traffic, each bike has roughly the amount of presence that Gulliver had in Lilliput, and they seemed to shrink the considerable parking space I have at home, too. However, as goes with all big Harleys, their size belies their ease of riding. First of all, each bike started with enough authority to send tremors up the building I live in. I quite like the idea of V-twin earthquakes, but I'm not sure about my neighbours. Also, manoeuvring them into and out of tight spots is a mighty good test of one's spatial awareness, with 375 kg and 387 kg of American masses announcing themselves loud and clear. But get going — just get crawling, even — and it's like all that weight vanishes into thin air.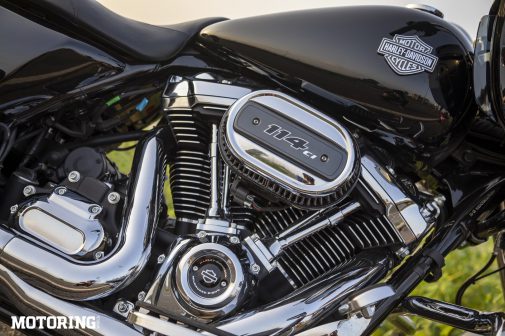 I rode the King first and was immediately whisked away on a V-twin magic carpet, substantial and plush. Its Milwaukee-Eight 107 engine — 1746cc in normal speak — is probably as smooth as two pistons worth 873cc each are ever going to get. Power delivery is a fluid torrent of torque, and every twist of the throttle feels like stirring molten chrome. Big displacement and low revs enable highway-shrinking ease — both bikes sit at 110 kph burbling away at 2500 rpm, and feel like they can do this not for hours but for years, a thought that becomes more tempting the longer you ride them. If I were ever to do that, though, I'd take the Glide.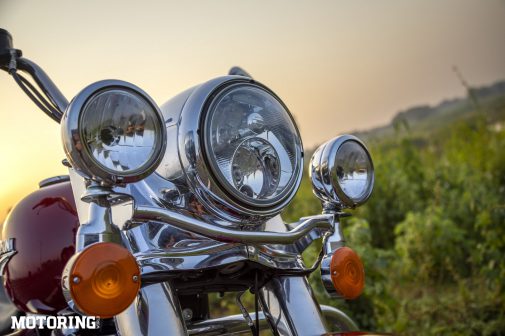 The Road King's lack of wind protection and wide open riding position made me an unwilling representation of a sail, and that gets pretty tiring at sustained cruising speeds. This is where the Road Glide's magnificent fairing comes in — it's pretty much the best wind protection I've experienced on any motorcycle across classes. And given its monumental acreage, that's not a surprise. The word 'motorcycle' may seem somehow inadequate when looking at the bike, and thoughts like 'Does it have power steering?' may cross one's mind as well, but any apprehensions of the Road Glide being a few handfuls and legfuls again remain firmly in one's head. Which is also one of the reasons why I was quite comfortable doing 200 kph on one occasion.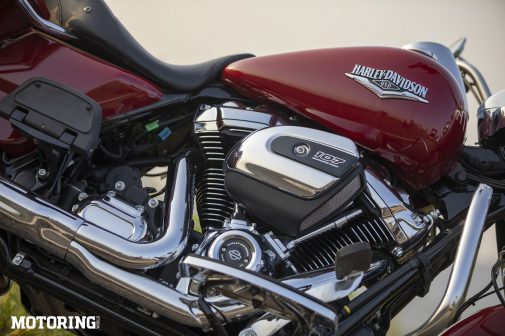 The Road Glide's fairing really halves the sensation of the number its speedometer needle happens to be pointing at. No kidding, 100 kph feels like 50 kph, and so on, and I haven't felt anything like that on another motorcycle. This is a good thing for comfort, and also something to be mindful of on the road. The Road Glide was also the first motorcycle I've ever paired my phone to and listened to music on, and I have to say that I didn't expect it to be as addictive, even if you can only hear music under 100 kph.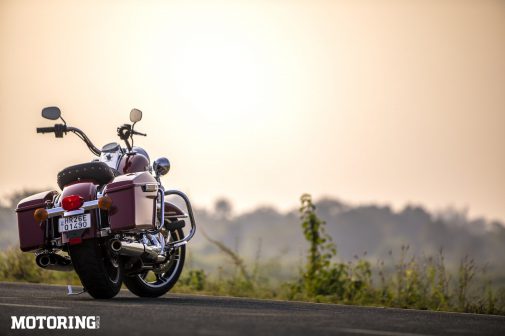 Given the fairing's protection, sitting at a 90-kph cruise on the highway felt like I was back home on my couch listening to Queen, Daft Punk and Tenacious D while wearing a helmet. The fairing doesn't really block airflow, merely smoothens it over the rider, and that creates a proper bubble for you to live in. I really think I could go across the country in this manner, using the tank's real-world range of 400 km to great effect. And yes, the Road Glide gets a bigger Milwaukee-Eight 114 V-twin, and if you think the extra 7ci don't make a difference, as I did, you'll be wrong, too.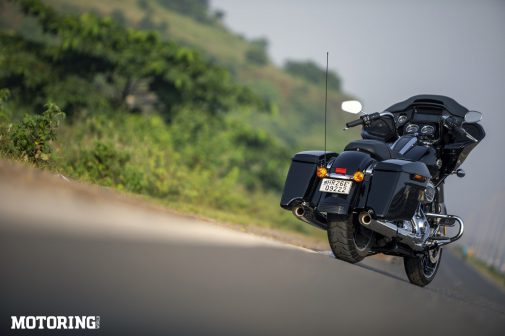 Again, in plain English, it's a 1868cc V-twin and it's noticeably stronger than the 107. Hard acceleration spins up the rear wheel in the first two gears, even as the traction control frenziedly waves a white flag. Even the 107 finds its roll-on torque from an otherworldly dimension, so it's notable that the 114 definitely has more hair on its chest. The 114 is the biggest engine Harley-Davidson makes and it definitely feels it in every possible way. And only the 114 can make the 107 seem like it's mellow. However, whichever one you pick, the soul remains the same, even if the saddlebags prevent their exhaust songs from reaching the rider's ears. I found this extremely annoying, though the bags can be removed.
Being old-school Harleys, these machines are longer than the shadows they cast in the early-morning sun. And as usual, they continue to prove that physics is mostly theoretical. It's stupidly easy to handle these heavyweights, even in tight U-turns. If their centres of gravity were any lower, they'd be underground. However, even if they don't exactly require advance notices in triplicate to perform manoeuvres, it helps to have prior understanding of their behaviour. They're unbelievably flickable and will change directions smartly while remaining as planted as monuments. Ride quality is good for the most part, but on bumpy roads it can get a bit choppy. I thought of it as minor rough currents before getting back to smooth sailing, and that helped.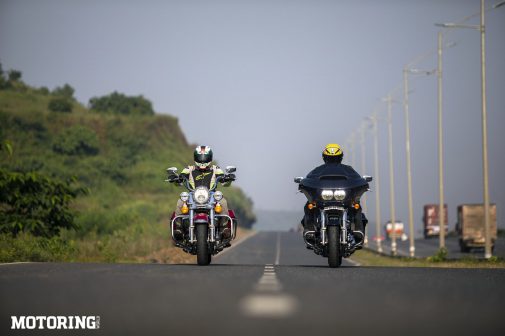 However, coming to an unexpected halt at an awkward angle on either of these most definitely made me feel the motorcycle's weight want to keep going. And I wished I'd done those leg workouts I'd promised myself at the beginning of the year. The brakes, such as they are, are adequate enough, as is the suspension – but you can never shake the feeling that mankind hasn't quite made the anchors and springs required to completely keep this much mass in complete control. Mind you, it never gets out of hand, but in terms of precision they're less 'laser' and more 'bonfire'; you can control the latter's size and location, but not the shape of its flames. Good thing, then, that both the Roads can flatten anything under their wheels and save you the bother of reacting. And no, despite my constant apprehensions, they didn't thunk down on any of the hundreds of speed breakers I went over. If they ever did, my sympathies lie with the speed breaker.
The Road Glide is the most expensive Harley-Davidson in India, worth a few years of salaries, while the Road King is not exactly affordable, either. But I now know for sure that I must eventually have a Harley-Davidson big twin in my garage. These motorcycles are comforting and effortless, and the most important thing — timeless. And machines with this quality tend to be more than what they appear to be. Looked at in this manner, these aren't motorcycles, but movements. They're motorcycles that move you in more ways than one, and I hope they'll always be around.
MOTODATA
Harley-Davidson Road Glide Special
POWERTRAIN
Displacement:
Max Power:
Max Torque:
Transmission:
1868cc, V-twin
NA/NA
16.62 kgm@3000 rpm
6-speed
CHASSIS
Type: Steel tubular frame
BRAKES
F/R: Twin discs/Single disc
TYRES
F/R: 130/60 R19 / 180/55 R18
DIMENSIONS
L/W/H(mm):
Wheelbase:
Ground Clearance:
Seat height:
Kerb Weight:
Fuel Capacity:
2430/NA/NA
1625 mm
130 mm
695 mm
387 kg
22.7 litres
PRICE
Starting from Rs 34.99 lakh (ex-showroom, Delhi)
MOTODATA
Harley-Davidson Road King
POWERTRAIN
Displacement:
Max Power:
Max Torque:
Transmission:
1746cc, V-twin
NA/NA
15.29 kgm@3250 rpm
6-speed
CHASSIS
Type: Steel tubular frame
BRAKES
F/R: Twin discs/Single disc
TYRES
F/R: 130/70 R18 / 180/55 R18
DIMENSIONS
L/W/H(mm):
Wheelbase:
Ground Clearance:
Seat height:
Kerb Weight:
Fuel Capacity:
2450/NA/NA
1625 mm
135 mm
705 mm
375 kg
22.7 litres
PRICE
Starting from Rs 26.99 lakh (ex-showroom, Delhi)