What is this?
Something that none of us imagined until 2018 when it was announced as a concept. The Pan America 1250 is an adventure-tourer from Harley-Davidson. And that's a sentence I never thought I'd write. The American motorcycle maker, most famous for its charming old-school V-twins, has had to rapidly address popular segments of motorcycling where it was absent, the adventure-bike one being the most prominent. And the Pan America is a pretty comprehensive answer to the top-of-the-line-ADV question, too.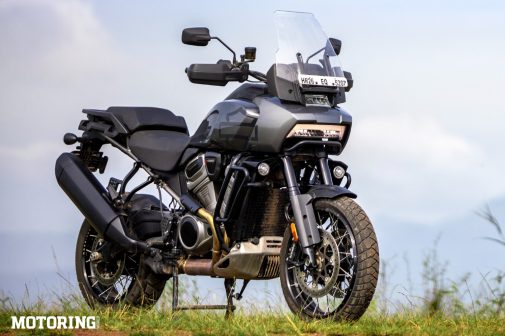 It comes with all the technology and firepower required to initiate a Mexican standoff with stalwarts like the BMW 1250 GS and the Triumph Tiger 1200. Of course, it wouldn't be a Harley-Davidson without a V-twin, and this 1252cc Revolution Max motor makes 150 bhp and 13 kgm, both healthy numbers for an effortless life on the road and off it. Tech-wise, its party trick is the semi-active suspension; it adjusts suspension compliance depending on which of the five ride modes is selected: Comfort, Balanced, Sport, Off-Road Soft, and Off-Road Firm. There is also a 173-mm touchscreen display that looks like it needs a dedicated instruction manual but which is surprisingly easy to figure out.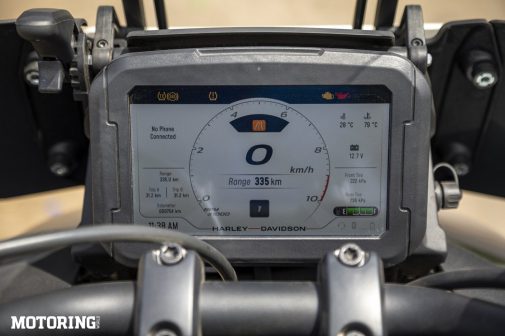 Whom is it for?
Those who want H.O.G. Rallies in Ladakh. And are rich enough to afford it, too, at a starting price of Rs 19.99 lakh, ex-showroom, Delhi. Who knows, it might even tempt those people back into the H-D fold who left for German, British, Japanese and Italian pastures because the American one was devoid of a tall bike. It's also for those who appreciate the brave move H-D has made with the Pan America's styling. Determined to retain a traditional overtone in design, H-D gave it a fairing that nods and winks at the Road Glide's shark-nose front. And I quite like it, always being partial to off-beat experiments.
This, the Special, gets a bunch of extra features over the base Pan America: an aluminium bash plate, engine guards, a steering damper, a no-tool-needed adjustable rear brake pedal, and the semi-active suspension with a special Off-Road mode. It even has a tyre-pressure monitor and a centre stand, two invaluable features in my book for this kind of bike. That fairing holds what H-D calls the 'Daymaker' adaptive LED headlight; it throws extra light into corners, depending on what the bike's six-axis IMU tells it. The last bit, by the way, controls every aspect of the bike, as with most modern flagships. And, of course, the bike will connect to your smartphone in every conceivable way, too.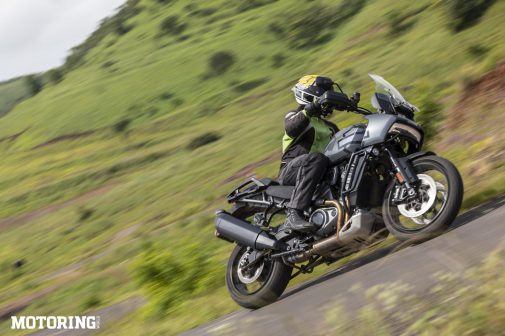 Does it handle?
Demolishing a twisty state highway proved that it does. It hauled its 258-kg mass with balance and precision; of course, that weight and the Pan America's inevitable height always demand attention, but it always feels like an elephant would if it became a ballerina. It's nimble around town, bullying pesky autorickshaws out of its way. And it's as stable as a cruise ship out on the highway. However, when riding hard and braking accordingly, weight transfer to the front is quite pronounced, even if nothing ever actually goes awry. It's just something to get used to, and being as smooth as possible helps a lot.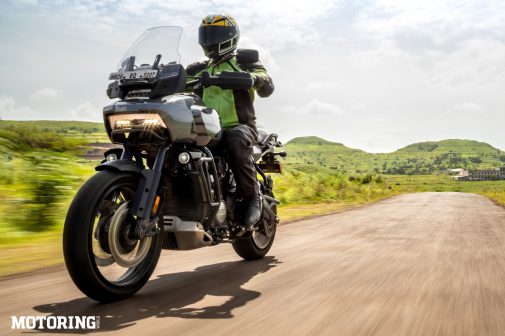 The Pan America's suspension is a thing of wonder, indeed. Ride quality is whatever you want it to be. Want a plush sofa to sink into? Select Comfort. Want to attack corners? Sport. And there are two Off-Road modes which I could only check on hard-packed mud and broken roads, and the difference was telling, even if I'm no good at off-roading. Nonetheless, the Pan America always felt simultaneously light on its feet and reassuringly planted on whatever little dirt I gently bashed. This capable calmness of suspension complemented the hair-raising V-twin quite perfectly, too.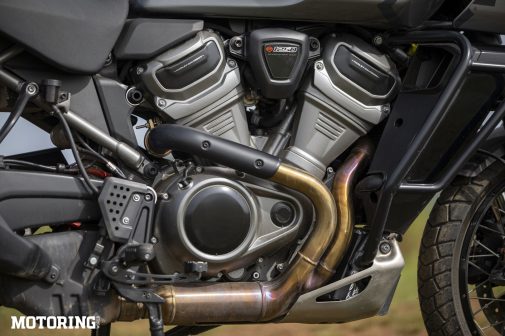 How fast is it?
As fast as a 1252cc mental motor should be! Honestly, for me, this all-new V-twin simply steals the show at bazookapoint. It's gentle at low revs, pleasantly robust in the mid-range, and absolutely ballistic at high rpm. This gives you three ways to ride the Pan America, and it hits the jackpot with each, depending on your mood. The riding modes are spot on, and combined with the semi-active suspension, the whole package is a very versatile one. In Sport mode, the throttle response hits the hardest, while Off-Road mellows it down the most. Between these two extremes, there's something to suit every riding mood and style.
With aerodynamics slightly better than a Harley-Davidson showroom window, the Pan America obviously wasn't designed for top speed. However, with that giant adjustable windshield's protection, it cruises at illegal speeds without any effort whatsoever. Also, the V-twin is as smooth as a big-bore unit can be at all speeds, retaining just enough feel and character to keep things interesting. And its mid-range intake roar keeps temptation high and the throttle twisted. The Revolution Max is a wonderful mix of flexibility and performance.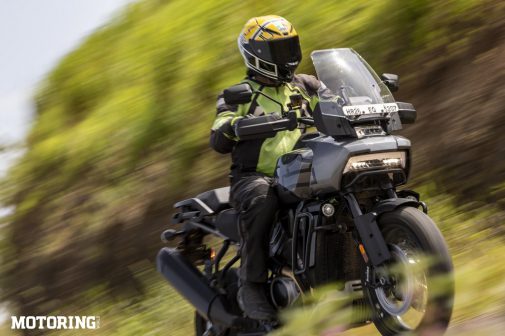 Is it fun?
With all that comfort and speed, it's bound to be. What's more, even without the optional adaptive ride height that lowers the suspension when the bike comes to a halt, my 184-cm self had no problem flat-footing around. However, I have two nits to pick: the rear cylinder heats the front part of the rider's seat in traffic; I know no one who likes that feeling in that area. Secondly, the bike doesn't quite feel as well finished as a Rs 20 lakh bike should; premium pricing should include premium quality, after all. Ultimately, the Pan America offers an experience alien to Harley-Davidson traditionalists, ironically following scores of others off the beaten path, but nonetheless doing so in its own way. And as far as first attempts go, the Pan America pretty much nails it.
MOTODATA
Harley-Davidson Pan America 1250 Special
POWERTRAIN
Displacement: 1252cc, V-twin
Max power: 150 bhp@8750 rpm
Max torque: 13 kgm@6750 rpm
Transmission: 6-speed
CHASSIS
Type: Stressed-engine hybrid frame
BRAKES
(F/R): 320-mm twin discs/280-mm disc
TYRES
(F/R): 120/70 R19 / 170/60 R17
DIMENSIONS
L/W/H (mm): 2265/965/1510
Wheelbase: 1580 mm
Ground clearance: 175 mm
Seat height: 850 mm
Kerb weight: 258 kg
Fuel capacity: 21.2 litres
PRICE: From Rs 19.99 lakh (ex-showroom, Delhi)