I hate riding out on weekends, especially between Mumbai and Pune. And that's putting it mildly. Early experiences of this kind led to my successfully avoiding it for more than 10 years, too — until this morning. My burning curiosity got the better of me, you see. The Harley-Davidson Pan America 1250 had to be picked up from Pune and shot nearby, so a 0500 start from Mumbai had me staring at this decidedly bizarre-looking motorcycle at 0730 in Pune. To see a manufacturer as steeped in history and heritage as Harley-Davidson produce a motorcycle so absolutely unorthodox? I couldn't wait to ride it, even if it meant braving weekend warriors.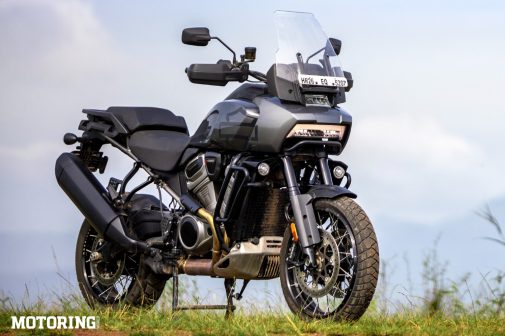 Through Pune city, the Pan America was immediately plush and nimble, attributes that all riders will appreciate as I did. This was the highest H-D seat ever, though it felt just as friendly as the lowest ones, just with a more commanding view that befits a modern giant adventure bike. As we rolled our way to Bopdeo Ghat on the outskirts of Pune, the road turned into a narrow two-laner, and the Pan America turned nimbler still despite its heft. Before long, I rode it off the narrow tarmac and into the wide open countryside, and parked it for photos, able to finally take a good long look at it.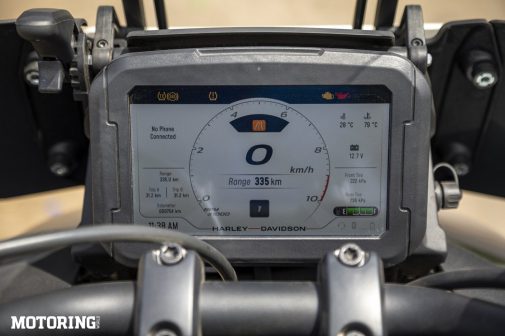 I never thought I'd ever see the bar-and-shield logo on a motorcycle like this. But whatever Harley-Davidson has done with the Pan America is impressive. To begin with, I really like the headlight fairing whose design is reminiscent of the shark-nose fairing on the Road Glide, a design cue that aptly ties the Pan America to its maker's long-distance heritage. The new Revolution Max V-twin looks suitably futuristic, too, and the cylinders will never stop reminding me of a pair of tipsy robots. There's also an insert in the plastic shroud on top of the tank printed with a topographic map, a nice reminder of what this motorcycle is meant for, lest we forget.
The rest of the Pan America is overwhelmingly functional, though. Harley-Davidson has clearly prioritised nailing function right at the outset, presumably leaving flair of form for the next generations of the bike. That's an understandable approach, too, even if the exhaust can looked more like industrial-scale plumbing than a motorcycle pipe, and the side stand remained halfway down when the main stand was utilised. Small things, sure, but not expected on such an expensive bike. Nonetheless, the overall effect was quite unique. The Pan America didn't quite blend into the countryside — it glared threateningly at it. And I quite liked that it did, because it backed up that glare with a lot of punch, too.
On hard-packed dirt and grass, the Pan America felt as at home as the buffaloes grazing all around us. I didn't even bother changing riding modes, and the giant motorcycle didn't even care. There was a sense of nonchalance that is found only in established adventure bikes — and that is quite an achievement for a first attempt, by all standards. I pointed it at slopes, and it climbed up and rolled down each one. I attempted tight feet-up U-turns, it turned on a pebble. The throttle response, even in Road mode off the road, mellowed the V-twin's 150 bhp into submission. There was nothing wrong with the Pan America's low-speed poise and balance, I can certainly tell you that.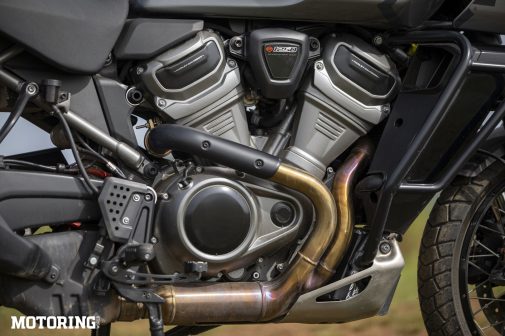 Being the Special, this Pan America had a number of enhancements over the standard model, the biggest one being the semi-active suspension. There was also a tyre pressure monitoring system, a steering damper, 'Daymaker' adaptive headlamps, a centre stand, and optional tubeless laced wheels, among other extras. My test bike didn't have the optional adaptive ride height, though, so I cannot confirm how it works. Although, if the rest of the Pan America is anything to go by, I'm sure it'll be perfectly fine. Riding back towards Pune, the Pan America pottered along like a giant commuter over absolutely broken village roads, making all kinds of sounds. Its motor whistled, ticked, and clacked along, at times fooling me into thinking it was a single cylinder. The engine hovered under 3000 rpm, the suspension took everything in its considerable stride, and the seat cushioned me from whatever made it through the suspenders. And then we hit the highway back to Mumbai, and the Pan America had one word to say — boom!.
On the fast and open road, the engine transformed into something else entirely in the best of ways. To put it simply, I was finally introduced to the Revolution Max's three-stage personality: from idle to 3000 rpm, it's a friendly giant commuter, a Dr Jekyll; from 3000-6000 rpm, it's an intake-roaring beast, a Mr Hyde; and from 6000 rpm to its 9000-rpm redline, it's frankly a scary monster, the Incredible Hulk. It could've very well turned green, too, but I was too busy laughing fright away in my helmet to notice. Within 15 minutes on the highway, the Revolution Max made it to my 'Best Engines Ever' list.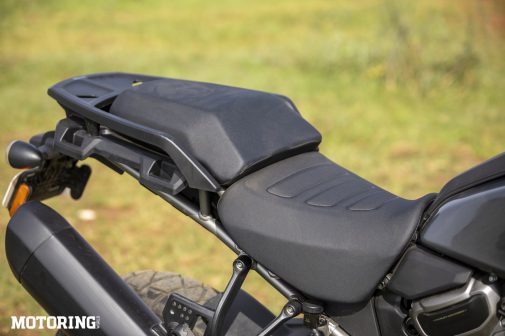 I scrolled the engine to Sport mode and set about finding a flow with the Pan America, and it was only too happy to oblige. The 3000-6000 rpm range is very much its sweet spot, the V-twin's sail blowing effortlessly with winds of torque. However, it wasn't long before I realised that the windscreen was at the wrongest possible height, the wind buffeting my helmet like a punching bag. I stopped, figured out how to adjust the windscreen height in a few seconds, and was laughing my way down the road again. I like motorcycles that make things easy, and the Pan America was certainly proving itself to be one of them.
Bombing down the highway, I reached Lonavala before I knew it. Lonavala, for those who are unaware, is the place where weekend revellers from Pune and Mumbai meet halfway to hang out in a two-day-long traffic jam, which is what I rode into. The Pan America slipped through the left lane's extreme edge, dodging pedestrians and cars, until it was stopped by a stubborn jam. At last, I noticed the exhaust's impressively deep sound bouncing off the car next to me, but it was mostly for the benefit of those following behind. Increasingly, I also noted the disadvantage of having one of the V-twin's heads aimed directly at the rider's crotch, and soon it got uncomfortably hot in that area. Oh, boy.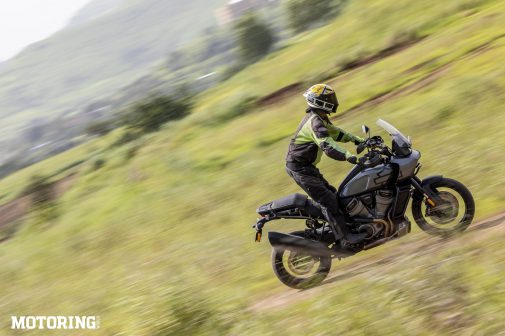 Once we were free of the festive squalor that defines weekend locations, the Pan America attempted to cool down my melting crotch on the brief stretch of the Mumbai-Pune Expressway that's open for motorcycles. Fast sweepers saw me hanging off the bike, even though there was no need other than air-cooling the overheated part of my anatomy. The Pan America, meanwhile, ran as if on rails, planted and fast, and it shrank that stretch into a scarcely believable timeframe. With aerodynamics comparable to the trucks I went past, top speed was not really worth aiming for, even if I did see north of 170 kph on one occasion. And simulated panic braking showed a composed character, even if there was a considerable amount of dive. The trick was to be as smooth as possible.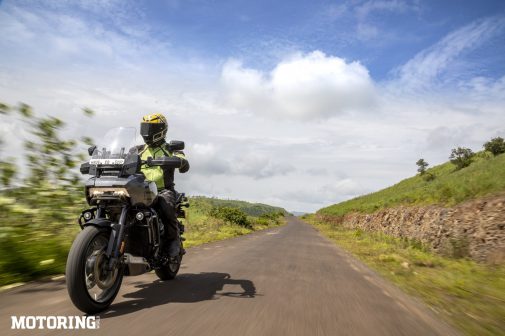 On the stretch from Khopoli to Panvel, it was a state highway with the character of a back road. By then, the Pan America and I had clicked, and I rode it more like a café racer, thinking it could very much be one between cafés in different cities connected by excellent twisting tarmac. Or even broken roads. On this stretch, the Pan America went mad, bouncing off the redline after every speed breaker, lifting the front wheel at every given opportunity. And I regretted not attempting wheelies for the shoot earlier in the morning. They were very much there for the taking. The semi-active suspension played a huge role in the Pan America's sporting ability, no doubt. The next HOG Rally at Pangong Tso, then?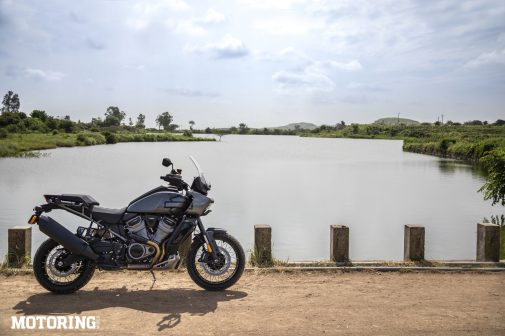 Once at Panvel, I reached what was once my daily commute. It was more of the same weekend traffic, but now with even more autorickshaws, bikes and cars in the mix. All the adventure bikes, small and big, were heading back into town from their weekend rides, all of their eyes on the Pan America. This was certainly a motorcycle for them to look forward to, I thought, as the Pan America blew past them. On Vashi bridge, diving through another gap, I thought, 'This might be called the Pan America, but it's panning Maharashtra just fine.' I reached home, and my arms were sore from hustling the beastie through traffic, but my backside was perfectly fine, and I found myself thinking that I'd repeat the ride right away if I had to. The Pan America proved that it can be ridden any number of ways, and I did.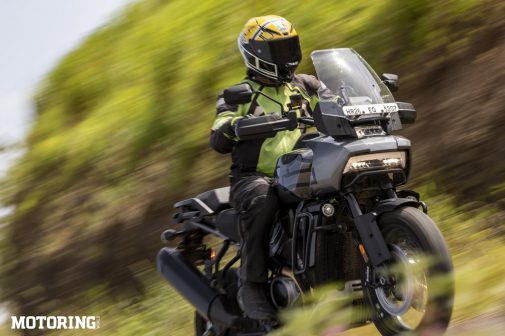 The Pan America is the unforgettable first face of a new Harley-Davidson. And a new motorcycle for me to add to the must-ride-whenever-possible list. For a bike to mesh with me as quickly as it did is an uncommon occurrence, and it goes without saying that only special motorcycles can do that with anyone. I have to say that in terms of finish, it's not as accomplished as its German and Italian rivals, but this is only its first time out, while the Europeans have been at it for years. For what it is, the Pan America is fantastic, straight out of the box, and I've no doubt that many riders will take to it, perhaps especially those who left the Harley-Davidson fold in search of taller pastures. And when it does, hopefully, the Pan America won't get confined to just weekend rides.
MOTODATA
Harley-Davidson Pan America 1250 Special
POWERTRAIN
Displacement: 1252cc, V-twin
Max power: 150 bhp@8750 rpm
Max torque: 13 kgm@6750 rpm
Transmission: 6-speed
CHASSIS
Type: Stressed-engine hybrid frame
BRAKES
F/R: 320-mm twin discs/ 280-mm disc
TYRES
F/R: 120/70 R19 / 170/60 R17
DIMENSIONS
L/W/H (mm): 2265/965/1510
Wheelbase: 1580 mm
Ground clearance: 175 mm
Seat height: 850 mm
Kerb weight: 258 kg
Fuel capacity: 21.2 litres
PRICE: Rs 19.99 Lakh (ex-showroom, Delhi)