The prefix 'i' is used to evoke the Internet or the digital age, as an allusion to the cutting edge of technology. It's been that way for a good 20 years or so, and remains a fine way to attract the attention of Apple's lawyers. And given the way the new TVS iQube looks, Apple might indeed wonder if it had designed a scooter in the early 2000s and lost the plans which then resurfaced in Hosur, India. In any case, TVS's return to electric scooters (yes, return. The first was the Scooty Teenz Electric of 2008) is an excellent example of the apple falling far from the tree. In the best possible manner, of course.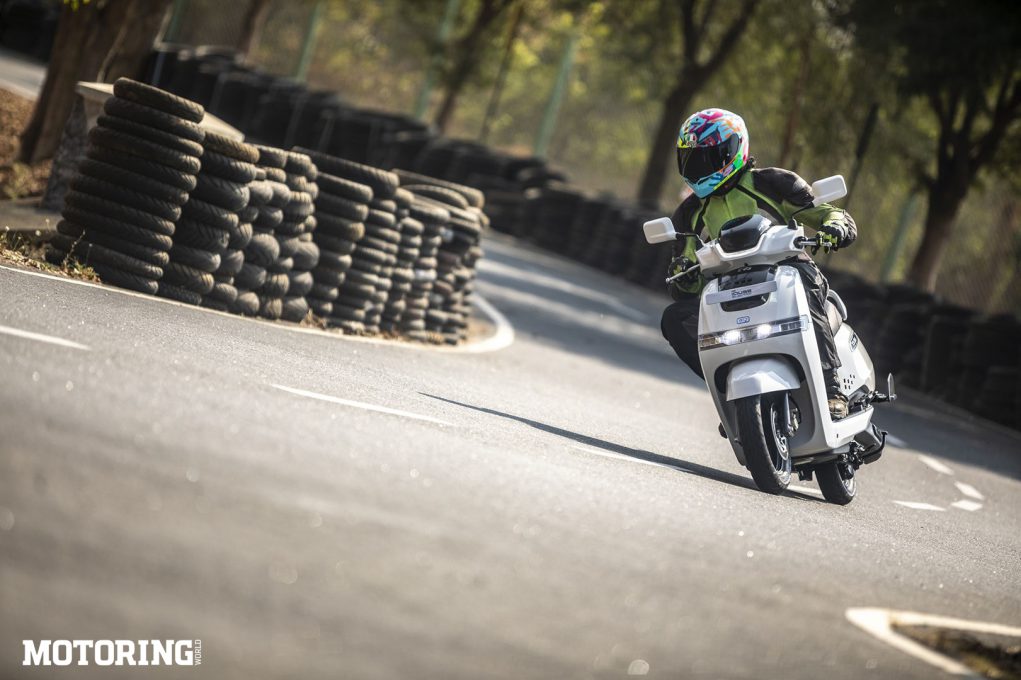 The iQube is the second electric scooter from a trusted manufacturer of internal-combustion two-wheelers and that adds another layer of significance to its story, as with the reincarnated Bajaj Chetak. Over the years, TVS has earned its reputation as a maker of good-quality scooters, so expectations from its new-age electric scooter were high enough to severely affect the acrophobic. Now, I've ridden the Ather 450, the Chetak and now the iQube, and I have to say that if the three came together, the latest TVS would toss a rather unconcerned glance at its fellow planetary saviours. It can hold its own quite comfortably, and I quite look forward to that scuffle of silence.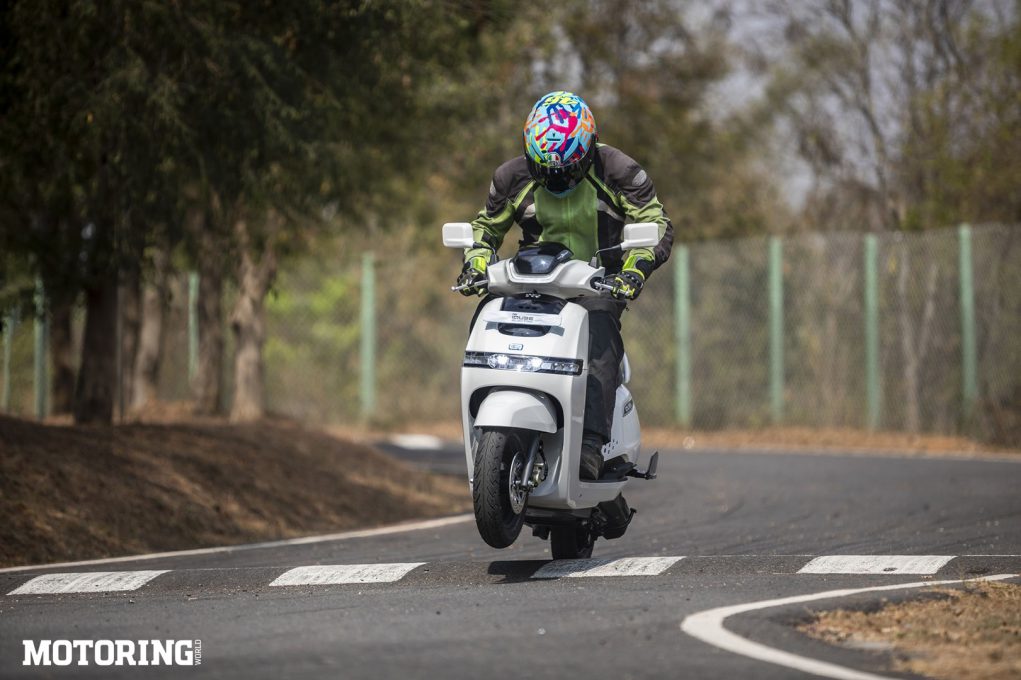 In the meantime, a look at the iQube is as black and white as chess, thought not as boring. It looks like EVE from Wall-E became a scooter and got lights from a '90s car, albeit with modern LEDs in them. It glows a robotic LED-DRL smile at you from its handlebar cowl under which it wears a black bib. There's what looks like the Blackberry logo on its side panels (to throw off the Apple lawyers, no doubt), and the overall proportions radiate a sense of stubby cuteness. The iQube also reminded me of Honda's Asimo who I once watched kick a football around and run out of charge. The point is, the iQube arouses digital feelings rather well, even if I think the digital age might do well to accept that there are other colours in nature.
There's also a cool blue-backlit logo on the motor that lights up at closed throttle. Why can't it stay on all the time? Apparently, it's required by law, though I can't imagine what the law has to say about tiny backlit logos a few inches off the ground. Inane regulations aside, the iQube is a really sorted scooter, and it only took a handful of minutes at the TVS test track in Hosur to confirm this. The rest of the time, I reserved for learning just how TVS has adopted and adapted to the use of a motor and a battery, and all the things that accompany these agents of change.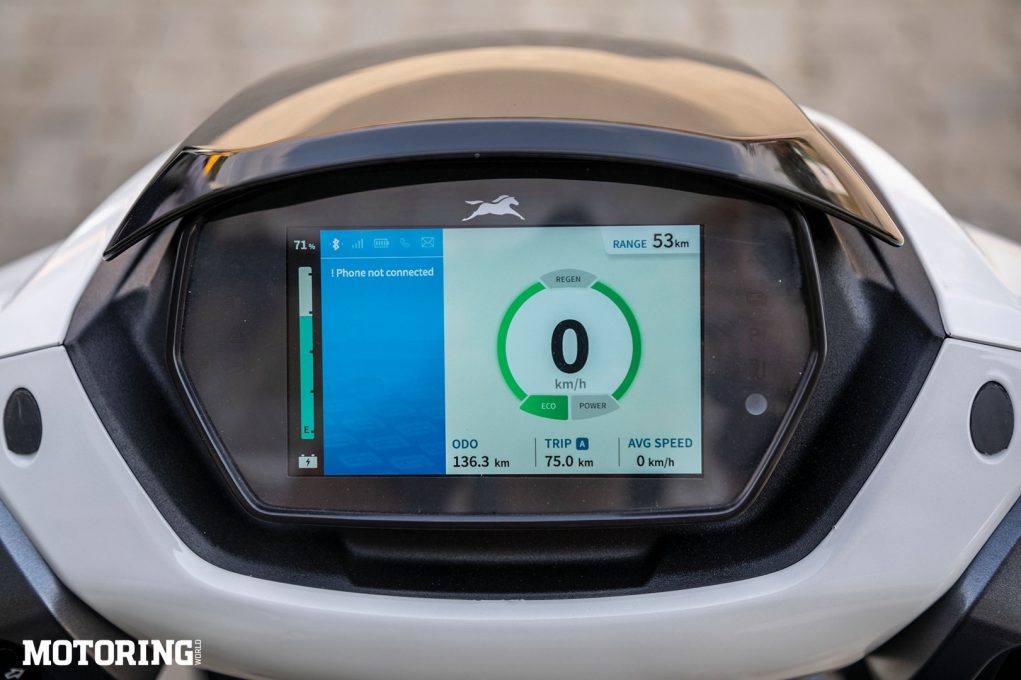 The iQube makes enough power to reach a 78-kph hustle in Power mode. Eco mode restricts speed to 45 kph, but acceleration remains the same. Twisting the motor regulator produces brisk-enough acceleration, though I noticed just a hint of lag from the completely-off position. This could be irritating at times, especially while making a moving U-turn, causing the need for performance of motocross techniques on an electric scooter. Everywhere else, though, the iQube rolled along just fine.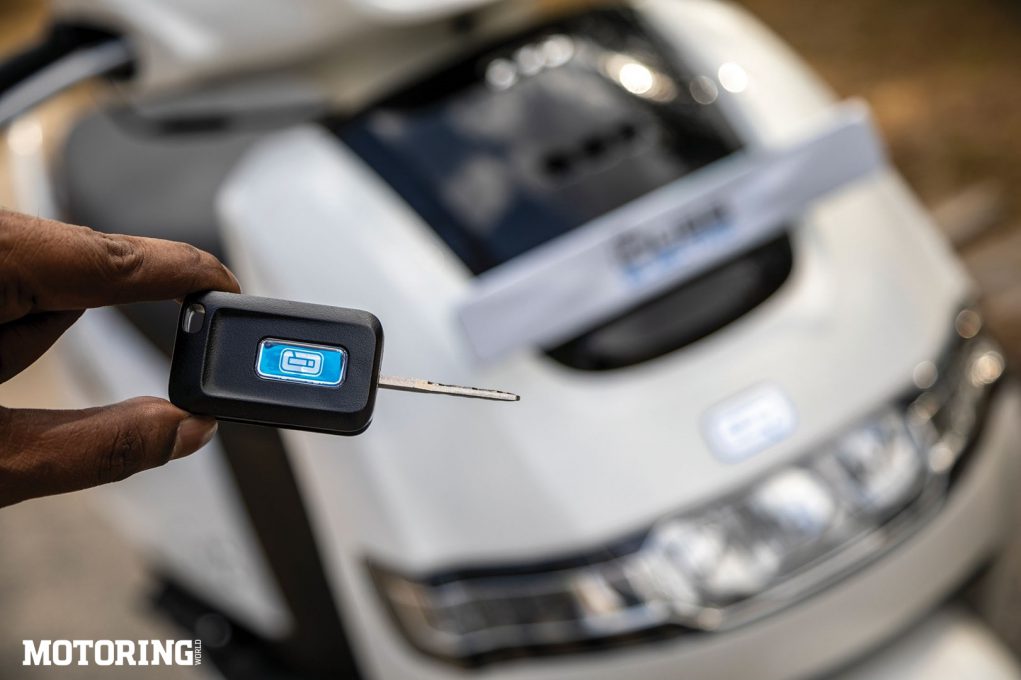 Of particular note was the regenerative-braking system which was superbly dialled in. There was a distinct-yet-gradual increase in motor-braking between 80-60 kph, 60-40 kph, and 40-20 kph. Once a rider gets used to it, they will be able to extract the maximum range from the iQube; TVS claims 55-75 km per charge, depending on the riding mode and conditions. On each of the three 20-minute riding sessions at the test track, I managed to use up roughly 30 per cent of charge. However, a regulator maxxed out for 20 minutes straight is hardly the everyday scenario. Long story short, the iQube has just enough performance to keep its rider satisfied, no more, no less. What's remarkable, though, is the silence.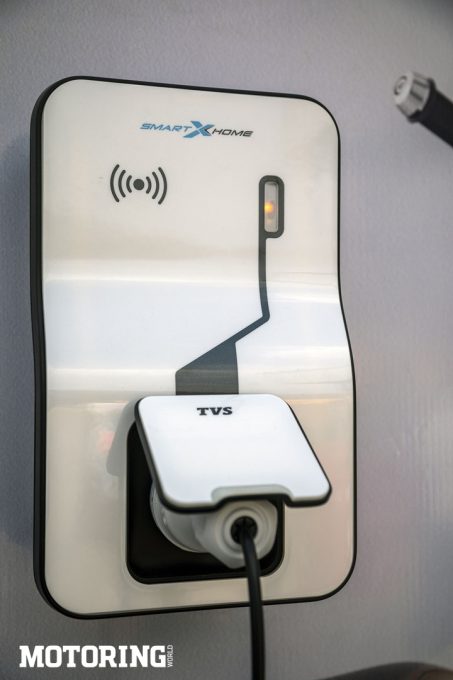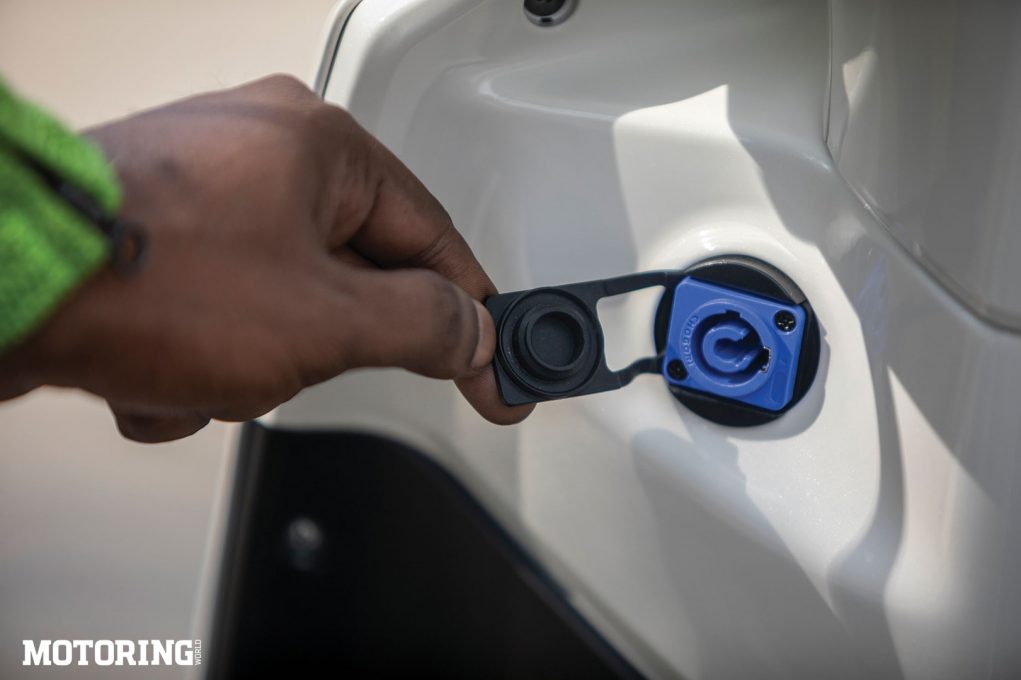 The iQube is the most silent two-wheeler I've ever ridden, other electric two-wheelers included. I'm sure even a bicycle makes more noise than the iQube. It's so silent, ninja warriors will cry tears of defeat. Dogs will chase it wondering if they've gone deaf. And as astonishing as its silence is, I can't decide if it's a good thing or a bad thing. I like the peace and quiet, sure. But I also want to be heard coming down the road, you know. In any case, I wish I had this when I was teenager sneaking out at night. And I'd head straight to the 'circuit' I'd designed on city streets.
As expected, the iQube handles really well. Suspension is handled by a telescopic fork at the front and by twin shock absorbers at the rear that are just as surprised to find themselves at that location on a scooter as anyone else. Apparently, the use of an electric motor frees up space for the twin-shock setup, and it's easy to see how it pays off. The iQube is stable in a straight line as well as in fast, sweeping turns. The TVS test track doesn't have any tight twists, but I think the iQube will handle those just fine as well. Even under hard braking, carried out by the CBS-equipped front disc and rear drum, the iQube tracks straight. Real-world ride quality, though, is not to be found in the environs of a test track, and that information will have to wait for a later date.
These days, people have an inordinate amount of interest in reverse modes on electric scooters, probably because they don't realise that said modes are only worth a handful of kph. So, while the iQube does have a reverse mode, rest assured you won't be able to ride backwards to office. It also has a screen that provides an avalanche of information in conjunction with a phone-installed app, and more 'connected' features than the average satellite. Then again, the TVS e-brochure lists 'pleasant horn tone' as a feature, too, so you might want to read the list more carefully than I did. Nonetheless, the iQube's screen/phone-app combo does give you a flood of information, one that'll doubtless offset a charging wait or two.
I was quite eager to ride the iQube, more so than the Ather or the Chetak, honestly; the Ather is still an unknown to me, while the Chetak is Bajaj's first scooter after a long time, certainly the first in my professional life. The iQube, then, was my first chance to understand if it's possible to carry a manufacturer's DNA forward into the electric era. And it is. Despite the total silence, it actually is. Second first attempts should have some leeway, but the iQube doesn't seem to need any. Quite an achievement, iSay.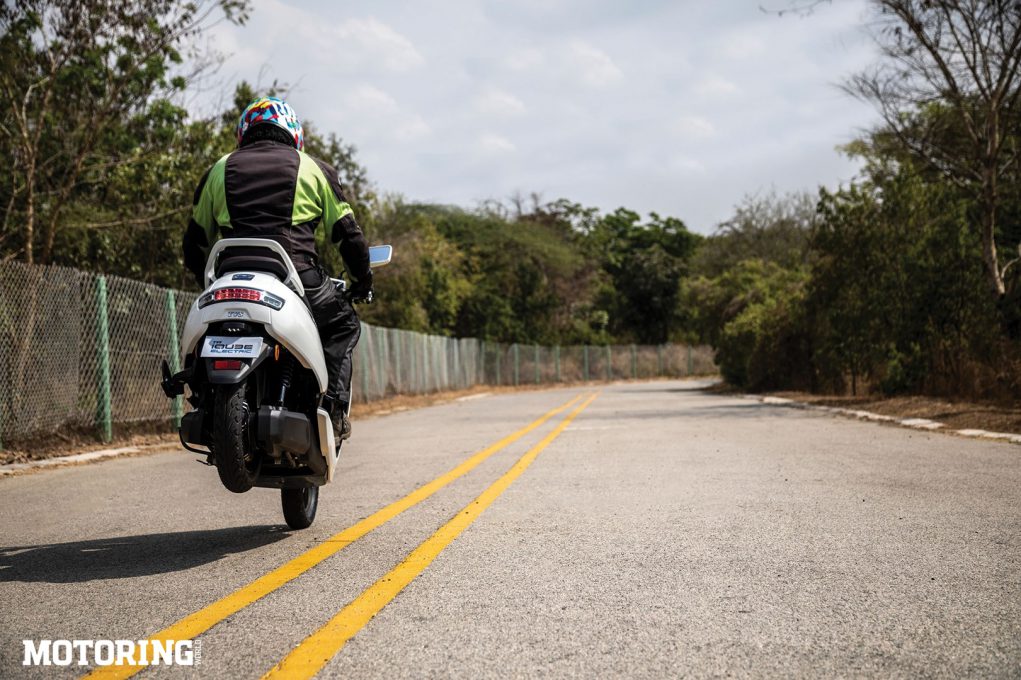 MOTODATA
TVS iQube

POWERTRAIN
Motor: BLDC, hub-mounted
Battery: 2.25 kWh lithium-ion pack, 52 V
Peak power: 4.4 kW (5.90 bhp)
Rated power: 3 kW (4.02 bhp)
Peak torque: 14.27 kgm
Rated torque: 3.36 kgm
CHASSIS
Type: Tubular frame
BRAKES
F/R: 220-mm disc/130-mm drum
TYRES
F/R: 90/90 R12 / 90/90 R12
DIMENSIONS
L/W/H (mm): 1805/645/1140
Wheelbase: 1301 mm
Ground clearance: 150 mm
Seat height: 770 mm
Kerb weight: 118 kg
CHARGING TIME
0-80%: 4.5 hours
0-100%: 6 hours
Range: 55-75 km
PRICE: Rs 1.15 lakh (on-road)
[This story originally appeared in our April 2020 issue]