Photographs by Ishaan Bhataiya
Have you ever felt the pressing need to sing along with the car's radio even though you know you've got a rubbish voice? In the event there are other passengers, you try to sync your voice with the tone of the song so that the harmony of notes drowns out how terrible you actually sound. Well before you bring out a bag of cats to compete with, consider the plight of the average adventure tourer owner. They've just bought an SUV of a motorcycle to cope with the delights of mid-life crisis and now they want to emulate all the advertisements they've seen with riders kicking up massive rooster trails and basically making these adventure tourers look like perfectly manageable toys. The fact is, they're not. There's also the actuality of those riders from the advertisements being highly trained professionals that have basically grown up in the dirt.
In India, this is a relatively new culture that tugs deeply at the wanderlust concept. After all, most of these adventure tourer owners live within the confines of concrete jungles. So the urge to get out and break free is something that is inevitable. Adventure tourers are the new cruisers. They're large, intimidating and would make anyone riding them look like a proper space cadet. The advantage ADV bikes have over cruisers is the ability to explore terrain that doesn't just involve tarmac. But the problem with said large adventure tourers is simply the fact that we're all a little afraid of the consequences of dropping one of these behemoths, which is unavoidable if you're playing in the dirt. And also the fact that these bikes weigh almost as much as a house.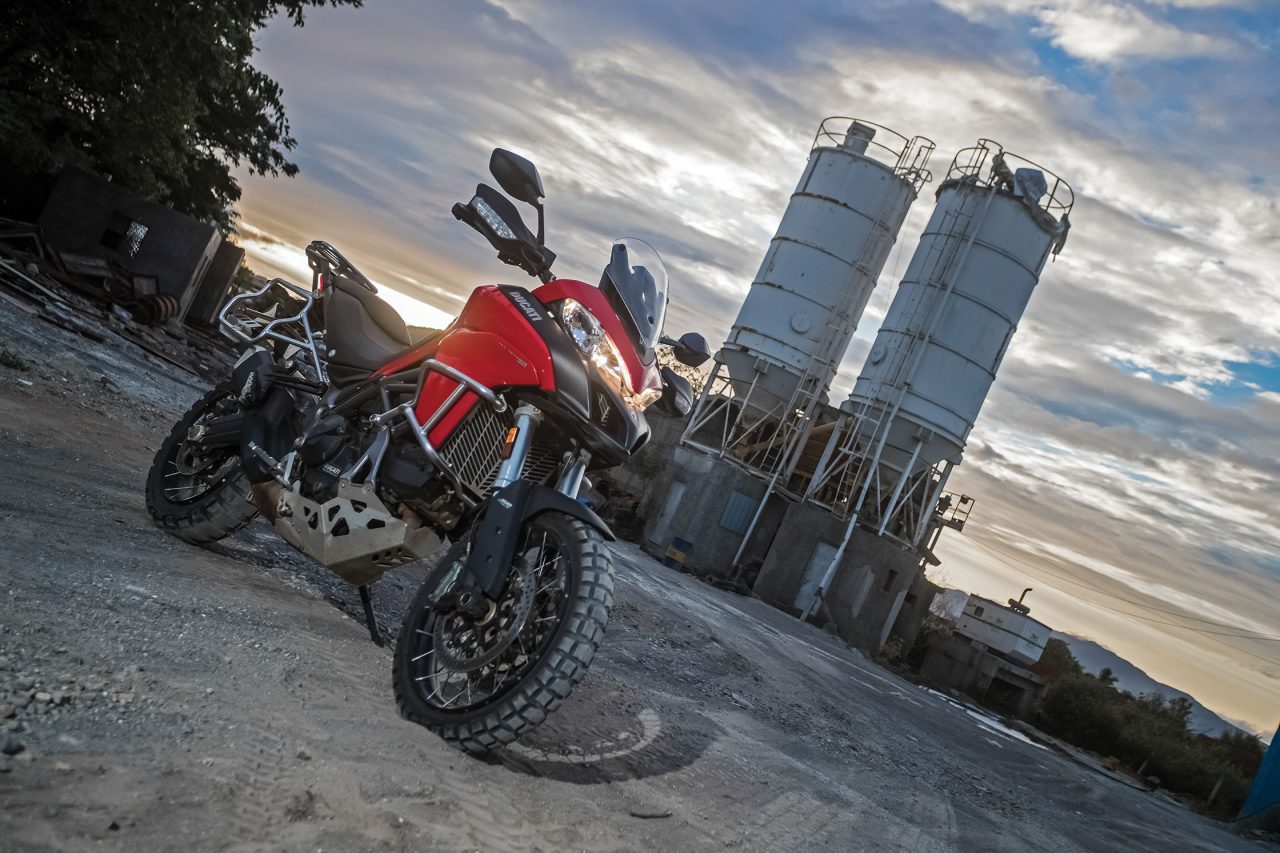 So Ducati offers an add on pack to its smallest ADV bike, the Multistrada 950. Now the Multistrada is a beautiful looking machine, but this Enduro pack promises to increase the rugged factor of the bike, while making it friendlier on the rough stuff. And like we discussed at the start, if you haven't got a great voice, no matter how hard you try to sing in harmony with the radio, you'll still have a horrible voice at the end of the day. It's the same with the Multistrada 950. The inclination to obliterate some trails while making sure you don't have to sell a kidney if you manage to drop the bike is what Ducati was going for. But at the end of the day, you've still got a 230kg plus motorcycle that will work every bone and muscle in your body if you venture off-road.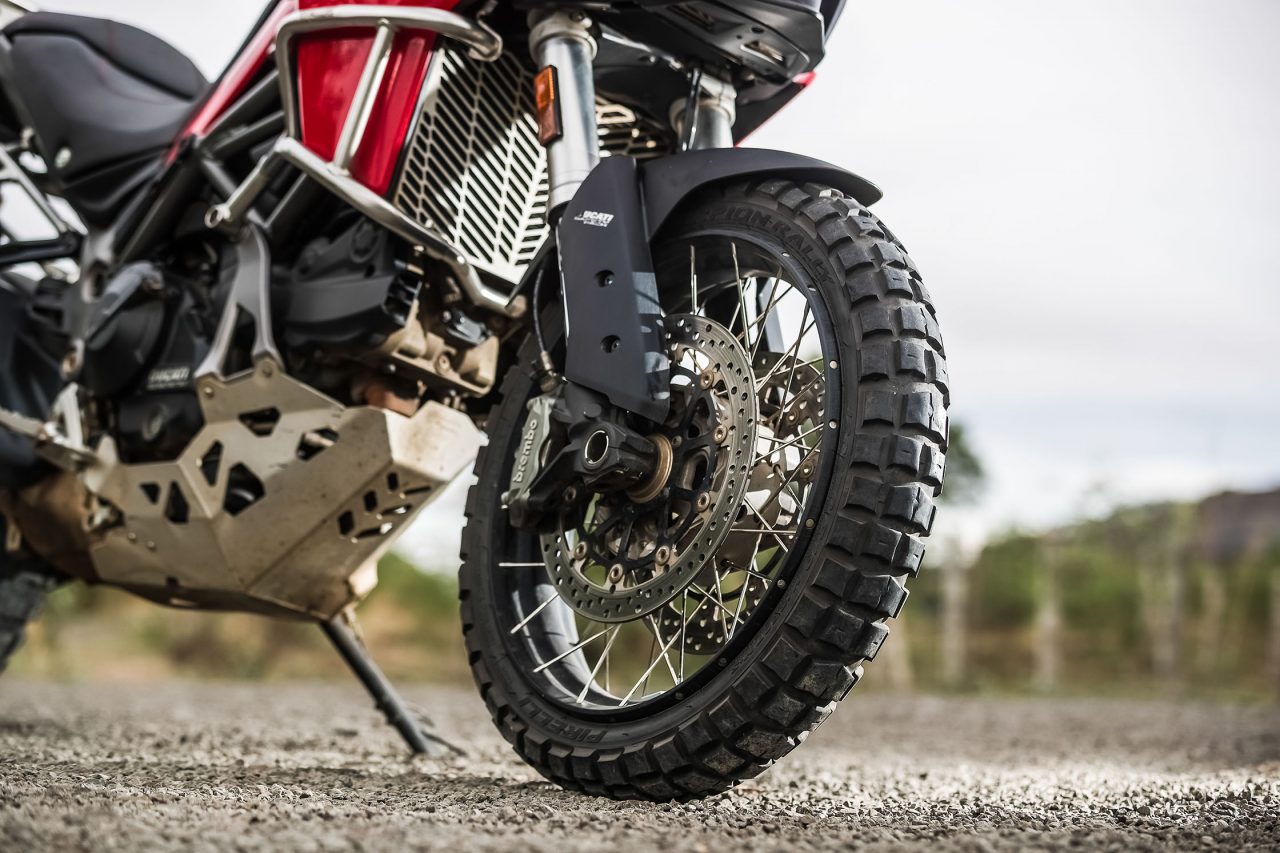 So what does this Enduro pack consist of, then? Well you get crash protection in the form of a skid plate, crash bars, radiator guards, and foot pegs. There's also added protection for the oil cooler, rear sprocket and rear disc, along with a shorter Enduro windshield and aluminium panniers. But if you're here to really have fun, I think you should invest in the most vital part that isn't included in this package, the wheels. Heavy duty spoked wheels with tubeless Pirelli Scorpion Rally tyres are what really make all the difference. A good footprint on dirt is unparalleled in the amount of confidence it will inspire. Even a hippo can look graceful (for a hippo) on ice if it's got the right amount of traction. And colour me extremely impressed with the performance of these Scorpion Rally tyres. I first experienced them on the Desert Sled, then on the Tiger 800 and now here. There's no better feeling than having a set of knobbies on dirt, but the way these tyres perform on tarmac is commendable.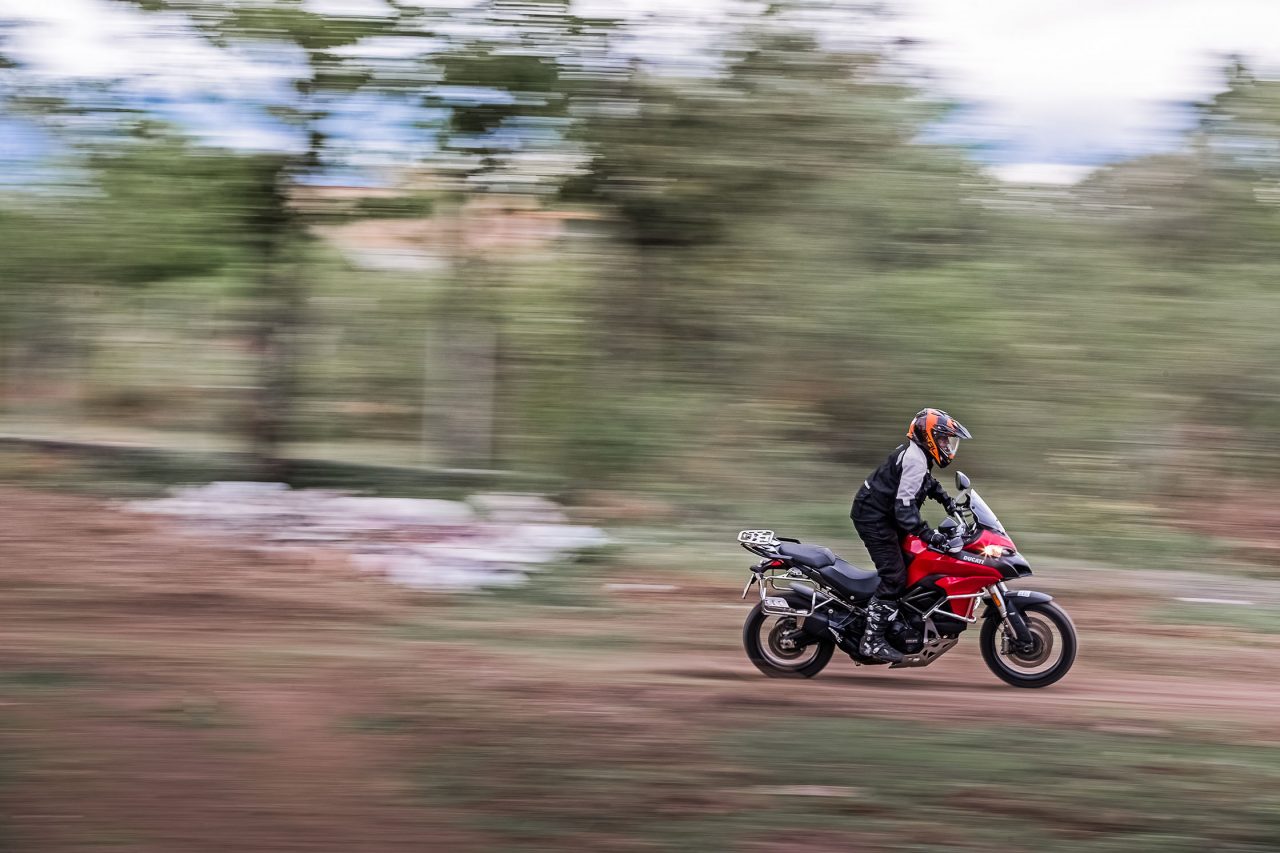 You can't expect these tyres to match up to full blown street tyres, but they do perform brilliantly for what they are. As you can probably tell from the pictures, a lot of fun was had on the dirt. But I also did a good 200km run on road, and it was bliss. I didn't really have to worry about a lack of grip or curbing my riding pace. And that's wonderful, considering that the 937cc motor from the Supersport and Hypermotard has a good 111.5 bhp to unleash. Keep it in the low revs and the Multi 950 feels docile, but crank the throttle open in Sport mode and power builds in a locomotive like fashion. Even with these knobbies, holding a 120-140kph highway pace is a breeze. Of course you can't take corners as aggressively as you would with the 950's stock road focused Pirelli Scorpion Trail II tyres, but you could still push it a little and have ample grip.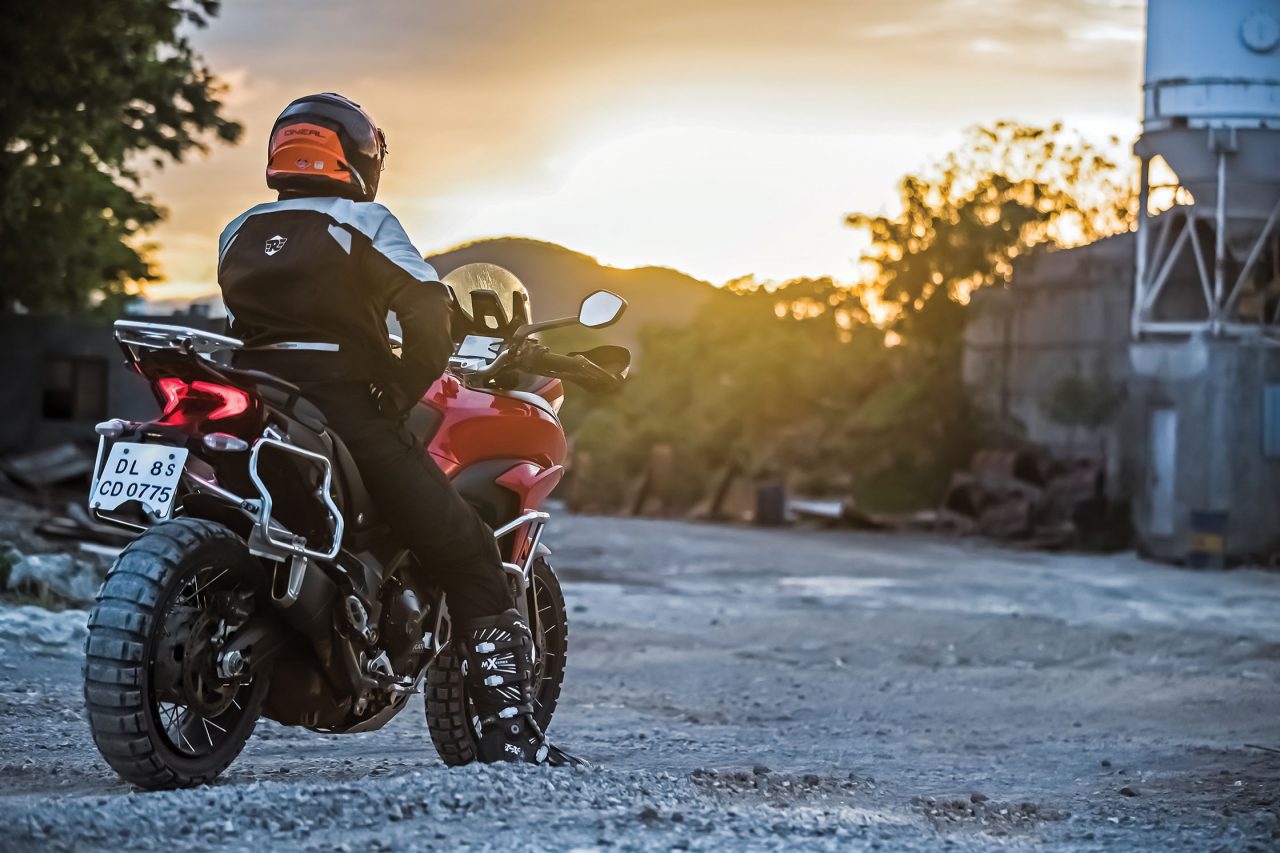 Considering this engine isn't as manic as the Multistrada 1200's, the 950 is a little more forgiving. It doesn't however get much lighter, which is disappointing for an off road capable machine. But what this Enduro pack does is make the Multistrada 950 a bit better equipped to take a proper beating. Of course since it costs almost Rs 1.37 lakh for the additional Enduro pack, and another Rs 1.64 lakh (prices include taxes) for just the wheels (not including the Scorpion Rally tyres), this eventually drives the on-road price up to somewhere around Rs 19 lakh. While this may sound like a lot if you compare it to the likes of the BMW F850 GS and Triumph Tiger 800 XCx pricing, keep in mind that if you try matching the accessory list, the pricing becomes more even. And if you're hell bent on getting your hands on this gorgeous beast and getting a bit dirty, you'd be wise to invest in this Enduro pack to not only have a lot more fun, but also to keep your mind more at ease.
MOTODATA
Ducati Multistrada 950 – Enduro Pack
POWERTRAIN
Displacement: 937cc, L-twin
Max power: 111 bhp@9000 rpm
Max torque: 9.78 kgm@7750 rpm
Transmission: 6-speed
CHASSIS
Type: Tubular Steel trellis
BRAKES
(F/R): Dual 320 mm discs / 265 mm disc
SUSPENSION
(F/R): USD forks / monoshock
TYRES
(F/R): 120/70-R19 / 170/60-R17
DIMENSIONS
L/W/H (mm): 2280/995/1470
Wheelbase: 1594 mm
Ground clearance: 184 mm
Seat height: 840 mm
Kerb weight: 229 kg (without enduro pack)
Fuel capacity: 20 litres
PRICE: Rs 12.80 LAKH (ex-showroom, India) + Rs 1.37 LAKH (Enduro Pack add-on) + Rs 1.64 LAKH (Spoked wheels) + Rs 30,000 approx (Pirelli Scorpion Rally tyres) = Rs 16.11 LAKH (ex-showroom, India)