This is a story about one man and his interpretation of the perfect Royal Enfield. A motorcycle that has the power to go the distance and then some. A bike perfect in every sense, symmetrical in styling and engineering alike. In his eyes, this utopian Enfield ought to have two large jugs —  500cc each — splayed in a non-unit construction 55-degree Vee and lashed to a separate gearbox riding at the back of the crankcase.
The gentleman in question, ladies and gentlemen, is none other than Paul Carberry and the bike is the Carberry Double Barrel. You probably might have read about this man's heady 
concoctions in the past, but unlike then, the bike is now on the threshold of making it into series production in, of all places, India! It would seem that the 'Make in India' campaign is indeed working, then!
The Double Barrel was born as a concept in Paul Carberry's head more than a decade ago but only began to take form when he commissioned Aussie engineer par excellence Ian Drysdale to design a motor for him. The brief was to make a V-twin (an engine format close to Paul's heart all thanks to ample time he had spent fettling old American iron) using as many off-the-shelf Royal Enfield components as was possible. The end result was a motor that ran the top halves — which includes the head, rockers, valves, piston and cylinder block – from two cast iron Bullets which were bolted on to a specifically designed crankcase. The Double Barrel was born and every motorcycle magazine worth its ink wrote odes to this machine. Fourteen motorcycles were made and sold to customers all across the world, one of whom was RE head honcho Siddarth Lal himself, and that was that.
Meanwhile, years rolled by, the published stories began to fade and life went on but Paul's dream of mass manufacturing his own motorcycle was still not realised. He looked towards the East but discussions with Chinese motorcycle manufacturers never went the distance. The Carberry Bullet lay still. Dormant, as if waiting for that one opportunity to spring to life.
That moment came when Bhilai-based businessman and motorcycle enthusiast Jaspreet Singh Bhatia emailed Paul about the prospects of importing a Carberry engine for a custom motorcycle he was looking at building. One thing led to another, and lo and behold, Paul and his wife were soon packing their bags to make the move from Australia to the steel city of Bhilai in Chattisgarh where the two motorheads started 'Dream Engine Manufacturers' to put the Carberry Double Barrel, 
into production.
If what I just said made it seem like the whole thing was a cakewalk, I'd be lying. The process of finding competent machining and casting facilities in Bhilai was an enormous task. The city has virtually no history of automotive production and people in the know are few and far between. It has taken Paul and Jaspreet a lot of sweat, blood and tears to get to where they are today and assemble a team that gets their vision. And all of that came together to put out one motorcycle that I had the privilege of riding.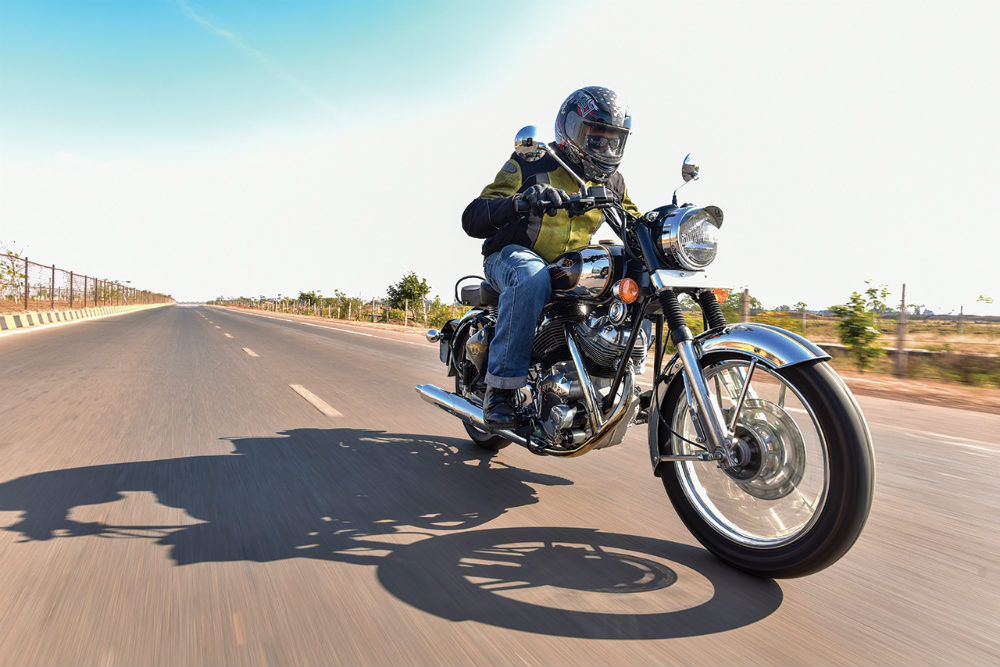 Right at the onset, let me tell you that the motorcycle I rode was a pre-production testing mule and was far from finished. The build, as Paul confesses, was a hurried one and the bike was completed merely hours before I swung my leg over it. Which is great because the motorcycle is a work in progress and there is still scope for improvement, if indeed any was actually needed. And just like that, without a word of instruction, Paul let me loose on his creation, me being the first journalist in the country to ride this iteration of the Double Barrel!
So what is the Double Barrel all about? Well, think of it as an evolution of the pre-war, often forgotten, Royal Enfield model K range which was first introduced as a 976cc V-twin in 1930 and ultimately grew to a hefty 1140cc in 1937. It was the largest capacity motorcycle in production at the time and was not a sprightly motorcycle; it was one which was largely relegated to sidecar hauling duties.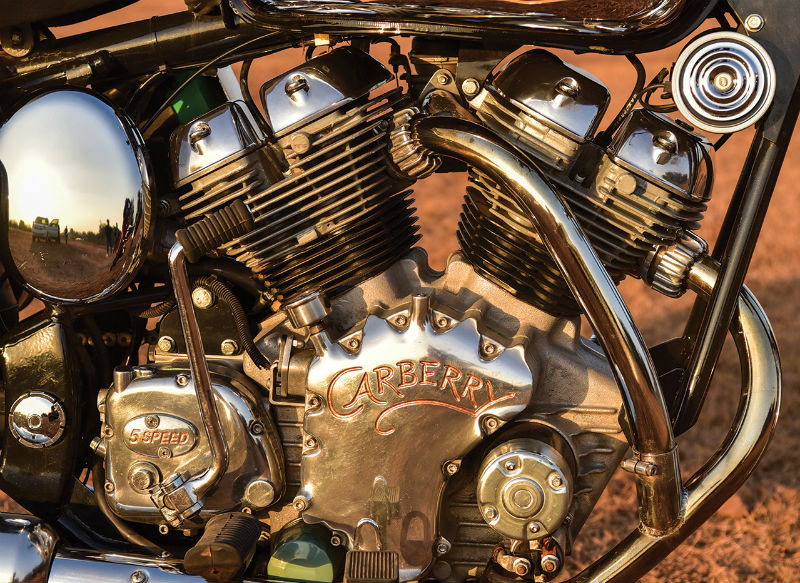 But the Double Barrel, well, to 
summarise it as a 'retro' motorcycle would be to do it grave injustice. What it is, however, is a genuine classic 
motorcycle with a drizzle of modernity and not merely a new motorcycle made to look old.
Kick starter? Check. Valve lifters? Tick. Separate gearbox? Yep. A thoroughly mechanical soundtrack? Yes, and in abundance too! Apart from ticking the boxes in any list of any vintage or classic motorcycle enthusiast's checklist, it does have an electric boot, disc brakes fore and aft and modern electrics to keep it rather up to date.
With a touch of a button, the mighty 998cc motor chuffs to life. This engine has come a long way since the original fourteen Carberrys that were built in Australia. Unlike those, this one now features the top end – head, block and piston – from the new UCE Bullet motors (all of which were generously supplied directly by Royal Enfield who have been a big support to this project) and runs a CDI ignition. This motorcycle is also shod with carburettors, which will change to electonic fuel injection on the production bike, which along with the ignition, will be controlled by 
a control module custom made by 
Bangalore-based PowerTronics to piggyback onto a stock Royal Enfield ECU.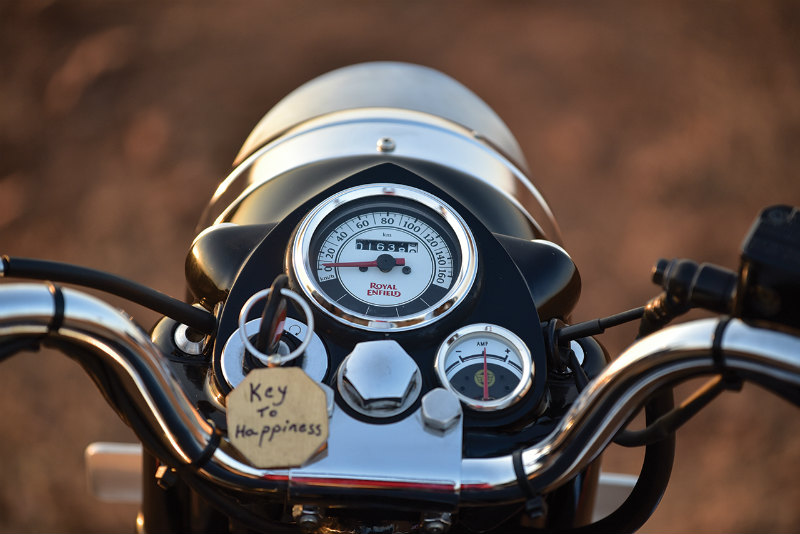 Good for 52 horses, the V-twin is a torque machine. It chugs along without the slightest chainsnatch or knock at 60 kph in the top gear, which happens to be the fifth cog in the gearbox that did service in the AVL-engined Thunderbirds and Machismos of yore. The gearshifts are quite slick and would feel very familiar to those who have spent time riding the older Royal Enfields that sported these gearboxes.
Roll on the throttle, which takes some effort considering that the stock RE item has to now pull — against spring tension of course — two slides open instead of the one on a Bullet, and the Carberry pulls strongly enough to make the front end feel light. All the while, the proceedings are accompanied by the most endearing mechanical song that one could ever ask for on a motorcycle. It is as if the motor sucks, bangs and blows fuel and air into musical notes and chucks them out of that deeply chromed silencer! Which is a far cry from the motorcycle sold today.
The acceleration is crisp and clean through the rev range, although a slight flat spot was felt between mid and ¾ of the throttle pull. This, Paul reassuringly says, is something that the fuel injection will eradicate quite easily. The bike shoots well past 120 kph and seems relaxed enough to stay there all day which perfectly complements the comfortable rider triangle and the way it is set up to provide comfort for long stretches of saddle time.
Past about 85-90 kph, gentle vibes creep into your feet through the 'pegs but strangely, none make it to the bars. The vibes are non-intrusive and in fact, remind you that this is a real motorcycle conceived in another era but somehow, has been born today.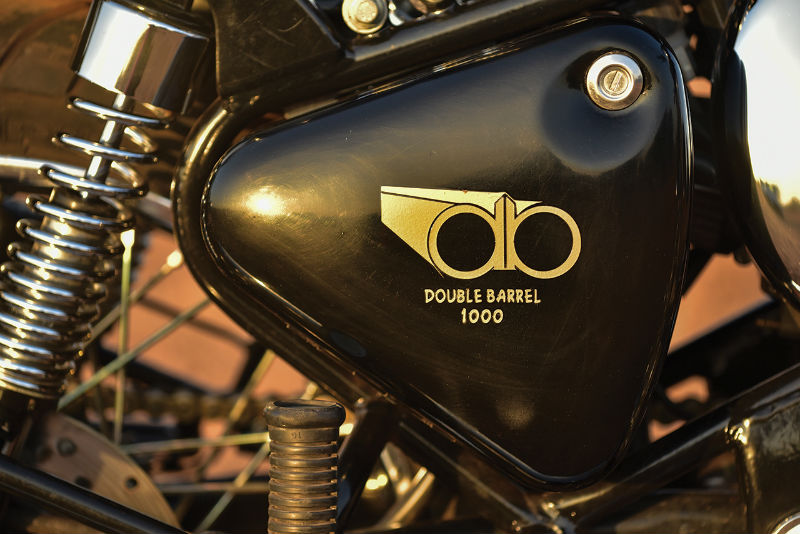 Due to the format of the engine, the stock frame of the Royal Enfield Bullet would just not cut it and Paul had to tweak it so much that it is now practically a new one altogether. The new spine now has the girth of a redwood and two down-tubes extend from the headstock and abruptly meet the front of the crankcase, utilising the massive motor as a stressed member. The wheelbase is significantly longer than a stock Bullet and it shows when you put the bike through its paces. It requires some heft to make the Double Barrel change direction, all thanks to those extra millimetres of that wheelbase that I was just telling you about. But that being said, once you choose a line, this motorcycle will hold it till the cows come home. Riding around a roundabout fairly leaned over gave ample testament to this fact, where the Carberry didn't flinch at all and held its line rather impressively. The way the bike carries its weight also seems to help with its road holding characteristics.
Speaking of weight, the Carberry V-twin is no feather at 220 kg and this fact makes its presence felt when it is time to summon the anchors. The front brake — a stock RE item — is rather up for the task it has been delegated to do but the rear one felt wooden with little or no bite. I quizzed Paul about this and he said the rear brake pedal pivot positioning was the last thing to be completed and hence it was the most rushed. Better leverage and softer pads should do the trick, I reckoned and Paul seemed to agree. In case you were wondering, ABS is on the cards too.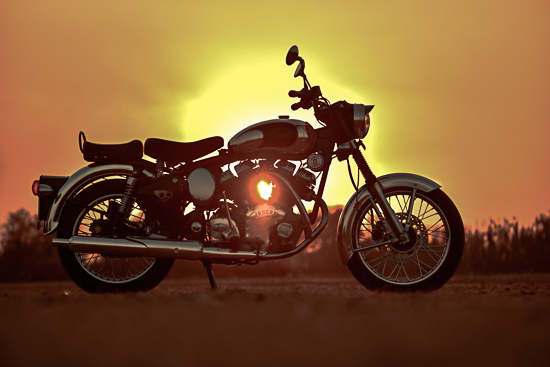 Now having completed a fairly brief riding impression of the motorcycle, I can't help but tell you what this motorcycle actually feels like. First and foremost, this motorcycle is built to cater to your emotions and senses and not to your logical reasoning. If you're still wondering why a 1000cc motorcycle puts out only fifty horses, you clearly are not getting the point of its existence. The Carberry Double Barrel isn't about the spec sheet pub boasting nor is it about winning drag races.
What this bike will do, and do it abundance, is to make you feel connected with your ride. It's the sort of motorcycle that you will look forward to riding after a terrible day at work. Or maybe even the ideal way to cope with a divorce for crying out aloud. It's as if the Carberry activates the pituitary gland in your head, and keeps it working overtime, flooding your brain with endorphins to keep you smiling even when the world burns to the ground around you. The passion that has gone into its creation is apparent and clear for all to see in its luminous chrome form. I am the last person to speak in hyperbole; ask Kartik and he'll vouch for that.
I mean, I met Paul and Jaspreet and their team and it was an ethereal experience to be in their presence. Every team member, almost all of whom are from Bhilai and around, seem to have been drinking from the same font as Paul and Jaspreet. I have never, ever, attended a single motorcycle launch or test ride from any manufacturer till date that has had people buzzing around me with so much zeal and energy! None of the typical fat-cat marketing types in their custom-made suits, oozing smartly thought out and thoroughly vetted spiel. Instead, here were a bunch of blokes in T-shirts and jeans burning with the same intense calorific value as Paul, breathing in their fervency into a motorcycle manufactured in a relatively tiny (but tidy enough to put a smile on mother's face) workspace. Take the product manager for example who was teaching CAD in a local engineering college before the Carberry Double Barrel bug hit him hard!
The Double Barrel might seem expensive at the ballpark (the final price hasn't been pinned down yet since the bike is still going through homologation) ex-showroom price of Rs 7.5 lakh, but since when does one make a decision from the heart based on a shallow thing like money? Besides, Dream Engine Manufacturers would be glad to sell you a crate engine, all ready to run, for substantially less money for you to build a custom motorcycle around or simply put on display in your man cave.
If that argument doesn't hold good for you, then there is this fact that what you get for the money is a practically hand-built motorcycle. And if you still don't get this motorcycle, don't worry because this is the sort of machine that makes you either love it or loathe it. There is simply no middle path to take when it comes to the Carberry Double Barrel and I think that is exactly the way its creators intended it.
Frankly, there is no other motorcycle currently in production that would be a befitting competitor to the Double Barrel. And honestly, I don't think there ever will be, at least for a long time to come!
MOTODATA
Carberry Double Barrel
POWERTRAIN
Displacement: 998cc, V-twin (engine configuration)
Max power: 52 bhp
Transmission: 5-speed, non-unit

CHASSIS
Type: Tubular, twin downtube with engine as stressed member

SUSPENSION
(F/R): Telescopic fork/twin shock absorbers
BRAKES
(F/R): 280mm disc/153mm disc

TYRES
(F/R): 90/90-19 / 120/80-18

DIMENSIONS
Kerb weight: 220 kg
Fuel capacity: 13.5 litres

PRICE: Rs 7.5 LAKH (est., ex-factory)