Photographs by Sherman Nazareth
This motorcycle is like me. No, it's not because I can hit 100 kph in a matter of seconds. I don't think my own two feet have ever carried me at more than 8 kph, though that has more to do with a lack of trying than anything else. If God wanted us to walk and run all over the place, he would have never planted the idea of motorised vehicles in our minds. But I digress. The reason this motorcycle is like me is because every time I hear its name being said out loud, I feel a sense of empathy. Let me explain. When my parents named me, they wanted to keep both sides of the family happy, so they decided to add both my grandfathers' names to mine. Then they realised that Malayali tradition requires the father's name thrown in there, too. Oh, and Malayali Catholic tradition decrees that the family name also be present. So I ended up as Ashok Antony George Thomas Vadassery. Thankfully, better sense prevailed and I am now known as Ashok George. So every time I hear the name Benelli Tre 1130 K Amazonas, I feel an empathising pain. And like my name, I've decided to shorten this name, too, and call it the Trek.
Enough beating around the bush. Let's get right to it (About time, too… — Kartik). The Trek is Benelli's big adventure touring motorcycle that uses the same underpinnings as its street naked, the TNT 1130R. What that means is that it uses the same engine as the TNT, but with changes that better suit its function. It gets longer travel suspension, spoked Excel rims, trail-ready tyres, hand guards at either end of the handlebar and a big windscreen up front. All the styling cues are clearly derived from the TNT and that means the Trek is a quite a looker. It gets the same bug-eyed face that at first makes you question the sanity of its designers, but which later grows on you. There is the same tail section, too, with the tail-light mounted around the centrally mounted exhaust can (so beautiful, sigh). Like the other TNTs, it is a strikingly good-looking motorcycle and is unlike anything else currently running on our roads.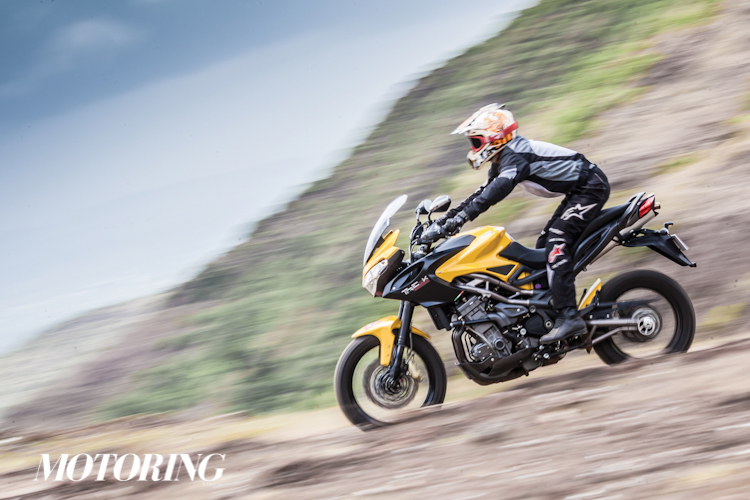 As I said before, the engine on the Trek is the same unit that powers the TNT — the difference is that it's been detuned a bit in the Trek. The motorcycle now makes 126 bhp and 11.4 kgm, all of which can be restricted using one of the two power modes. The change isn't just in the peak power and torque figures, though. The motor has now been tuned to deliver a lot more power through the low- and mid-range rpm. It now makes peak power and torque at a much lower 9000 rpm and 5000 rpm, respectively. When you add to this the larger rear sprocket that Benelli has used on this motorcycle, you get a motorcycle that's very quick off the line. In fact, there's so much power going to the rear wheel as you let the clutch out, that if the surface you're on is anything less than perfect, you will get a whole lot of wheelspin.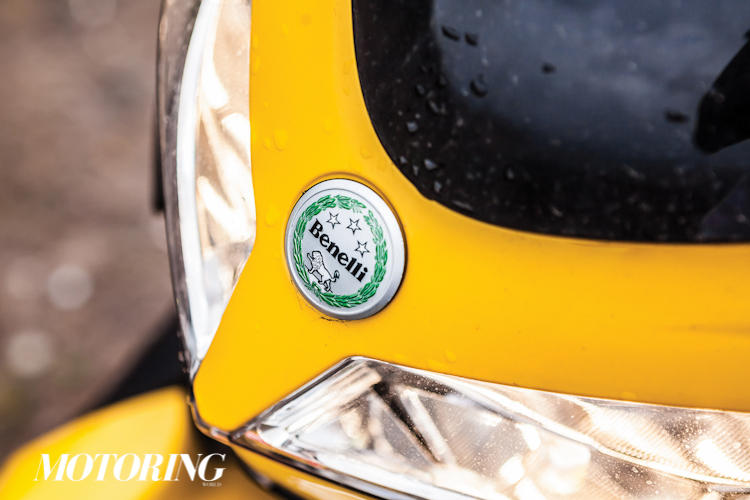 However, in the process of moving all the power to the lower end of the rev range, that manic temperament of the TNT has been lost. But that isn't to say it is not powerful enough to keep you happy. Open the throttle from low revs in any gear and progress is quick. And what is even better is that banshee howl that accompanies the rising revs — if you're revving the bejesus out of the Trek, 
the noise it makes is truly addictive. 
It's one of those 'no one can have just one' situations.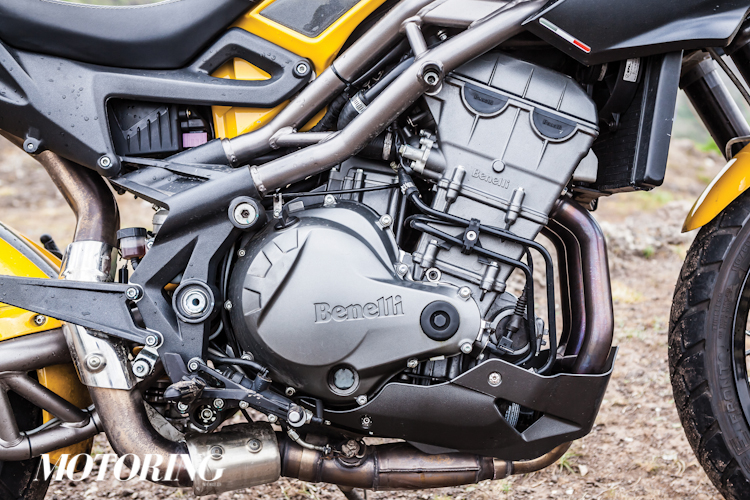 But for all the lovely noise this motor makes, there is one problem — the throttle on the Trek is quite snappy. When accelerating out of corners, you need a really steady throttle hand. Also, the bike I rode had a minor fuelling issue. Being a pre-production model, the bike would cut off just above idle making it a pain to start from standstill if I wasn't holding a handful of revs. However, I've been told that when the production bikes arrive, they will have been tuned for Indian fuel quality which will take care of this problem. In any case, it is more an annoyance than a real problem and isn't something that you can't get used to if you keep it in mind. Besides, the moment you put the Trek through a set of corners, you will forget all about the little niggles.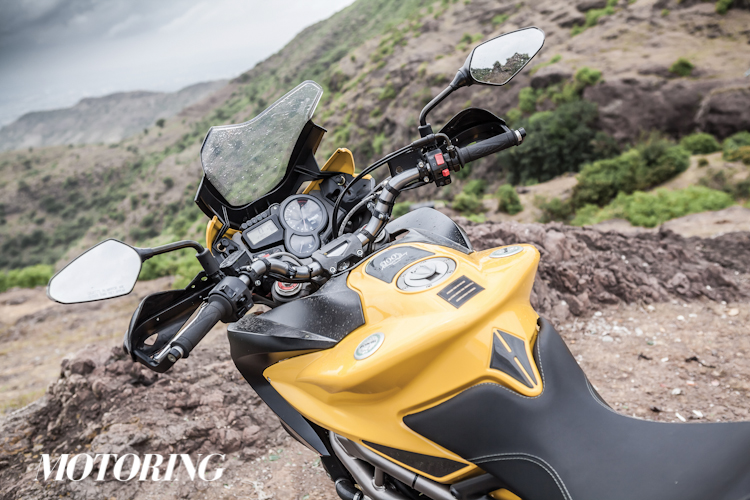 The Trek runs on longer travel suspension; it is an upside-down unit up front and a single Sachs unit at the back, both fully adjustable. The bike is set up for touring and so runs a softer suspension setting which is quite comfortable on the road. It runs on a similar (to the TNT) tubular swingarm at the back. Similar because in comparison, this one is a bit longer and this has increased the wheelbase a bit, which makes it very stable. And stability is one of the biggest plus points on this motorcycle. You can really push the Trek on tarmac and and it does things that no bike this tall should do. It falls into corners neatly and you can lean it over nice and low. Thanks to the soft suspension it does wallow a 
bit when you're cornering, but it never gets unsettled.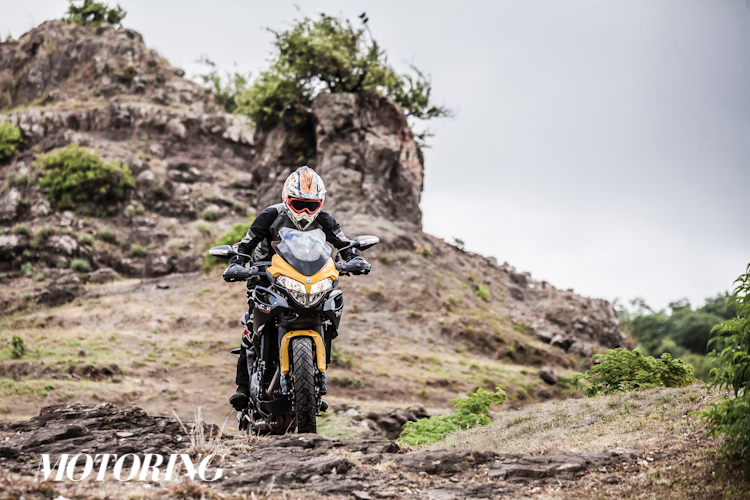 Unlike a lot of the other bikes in this segment, the Benelli doesn't get ABS or traction control. And when you combine that with those Brembo callipers, Galfer rotors and the trail-oriented rubber it runs on, you get a motorcycle that can lock its rear tyre at a moment's notice (that rear brake really is sharp). And despite the tyre misbehaving, the motorcycle never gets unsettled. It sort of just nods at it and keeps going in the direction you want it to. But when you truly appreciate the stability is when you start riding it off-road.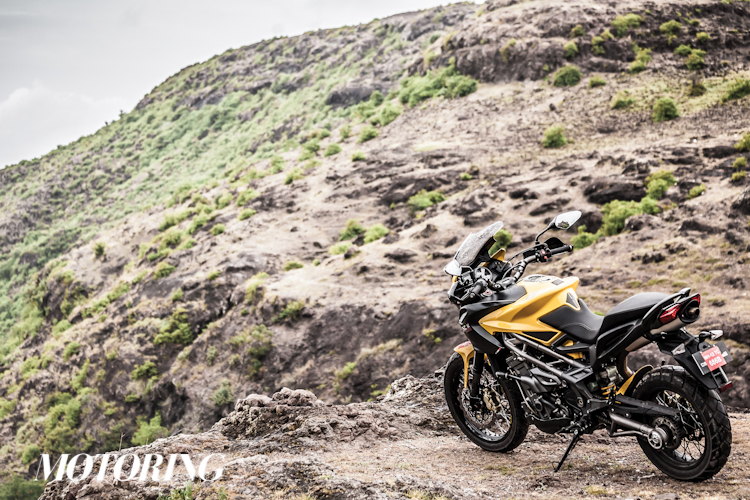 With so much power on tap, breaking traction on dirt is ridiculously easy. The great thing about this bike is that even if your wheel starts spinning away, it does so in such a controlled and non-scary way that you get a bucketload of confidence washing over you. Despite weighing well over 200 kg, this is one bike that I didn't mind taking off-road.
Everything said and done, the Trek is a lovely motorcycle. If not for that minor fuelling issue with the test bike, there was nothing on it to complain about. If you're out there looking for an adventure tourer that doesn't look like it came out of a mould, this might be great choice for you. The only thing that would hold me back is that I've heard of Triumph Tiger Explorers and BMW R 1200 GS Adventures that have crossed the globe. Somehow, I just haven't heard of a Benelli Tre 1130 K Amazonas that has done the same. Should that matter, though?
MOTODATA
Benelli Tre 1130 K Amazonas
POWERTRAIN
Displacement: 1131cc, i-3
Max power: 126 bhp@9000 rpm
Max torque: 11.4 kgm@5000 rpm
Transmission: 6-speed
CHASSIS
Type: Steel trestle frame
SUSPENSION
(F/R): 48 mm inverted forks / monoshock
BRAKES
(F/R): 320 mm twin discs / 240 mm single disc
TYRES
(F/R): 110/80 19 / 150/70 17
DIMENSIONS
L/W/H (mm): 2200/850/1340
Wheelbase: 1530 mm
Kerb weight: 215 kg
Fuel tank: 21.5 litres
PRICE: Rs 13 lakh (expected)