If I could have a euro for every time someone asked me about this BMW, I'd probably be able to buy one. And I actually wouldn't mind one, since this exceptionally large scooter is an attention magnet and is very unique in its own way. I don't think there's any point in saving my liking for this BMW towards the end of the story — it would be just pointless as it would be to try and merge amongst other motorists. Some say it's so big, one might refer to it as a car on two wheels. Yes, it is larger than what our eyes are accustomed to and draws design highlights from its four-wheeled cousins, but it still leans on the inside unlike what cars do.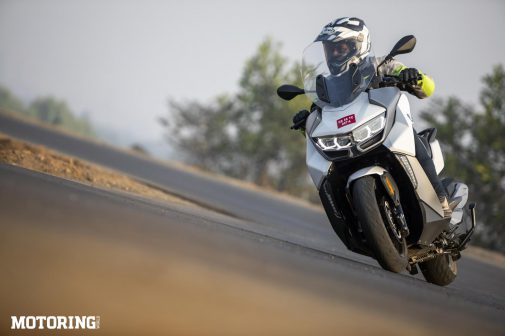 So, here I am on one fine morning, with the key to this little over 200-kg scooter safe within my riding jacket. How can a scooter be this huge? And look this good, while at it? There is probably enough bodywork on it to make a car, and that is exactly what BMW has gone ahead and achieved with the C 400 GT. I wouldn't be surprised if I was asked to pay tolls out on the highway.
The C 400 GT, is BMW Motorrad's newest addition to its current lineup, the latest scooter it sells the world over and is the sole heir to the brand's Urban Mobility family. It is the closest that matches the K-series of touring motorcycles that BMW Motorrad offers. Although, in terms of powertrain, the C 400 GT packs a rather smaller one in comparison to them, but big enough to size-up with its in-house single-pot naked sibling, the G 310 R. The C 400 GT features a 350cc fuel-injected single-cylinder that is tucked away nicely behind that sharp and aerodynamically-designed body. Let me shoot you with the numbers so that I can quickly swing a leg through it. The C 400 GT feisty yet superbly refined motor produces 33 bhp of max power at 7500 rpm and 3.6 kgm of peak torque at 5750 rpm — puts it in the same performance bracket as other sub-500cc motorcycles in the market. That said, an important number to keep in mind, however, is its 214-kg kerb weight. No need for an explanation here, right?
Before I thumb the starter and lumber away into the horizon, I must highlight one thing that makes scooters of such kind so fascinating — the features! It's no groundbreaking news that BMWs are immensely well-built machines, right from the silky-smooth paintwork to the quality of the materials and not to forget the extent that the engineers go in terms of innovation. Starting from the front, I just love how the headlamp unit has the latest iteration of iconic Bangle-styled rings for the DRLs accompanied by super-bright LEDs. The unit is further complemented by the sharp edgy lines that seem to have been made only using a ruler and set squares. Move beyond that front apron, and you are greeted by some of the best saddles you'd want for your bottoms and lower back. I cannot stress enough how comfortable the seat is on this scooter, both rider and pillion. The contour is just right to set your feet down when at a standstill while the backrest ensures your lower back can exploit itself into relaxation mode. As for the pillion seat, there is so much space that one can slide fore and aft, left-right, and still have some more space left.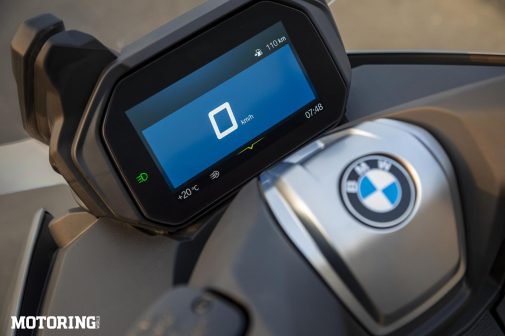 Press the button located below the two lockable storage compartments behind the front apron to gain access to the C 400 GT's smart underseat storage. Smart because, if you look at the scooter's rear section, it is rather sleek and gives the interpretation to barely have any storage space. But, what if I was to tell you that the same underseat storage can gobble a proper full-size helmet? Featuring a Flexcase innovation, a part of the base section can be extended downward to make space to stow away a helmet or other item when not riding. Oh, and there's the other small matter of keyless ignition, TFT colour instrumentation, ride-bywire, smartphone connectivity with turn-by-turn navigation updates and BMW's Automatic Stability Control (ASC) system that ensures the scooter rests on two wheels on the go, and so more!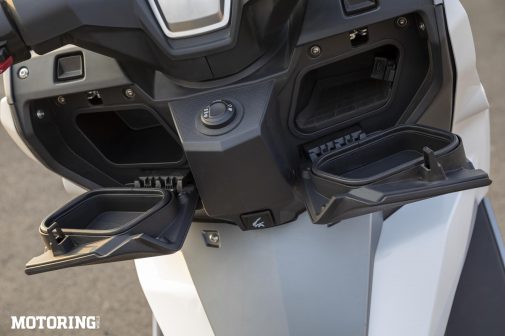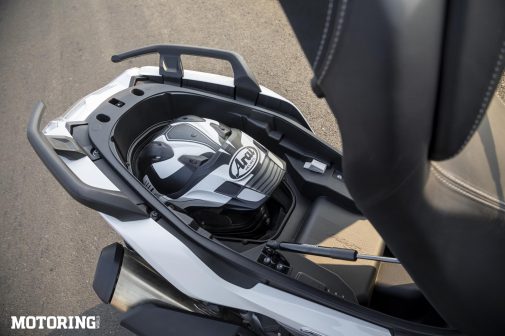 With that out of the way, I have now started it up, and to my surprise, a very unexpected sense of refi nement and silence seeps in. I say that because, when referring to a 300cc up single-cylinder engine, you are somewhat mentally prepared for vibrations and a not so likeable exhaust note. Fortunately, it's the polar opposite here and it only gets better once you get going. Since it was early morning, the roads were notably empty, which meant I could keep the throttle more open and for longer. At first, I was a bit reluctant to trust the capabilities of the scooter to steer but that feeling vanished very soon. In just ten minutes, I was zipping on it like I would on a motorcycle. The large wheels (15-inch front and 14-inch rear) with a wide contact patch from the tyres meant I could corner with close to no fear of losing grip.
On some open stretches, with the throttle at full clip, the colour TFT showed an indicated top speed of 146 kph, which is all the speed you'll want on a scooter like this. And since it's a short-stroke mill, the motor revs high and hard shooting ahead from a standstill like a dart. But, to enjoy it most, cruising around the 100-kph mark on an open road feels just perfect. The tall windscreen deflects the headwind upward and away from the rider, thus keeping fatigue at bay. The C 400 GT features a CVT gearbox that feels no slouch on hard acceleration and is equally smooth when riding within the city.
Now, it is not just the engine, features and the seats that deserve all the credit. The C 400 GT comes with a telescopic fork at the front and dual shock absorbers at the rear. Initially, one might find the setup to be slightly stiff, but once you start to have fun on it, the setup contributes to the overall experience. And the extra bonus to this scooter package are its anchors. Featuring twin discs at the front and the same size single disc at the rear, the C 400 GT is nothing but phenomenal brakes. They stop on a dime when required while providing constant feedback and progression.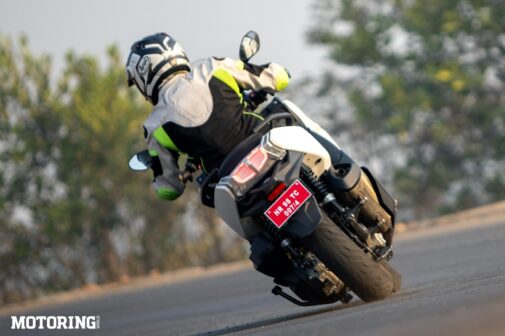 After about half a day of riding the C 400 GT, I am literally as fresh as I was when I woke up in the morning. That is, of course, the very purpose of scooters like these — to make long-distance journeys as effortless as driving a car. The kind of thought and engineering that goes into making such machines is simply incomprehensive. And it is good to know that such examples exist, for those select few across the globe. What a fantastic machine, and what a beaming way to travel! Can I have that euro, now?
MOTODATA
BMW C 400 GT
POWERTRAIN
Displacement:
Max Power:
Max Torque:
Transmission:
350cc, single
33 bhp@7500 rpm
3.56 kgm@5750 rpm
CVT
CHASSIS
Type: Steel tube with aluminium die-cast unit
BRAKES
F/R: 265-mm discs / 265-mm drum
TYRES
F/R: 120/70 R15 / 150/70 R14
DIMENSIONS
L/W/H (mm):
Wheelbase:
Ground Clearance:
Seat height:
Kerb Weight:
Fuel Capacity:
2210/835/1437
1565 mm
NA
775 mm
214 kg
12.8 litres
PRICE
Rs 10.40 lakh (ex-showroom, India)