I have been lucky enough to spend a substantial amount of saddle time on different bikes, including adventure motorcycles. There is a bunch of factors that are a must on such motorcycles — suspension setup, comfort, low vibrations, low-end torque, progressive brakes, enough tank capacity, and luggage-carrying capability. Now, I had the TRK 251 for about three days wherein I ended up riding it most in the city, followed by a highway jaunt, and just a fair bit off-road. Does that raise an eyebrow or two in confusion? If it did, you are not the only one. Benelli has classified the TRK 251 as an entry-level adventure-touring bike, but in reality, this bike is more of a street bike with an adventure look.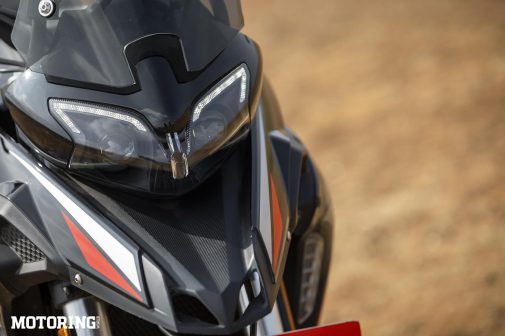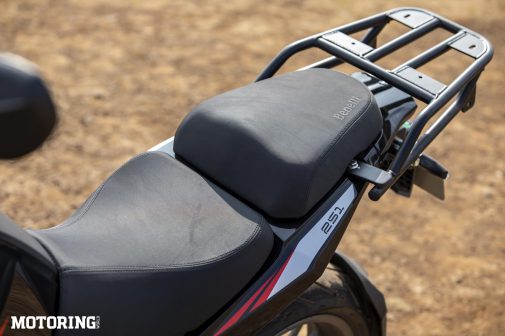 The TRK 251 is more or less a slimmed-down version of the TRK 502, so it has a similar-looking body with the beak-type front end, twin headlamps, a windscreen, a luggage rack at the back, and large well-cushioned seats. With the riding triangle, the stance is similar but slightly slimmer between the legs. Otherwise the single-piece tall handlebar is at a good height that is easy to reach, saddle height is approachable at 800 mm, and the location of the footpegs is just about correct. All of that results in a riding experience that works as long as you are riding within the city.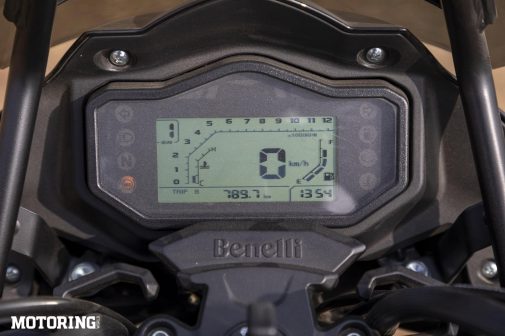 Those pretty much are the positive bits about the TRK 251. Unfortunately, it's the truth; I tried really hard to search for more good things about the bike but just couldn't. To begin with, let's talk about the 249cc mill. Benelli's official website says the TRK 251's motor is of a new generation and is perfect for adventure-focused trails. I beg to differ since the bore and stroke are identical to that of its street-naked TNT 25. Power and torque figures are also somewhat in the same ballpark, with only a different mapping for the fueling system. What that means is the overall character of the engine is largely street-focused. And all the power, and more importantly the torque, is available only at the top of the rev band. You need to keep revs beyond the 5000-rpm mark to keep things engaging, which is fine on tarmac, but not something that you'd want while off-roading.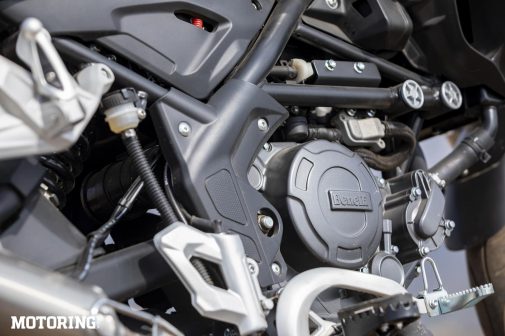 Speaking of high revs, engine vibrations were intrusive right from 3000 rpm. It is easily felt at the handlebar, footpegs and some at the seat (some absorbed by the cushioning). Now that is not a good thing if you had to tour with it because if you do, your hands and feet, if not your bottom, will be left very numb after 100 km or so. And since we're talking about the powertrain, even after the test bike had clocked about 700 km, the gearshifts weren't smooth but required a cautious effort everytime. The same follows for the overall refinement of the motor, as it felt harsh whenever I opened the throttle.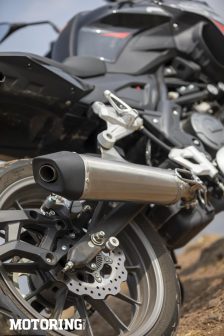 The other thing about the TRK 251 is its suspension. The setup is rather stiff instead of being well-damped to take on B-roads or for off-roading. Furthermore, the suspension travel stands at 135 mm and 51 mm for front and rear, which is pretty much what you get on street bikes. Also, the bike rides on 17-inch alloys at both ends shod with sporty Metzeler M5 tyres. All of the above, coupled with just 170 mm of ground clearance, means one has to be really cautious when going off-road, as there is no sump guard or any other protection.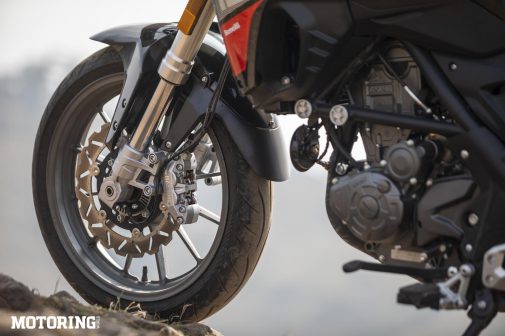 Lastly, and most critically, are the brakes. The anchors on the test bike were very weak and felt very wooden in terms of feel. At times, I even had to resort to using all four fingers to generate enough braking power to shed speed. Even the dual-channel ABS is very poorly calibrated and is super intrusive without any warning, as it would kick in even on light braking. And if that wasn't enough, on one occasion, I tried applying only the rear brake to stop the bike, but instead of doing as expected, the pedal travelled further till it reached its limit, with barely any braking at all. That, as you can imagine, was not funny at all.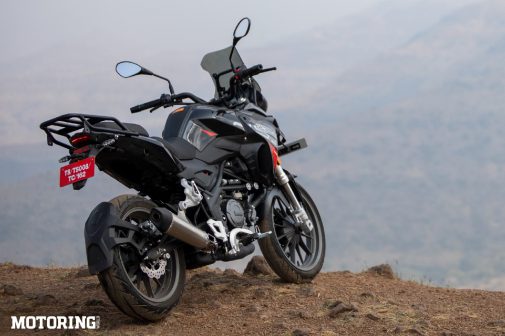 To sum up things, the TRK 251 is the smallest adventure motorcycle in Benelli's lineup, but in the real world, it isn't quite there yet. There are a number of qualms with the bike that Benelli needs to pay attention to and sort out as soon as possible. For its asking price of Rs 2.51 lakh (ex-showroom, Pune), which is also on the higher side compared to the other adventure bike options, the TRK 251 is better off as a city bike. Or if you don't mind a surprised look from adventure motorcyclists.
POWERTRAIN
Displacement:
Max Power:
Max Torque:
Transmission:
249cc, single
25.47 bhp@9250 rpm
2.16 kgm@8000 rpm
6-speed
BRAKES
F/R: 280-mm disc / 240-mm disc
TYRES
F/R: 110/70 R17 / 150/60 R17
DIMENSIONS
L/W/H(mm):
Wheelbase:
Ground Clearance:
Seat height:
Kerb Weight:
Fuel Capacity:
2070/840/1300
1390 mm
170 mm
800 mm
164 kg
18 litres
PRICE
Rs 2.51 lakh (ex-showroom, Pune)