The retro wave doesn't seem to be ending anytime soon and smaller-capacity motorcycles are joining the fray. The Benelli Imperiale 400 is the latest to hit our shores, and like all things retro, it has parts that are great and others that are instantly forgettable and should've remained in the past. Yeah, just like grandpa you love. Lots of wisdom and love, which is awesome, but then he makes a racist comment about your friend and it saddens you immensely. That's what this bike is like, in short.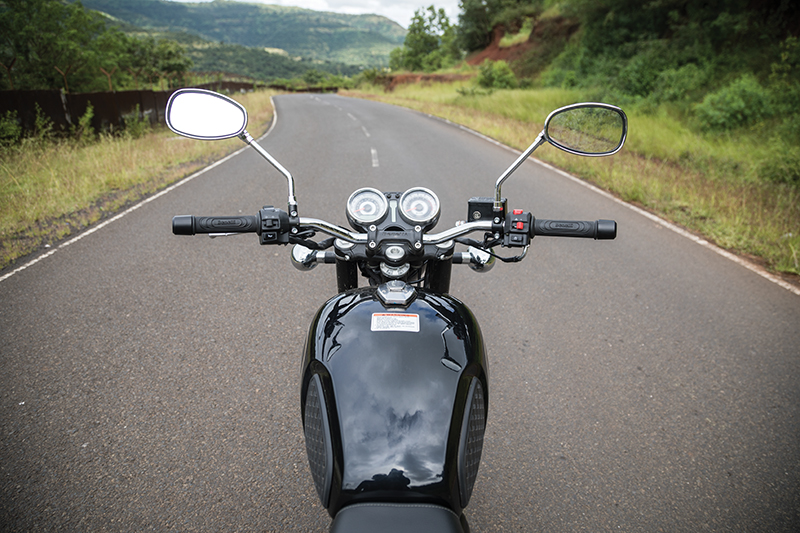 The Benelli Imperiale 400 is, quite simply, a challenger to the Royal Enfield Classic 350's throne. Not in a Bajaj Dominar way — trying to change the game — but in a more direct 'I can do you better' style. In fact, I think the Benelli design team spent so much time studying the Classic 350, it muddled their minds and they didn't realise the difference anymore. The seat is an almost direct replica of the RE. The pea-shooter exhaust is uncomfortably similar, too. Even the turn indicators bear a striking resemblance. The rest of it, though, is new. The tank is relatively narrow, with the dusky gold pinstripe and 'Benelli' lettering giving it a very retro look. It sports twin dials with a digital gear indicator and trip meter. Oval mirrors and a wide handlebar complete the front. It honestly looks very retro, with the slim front section and spoked wheels. The rear is nothing extraordinary, though there are a few nice touches elsewhere. The stamped Benelli lion on the engine head looks lovely, and I like the heat shield on the header pipe. It isn't exactly a visually memorable bike, but the simplicity appeals to me.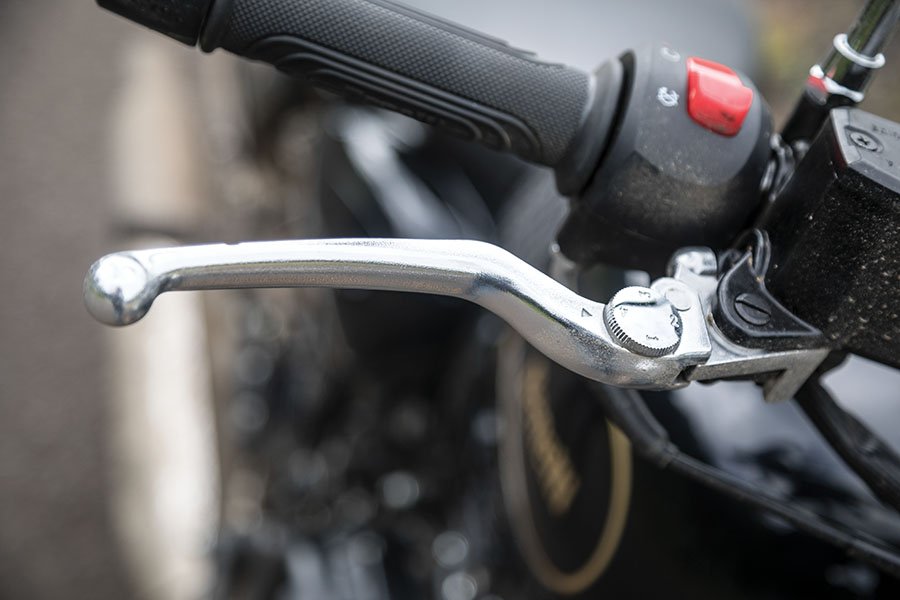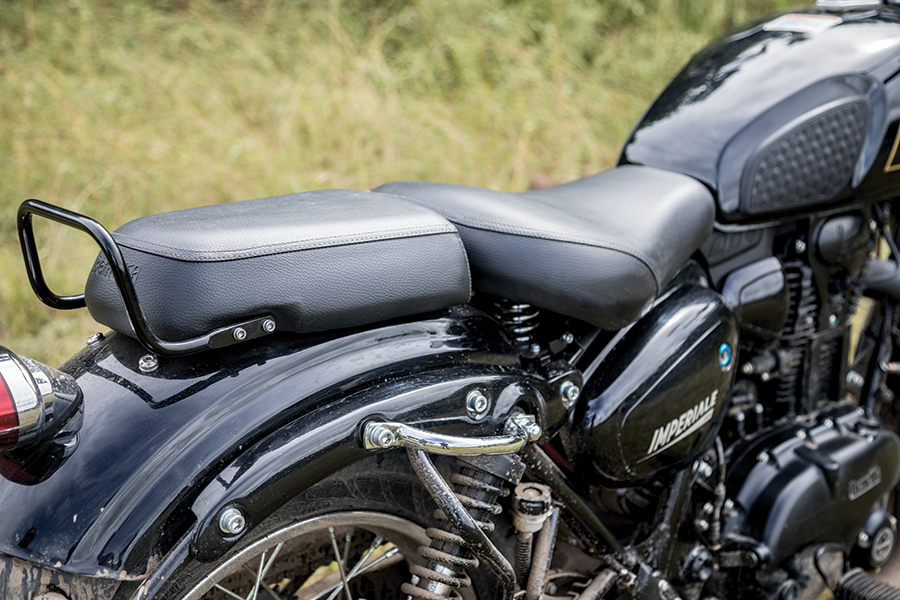 Getting on, it feels familiar. You sit with your legs slightly splayed, but directly under you, and the reach to the bars isn't a stretch. The engine comes to life without drama. It sounds smooth and refined, and there are no vibrations to speak of. When you pull in the light clutch, shift into gear and take off, this character doesn't change. Seriously, it remains smooth and vibe-free throughout the rev range. Okay, vibes creep in at 6000 rpm, but anything under that and its perfect. The oval mirrors don't shake and make you dizzy. There is no buzzing in your feet or hands, and the level of refinement is very impressive. What isn't, though, is everything else an engine is designed to do. For a bike that is pitched as a retro-cruiser, the Imperiale 400 has next to no power or torque. Okay, it does, but it's just spread out so widely, that there is no point where it 'kicks in'. Bottom-end torque is lacking, so forget in-gear overtakes or short shifting. But then down-shifting doesn't change much either, as it just feels flat all the way to the rev-limiter at 6500 rpm. That makes for an incredibly frustrating ride, as you spend all of it desperately trying to find power through various combinations of revs and gears. The slight upside is that uphill sections don't seem to amplify this characteristic nor does loading it with a pillion. It leads me to believe that the power and torque is there — it's just spread out way too thin.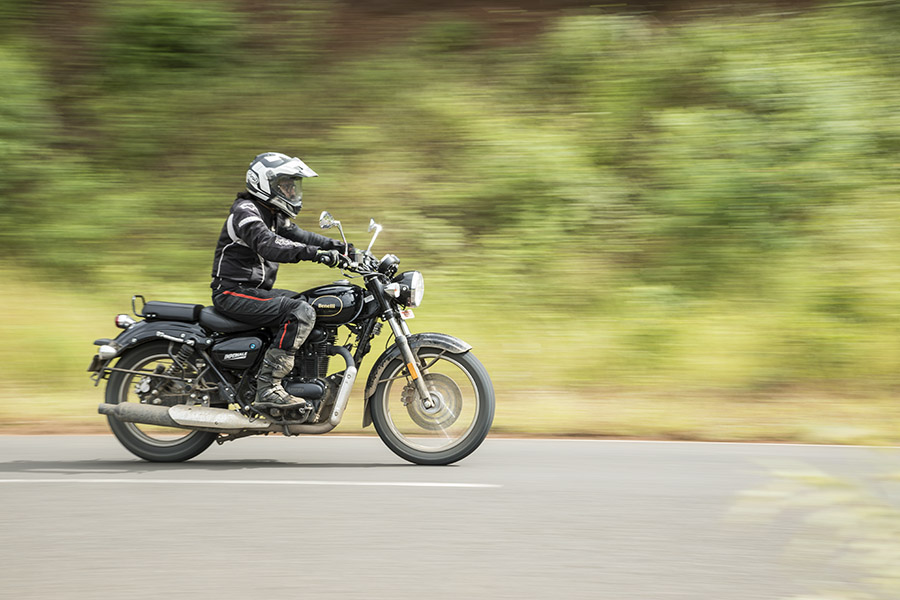 Everything else, though? Absolutely brilliant. Benelli seem to have nailed the rest of the riding experience. The chassis and suspension are easily segment leading. When pushing it hard through corners or weaving through traffic, the balance is superb. The handling is neutral and while it may not be as feedback-rich, it still provides a level of certainty that I enjoy. The suspension, too, has been dialled in to perfection. We rode for about 60 km on some light trails and it stunned me with its capability. Absorbing ruts, bumps and the occasional jump, the Imperiale 400 stayed composed throughout. Out on the highway, the long wheelbase pays dividends by providing stability, even at triple-digit speeds. I can't comment too much on the brakes, though, as the bikes we rode were brand-new and they still had to bed in properly. But it gets dual-channel ABS and an adjustable brake lever, which is a huge plus in my book. Put all of this together, and it is a bike that is honestly fun to ride hard and has the hardware to take it all. If only Benelli would do something about that engine.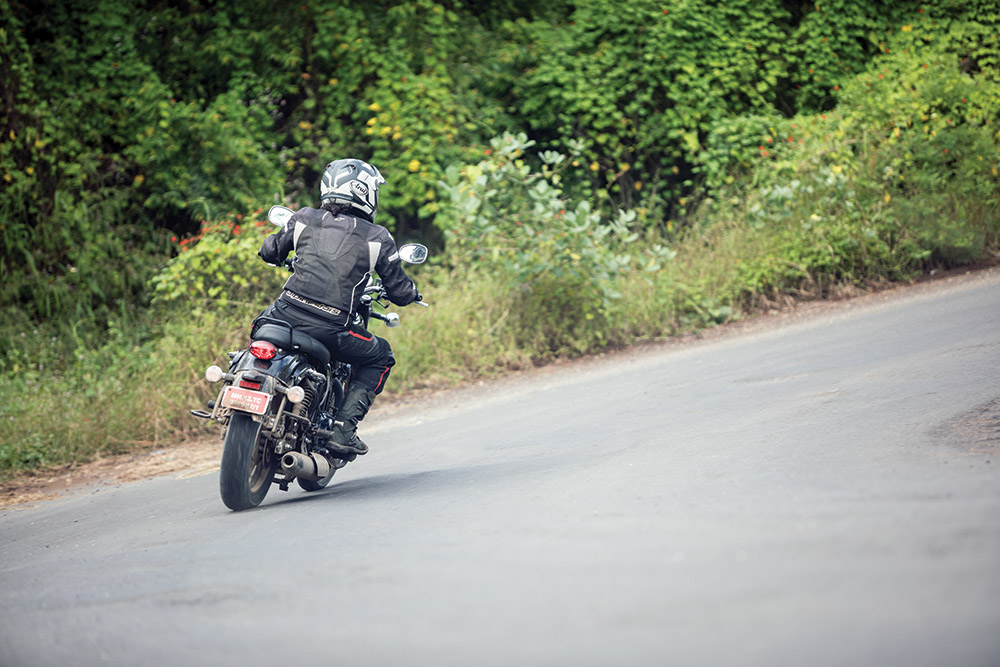 At the end, though, it's disappointing, because this seems to be a recurring theme with Benelli here in India. It gets one component bang on and then fails miserably at the rest. The TRK502 is a good bike, but too heavy. The Leoncino 500 has a fantastic engine, but struggles with quality. And now, the Imperiale 400 gets fantastic riding dynamics, but fails in the engine department. It's like Benelli decided halfway through the project to opt for engine smoothness over any sort of grunt, and that's a bewildering choice for a segment defined by grunt. Bikes like these depress me a lot more than outright bad ones because these show potential. They display how great they could be and it's a shame that they aren't. I hope Benelli gets its act together quickly because if it doesn't, the already impatient Indian market isn't going to give it another chance. And that would be a shame, because we need bikes like the Imperiale 400. And we need them to be done right. I see that glimmer of light, Benelli. I just hope you do, too.
MOTODATA
Benelli Imperiale 400
POWERTRAIN
Displacement: 374cc, single
Max power: 20.7 bhp@5500 rpm
Max torque: 2 kgm@4500 rpm
Transmission: 5-speed
CHASSIS
Type: Tube diamond, steel
SUSPENSION
F/R: 41-mm telescopic fork / Twin-shocks
BRAKES
F/R: 300-mm single disc / 240-mm single disc
TYRES
F/R: 100/90 R19 / 130/80 R18
DIMENSIONS
L/W/H (mm): 2170/820/1120
Wheelbase: 1440 mm
Ground clearance: 165 mm
Seat height: 780 mm
Kerb weight: 205 kg
Fuel capacity: 12 litres
PRICE: Rs 1.69 lakh (ex-showroom)