For just a moment, imagine you're aboard Dumbo, the flying circus elephant that made a reappearance on cinema screens in 2019. Now let's imagine Dumbo grew up, got slightly cockeyed thanks to indecisiveness with peanut choice and lost those disproportionate ears. He doesn't get that high off the ground, and he can't really execute loop-de-loops now. It's more like riding a floating elephant that will pummel right through whatever this planet throws his way. Got that image? Great. Now stick on a blue-and-white roundel and a tonne of electronic gadgets, and you know exactly what it's like to ride BMW's new R 1250 GS. Okay, maybe not exactly, but it comes pretty close.
The year was 1980. BMW had yanked the crowd's attention in its direction when it showcased the R80 G/S at the IFMA motorcycle show in Cologne. A motorcycle that could conquer the street and the dirt? The Paris-Dakar rally? Well, Yamaha simply couldn't have all the glory. So BMW reversed the formula of having a dirt-worthy motorcycle that could traverse some asphalt. Et voila -— the birth of the adventure bike. Of course, BMW modified and immortalised the formula of having a boxer-twin engine powering the rear wheel via the cardan shaft drive. But it didn't end there; conventional suspension just wasn't complicated enough, so BMW eventually chucked in paralever suspension for the rear and telelever suspension for the front. And what did you get? An other-worldly monstrosity that could probably best you at motorcycle ballet. Probably.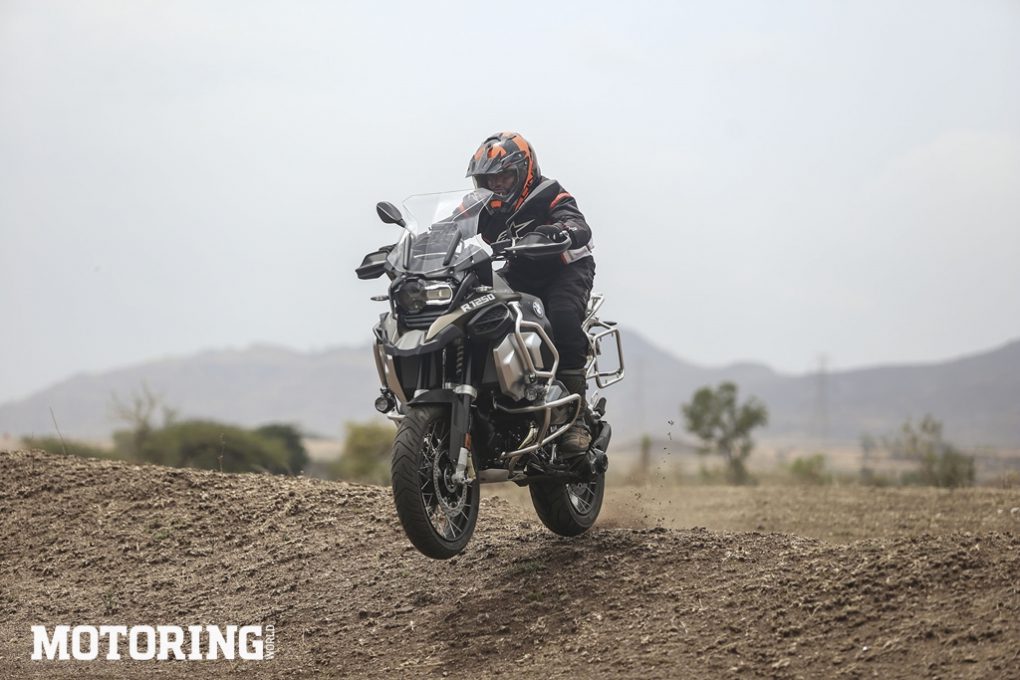 But the GS snaked its way into the hearts of motorcycle adventure seekers via a very unexpected and supremely effective marketing routine. A certain Brit and Scotsman created a rather dramatic movie on an overland expedition they undertook that totally romanticised the whole concept. And if you've been around for long enough, you know how effective the proverbial silver screen is at influencing the human mind. When pitching for the movie, KTM decided to keep their noggins pointed well into the sky and refused the offer. BMW took it instead, and the rest is history. What happened next was nothing short of world domination. The GS became that ultimate tool for intercontinental travel. From the looks of it, even interplanetary, perhaps. But it was mostly a commuting role that the GS fulfilled. Reliability was brushed under the rug as swooning motorcyclists pursued the recreation of their own great adventure.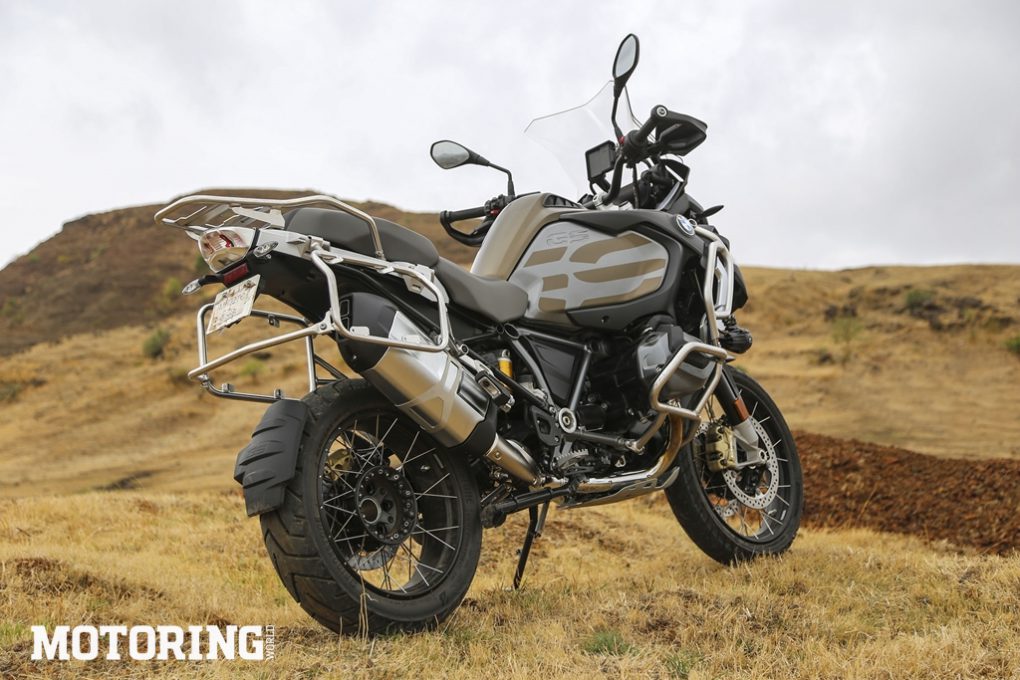 Despite what the name might suggest, this grown-up version of Dumbo isn't all that dumb. Clumsy, somewhat. Ginormous, most certainly. But to compensate for this tremendous mass, BMW concocted an intensely sophisticated formula that will satiate any verbal addict's jargon lust. Oh, and then there are the advanced computers and minute calculations that keep the bike way ahead of anything your cranium can conjure up. That was the older version that took the world by storm and kept it smugly nestled in its pocket. So how exactly do you keep audiences hooked and better an already supremely successful number? Why, sorcery, of course; to us mortals that's all it is. But beneath this behemoth's skin lies an even more advanced motorcycle that'll give you even more jargon to rattle out over a few chilled ones at the pub. No engineers among you to question the profound motorcycle vernacular, I hope.
On the surface, not much has changed; a little chiselling here, a swathe of paint there. That's all BMW needed to do to hold the attention of motorcyclists. The older bike looked nothing short of a spectacle, anyhow; perhaps like an alien mother-ship of sorts. Yet somehow these little touches have given the bike a more aggressive and simultaneously classier look. Or maybe we've just gotten comfortably accustomed to its uniquely odd look. What has changed on the outside, though, is the instrument console. The new GS is fitted with BMW's all-new full-colour TFT display that's just marvellous. I first encountered this console on the F 850 GS and it's one of the easiest to read and navigate through. For one, the graphics are just spectacular. I'm quite sure they'd titillate the mind of even the most non-technologically-inclined millennial soul. Although I doubt technological inclination is much of a choice anymore.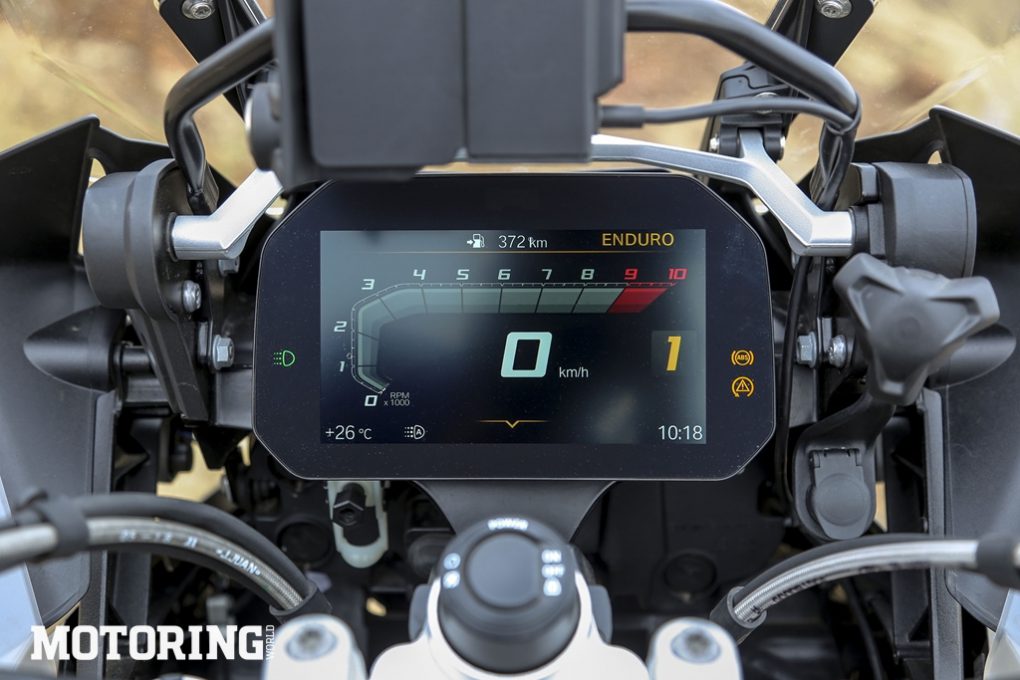 The electronics have gotten significantly better than they already were thanks to more processing power. That means better suspension adaptability to whatever you can throw at the GS. And even more minute calculations to keep this almost planetary mass upright and in its intended orbit; better ABS intervention, better traction control, more effective throttle response. Heck, there's even a feature that will cut throttle power if the bike senses you're on the brakes. While this may sound like a counter-intuitive, almost impossible situation, you'd be surprised at how many times you get caught off-guard when you're riding off-road. There's also the updated hill-hold function that will hold you in place if you tap the front brake lever twice. All you need to do is let the clutch out, and off you go.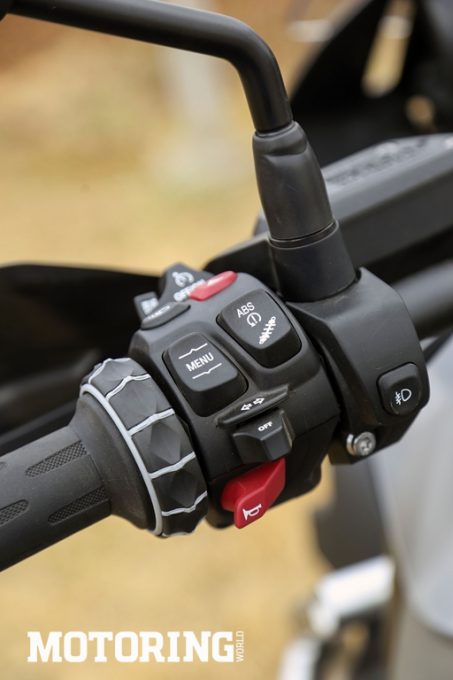 But it's the engine that's gotten supremely more advanced and, contrary to the current norm of watering motorcycles down, way more fun. It's this whole ShiftCam technology BMW's been rambling on about. It's a set of interchangeable camshafts that adapts to your power needs depending on your throttle input. One's for fuel efficiency, the other's for performance. But it doesn't really stop there.
While the engine still features four valves per cylinder, the intake camshaft now has two sets of cam lobes per valve. Essentially variable valve timing, these two sets of lobes even change the amount of valve lift. You'd be hard-pressed to actually identify the point at which the switch happens; it is just so deceptively smooth. It generally occurs at 5000 rpm, but it adapts based on the sensors picking up on engine load and the aggressiveness of your throttle inputs. And let me tell you, once the full lobe kicks in, you can feel the surge of power right down to your bones. Mars doesn't seem very far off anymore.
To put it simply, riding this motorcycle is an undeniably sublime and rather dignified experience. It isn't really a raging bronco that's twitching and restless, and raring to go. Ducati's got the Multistrada for that. The 1250 GS is more like the gentleman sitting in the corner and judging you ever so scornfully. But when the gloves reluctantly come off, there's still a relentless beast within. There has been a significant power and torque increase over the 1200 and you will feel it once you get going.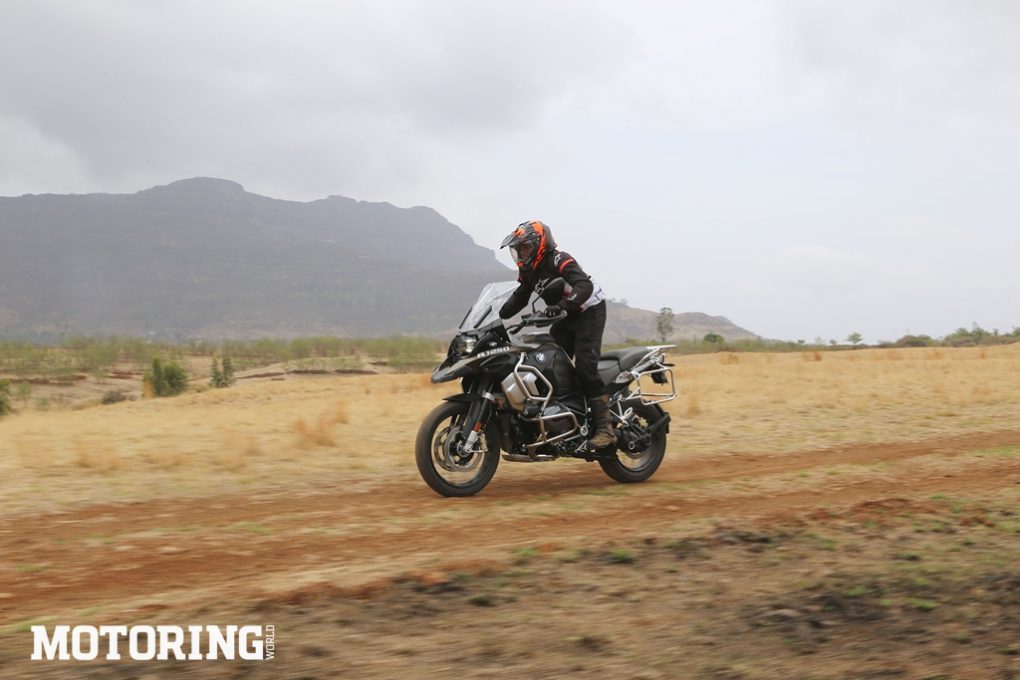 Now the complicated suspension setup we spoke of earlier takes some getting used to; it's a bit unnerving at first. The main reason for this is the amount of feedback we're accustomed to on conventional suspension. The telelever front end keeps braking dive and suspension function separate from steering; so stability is your friend. But getting comfortable with the fact that the bike will hold its line in corners despite you having less of an idea of what the surface feels like is going to take a while. Once you gain the confidence in the capability of the bike and let go of some of your neuroticism, you'll automatically start pushing the bike more.
And sure, the centre of gravity's a lot lower and all that, but you will still feel the heft of the bike off-road. That 249 kg isn't going anywhere. Don't let those videos of GS Trophy guys mucking about fool you; they've had endless hours of practice and training. Personally, I do prefer the Multistradas off-road. Maybe it's the urgency of the engine that keeps the chassis taut off-road. Or maybe I just need to spend more time with the GS to get accustomed to the slightly numbed levels of feel and feedback to put more faith in the capability of the bike. It's certainly got a lot more than I can rein in. In terms of brakes, BMW's thrown on a set of Hayes stoppers that get the job done, period. You don't really crave for more braking power and there's sufficient feel to know what the brakes are doing at all times.
Now our proverbial Dumbo had some pretty big shoes to fill. And it's done that in the most effective and subtle way possible. The GS moniker has achieved cult status in the global adventure community and with this new 1250, I don't see that fading anytime soon. It's a great bike for blasting down vast stretches of highway while cocooning you in a little bubble of comfort, thanks to its sofa-like enormity. But despite its gargantuan size, it's a radically fun bike when you need it to be. For more sober times, it's graceful and has a rather stately aura about it. If you're aiming for the horizon but have gotten accustomed to the luxurious life, you've found your saddle in the R 1250 GS Adventure. Now figuring out what features you want is going to be a long and arduous process. You see, first-world problems had to creep up on India at some point. Well, fickle as it is, at least there's a motorcycle involved. So go bury your head in a parts catalogue, quick. That horizon's fading as we speak.
MOTODATA
BMW R 1250 GS Adventure
POWERTRAIN
Displacement: 1254cc, boxer-twin
Max power: 132.1 bhp@7750 rpm
Max torque: 14.58 kgm@6250 rpm
Transmission: 6-speed
TYRES
F/R: 120/70 R19 / 170/60 R17
DIMENSIONS
L/W/H (mm): 2207/953/1430
Wheelbase: 1504 mm
Ground clearance: NA
Kerb weight: 249 kg
Fuel capacity: 30 litres
PRICE: Rs 18.25 lakh (ex-showroom, Mumbai)