The very first time I got on a scooter, I rode it straight into a ditch full of thorny branches. The scooter in question was a beat-up Chetak, and upon the extraction of my severely punctured self from said ditch, I vowed never to have anything to do with a knee-knocker again. Not exactly how a two-wheeler should become part of one's personal history, I'd say. However, one looks back fondly on even the worst incidents in the past provided enough time has gone by. It almost seems like that happened to someone else in another life — and that holds truest for the new Chetak.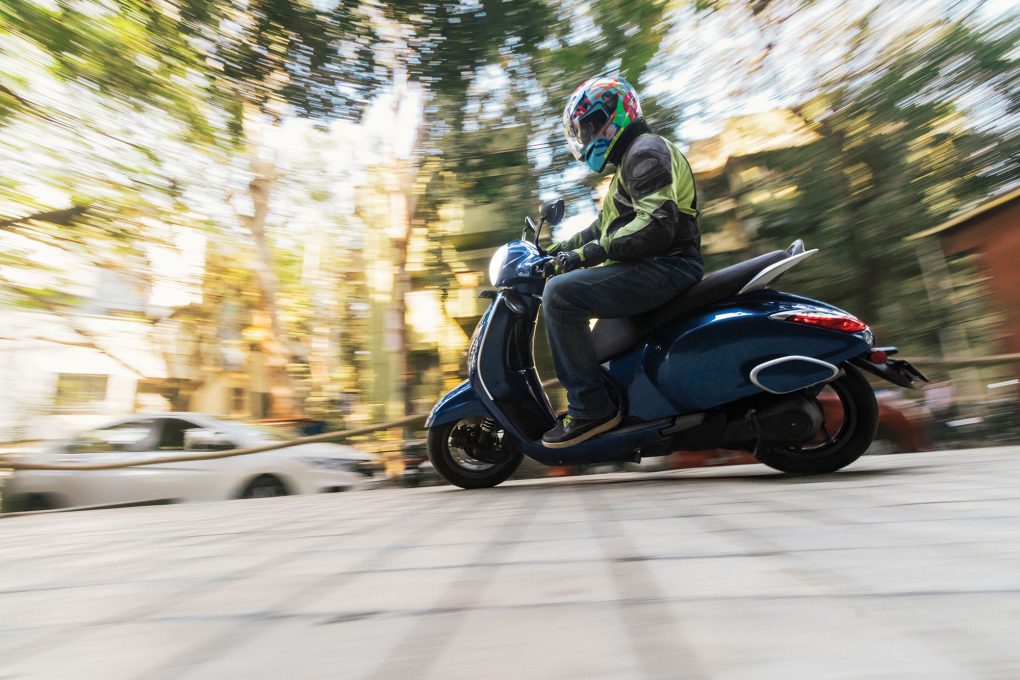 Born a two-stroke, transformed into a four-stroke, and now back again with an electric motor and a battery, the Chetak could probably hold its own against the Dalai Lama on the topic of reincarnation. But this time around, will the Chetak win hearts and minds like it did in the past? Well, if its appearance is anything to go by, it's off to a great start. And to those who may flap their mouths on the topic — of course it looks Vespa-ish; that's its legacy, just as the Mahindra Thar looks like a Jeep. After all, children can't stop looking like their parents, even if the latter got divorced a long time ago.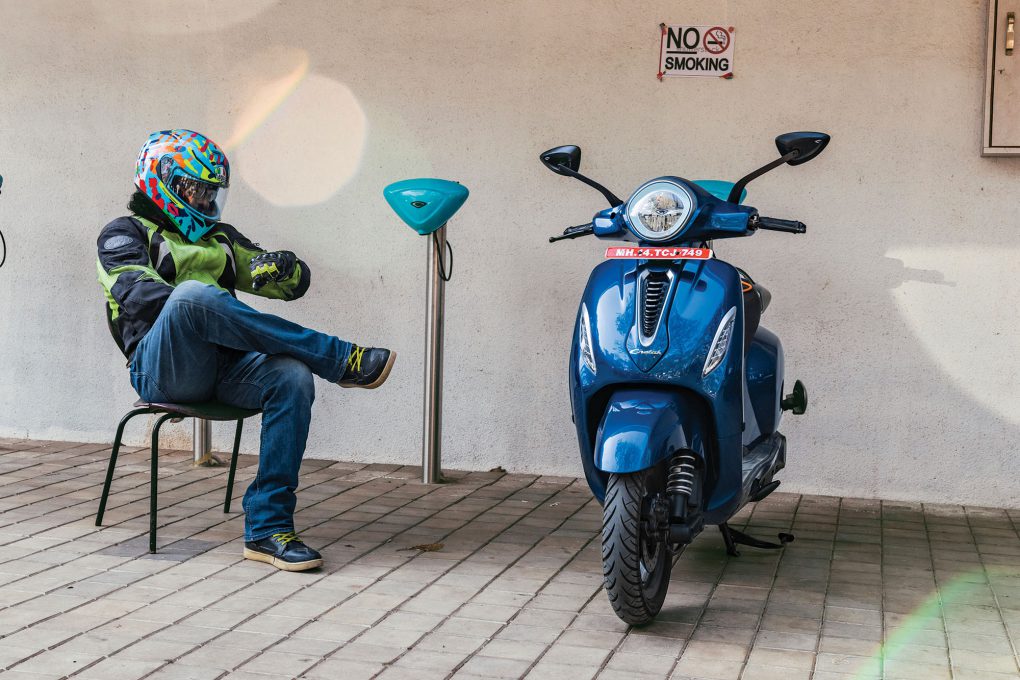 Anyway, antecedents aside, it appears there aren't many ways to make a good-looking scooter which is why most of them look the same. So, I'm glad that Bajaj took the direction it did with the Chetak's design, whatever the reasons may be. The acreage that a scooter's panels provide have a lot of scope and Bajaj has done well with the Chetak's all-metal body. The horseshoe-shaped LED DRL is the first thing that caught my eye, ostensibly a nod to the fact that the Chetak owes its name to a historical horse ridden by Maharana Pratap. On its apron, it wears what looks like grilled necktie; once I thought of it as one, I couldn't unthink it.
However, the best angles to view the Chetak are definitely its profile and its rear; both draw the eyes to that swooping rump that features a tail-lamp on either side. The Chetak's right side is notable in that it shows off clean wheels, no suspension or exhaust to block them. Also, I couldn't find any Bajaj branding anywhere on the scooter, though I did find quite a few stylised Cs symbolising its name. And the Chetak's good looks are backed up with a solid feel that is exceeded by none and matched by few. Honestly, this could be the best-built Bajaj I've come across, motorcycles included.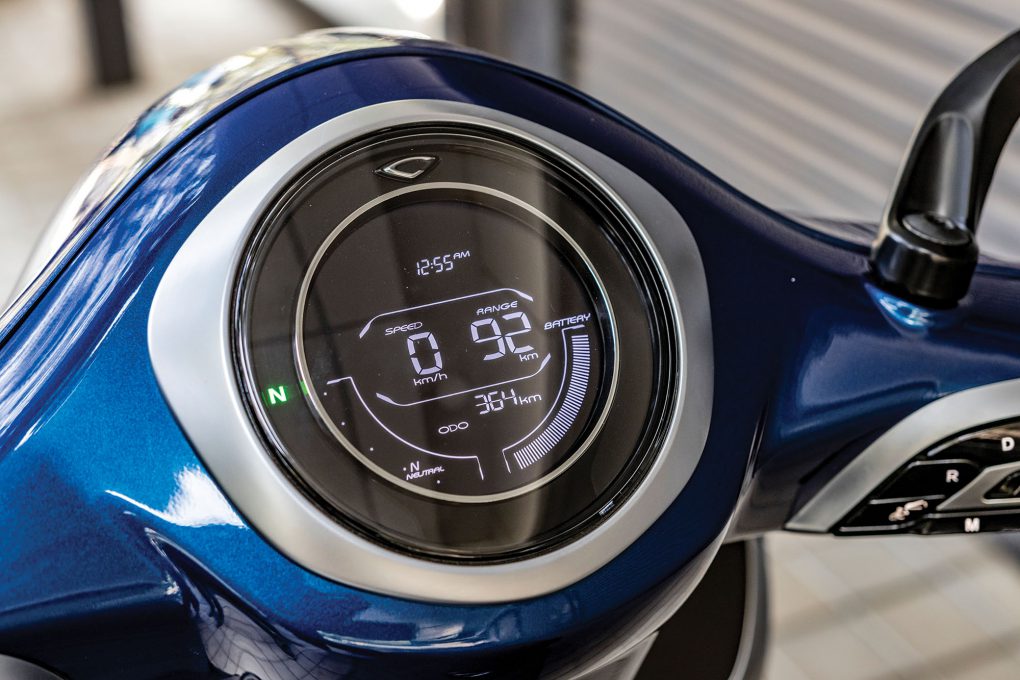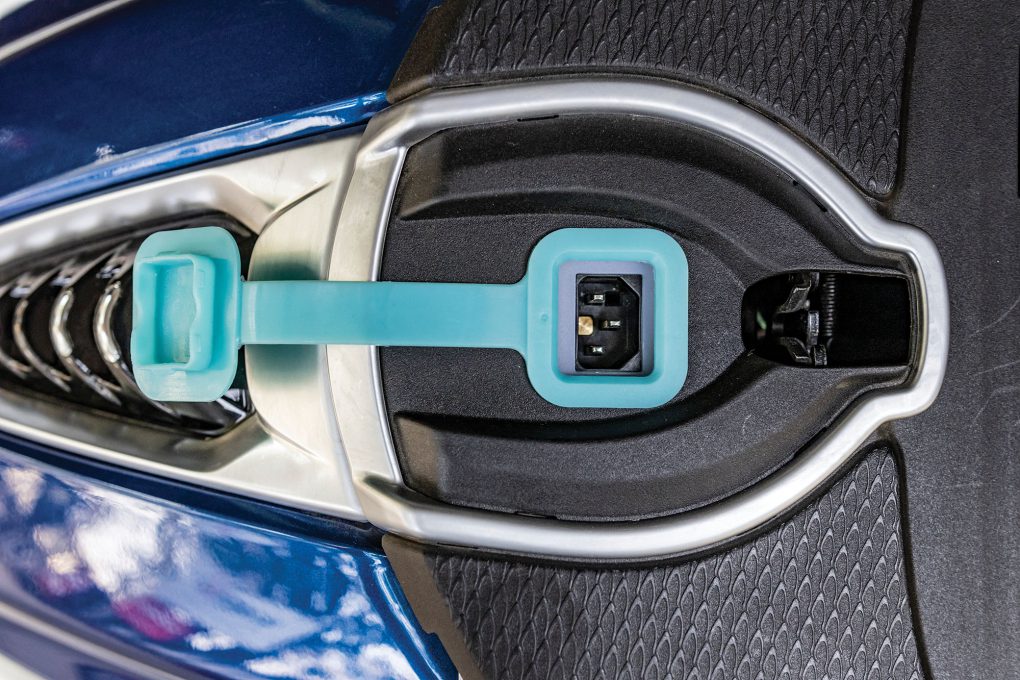 The switchgear design is something you'd expect to find in a plush car, while the mirrors are all-aluminium units. The parking-brake mechanism on the rear-brake lever is the best I've seen on a scooter, too, a metal button that ensures that the Chetak doesn't roll away and fall in an embarrassed heap. A reverse mode helps you out of tight parking spots. And the Premium version that I rode comes with a front disc brake and highlighted stitching on the seat, features that the more affordable Urbane version doesn't get. So, from being a workhorse to becoming an enchanter, the Chetak has certainly come a long way. But can it gallop the talk? Well, it can just about canter.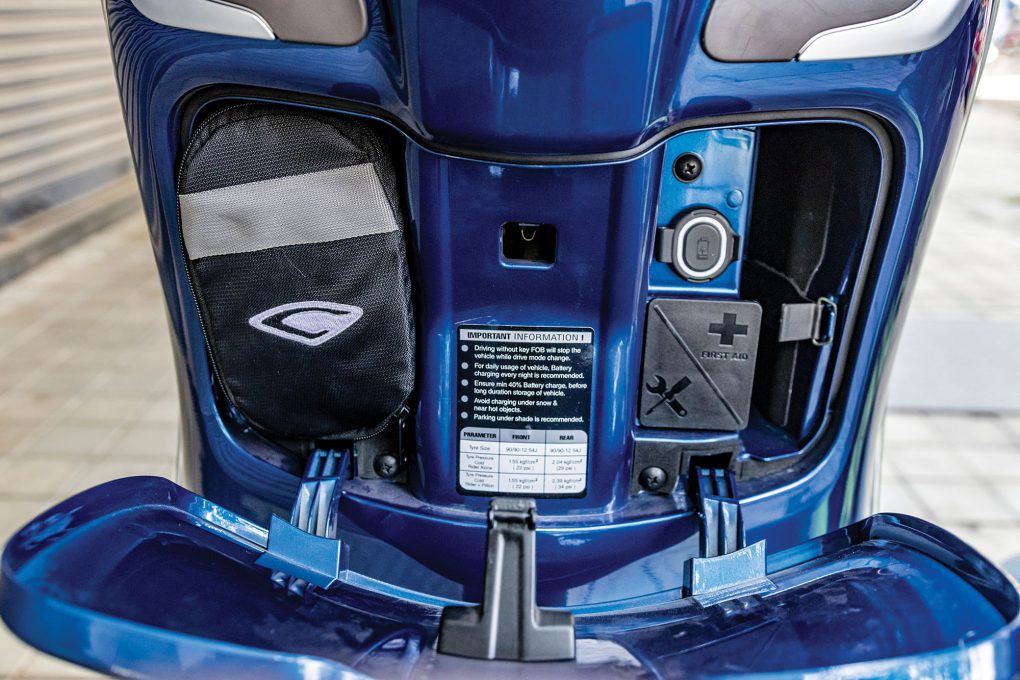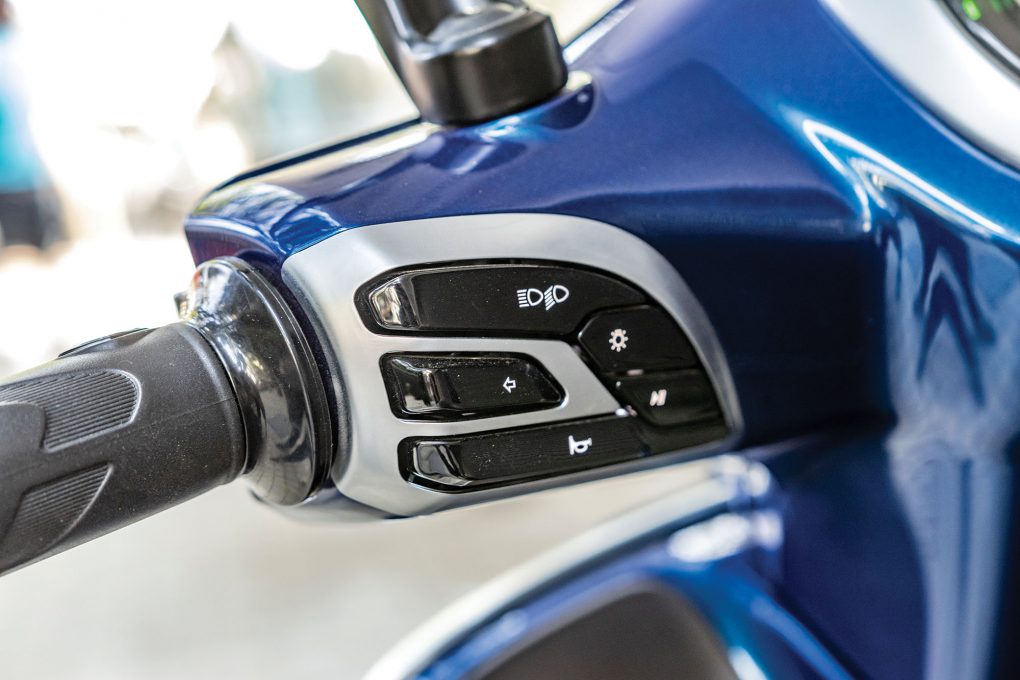 Bajaj says that the Chetak's power output and speed have been optimised for the average urban user. A basic level of performance is essential, and the Chetak just about provides it. Wringing its regulator (yeah, it's a regulator, not a throttle. Electric motors have always had regulators. Look at your fan) hard, the Chetak's neat digital console indicated a maximum of 70 kph, with a 90-kg me as payload. Initial acceleration was perky, as befits an electric motor, but it sort of gave up before I expected it to. I suppose that 95+ km claimed range will claim its casualties. However, before I make my point, I must say that I get Bajaj's approach.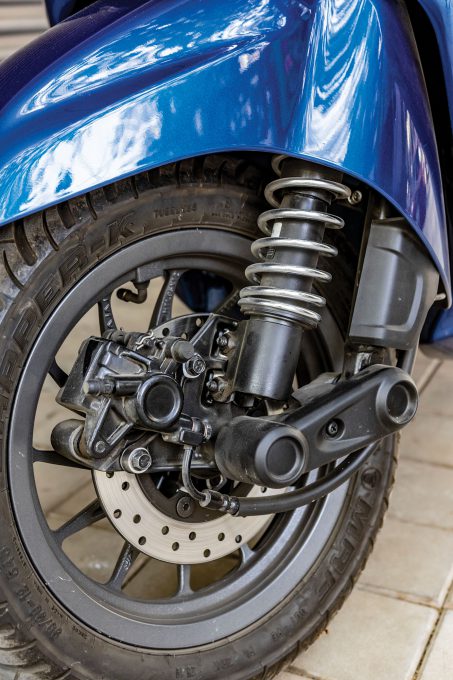 After maddening myself by trying to race against traffic, I slowed into the column of two-wheelers on the left of the road, the one that loiters rather than rides, the one where Bajaj expects the Chetak to be. And it fit right in while standing out, too. If that's what most people are riding like and what they're getting with the Chetak, then it's no problem at all. Not everyone is out on the roads to seek thrills or set record times between traffic lights, and I do very well understand that. However, the Chetak of the past didn't get where it did by being merely adequate. But more on that later.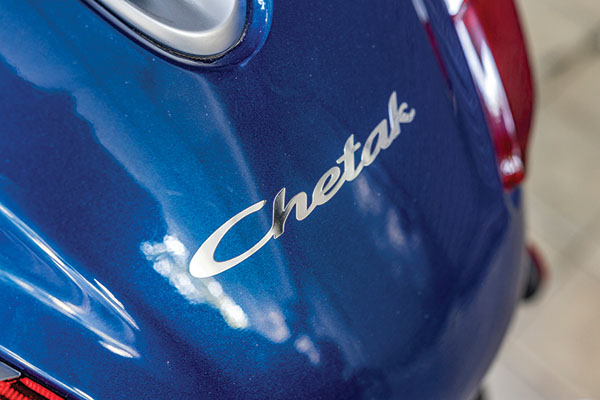 What highlighted the Chetak's nagging adequacy was its excellent ride and handling that can surely manage more power. I may have to ride other scooters back-to-back to be absolutely sure, but the Chetak pretty much has the best ride quality of any scooter I've ridden so far. Despite that old-fashioned trailing-link setup at the front (or perhaps because of it…), the Chetak floated over bumps and potholes without any thuds or rattles. It felt solid and 'one piece' at all times, and this surprising reassurance was quite welcome. Some motorcycles would do well to take note.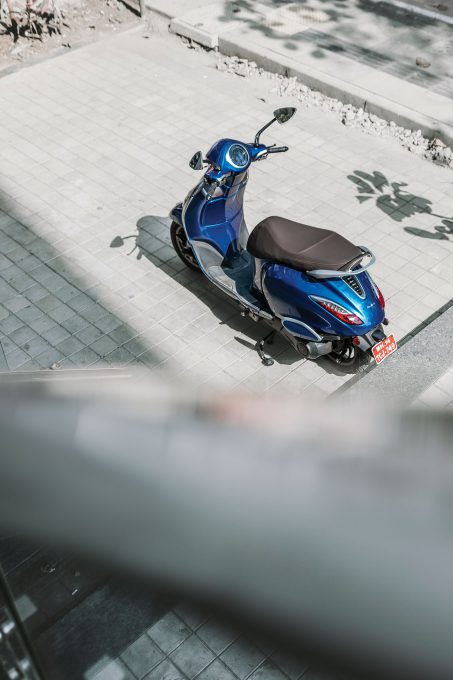 As far as handling went, there was none of that hinged-in-the-middle feeling that afflicts this two-wheeled species; instead, the Chetak felt taut and willing as it traced graceful arcs around all the corners I aimed it at, thanks in no small part to its grippy tyres. I wondered if that battery mounted in the floorboard adds any stiffness to the Chetak's structure. The brakes were sharp, too, and feature regenerative charging that adds to the scooter's range. In any case, in the midst of these positive thoughts scattering in my mind, the fact remained that a lot of my brief time spent on the Chetak left me wishing for more speed.
Yes, the constraints are all too obvious — cost of the battery, reliability, and so on — but performance only adds value to a rider's life and Bajaj should have matched the Ather-bar if not set it higher. Yes, Bajaj has done a fantastic overall job with the Chetak; it has focussed on quality and durability, and given it just enough power to get around at a decent pace. However, as Bajaj knows all too well, the standout aspect of any successful product is that it delivers more than is expected of it. And premium feel certainly deserves premium performance.
There is no doubt that the Chetak's premiumness starts from its build and carries on into its riding experience. However, electric vehicles being what they are, I'm certain that Bajaj could very well have tuned the Premium version for a bit more power and kept the Urbane with an extended range, and given people the choice. That said, the Chetak did accomplish one not-so-minor feat — it made me wonder why Bajaj stayed away from scooters for so many years.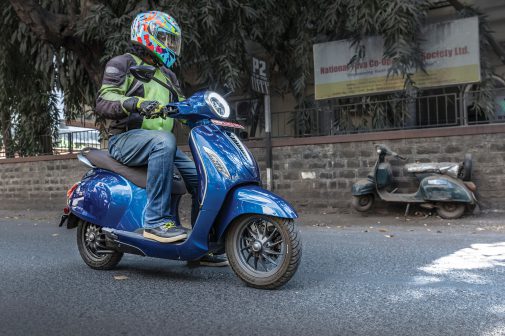 As I write this, in a week I will ride the TVS iQube; so far, I think it's a good thing that big players like Bajaj and TVS are jumping onto the electric trampoline because we will see what it's like when trusted names bring their electric scooters to the market. And so, right now, rather than what electrics are, it's about what they mean. Even after all this talk of going electric, it's only just the beginning, even for established manufacturers like Bajaj, which is why it needed the Chetak name for this rebirth. Now, if only Bajaj could please make it faster so I can stop looking a gift horse in the mouth.
PHOTOS Ishaan Bhataiya
MOTODATA
Bajaj Chetak
POWERTRAIN
Motor: Hub-mounted
Battery: 3 kWh lithium-ion pack
Max power: 4.08 kW (5.47 bhp)
Max torque: NA
CHASSIS
Type: Tubular frame
BRAKES
F/R: Disc / drum
TYRES
F/R: 90/90 R12 / 90/100 R12
DIMENSIONS
L/W/H (mm): NA/NA/NA
Wheelbase: NA
Ground clearance: NA
Charging time: 0-100 %: 5 hrs, 0-25%: 1 hr
Kerb weight: 118 kg
Range: 95+ km
PRICE: Rs 1.15 lakh (ex-showroom)