Can they hear the future coming?' I wondered, slipping noiselessly through the latest gap in early-morning Bangalore traffic. Okay, it wasn't completely noiseless; the electric motor's whine was a constant reminder that I was riding an electric machine, the Ather 450, to be precise. The first time I rode an electric two-wheeler was on a twisty mountain road around 10 years ago; the bike, called the Tork T001X, had scored a TTXGP podium at the Isle Of Man, and it was an almost fairytale culmination of the hard work of three engineering students from Pune.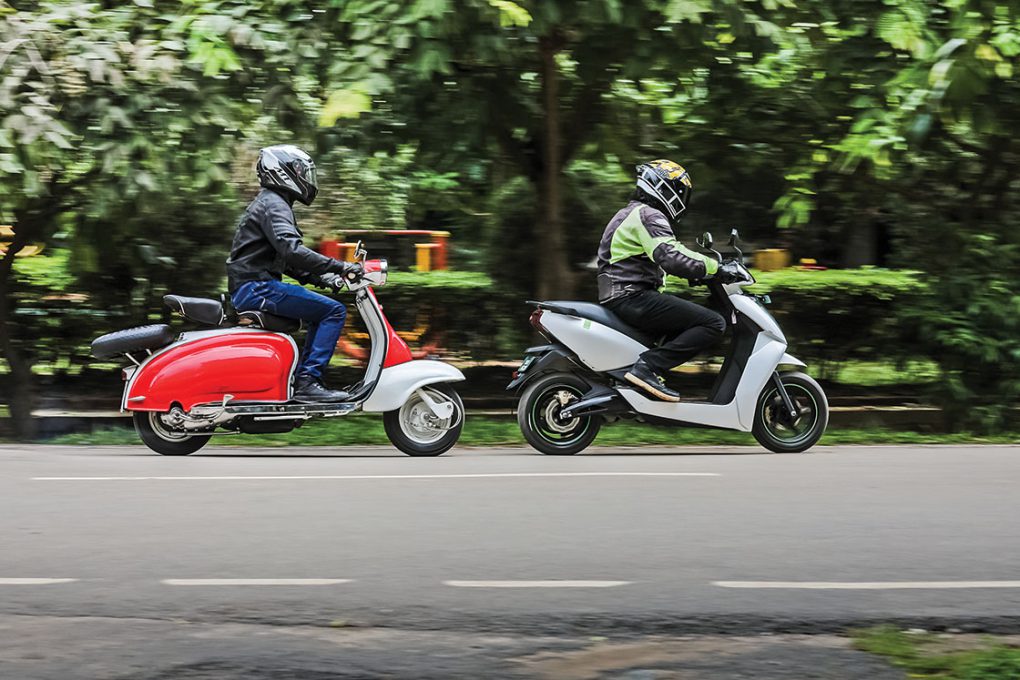 On that day, I'd learnt that going electric isn't all that bad, after all, and I quite looked forward to what the future would bring. Back then, I had a Sony Ericsson W200i Walkman phone, one with real buttons on it and no Bluetooth, forget Wi-Fi. I'm on my third smartphone since then, and that's how long it's taken for me to ride a proper production electric two-wheeler in India. If you'd asked me then, I'd have given you a far more optimistic electric scenario in 2019's India than the current one that can still only be called nascent. Rambling on for two paragraphs before getting to the point is meant to be a scaled-down simulation of the time taken for electric vehicles to finally start trickling out on Indian roads.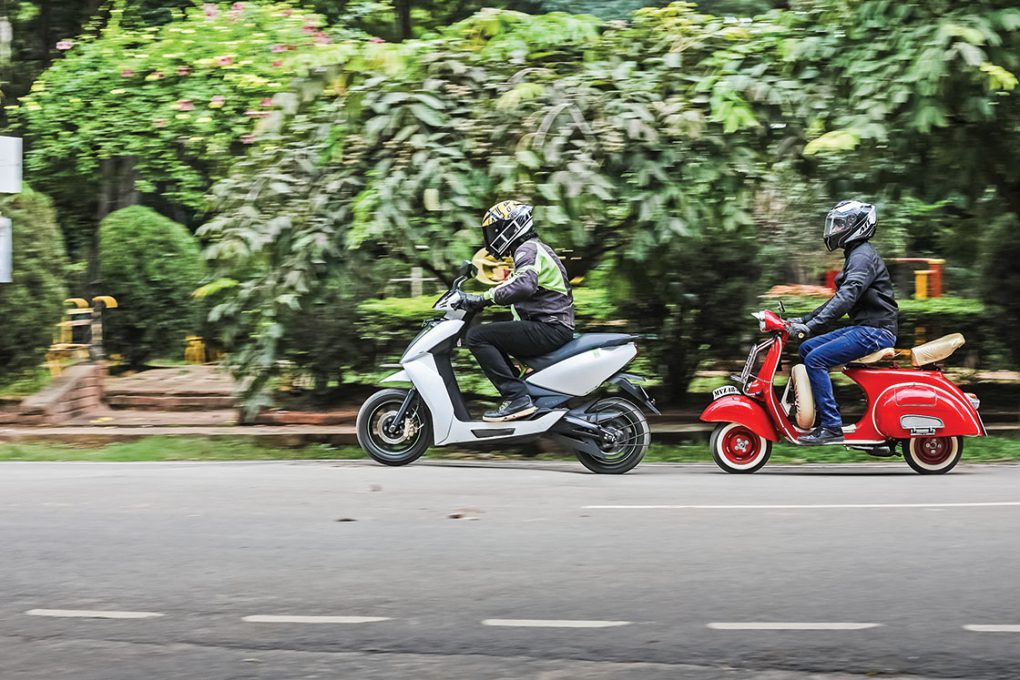 So, the Ather 450 is India's first electric scooter — but it also has its focus on performance and fun, in addition to saving the environment. Little wonder, then, that it found itself on its way to meet two blasts from the past — the Vespa 150, the first scooter made in India, and the Lambretta 150, the first performance scooter made in India. And when the Ather came headlamp-to-headlamp with them, it certainly was a memorable sight. Now, the old scooters are fanatically restored items that look as new as the Ather. In so many ways, they're the exact opposite of what the Ather is; it's antiquity versus cutting edge, LEDs versus filament bulbs, 2T oil versus lithium ions, smoke versus silence. And it only took six decades to get this way.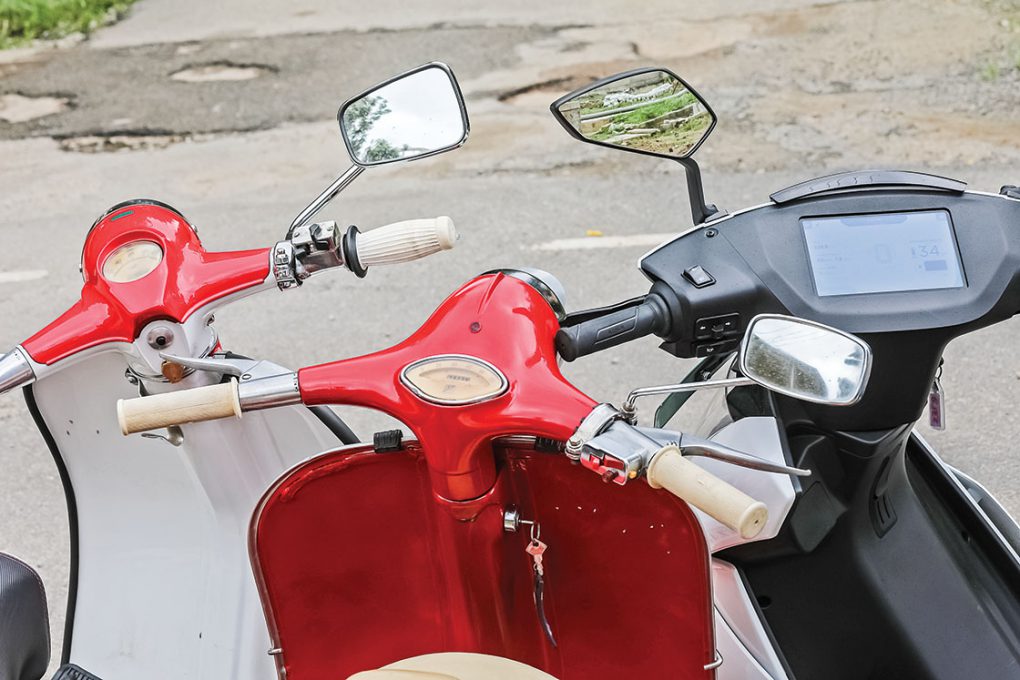 Some time in the early 1960s, the Vespa became the first scooter to be made in India by Bajaj under licence from Piaggio. It had a 145cc two-stroke motor that made a reliable 5.5 bhp, weighed 86 kg, and its 3-speed gearbox kept your left hand busy. A few years later, the Lambretta came along with its 148cc motor that produced 6.5 bhp, weighed 104 kg, and its 4-speed gearbox kept your left hand busier. In terms of performance, the Vespa's 85-kph top speed was beaten by the Lambretta's 86 kph; bench racing must've been really slow in those days. Which reminds me, Ather claims an 80-kph top speed for the 450. Um, yeah.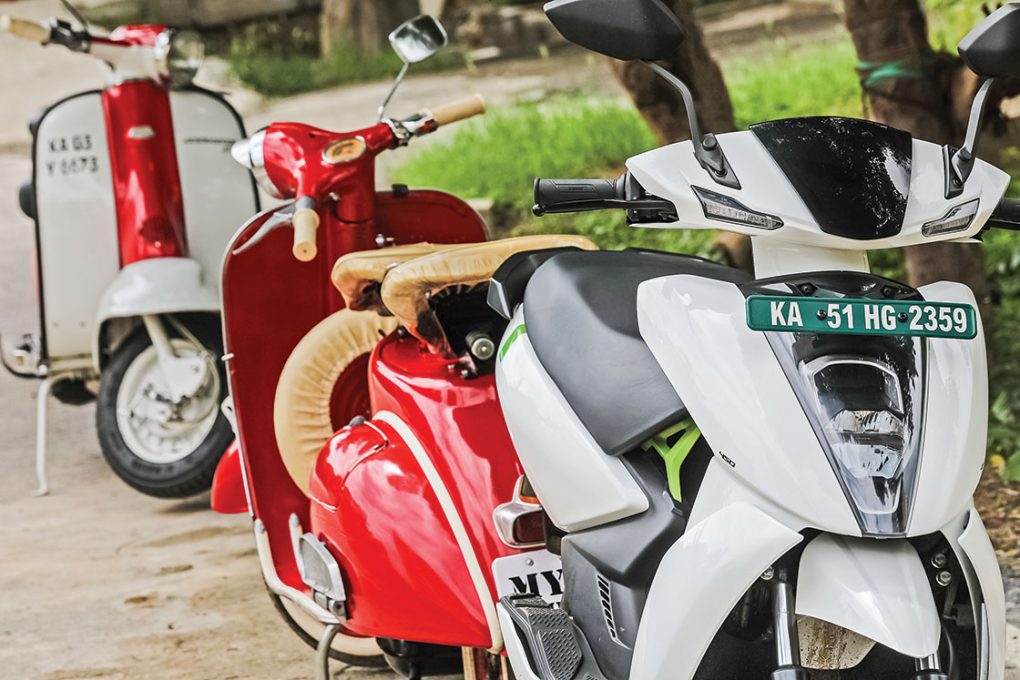 However, owners of the Vespa and the Lambretta need not go Ather-hunting just yet. The 450 makes 2.09 kgm from 1 rpm which lets it bolt from 0-40 kph in 3.9 seconds, and it also provides a peak output of 5.4 kW (7.24 bhp), numbers that are more than sufficient for city use. More importantly, the electric scooter offers a range of 55-75 km, depending on which of the three riding modes you use, Eco (50 kph/75 km range), Ride (60 kph/65 km range) or Sport (80 kph/55 km range).
You can charge the 2.4 kWh lithium-ion battery pack via the Ather Dot which Ather will install at your home or from a 5A socket, or from one of the many Ather charging points in the city — but only if said city happens to be either Bangalore or Chennai, for now. The Vespa and the Lambretta will both do 300 km on a tank anywhere in the country.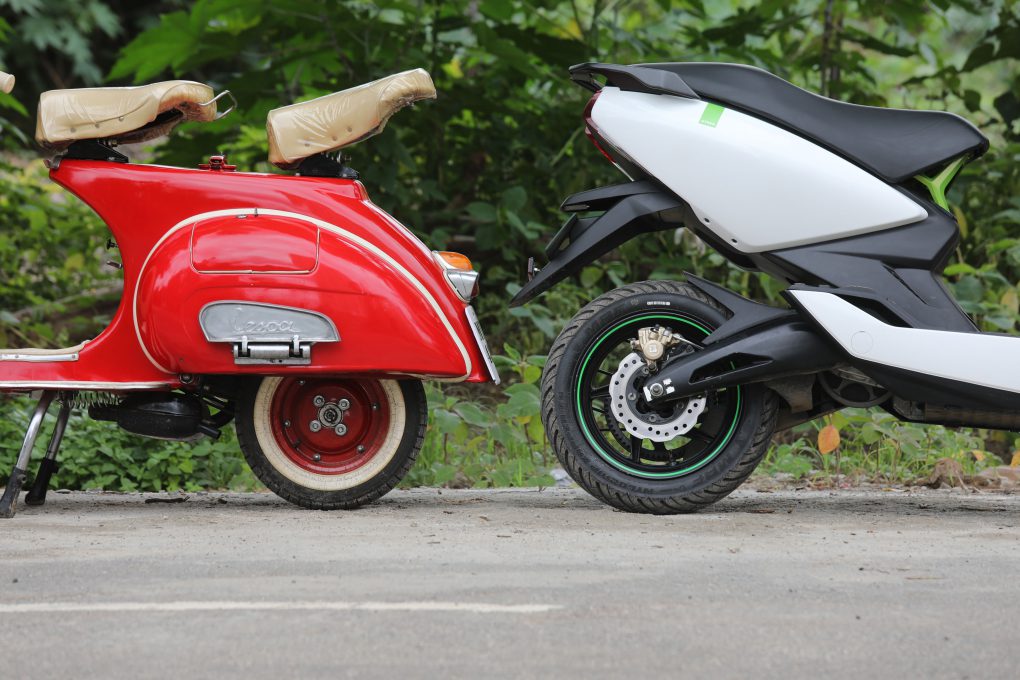 Ather has designed the 450's range around a typical commute which doesn't exceed 35 km. So, for an overwhelming majority of commuters, the Ather's range from full charge need not be a concern. And those who might still grumble will get distracted by the big capacitive touchscreen on the Ather that is yet another addition to the all-pervasive touch-swipe school of inputs, extended to two-wheelers. This screen does everything including mapping the way to your destination, which I found very useful. But the party trick has to be the reverse mode which goes up to 5 kph, but it doesn't seem to support continuous feet-up riding. Well, I had to try. However, the Ather rides very well going the right way.
The Ather carries its battery in the floorboard which makes for a low centre of gravity, and that always good news. What sets the tone for sporty handling, though, is the sight of that motorcycle-style swingarm and monoshock at the rear. The tyres, dual disc brakes and telescopic forks only add to the promise on which the Ather delivers quite well. At crawling speeds, perhaps the weight of the battery is evident in the way the Ather doesn't seem to settle its front wheel in a straight line; there's this slight wobbly feeling that I haven't come across on conventional scooters. However, get past that and everything is more than fine. This is an enthusiastic handler, whether you're slotting through gaps in traffic or sweeping around roundabouts. It's stable, too, probably more so than any other scooter I've ridden. The tyres grip well and the suspension absorbs undulations so that its rider can focus on whining ahead as rapidly as possible. What's even better is that Ather has found a way to reduce around 9 kg of the 450's weight, though that wasn't the version I was riding. That should make it even more fun to ride.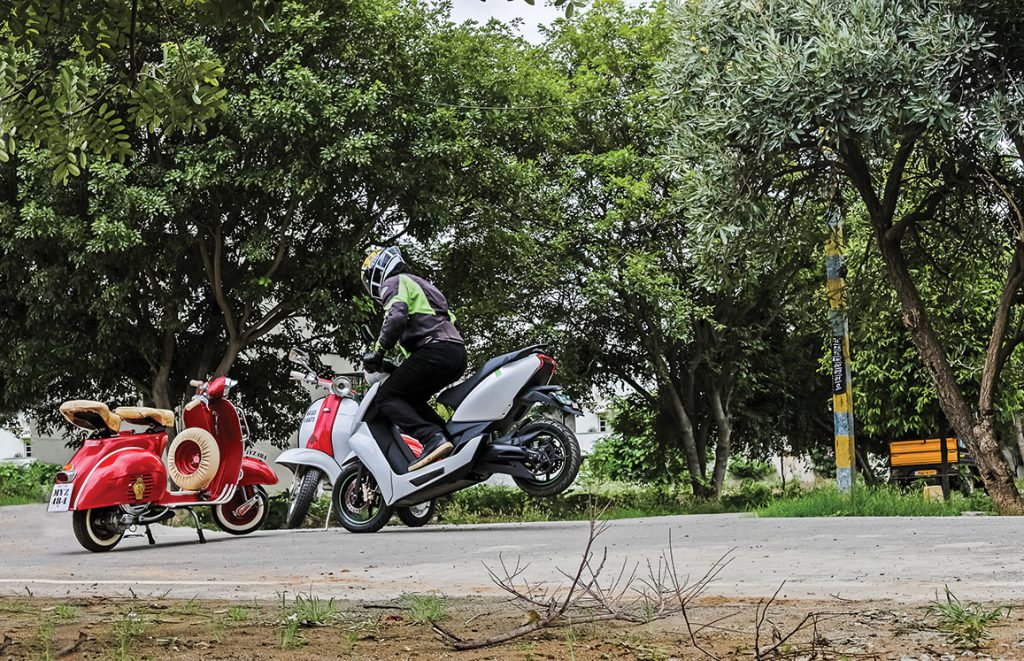 Where the Ather scythes and scoots its way around, the oldies are a bit more, let's say, colourful. The Vespa, with its side-mounted engine, feels like riding a ribbon, especially over a series of bumps. It is nimble, but it doesn't have the precision of the Ather. Neither is it expected to, I suppose. The Lambretta, on the other hand, is still a surprise; its centrally-mounted motor gives it a stability comparable to a motorcycle, and it handles far better than you'd expect. The spring-mounted seats on both bow down to the Ather's, though. There's no doubt about which one I'd ride across the city. If there was a 5A socket waiting for me and I had the charging time to spare, of course.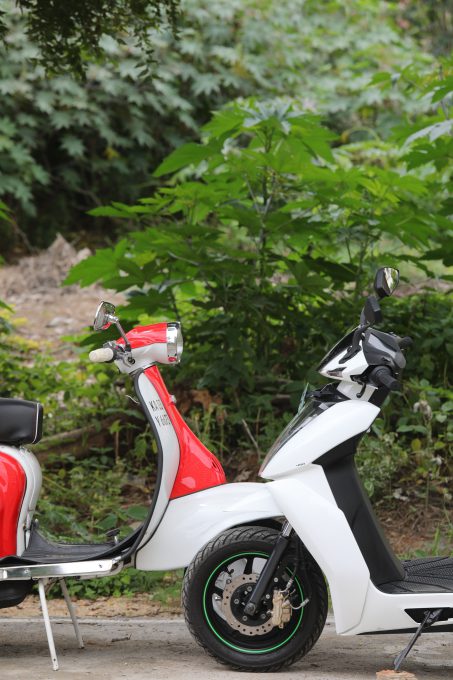 And let's just not get into appearances. The bright red-and-white Italian-designed oldies look ready for a retro-themed party, while the Ather looks like a high-tech priest. Is it as preachy, though? That's a tough one to call. Ostensibly, given the time that Ather is taking, it's not that easy to sell an electric two-wheeler in India. Using Bangalore and Chennai as testbeds might be a good idea for now. Then again, India is several different markets in one; each region has its own set of weird penchants. And convincing the people of an entire country to switch to electric vehicles on top of that? I'm not envious of the job Ather and similar companies have on their hands.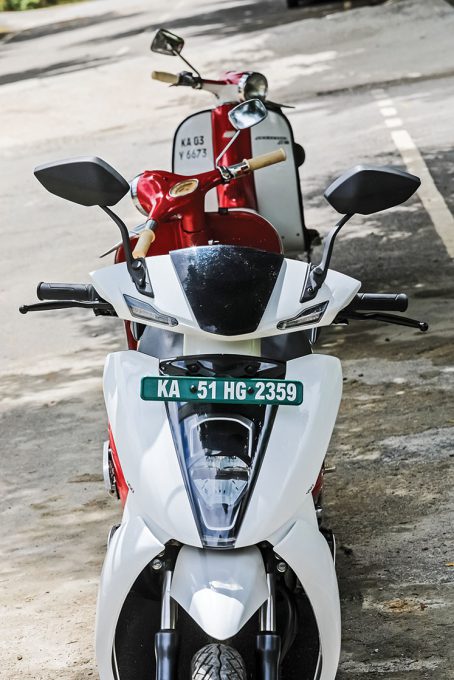 Offering a technology is one thing, vanquishing decades-old mindsets is quite another. But after riding this electric scooter, I can say that there is hope, even at its current (heh heh) asking price. There is still a long way to go, but the Ather 450 confirms that we're firmly on our way. Scooters are practical, so it makes sense to make an electric one. They are also beautiful, as the Vespa and the Lambretta prove. Heck, the Ather has even made scooters cool. However, I've never been a fan of knee-knockers, so I'll wait for that Ather motorcycle to come along. The future's sure taking its time.
MOTODATA
Ather 450

POWERTRAIN
Motor: BLDC type
Battery: 2.4 kWh lithium-ion pack
Max power: 5.4 kW (7.24 bhp)
Max torque: 2.09 kgm
CHASSIS
Type: Aluminium-steel hybrid frame
BRAKES
F/R: 200-mm disc / 190-mm disc
TYRES
F/R: 90/90 R12 / 90/90 R12
DIMENSIONS
L/W/H (mm): 1800/700/1250
Wheelbase: 1278 mm
Ground clearance: 160 mm
Seat height: 765 mm
Kerb weight: 111 kg
Range: 55-75 km

PRICE: Rs 1.13 lakh (on-road)