The KTM 390 Duke was never just a motorcycle — it has always been a manic demonstration of the Austrian company's 'Ready To Race' philosophy. I've always thought of it more as 'Ready To Rage', though, even despite its relatively small size. And with this third-generational rebirth, the 390 Duke heightens the sensations that a Duke is obliged to proliferate — agility, performance, and above all, sheer drama.
The excessive theatrics began the moment I saw it for real, the unashamedly orange one that made me see ginger spots for several moments after taking my eyes off it. It made the other blue-grey-orange version look decidedly far more civil, though even that's stretching the term a bit. The 390 Duke is a suitably radical escalation of a design brief that's always seemed to be just one word — outlandish. Seen head-on, I thought the Duke did an excellent impression of a high-tech arachnid reaching out for a hug, while those tank extensions seemed to continue their inexorable march to the front axle. Going by their rate of progress, they should get there by the fifth generation.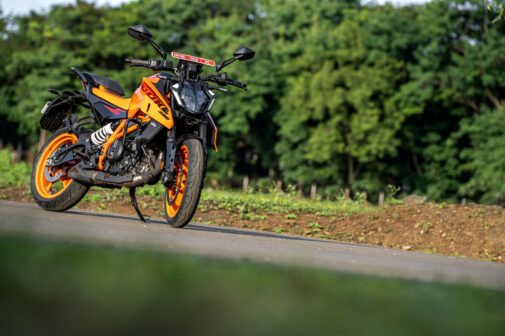 That wide head-on stance was decidedly at odds with the compact nature of the rest of the bike, but I thought the two contrasting attributes worked well enough to endow the Duke with presence and keep it fun-sized at the same time. There was also the lovely aluminium rear subframe that should've been highlighted better on both colour options; it's a rather exotic bit of design that deserves its pride of place. The underbelly exhaust makes a return, along with a debut for the offset monoshock, while a neat little tail-lamp marked the end of a stubby profile. Elsewhere, the step up in quality was obvious, too; the switchgear and rearview mirrors were top notch, and the TFT colour screen was easily navigated through as well.
In a personal parallel with the theory of continental drift, I think with each passing month I'm slipping away from the demographic that KTM's design evolution aims at. What will never fail to get my unfailing interest, though, is the promising eruption that KTM attaches to the starter button. The damru-like idle of the first-gen Duke is back, albeit in a different and deeper voice, thanks to the larger 399cc single. And as has become customary with a 390 Duke, I immediately pinned the throttle to its stop, and found a new intake roar filling up the air around me at all engine rpm. Aurally, the bike was certainly in consonance with the frantic manner in which it gathered velocity.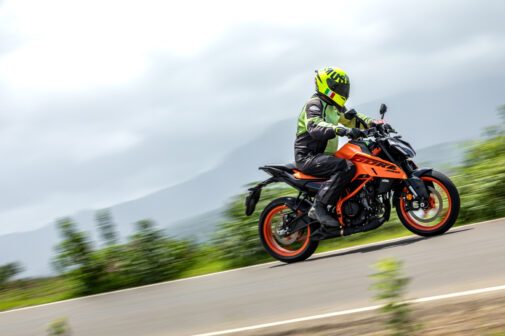 And even though the new engine screamed to its redline in the first four gears with zeal, its longer-stroke character was rather evident; claimed performance figures stand at 0 to 100 kph in 5.4 seconds and a top speed of 155 kph. The bottom-end and mid-range were noticeably robust, but I saw an indicated top speed of 'only' 160 kph, the last 10 kph of which was achieved with more struggle than I expected. This has no relevance in the real world, of course, and is only valuable when racing events are conducted on keyboards and/or benches. What I found way more beneficial was the new engine's enhanced flexibility; it pottered along in sixth gear at 45 kph without turning into a mass of jerks measurable on the Richter scale — which is unprecedented if you've ever tried it on any previous 390.
Mind you, this newfound friendliness in no way diminished the Duke's inherent necessity of possessing a riotous demeanour; it only complemented it to make for a bike that a lot more people can get along with. And no one's going to care about that except those who are hellbent on complaining anyway. Okay, so I did feel that the 390 Duke was certainly more vibey than most new bikes I've ridden recently, but that's only an observation, a trait that enhances the all-important aspect of  involvement on a bike such as this. Perhaps it could be enough to bother some riders, but if they're doing what they're meant to do on a 390 Duke, it won't be a problem, especially given the engine's perpetually strong and linear response. It almost made me miss that kick the previous motor had. Nah, not really. You know why? It's because of the most important changes on the Duke.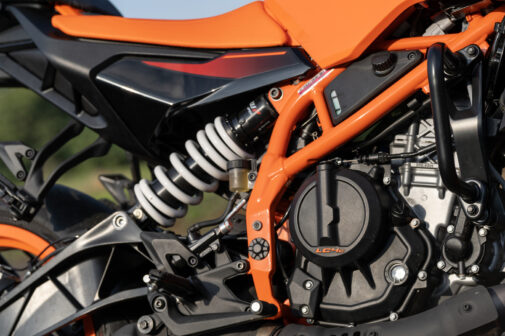 Now, the 390 Duke's never been short on explosive thrills, but it has always broken its riders' backs on less-than-perfect roads. Finally, we have a chassis and the suspension to chaperone that engine's exuberance. First off, in my experience, every motorcycle with an offset monoshock has always handled differently on its left and right sides — that is certainly and pleasantly not the case with the new Duke. The substantial swingarm along with robust mounting points for the monoshock meant that there were no shimmies when cornering the Duke on either side. That's quite something, I say. And that's just the beginning of this chapter of the story.
The prologue to said story, though, is the Duke's 168-kg kerb weight. The new bike's compactness might not sit well with everyone, but it's the very thing that sets the tone for its near-telepathic responsiveness. In terms of the riding triangle, it seemed to be somewhere between the first and second Dukes, and it only seemed to be a tight fit when my 184-cm self was crouching down on the Chakan test track's main straight. Everywhere else, it was totally fine, though KTM will offer an optional 820-mm seat for those who need more space between the seat and the footpegs.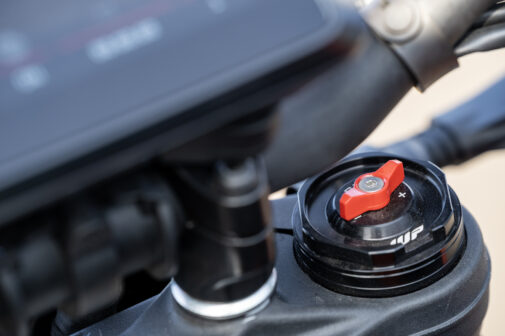 The Duke gets adjustable suspension; five steps of compression and rebound damping at the front, and five steps of rebound and 10 steps of preload at the rear. I rode the bike only with the factory settings and found the setup to be absolutely spot on for my 90-kg self. And it's impossible to overstate just how spectacular the Duke felt, whether during the five laps on the Chakan track or while tackling horrendous broken stretches outside. The Duke always displayed a reassuring poise no matter the surface, with a well-damped behaviour that never threatened to do anything except what it was supposed to. And the brakes were strong as well, with great feel and stopping power. This composure, combined with the engine's firepower, meant endless liberating bouts of precise violence.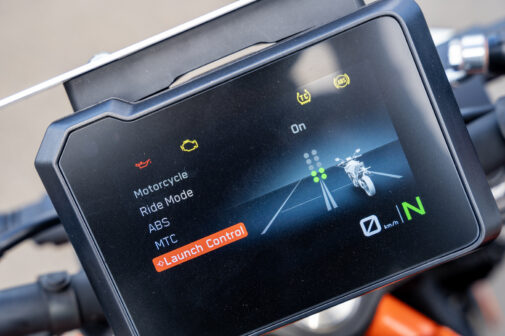 The gearshift feel was the same as before because the gearbox is unchanged. I was quite okay with that, even though I do think the feel of the mechanism could've improved on this all-new bike. What I couldn't fathom even more were the electronic 'riding aids'; I'd refer to the phrase's second word in the medical sense for these gimmicks, really. The quickshifter's sensitivity is better suited for setting landmines on a battlefield than on a motorcycle's gear lever. Also, on a couple of occasions, there were random ignition cuts at full throttle, even though the quickshifter was off. And as for launch control, well, my broken limbs did a better job the couple of times I tried it. I really wish KTM would leave out these extraneous 'features' on a bike that claims to be '#Nobullshit'.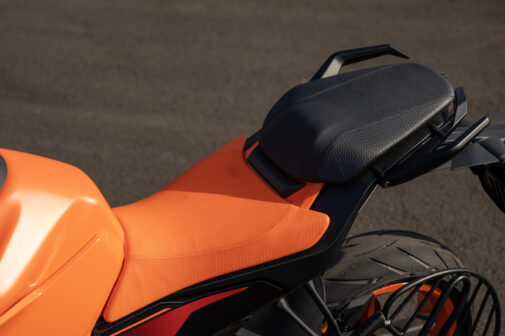 Also, the orange seat was a bit too much on the similarly-coloured version. What next, orange tyres? Also, keeping that thing clean will be a challenge, not to mention that it became a bit uncomfortable for me after about an hour. But my biggest gripe turned out to be the usual — tyres. Even in a straight line, whether accelerating hard up the bottom gears or braking hard (usual events on a 390 Duke, of course), the H-rated Metzeler Sportec M5s squealed loudly, and in corners they felt 10 years old, which they are of course. At least on a bike as hell bent on going fast as the 390 Duke, KTM should install the best possible rubber out of the box — I'd say go all in and spoon on M9RRs already for the street-based 390s. And that's what I'm going to advise all the people I know who are already lining up to buy this bike. I can't imagine asking them not to go for the bike, after all.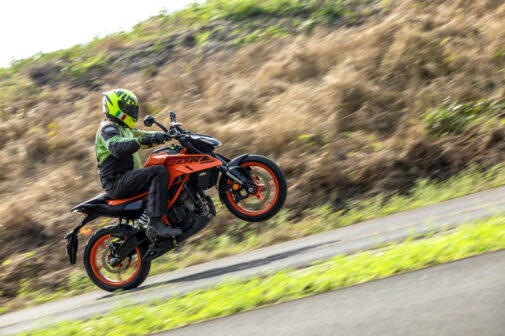 The new 390 Duke works exceptionally well, both as an outlet for youthful exuberance, and as a means of kicking a mid-life crisis in its face. It has all of its focus on performance but with newfound calmness that makes it faster everywhere. That also means that its all-round friendliness increases its appeal to a wider base. The first-gen 390 Duke was uncompromising in its approach, while the second one was more agreeable — the third-gen Duke takes the best attributes of its two forebears and moulds them into a well-rounded personality that still has more of an edge than other motorcycles. In a year full of new motorcycle launches, most of which deserve our attention, the 390 Duke leaps directly under the spotlight screaming bloody murder. As far as celebrations of motorcycling go, few bikes get as good as this. And no matter what your inclinations, that's bound to make anyone smile. When it comes to the things a 390 Duke must excel at, this one is the greatest yet!