There is a reason why the latest Royal Enfield Continental GT 650 features here all on its own, and not with the updated Interceptor. That's because it's a café racer, not just any other motorcycle, and I have a special parking spot for it in my heart's garage. Now, you might think that a different tank and riding triangle may not make much of a difference to a motorcycle that's essentially the same as its better-selling twin, but that'd be a big mistake. The Continental GT was always inexplicably more exotic than the sum of its parts would suggest. And now it's even better.
By now, you must've heard that it gets a new LED headlight, and adjustable levers and switches from the Super Meteor, which definitely help improve the perception of quality. And as you can see, there is now the option of a blacked-out theme in two variants, which I'm not too sure about — although, I bet this will be a lot easier to keep clean and will remain fresher-looking than the buffed-metal version, so it's definitely something worth thinking about. The other big change is the cast-alloy wheels wrapped with Vrdestein tyres, but more on that later. Overall, though, the changes do make the Continental GT look more fetching, even if I couldn't help wondering if it'd look better with the wheels painted in one of the blues on the tank.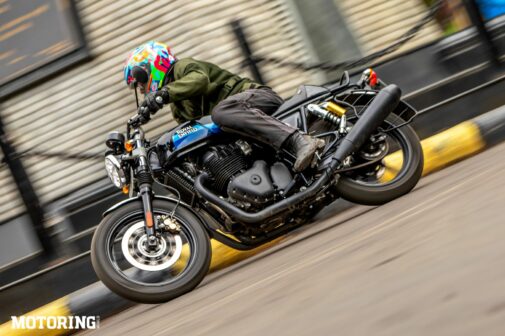 What's also a lot better is the already different riding experience of this café racer. Every aspect of riding is amplified on the Continental GT: the revs always soar higher, the brakes are used harder, and corners are invariably witness to greater lean angles. This is what sets it apart from the Interceptor, and also slashes its rider's age by half every time you let the clutch out. You feel the bike more through the lower 'bars and the rearset 'pegs, and even the tank's shape seemed to give me more feeling through the knees. And all those right sensations are now enhanced by the Vrdestein Centauro ST tyres as well.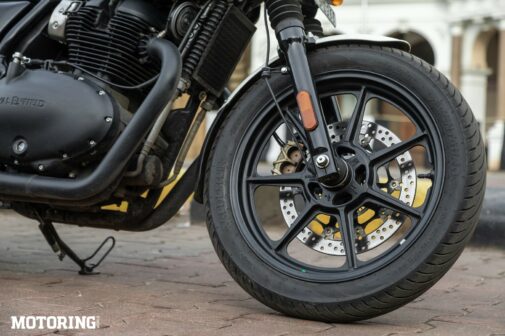 I found myself not worrying about grip, and this was a most reassuring thing on a motorcycle that encouraged sporty riding all the time. Whether it was on the throttle or on the brakes at lean, the tyres never once threatened to let go. On Mumbai's various road surfaces, this was quite the achievement. The inherent stiffness of the cast-alloy wheels also made for a tighter feeling than the older wire-spoke wheels. And the inevitable convenience of tubeless tyres was the very enticing cherry on top of the cake.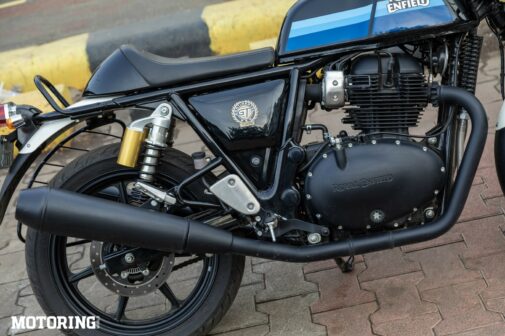 The suspension was still decent enough for most purposes, but carrying inevitably higher speeds on bumpy roads (which means pretty much everywhere) tended to make the bike squirm around a bit. I know it has an old-school heart, but I'd want a bit more finesse (perhaps even a USD fork) on this bike. It certainly deserves it. Also, the meters are now clearly showing their age, and the fuel gauge is as erratic as ever. And as I have over the past five years, the Continental GT has also put on some weight; it's now 214 kg, though I never really felt the difference, to be honest. Like me, it was always big-made to begin with.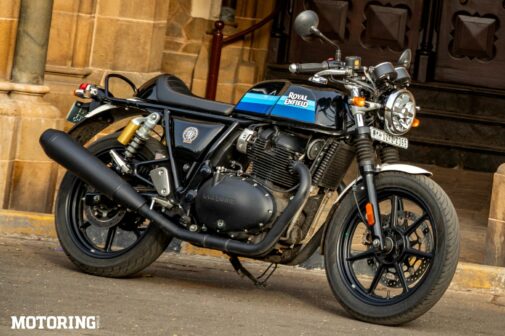 Nonetheless, the bike has changed a bit and for the better. What hasn't changed is the state of riding mind it puts me in, and that's a very good thing. Hammering down the gearbox into a corner and grabbing a big fistful of throttle on the way out remains a very satisfying experience with this bike. Only now, it's better at it. And it still looks like a superstar wherever you park it, something that only a timeless shape will allow. To not consider this motorcycle is like leaving a heart-touching song unheard. That's why you should give it a go, especially now.
MOTODATA
2023 RE Continental GT 650
POWERTRAIN
Displacement:
Max Power:
Max Torque:
Transmission:
647.95cc, parallel-twin
46.80 bhp@7250 rpm
5.33 kgm@5150 rpm
6-speed
CHASSIS
Type: Tubular steel double cradle frame
BRAKES
F/R: 300-mm disc / 240-mm disc
TYRES
F/R: 100/90 R18 / 130/70 R18
DIMENSIONS
L/W/H (mm):
Wheelbase:
Ground Clearance:
Seat height:
Kerb Weight:
Fuel Capacity:
2119/780/1067
1398 mm
174 mm
NA
214 kg
12.5 litres
PRICE
Rs 3.39 lakh (ex-showroom)