Photographs by Kingdom Creative
In an ideal world, motorcycles would grow on trees and human intelligence would be mandatory. But we live in a world where logic is often elusive and motorcycles are seen as an extension of self identity. The reason retro styled motorcycles are making a strong comeback is because once all the dust settles, beauty does lie in simplicity. It is a prompt reminder that even though motorcycles have improved vastly over the years, gone are the golden days of motorcycling. 
Of course, Royal Enfield has gone and rendered all forms of logic completely void with the launch of its 650 twins in India. Paint it whichever way you will, but there's no denying that these are succinctly versatile motorcycles for an absolutely jaw-dropping price tag. It was only a matter of time before other manufacturers needed to come up with viable new strategies to keep themselves afloat in the game of motorcycling. The group of owners that seem to be, well, for lack of a better word – bitter for the most part, would be the those of the Street Twin. All of a sudden there's no real way of justifying why their motorcycles cost so much; despite being a slightly better machine, anyway. So before the smaller and mid displacement creations from the Bajaj-Triumph partnership roll out in 2020, Triumph's thrown in an absolute beef cake for current Street Twin owners to look forward to. Crudely put, the Speed Twin is basically the Venom to the Street Twin's Spiderman.
Cue heavy industrial rock music as the Speed Twin rolls on stage to proclaim its dominance over the motorcycle world. This is a moniker that Triumph has resurrected from the late 30s that still rides on the same beliefs as it did back then; aggressive performance that's accessible to all. At its core, the Speed Twin is a proper roadster that's bundled up into a suave modern classic package. And boy, does it look ravishing. It's got all the styling cues from the Bonneville family, but in a seriously more bulked up form. The beauty of all this is how Triumph has managed to still keep it relatively compact and non-intimidating.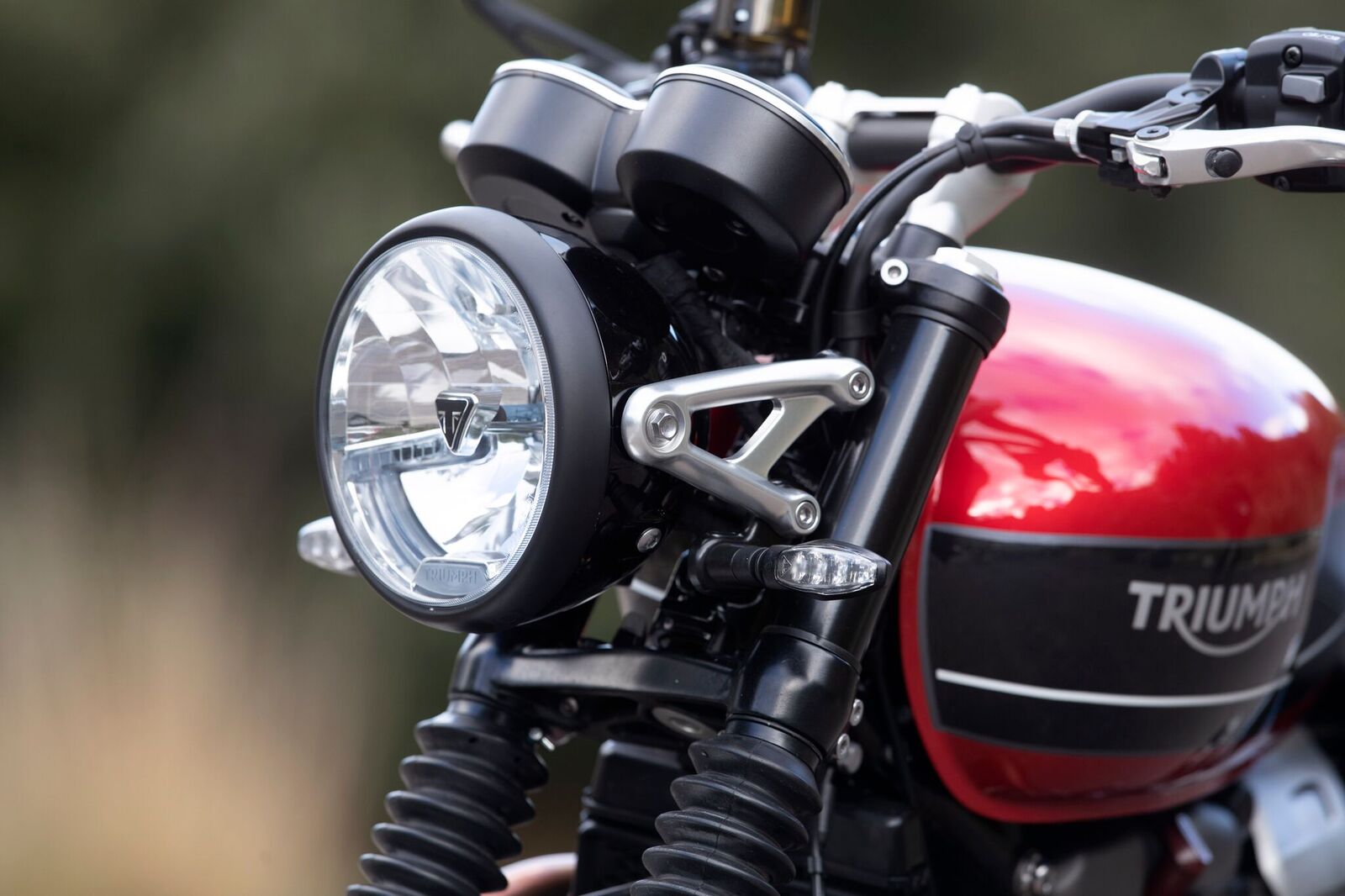 Beneath its chiselled good looks, the attention to detail and part quality is simply exquisite. From the brushed aluminium fenders and throttle-body covers, to the bar-end mirrors, the Speed Twin really does grab quite a few eyeballs. Even the twin-clock speedo console has a very authentic, retro air about it, with inlaid digital displays for the other information you need. But it's the overall stance that really lures you in. It's got a slightly forward inclined stance that gives it an air of authority without making it seem overly aggressive. The chassis and engine are derived from the existing Thruxton, albeit with a few tweaks and updates to keep it abreast with the latest engineering developments.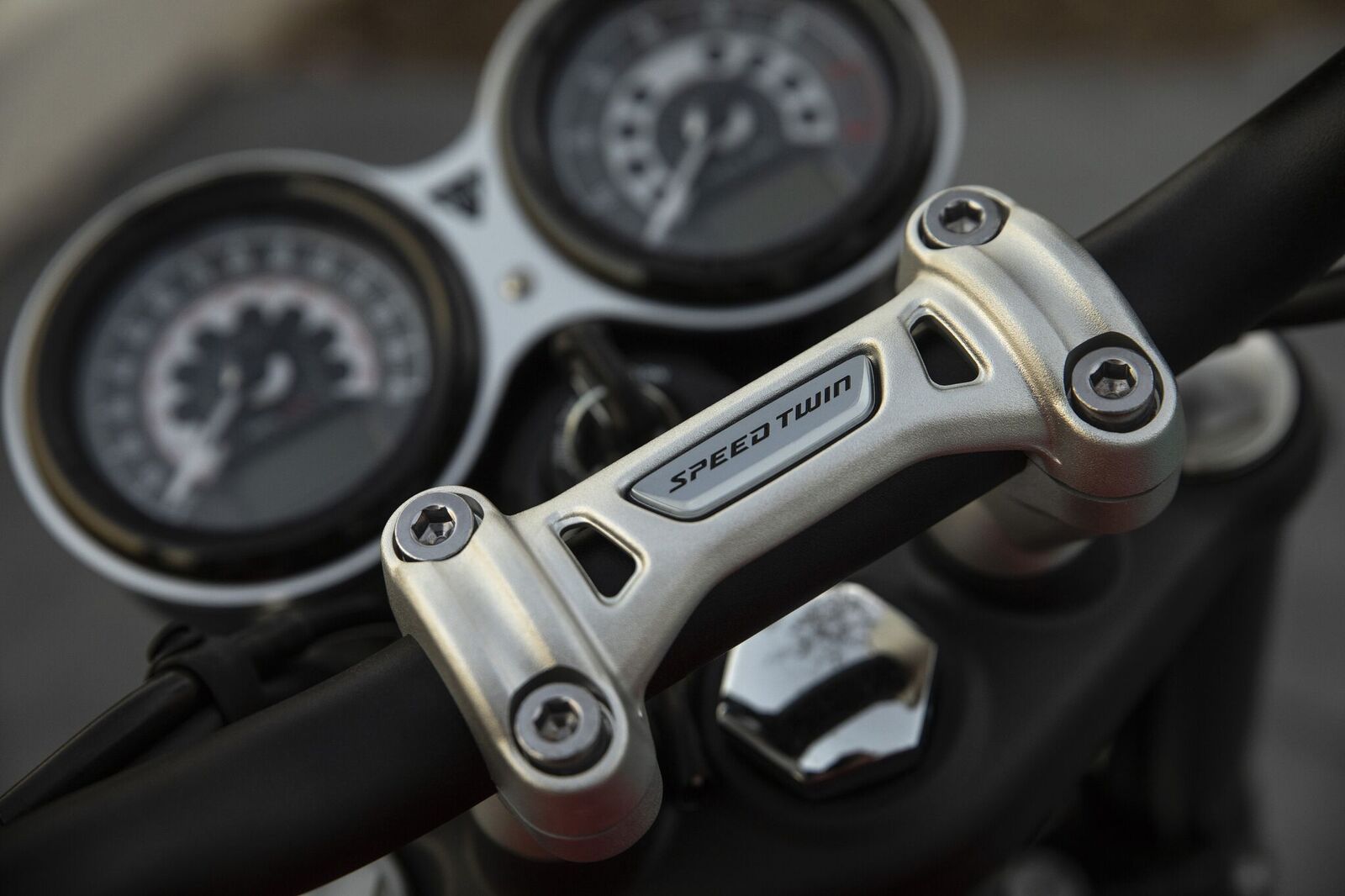 What this translates to is a motorcycle that's a whole 10kg lighter than its donor bike; it's even 7kg lighter than the Thruxton R. This weight saving comes in the form of a front wheel and disc assembly that's 2.9kg lighter, a rear wheel that's 1.7kg lighter, and a 2.5kg lighter engine thanks to new magnesium cam covers, a revised clutch assembly and optimised engine casings. The point of this all? Reduced inertial mass for a more engaging and responsive riding experience. Of course to keep things from becoming a little too reactive, it's also got a 15mm longer wheelbase, a 0.1-degree change in rake and a 2.7mm difference in trail.
Get aboard the bike and it's an oddly familiar feeling. It's like an amalgamation of the seating positions of the Street Twin, the Thruxton and, even more oddly, the Street Triple. While the two former ones seem a little more plausible, the latter stems from the fact that the handlebar is derived from that of the Street Triple. It's a comfortable position, this one. With the seat being a very accessible 807mm, and having 10mm more padding than the Thruxton with a revised structure for better cushioning.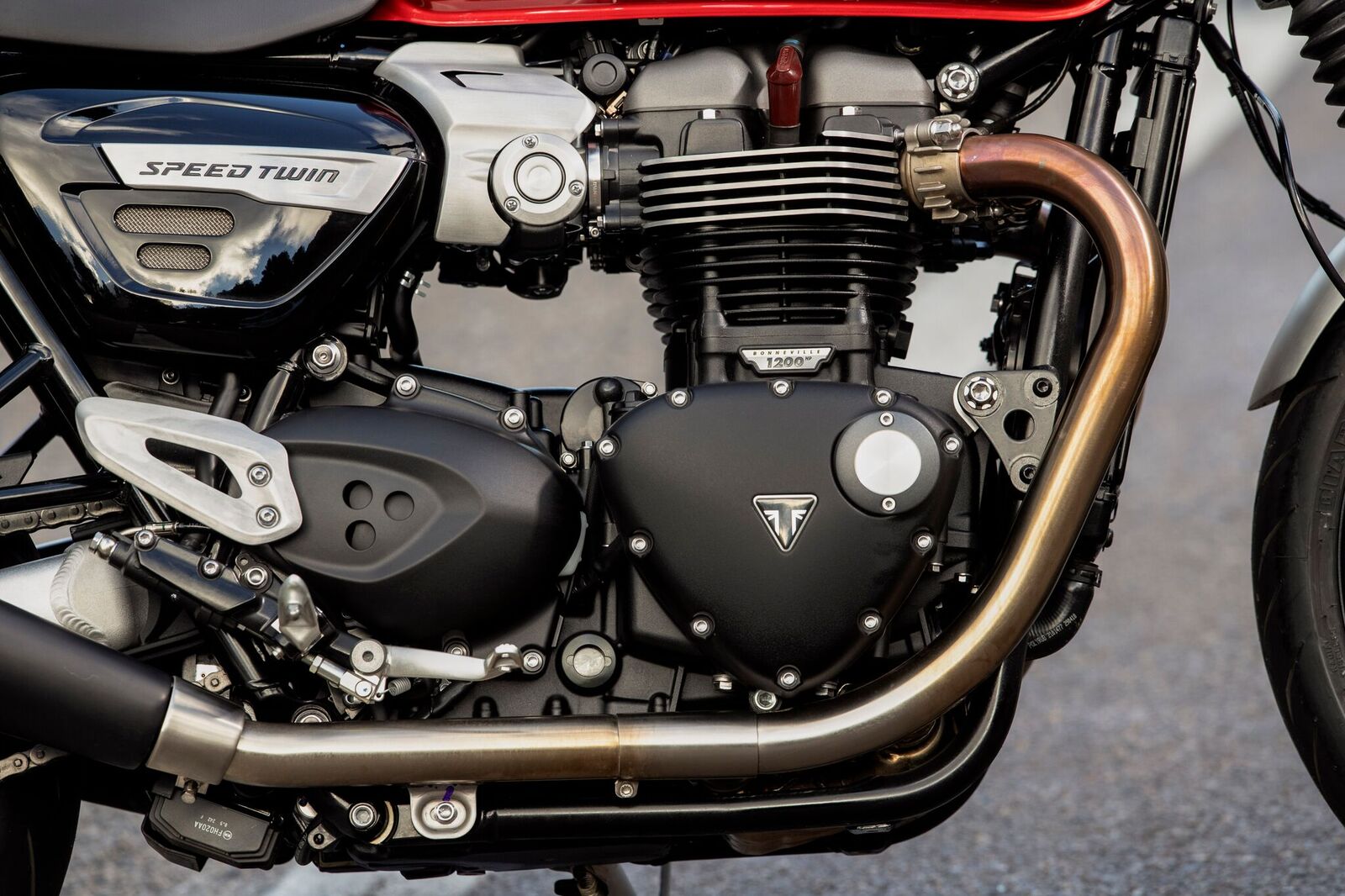 But beyond all the frills and luxuries, the engine is the real star of the show. While we already knew how absolutely bonkers this torque rich engine felt on the Thruxton, it's been updated for even more free-flowing torque and responsiveness. This 1200cc engine in its High Power guise churns out a healthy 96 bhp. But it's the 11.4 kgm of torque that really gives you a very satisfying amount of grunt, no matter the gear. Overall, the engine has a very eager, ready-to-pounce kind of feel about it, but it's still perfectly happy ambling about in the lower revs. The ride-by-wire throttle feels decently smooth and allows for a 3-stage traction control system that can be switched off for some of the more despicable antics. These different modes are dialled into the traction control system and also allow for different throttle maps that can be customised in conjunction with it to suit rider preferences.
As with all Triumphs, the riding experience is so much more than just a sum of its parts. The beauty of simply how willing and forgiving this bike is to ride is what will lure you in. The chassis behaviour is sublime; the enthusiasm with which the Speed twin dips into corners is immediately noticeable. What's commendable, though, is the way the bike stays well planted through the corner while you simply ride the waves of torque, and power out in a higher gear with no protest from the engine whatsoever.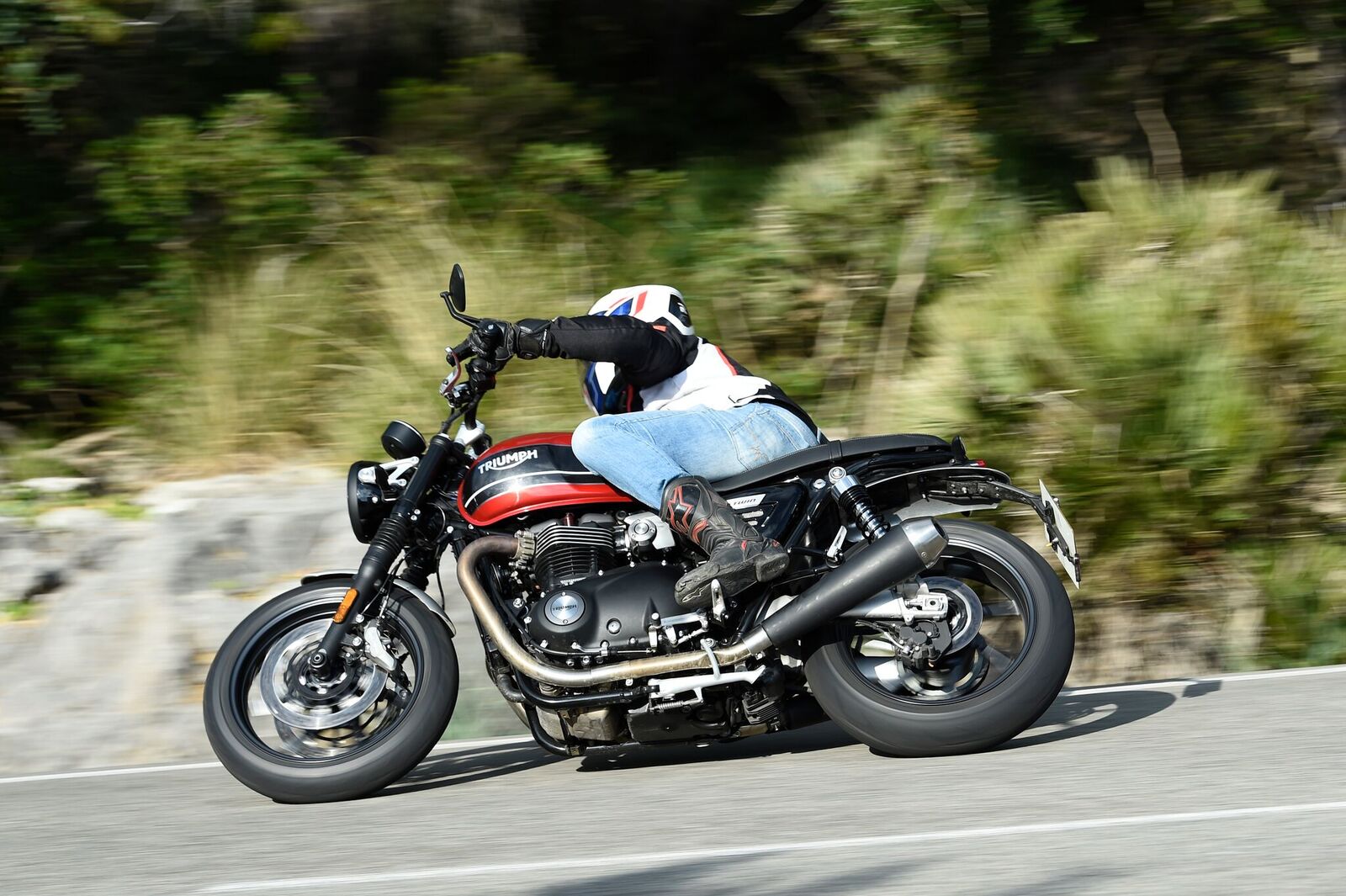 While riding through the villages, countryside, twisties and motorways of Mallorca, Spain, we got a mix of road surfaces that really allowed us to gauge the pliancy of the suspension setup. In all honesty, I'd say the suspension does a perfectly acceptable job of keeping things predictable and manageable at all times. There's a non-adjustable KYB fork setup at the front and preload adjustable twin shocks at the rear. Not exactly in the premium books, but they do a perfectly acceptable job for most situations and riders on road conditions.  The bike also comes with Pirelli's Diablo Rosso III tyres that work wonderfully once they're warmed up. For wet conditions, Rosso IIs are also available as an additional buy. The twin Brembo brake setup at the front leaves little to complain about; feel and bite are spot on.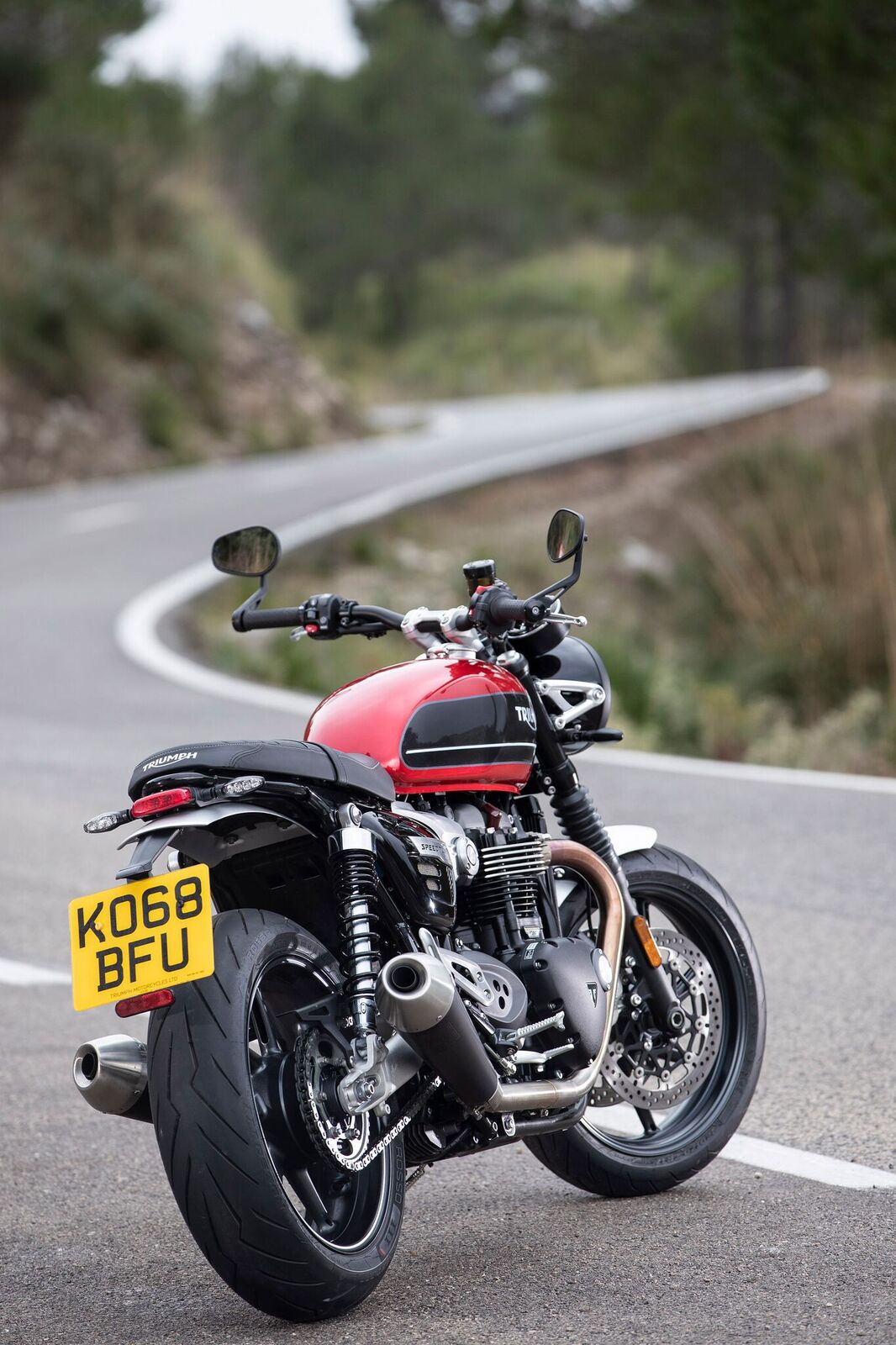 As we've come to expect from Triumph's latest generation of retros, you get a properly modern motorcycle to ride that harks back to a long and rich heritage. The unmistakeable sound of a British twin is a constant reminder of that. Triumph's new Speed Twin is so more than just a more manageable Thruxton. It's fast, it's comfy, it's easy to ride, and it looks just amazing; most importantly, it's a whole lot of fun. For a Street Twin owner looking to upgrade, you won't be disappointed. Triumph has kept the pricing under wraps for now, but rest assured, it does plan to take the fight to RE from a different angle. All we know for now is that Triumph is aiming for a pretty enticing price when the bike does launch. Until then, we'll just soak in all that retro aggression and simply admire the Speed Twin for what it is.