In Sardinia, Ducati and Audi collaborated for a special event. The new Ducati DesertX and the Audi RS Q e-tron were the stars of the first special event organised by Ducati and Audi with the riders, who were joined by Danilo Petrucci, Dakar 2022 stage winner, and official Audi drivers along with their co-drivers Emil Bergkvist, Stéphane Peterhansel, Edouard Boulanger, Carlos Sainz and Lucas Cruz.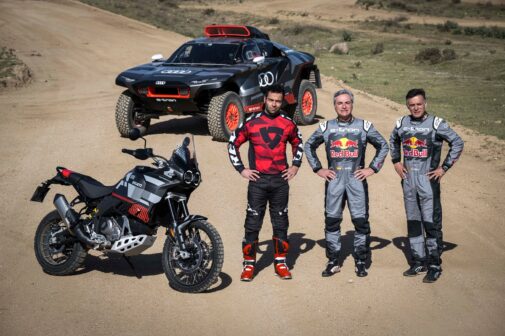 To commemorate the occasion, the Centro Stile Ducati produced an exclusive DesertX livery based on the RS Q e-tron. Petrucci rode the DesertX together with Sainz/Cruz duo on a tough off-road course, putting on a fabulous display of skill. Well, you can see for yourself.
The DesertX is equipped with a 21-inch front wheel, 18-inch rear wheel, extended suspension travel and plenty of ground clearance to take on the toughest off-road challenges. Powering it is a 108-bhp Testastretta engine that generates 9.38 kgm of torque. This engine is the same as the one found on the Multistrada V2, although it is tuned differently. There are six riding modes (two of which are designed for off-road use: Enduro and Rally), which operate in tandem with the four power modes to change the engine's power and responsiveness.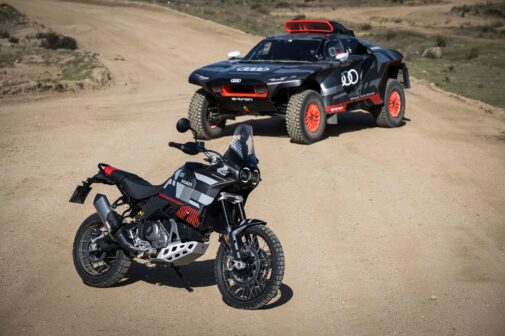 Audi's rally prototype for the desert, the RS Q e-tron, epitomises efficiency at its finest. Last January, the RS Q e-tron made its Dakar Rally debut, winning four stages and winning the Abu Dhabi Desert Challenge for the first time in March. Both the machines are spectacular in their own way. We can't wait to ride the DesertX when it comes to India later this year.