Ultraviolette Automotive has commenced deliveries of its F77 electric motorcycle. The first units are being delivered from the company's Bangalore plant, but it plans to open its first dealership next month. The company is establishing a network of dealerships nationwide, making it easier for customers to purchase and service their Ultraviolette electric vehicles. Ultraviolette is also accelerating its expansion into new international markets, where it sees a growing demand for performance electric motorcycles.
The F77 was launched in November last year by the Bangalore-based EV maker. It is available in two variants, the F77 and F77 Recon, priced at Rs 3.8 lakh and Rs 4.55 lakh (ex-showroom), respectively. Both variants of the F77 come in three forms, namely Airstrike, Shadow, and Laser which reflect three striking personalities. The base F77 packs 36 bhp and 8.66 kgm. It comes with a 7.1 kWh battery offering a range of 206 km on a single charge. The F77 Recon uses an electric motor that develops 39 bhp and 9.68 kgm. It is powered by a 10.3 kWh battery pack which offers an IDC range of 307 km.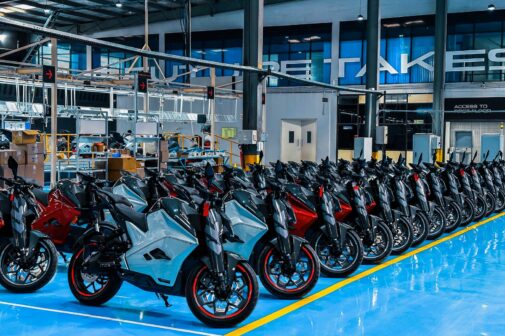 Ultraviolette also offers a special edition of the F77, limited to just 77 units. It comes with a 40 bhp electric motor with a torque output of 10.19 kgm. This version of the bike is said to accelerate from zero to 100 kph in 7.8 seconds and has a top speed of 152 kph.
'The F77 is a result of our pursuit of creating an electric motorcycle that is a head-turner across all parameters. Its stunning design and exhilarating performance are one-of-a-kind and proudly Indian in every aspect. We cannot wait for customers across India to experience the F77, and we are deeply committed to taking the brand global. We are confident that our vehicles will exceed our customers' expectations and that we will continue to drive innovation in the electric vehicle space', said Narayan Subramaniam, CEO and Co-founder of Ultraviolette.
To support the next stage of growth, Ultraviolette is also announcing plans to raise $120 Million in a fresh round of investment. The funds will fuel the company's global expansion plans and support its ongoing vehicle platform development efforts.