With all the buzz going around MotoGP in India, one cannot expect TVS to just sit behind on the sidelines. After all, TVS is among the select few homegrown manufacturers actively involved in motorsports. Keeping an eye on the future, TVS Racing has announced India's first-ever electric racing championship for two-wheelers — the TVS Racing Electric One Make Championship, abbreviated as the TVS Racing e-OMC, although given the circumstances we'd like to say it's more OMG!

The TVS Racing Electric One-Make Championship will make its debut during the fourth round of the upcoming Indian National Motorcycle Racing Championship, better known as the INMRC to a lot of enthusiasts out there. This is scheduled to take place on September 29, 2023, and TVS says it will hand pick eight riders for the first round of this championship.

Accordingly, TVS Racing has developed an electric Apache for this championship, known as the Apache RTE, and in this case, RTE stands for 'Racing Throttle Electric.' The Apache RTE is likely an electric equivalent to the combustion-engined Apache RR 310 OMC, which we were privileged enough to get our hands on for a track session.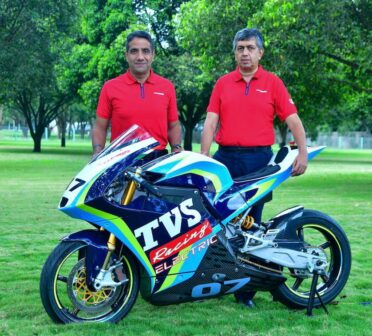 Although no specifications are known about the motorcycle just yet, TVS Racing tells us that the race-spec Apache RTE is powered by a liquid-cooled electric motor (obviously!), and it gets a carbon fibre battery case acting as a stressed member of the chassis. The battery management system is custom-built and gets race-specific algorithms to help with configurations and also to help you be safer on the track, given the safety stigma around EVs in general. The race-spec Apache RTE relies on Brembo discs for stopping, and there's a bespoke Ohlins suspension on both ends as well. The wheels are made of carbon fibre and are shod on Pirelli Super Corsa tyres, which is surprising because the RR310 OMC gets TVS Eurogrip Protorq Extreme tyres. A chain-driven motor spindle drives power to the rear wheel, and of course, it proudly adorns a unique livery with TVS Racing colours and graphics.

Given that TVS Racing has developed a race-spec Apache RTE, we think that a road-spec electric Apache definitely exists, and might make its way onto our roads sooner than we think. We can expect most learnings from the e-OMC to be implemented on future TVS products, given that it already does that in the combustion-engined department.