Playing Dirty
The monsoons are receding, and that means that the lush…er, slush is going to disappear in no time. Riding in the gooey stuff is great fun and since the speeds are slower, chances of hurting yourself are lower as well. Unless you do something stupid like riding off a cliff, of course.
Slush needs some preparations. Most motorcycles can and will do decently well in mud, but they need some tweaking beforehand. Super sports riders though, stick to the tarmac please. There's a lot that can go wrong when a Panigale is made to wading through knee deep muck.
So, without much ado, here is how you can turn your everyday motorcycle into a machine that will gladly drag you through the mud:
Tools needed:
Basic tool kit, a couple of clean rags to wipe up after
Procedure:
Tyres:

Tyres are the most important thing that will make or break an off-road experience. We recommend proper knobbies to anyone who is serious about riding their bikes in the mud. Stick to the stock sizes though and remember that knobby tyres are horrible on the road.
 

Sprocketing:

Going a tooth or two up on the rear wheel sprocket will bring the torque output of the engine at a lower road speed. That's what you want because it's hard to hit 60 kph in second to wait for the torque to kick in while you're losing the fight to maintain traction all the while. Going a tooth smaller on the gearbox sprocket does the same thing but the effect is more dramatic. Hence, stick with the rear wheel ones for a gentle graduated effect. Making friends with your local spare parts guy would go a long way in sourcing the right combination for your motorcycle. And if he's a real nice guy, enjoy that cup of tea which is on the house!

Weight:

Pushing a chair is much easier than pushing a shipping container. The same logic applies to your motorcycle. Lose as much weight off the bike as is possible. Every little bit matters. Leave only stuff that is necessary for the bike to be ridden. Like the forks, engine, wheels and frame. Besides, this way, there's less stuff to break when you lay the bike down. And you will lay the bike down sooner or later. Also, those lightweight high plastic mudguards that dirt bikes have, prevent mud from collecting between them and the tyre which could cause the wheel to lock up.

Riding kit:

Although this is not stuff you can do with your motorcycle, but it's imperative nevertheless. Always kit up. A pair of sturdy calf high leather boots, a helmet, a riding jacket and gloves are the least amount of kit you should have on you when you ride.

Handlebars and footpegs:

If your bike has clip-ons, ditch them and slap on an old-school braced wide bar instead for better leverage and a more relaxed riding position. If possible, move the pegs to a more neutral position and if you can find the bear trap ones, bolt them on immediately for your feet to have better grip while you're riding. But remember that they can peel hefty amounts of skin off your calf if you're not careful.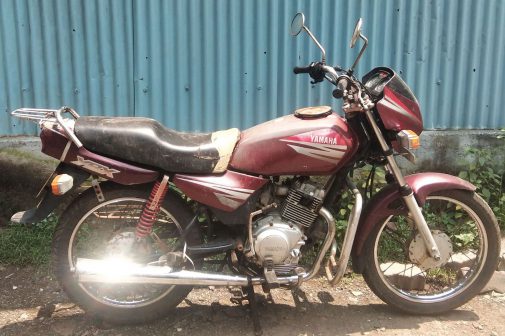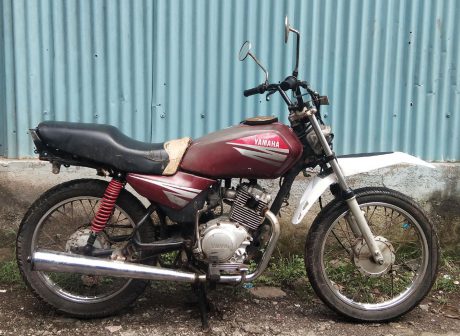 ---
Julius Seizure
Rafiq Quereshi writes:
My RX 100 was parked in the rain. I went to start it up last week but the kick refuses to rotate the engine. It was running when I parked it last year. What can be wrong?
Hi!
Pull out the spark plug and pour in some 2T oil. Put the plug back on and let the oil be in there for a couple of days. Then, open up the left engine cover and with the appropriate sized socket spanner, try rotating the crank clockwise. Do this gently and do not exert too much force. If it moves, keep rocking the crank back and forth by rotating the spanner and all the while, keep adding more oil into the spark plug hole in small quantities. Do this till the piston is nice and free. If this does not help, I'm sorry but it's time to dismantle and overhaul the engine. But in any case, even if the piston frees up after carrying out the fore mentioned procedure, there is every chance that the main bearings would be shot and so a rebuild could be needed anyway.
You can shoot your queries by sliding into Kyle's Instagram DMs or drop an email at kylohere@gmail.com
[The article originally appeared in the October 2020 issue of Motoring World]