Can you imagine what a 70-bhp 122-kg motorcycle would be like to ride? That's what the Aprilia SXV550 supermoto is. Sure, it's not a supermoto in the traditional sense; they've long held on to single-cylinder motors whereas the SXV550 is a V-twin, of all things. But this breed of motorcycles, this sideways and one-wheeled subculture, should by all rights be the next big thing in motorcycling. It was supposed to be that around 10 years ago, so it's already long overdue.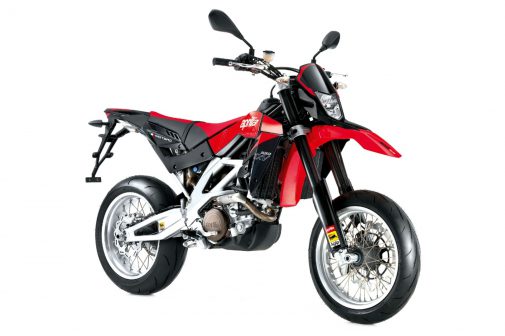 Supermoto exotica does not get better than the Aprilia SXV 550. Photo credit: autoevolution.com
The French excel with supermotos and they call them supermotards. They can call them whatever they want since the top three greatest supermoto racers in history are all French guys. And if the French persist with these bikes, there must be something very right about them, oui? Supermotos started out as modified dirt bikes; 17-inch wheels, sticky tyres, bigger brakes and firmer suspension combined with the typical lightness of their base bikes was a recipe for a new kind of motorcycling drug. And this is not lost on riders who come across these machines.
My own experiences with supermotos have been limited. In order of ascension, they include a Hero Impulse fitted with 17-inch wheels wrapped with sticky rubber, a Suzuki DR-Z400SM owned and ridden daily by the product-planning head of Suzuki India, and a Husqvarna Nuda 900. The last motorcycle came about when BMW owned Husqvarna; 'Ja ja, we put ze fett motoren in zis korpulent motorrad und make it look like ze dirt bike. Ja.' As fun as it was to ride the Nuda, it was nowhere near what a supermoto should be — a miracle of lightness. As I found out much later with the Suzuki.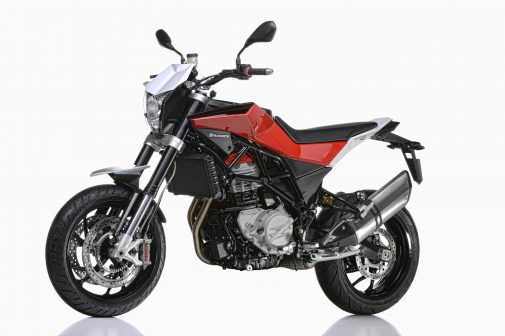 The DR-Z400SM simply destroyed Delhi traffic that day. Okay, it ran out of breath at 130 kph, but no bike has to do that in the city. But the way it absorbed everything and wriggled through everything else was nothing but a marvel. And with the Impulse, well, let's just say it's been more of the same for more than six years now. Yes, the front fork needs a brace; under hard braking, it feels like the handlebar is attached to noodles. That's because the grippy tyres encourage me to push harder everywhere. But I don't think perfection is the point of a supermoto. It's being the jackass of all trades. Also, before I forget, the Nuda did inspire me to covet the idea of someday turning the Kawasaki Versys 650 into a supermotard, too. Supermotard spelt with all capital letters, that'll be.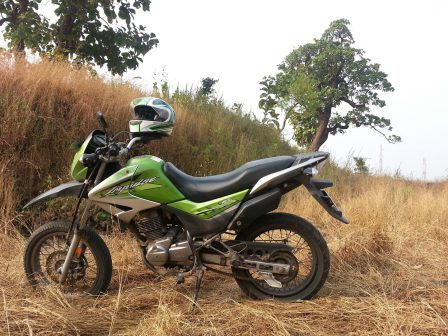 By being tall and upright, a supermoto gives its rider the best possible view of whatever lies ahead. Tall suspension soaks up bumps, and its narrow profile makes it easy to handle in traffic and anywhere else. Rapid handling, sticky tyres and big brakes give its rider the best chance of maintaining control. And above all, a supermoto does all of this with the air of cheeky-yet-serious ability mixed with a healthy dose of self-deprecation. A sportsbike may be faster in corners, a cruiser may be better on a long haul, and a dual-sport bike may handle off-roading better. But a supermoto will do all of these things, while none of them will do what a supermoto does. A supermoto is probably the most versatile form of motorcycle there is.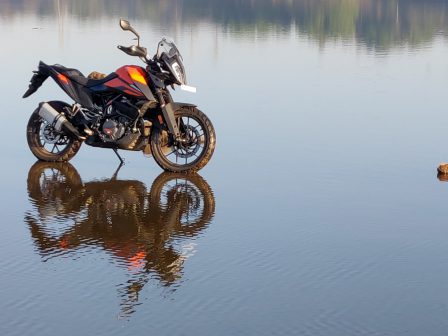 In India, our roads are always a mix of fantastic and horrible. Here, we need something narrow and manageable in traffic. Also, it makes little sense to exceed 150 kph even on our highways because our environment isn't really conducive to sustained high speeds. And we already have motors that can manage the above rather easily; my own KTM 390 Adventure is waiting to be turned into a sticky-tyred hooligan as soon as it's viable to do so. And when I consider these things, only one question comes to mind — is it really too much to expect India to unleash a big wave of supermoto madness upon the world?