The championship format has been changed to a Pro-Am Series this year, with 10 professional and 15 amateur riders competing on the same grid. The Royal Enfield Continental GT Cup Season 2 will be held in accordance with the regulations of the Federation of Motorsports Club of India (FMSCI) in three rounds and eight races beginning in September 2022 and concluding in December 2022 as part of the JK Tyre FMSCI National Racing Championship 2022.
Participants will be able to register in one of two categories based on their eligibility: Professional or Amateur. From the registered participants, 25 professional and 75 amateur racers will advance to the Rider Selection Programme on August 12th at Kari Motor Speedway in Coimbatore, and the top 25 riders (10 professional and 15 amateurs) will advance to the race rounds.
The Continental GT Cup season 2 battle will be spread across three rounds and eight races, with the first two taking place at the Kari Motor Speedway in Coimbatore, the first round from September 16-18 and the second round from October 28-30, followed by the Grand Finale from December 16-18, 2022 at the Buddh International Circuit in Greater Noida.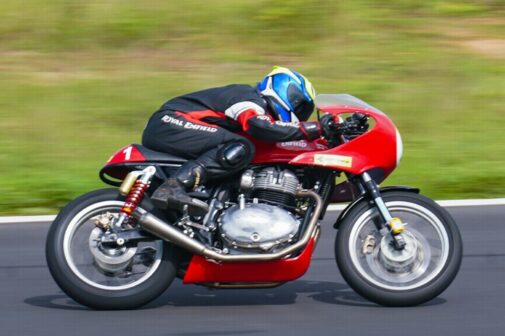 The Continental GT250 was the first factory-built, production cafe racer, and it has embodied the spirit of retro racing over the years. This season, Royal Enfield has kept everything under the skin of the Continental GT 650 stock motorcycle and has minimally modified the bike with a retro fairing, stiffer suspension, a more committed riding posture, and track-ready stainless steel exhausts. Harris Performance, which has over 40 years of motorcycle racing experience, has improved the Continental GT-R650 this year.
Varad had plenty of fun racing in the first season, you can read about his experience here. To know more about the Royal Enfield Continental GT Cup, visit this link.