Torrential downpours, an unassumingly tough Turn 1, and so much more drama unfolded at the Buddh International Circuit, where the IndianOil Grand Prix of India is taking place. The adrenaline is through the roof as Indians witness the first MotoGP taking place on Indian soil. Mooney VR46 Racing Team rider Marco Bezzecchi had set the qualifying time at 1:43.947, securing pole position and becoming a favourite for the Tissot Sprint. The Championship leader, Francesco Bagnaia, clinched the third spot in the grid with a lap time of 1:44.203.
Starting number one on the grid, Bezzecchi's teammate Luca Marini's erroneous braking on Turn 1 forced the Italian off the track along with five others in quick succession. While Bezzecchi was pushed down to the 17th position, Jorge Martin from Prima Pramac Racing sped away, maintaining a comfortable lead throughout the sprint. Martin wheelied his way to the chequered flag and went on to bag the Sprint podium and 12 points, while championship leader, Francesco Bagnaia, finished second with 9 points and eight-time world champion Marc Marquez secured the third spot on the podium. Bezzecchi did put up quite a fight, going from 17th position, all the way to fifth place by the 10th lap.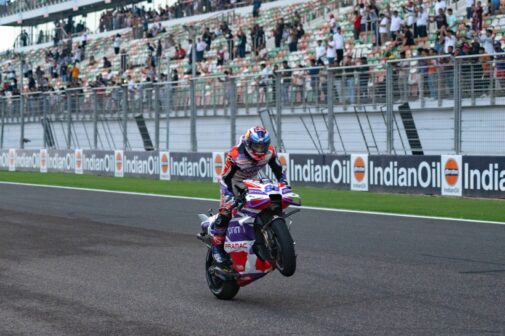 After the Tissot sprint race, Francesco Bagnaia is in the first position in the World Championship standings with 292 points. Following him, in second place is Jorge Martin with 259 points, and in third place is Marco Bezzecchi with a total of 223 points.
In Moto2, an error on the final sector, in the final lap, cost Moto2 Championship leader Pedro Acosta (Red Bull KTM Ajo) the pole in Qualifying 2. Acosta was pipped by Jake Dixon (Inde GASGAS Aspar Team) to clinch the front position on the grid. Dixon's 2:01.924 seconds was 0.032 seconds faster than Acosta. Sergio Garcia of Pons Wegow Los40 and Zonta Van Den Goorbergh completed the front row.
As for Moto3, Leopard Racing's Jaume Masia will start Sunday's Moto3 race from pole position. Masia clocked 2:09.336 to top the position followed by Matteo Bertelle of the Rivacold Snipers Team who recorded his time at 2:10.063. Ayumu Sasaki (Liqui Moly Husqvarna Intact GP) settled for third place on the grid with 2:10.104. However, Moto3 championship leader Daniel Holgado of Red Bull KTM Tech3 did not pass the Qualifying 2 and will start in the 19th position.
Stay tuned for updates on the marquee event on Sunday.