Hero MotoSports Team Rally has strengthened its National Team's rider line-up by taking on new riders. In line with its sustained efforts to popularise motorsports and promote athletes, the Hero MotoSports National Team veterans Sathyaraj and Yuva Kumar, will now be joined by three new riders.
Currently pursuing a Bachelor's in Business Administration alongside her racing career, 20-year-old Tanika Shanbhag, from Satara, Maharashtra, is also the youngest rider for the team. She finished on the podium as Runner-up at the 2020 and 2021 editions of the INRC. Additionally, she was also the winner of Group B class (up to 260cc). Achieving a top-10 overall finish in the inaugural Rally of Himalayas 2021, Tanika is well on her way to being one of the fastest female riders in the country.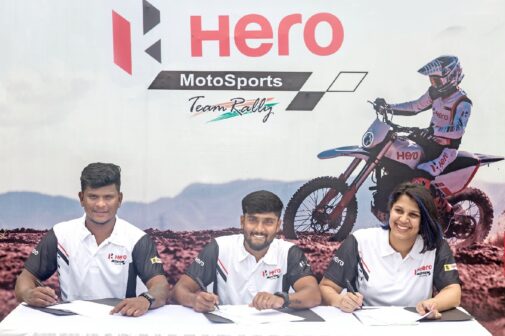 23-year-old Karan Kumar from Coimbatore in Tamil Nadu comes with substantial experience in Supercross as well as Rally racing formats. He is the winner of Round 3 of the INRC 2022 (Group B – 260cc class). He is currently running 3rd at the INRC 2022 (up to 260cc class) with consistent finishes in the Top 5.
Completing the rider line-up is 22-year-old Arun T from Hassan in Karnataka. With success in both Supercross and Rally racing, he is currently leading the INRC in the 260cc class. Arun has achieved a top 5 finish in Group B (modified up to 260cc class) and 2nd place in Group D (stock, up to 260cc class).
The riders will take on the country's varied terrains astride the specially designed Hero MotoSports Xpulse Rally 200 and the Hero Xpulse 200 4V. The new team will compete in the Indian National Rally Sprint Championship in the first week of September.