Stage 5 was a tough and long stage for the racers, almost entirely made up of sandy paths and wide areas of dunes and camel grass. All three riders of the Hero MotoSports Team rode well and completed Stage 5 of the rally, which consisted of a 650-kilometre round around Ha'il. In the Rally GP Class, Sebastian Buhler finished the stage in 13th place, followed by Franco Caimi in 18th and Ross Branch in 21st.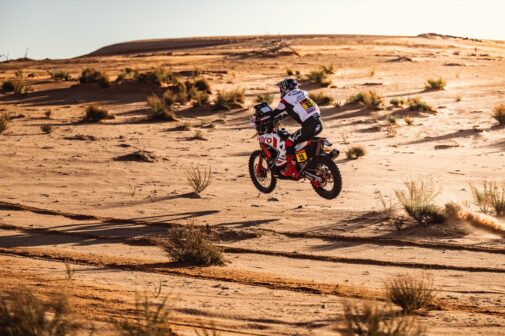 Sebastian Buhler and Ross Branch had to start later in the day, near the back of the pack, due to time lost in the previous stage. The tracks were fractured and in poor condition from previous competitors, making it much more difficult for the duo. Despite the difficult terrain, Sebastian raced admirably, finishing only 14 minutes behind the stage winner and climbing to 18th in the Rally GP class rankings.
A cable became entangled in Franco's rear wheel, severing the bike's brake line. He was obliged to bike the race's final 150 kilometres cautiously. He lost some time in the process, but he persevered and crossed the finish line in good time. He is now 14th in the overall Rally GP class rankings.
Ross Branch got off to a strong start on stage. He was moving quickly and looking forward to a good stage result. He did, however, lose some time due to mechanical troubles with his bike near the refuelling point. With the adjustments that the team is making to his bike, the Botswanan is optimistic about the stages ahead.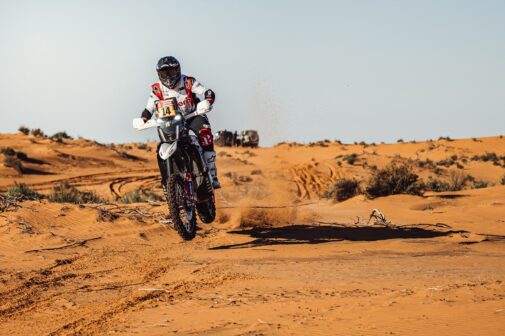 Following on from Ha'il, Stage 6 was supposed to be the longest stage of the race, measuring 876 kilometres. However, heavy rains and flooding in the region have reduced the stage by roughly 100 kilometres, and the competitors will spend the night at the Riyadh bivouac rather than the previously planned one at Al Duwadimi.