Hero MotoCorp's motorsport outfit, Hero MotorSports Team Rally, will field a team of three riders at Dakar 2019. Hero's performance at Dakar over the last two years has seen major improvements  and now with three world-class riders, it's only bound to improve.
In 2017, Hero managed a solid top-15 finish, only to be bettered with a top-10 finish the following year. In 2019, the team will comprise everyone's favourite CS Santosh from India, Joaquim Rodrigues from Portugal, and 'Best Rookie of the Dakar 2018' Oriol Mena from Spain. All three riders will be seen tackling the challenging terrain and harsh conditions aboard the Hero 450RR rally motorcycle.
The 2019 Dakar Rally will be held between January 6 and 17, 2019. The route set around Peru will have about 3000 km of racing divided between 10 stages. The total distance will be 5,000 km, and about 70 per cent of the special stages will be covered in mud.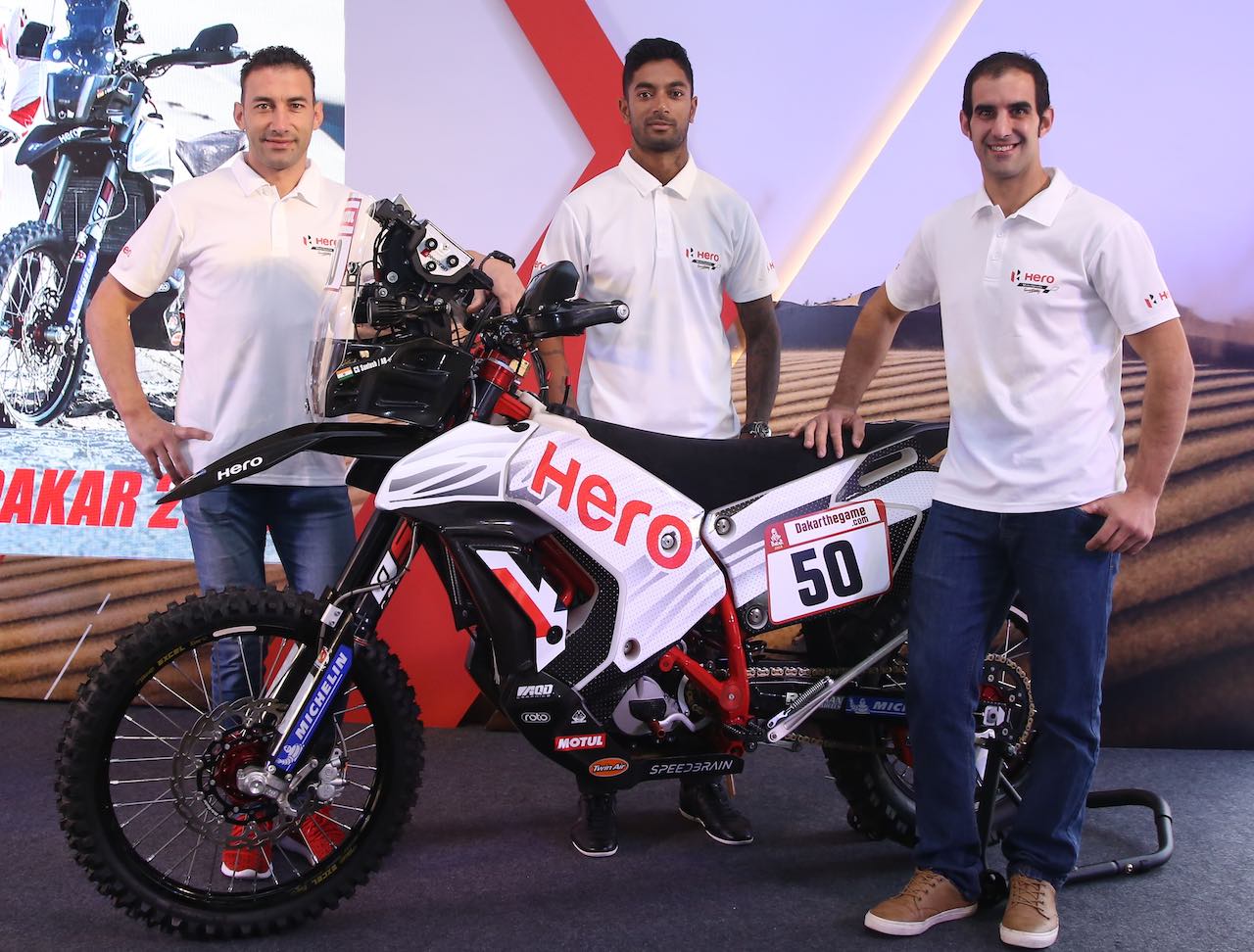 Hero MotorSport's Head (and Hero's Chief Technical Officer), Dr Markus Braunsperger said, "We are enthusiastic and absolutely ready for Dakar 2019. Looking at this high-octane event, which is expected to be even tougher than last year,our focus remains on finishing the Rally. This year has been very good for the Team in terms of preparations and training as it has participated in events across the globe and delivered strong finishes. We aim to ride that momentum in the upcoming Dakar Rally in January."
CS Santosh said, "This will be my third Dakar with Hero MotoSports and fifth overall. It has been a very exciting three years and I'm geared up for yet another rendezvous with this unique event. I am satisfied with the preparations and look forward to delivering a solid performance. We have had a good training season and I tried to make every session count. Ultimately, it's about enjoying the process and arriving at the finish line."
Joaquim Rodrigues said, "It feels great to ride again, after my accident at Dakar 2018. The recovery has been tough and long but thanks to the prayers and love from my fans I am able to ride again. I have been training particularly hard with a focus on arriving at the finish line safely. This will be my third Dakar and I'm very excited to be riding with my team again and hopeful of delivering a good performance."
Oriol Mena said, "I couldn't have wished for a better debut in rally racing with Hero MotoSports Team Rally providing a fantastic platform and support to me. Had a good year and a great outing at the Dakar 2018. This also raises the stakes for me at Dakar 2019, so I have been training hard and aim to improve my performance this year. Dakar is a very exciting and challenging encounter for a rider. I am feeling thoroughly upbeat about riding with my team amidst an exceptionally talented group of competitors."