To be fair, good old H-D did start printing bhp numbers since its previous all-new model, the Pan America. But it's still a new sign of just how much the 118-year-old American company is having to adapt to the times — and fast. First, it began its future by launching the striking adventure bike mentioned above, taking pretty much everyone by surprise. And yesterday, it took the wraps off the spanking-new Sportster S, a motorcycle more in the traditional H-D mould and yet completely different to what we've been used to. Harley-Davidson has finally decided to join the future, and we're all the better for it.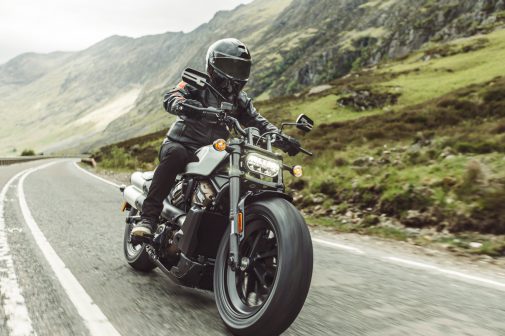 The Sportster S looks like the XR1200 and the Forty-Eight had a lovechild which was then raised in Japan. Or some similarly advanced place, and not on a Texan ranch. No shiny chrome fins anymore — the cylinders now look like a couple of tipsy robots peeking at you; there's a capsule-shaped headlight which might be hard to swallow for some; and a stubborn denial of chrome that seems to sever any links to the past. The Sportster S's lines are inspired by history, but don't dwell too much on it. Its looks are a lesson — one that H-D has clearly learnt — that change can also be a good thing. And change is what the heart offers, too, right from its name.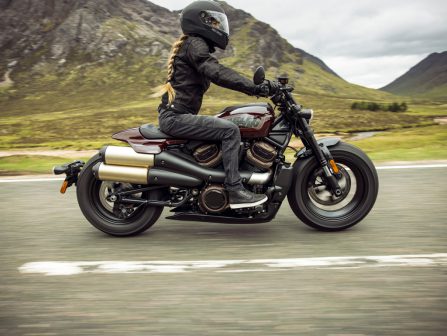 The Revolution Max 1250T V-twin is the same one from the Pan America, albeit in a detuned state, and features everything you'd expect in a modern motor; liquid-cooling, DOHC, variable valve timing, a 6-speed gearbox, a slip-assist clutch, and so that purists don't faint from disbelief, a traditional belt is still the final drive. But I do join them in mourning the loss of pushrods, though the new Sportster's 121-bhp 7500-rpm promise means it won't be a very long grieving process.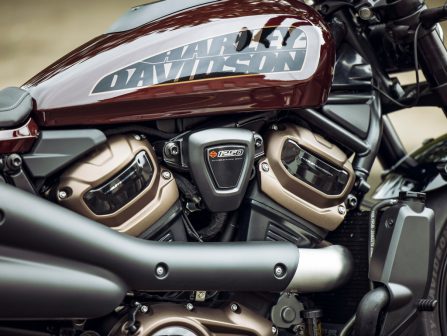 Big cubes, triple-digit horsepower and 12.7 kgm of torque (at 6000 rpm) demand a strong structure that doesn't turn into noodles at a twist of the throttle. H-D has designed an all-new subframe-based trellis chassis that uses the engine as a stressed member. No doubt, that plays a big part in the big Sportster's more reasonable 228-kg kerb weight. The Sportster S gets an inverted front fork and a piggyback monoshock at the rear, both of which are adjustable for preload, compression and rebound. A far cry from the bone-rattling suspenders of the erstwhile Sportsters.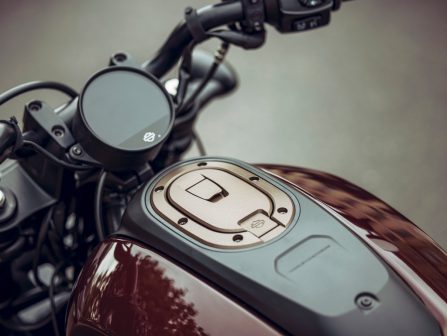 It also gets special Harley-Davidson Series tyres by Dunlop; the front is a huge 160/70 17-incher, while the rear gets a more normal 180/70 16-inch one. Also, I can't remember the last time a 121-bhp motorcycle came with a single 320-mm disc at the front and a 260-mm disc for the rear. That seems a bit inadequate, even if it's a radially-mounted monoblock design at the front. Nonetheless, it does sound encouraging that the Sportster now has 34 degrees of lean angle on both sides, 6 degrees more than the comparable older Sportster. That should help a lot in running that 11.8-litre tank dry.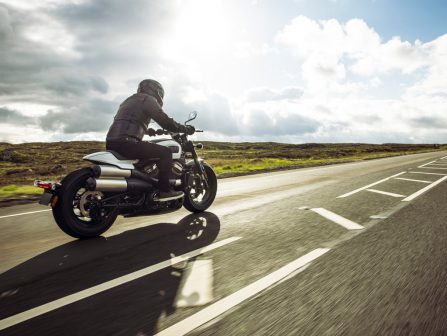 H-D's modular construction of this motorcycle means we will inevitably see this motorcycle in many more forms, including a smaller line of Sportsters. Every indication from the spec sheet and the photographs point to this Sportster finally living up to the longstanding family name in a sense that's more 'vrooom' than 'duggachokedugga'. And we're looking forward to finding out soon!