If you live on an island with no internet, then you missed the San Marino GP over the weekend. Dovi won the premier class, but it was Moto2 that was marred with controversy. Romano Fenati was having a good old tussle with Stefano Manzi, which resulted in both of them running wide and losing a few places. Well that's common, but what wasn't was Fenati response. He caught up to Manzi on the main straight, pulled alongside him, and grabbed his brake lever. At close to 200 kph. Yes, it really happened. Thankfully Manzi managed to hold on, but race direction black flagged Fenati for his behaviour, handed him a two race ban.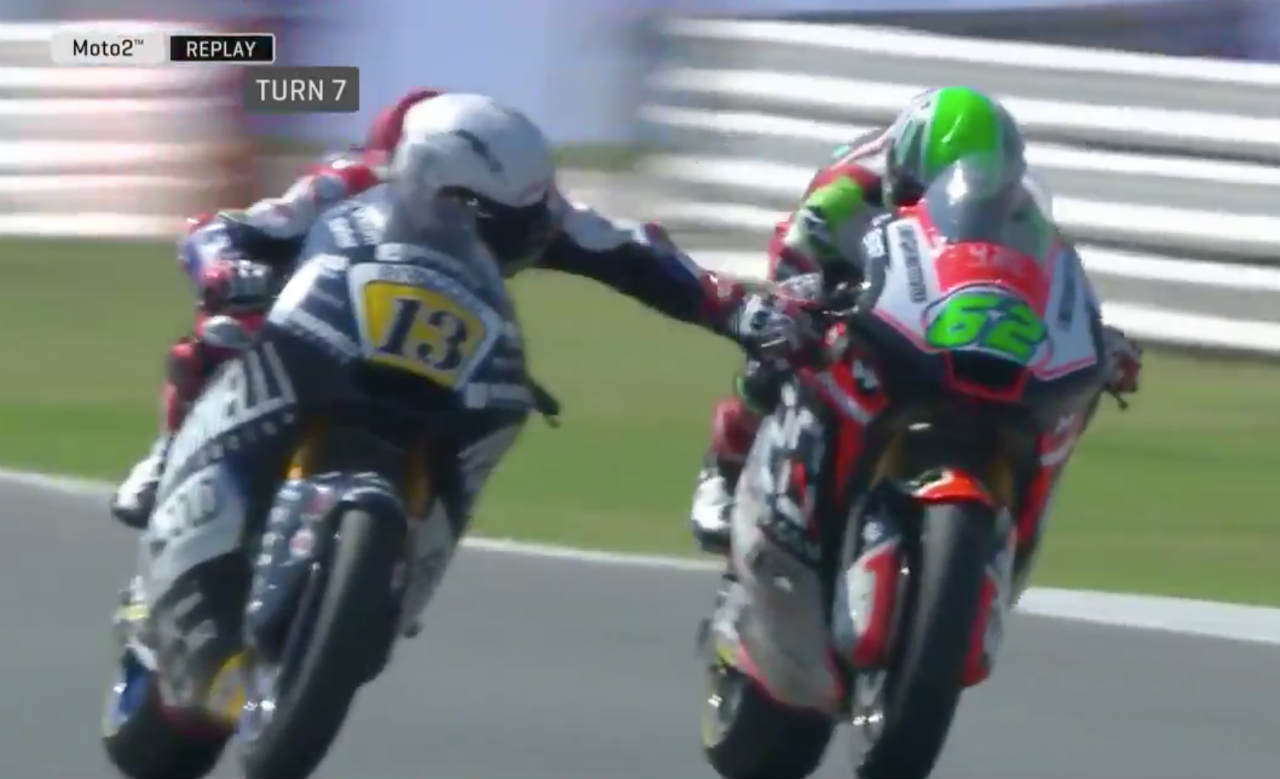 Well, the internet, as you can imagine, was not happy. This is a dangerous sport, and letting your anger get the better of you can result in some very serious, and irreversible, consequences. There was outrage, and there were calls for a lifetime ban. In the post-race press conference, Dovi and Marquez played it safe when questioned by saying they respect race-direction's decision, and this is a shameful act, but it was Cal Crutchlow who pulled no punches when he said they should just ban him immediately. He went on to say that this cannot be tolerated, and must be made an example of. Cal also thought his team should've kicked him out the back as soon as he got to the pits.
Marinelli Snipers, his team, did what the organisers, Dorna, should have by releasing a press statement terminating Fenati's contract with effect immediately. They apologised to the fans, made their stance clear — that the sport has no place for this sort of a behaviour. So he's going to be sitting this season out. Of course, he put out a statement of apology, on how his actions were inexcusable (you think?) and how he let his emotions cloud his judgement, but the damage was done, and it wasn't over. You see, MV Agusta is set to return to MotoGP next year, and Fenati was to be riding the Forward Racing Team bike in Moto2. Well, that went up in smoke too, as they released a press statement quite bluntly titled 'Fenati will no longer be a part of our project'. It went on to feature some harsh words from Giovanni Castiglioni, president of MV Agusta,  "In all my years of watching this sport, I have never seen behaviour as dangerous as this. A rider who can act like this can never represent the values of our company for our brand. For this reason, we do not want him to be the rider with which MV Agusta makes its return to the World Championship."
It was a dark day for motorcycle fans, as they saw the sport they loved and cherished besmirched by intoxicating anger and fury. It didn't help that the response from the authorities didn't come close to matching the crime. Hopefully this will give Fenati time to sit back and introspect on what he did, why he did it, and how to avoid it. Hopefully this will serve as an example for many budding racers, clearly telling them where to draw the line.
This is shameful, not only because it could've been fatally dangerous, but because it reflects the core of a person, and motorcycles — the purest thing in this world — have no need for one like that.
The incident:
FIM MotoGP Stewards ?

Black flag Romano Fenati for irresponsible riding ?#Moto2 #SanMarinoGP pic.twitter.com/sTqv6nhZer

— MotoGP™??? (@MotoGP) September 9, 2018
Photo courtesy: MotoGP